Botox Injection: Uses, Side Effects, Tips, Warnings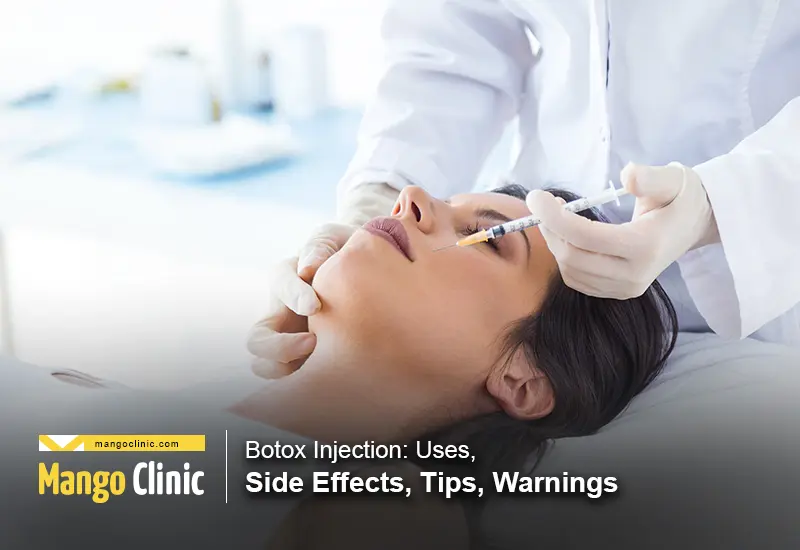 Mango Clinic Miami is able to provide you with the chance to experience the lasting and brilliant results of Botox Cosmetics services. Whether you want to look younger or want to treat an uncomfortable ailment, Botox has proven itself as a useful tool for many doctors and patients alike. Our licensed doctors can evaluate your circumstances, help you understand the right course of action, and provide you with the injections to change your life. Every patient is different, and circumstances can differ, but Botox can help just about anyone feel and look better than ever.
Get botox injection to reduce facial wrinkles. Click the button below to book your appointment.
What are Botox Injections Used For?
Botox injections are primarily used for smoothing out wrinkles on the face, most notably lines and creases along the forehead, eye lines, and around the mouth. Aging skin produces marks on various parts of our bodies, which often happen without us realizing it. There are ways to counteract this; if someone starts early enough, they can avoid some amount of wrinkles in their future. However, it can be difficult to avoid any wrinkles, to the point where it is often not worth the effort. Not only that but if a person were to genuinely avoid any lines on their face at all, they would have to stop emoting. So while you are likely to develop wrinkles as you age, the extremity and amount will vary between individuals.
For those who want to make sure their wrinkles, lines, and creases are nowhere to be seen, botulinum toxin stands as a popular treatment in cosmetics. While easy to associate with older women who want to look younger, there is no real requirement that implies you must be older (or a woman) to have the procedure. You can be in your 30s and decide to get some Botox injections; after all, there are no real restrictions on how few or how many injections you get. If you're younger, you may only want a couple for a few spots; if you're older, you may want to make sure your entire forehead is covered.
While Botox injections have a reputation for being a cosmetic procedure, they can also be used for more serious medical ailments. Some of these ailments include neck spasms, which cause your neck muscles to contract. Muscle contractions in other parts of the body can also be taken care of with Botox, including eye twitching and cerebral palsy. It can also be used to treat excessive sweating, migraines, and TMJ (temporomandibular joint dysfunction).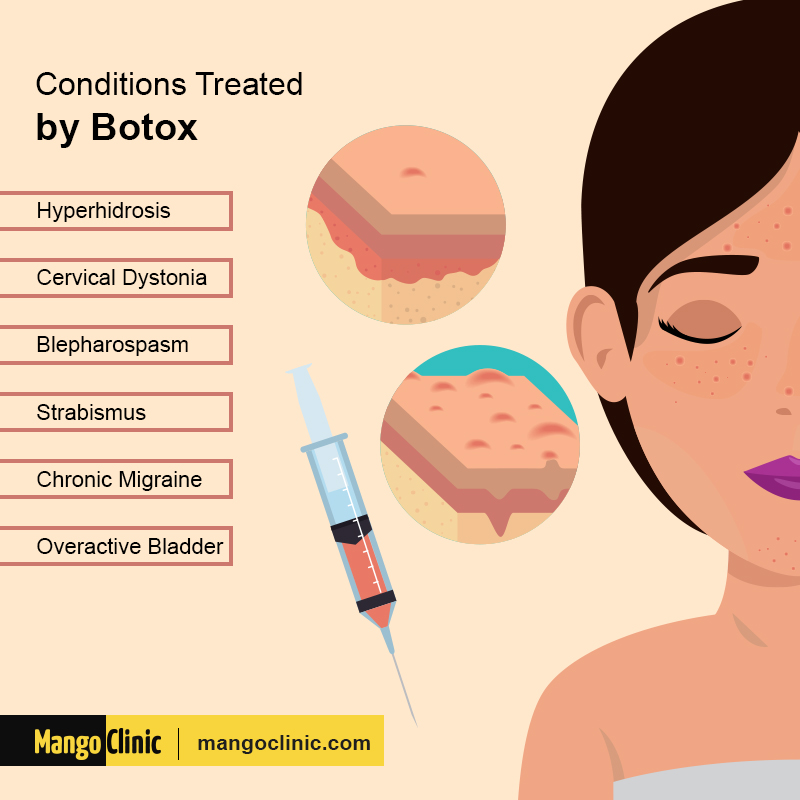 What Does Botox Do to Your Body?
Botox injections achieve their results by essentially putting cells on ice. What this means is that Botox is injected into your body and stops the reproduction of cells that cause the skin to reproduce. If this sounds too straightforward, rest assured that this is what Botox does and why it is so effective. By simply stopping the reproduction of certain cells, Botox is able to relax muscles and skin temporarily. In this way, a user can have smooth skin or be treated for a health ailment that causes them discomfort.
What Are the Long-Term Effects of Botox Injections?
The long-term effects of Botox can vary between individuals because of the way Botox procedures work. When you go to get a procedure done, the amount of injections is decided by the individual, and this can ultimately determine how long the treatment will last. If you decide on only a few Botox injections, the effects of Botox may only last a few months. This is fairly normal, as most people who get Botox get enough so that it can last between three and five months. However, this also means that, if you intend to get Botox and keep the results, you will have to go back every time it starts to wear off.
Depending on the strength and amount of injections, you can make Botox injections last for much longer than average, which can even mean up to one year. However, keep in mind that Botox is measured by the unit; the more units you wish to have injected, the more money it will cost. If you can afford it, you can get a decent amount of injections to ensure you are coming for touch-ups less often.
Get neck spasms treatment with botox injection. Click the button below to book your appointment.
What Should You Do Before Botox?
There are a few things one should do before a Botox procedure, with the most vital being your choice of a doctor. You want to make sure that the doctor you choose is someone you can trust, you think is qualified, and will make you feel comfortable during the procedure. Additionally, you want to make sure everything is fully understood between you and your doctor, which means asking all the questions you have and fully explaining what it is you want to be done.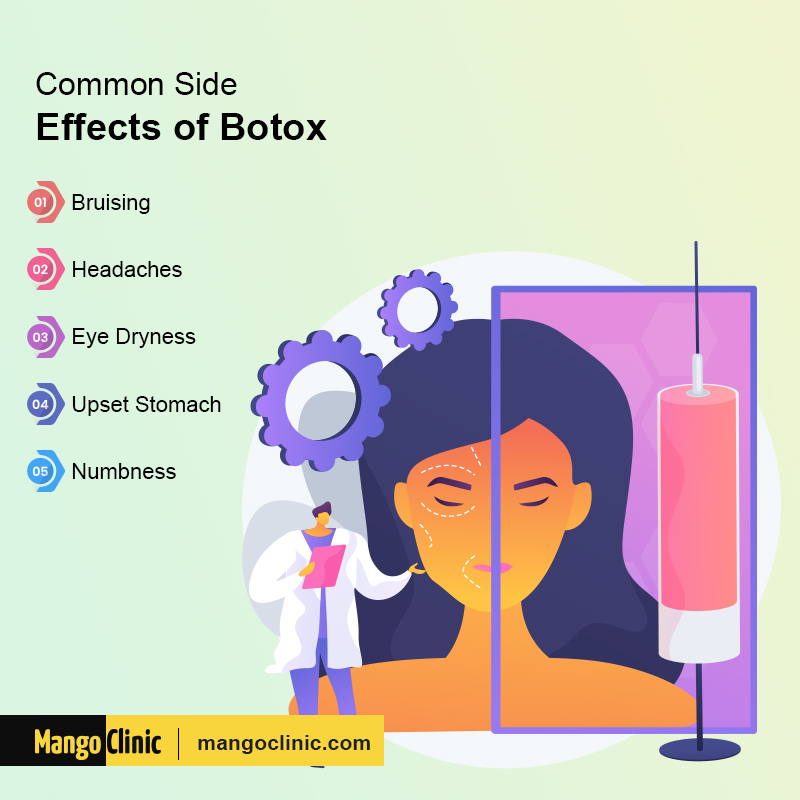 What Should You Not Do After Botox Injections?
Once you have completed your Botox procedure, there are a few things you should avoid doing. The most critical thing you should do, especially right after a procedure, is to leave your face alone. While you should put ice packs on the injection spots, that is the maximum face involvement you should be having. Do not rub, massage, or otherwise pick at your face immediately following your procedure. Additionally, make sure you take it easy afterward, which means not doing anything strenuous, taking medications that thin your blood, increase your metabolism, or drinking too much alcohol.
What Are the Side-Effects of Botox?
The most common side-effects of Botox are actually quite normal. For example, a certain amount of pain is normal on the injection spots; redness and swelling should also be expected. Some people think some of these effects are a bad sign that the procedure was done improperly. Most notably, people think that bruising is a sign of a bad procedure when really it's a regular occurrence that can happen to anyone. It should be noted that some bruising is immediate (occurs within a few hours of a procedure) while other times it can take weeks to show up.
Get botox injection for excessive sweating. Click the button below to book your appointment.
Conclusion
If you are interested in getting Botox injections in Miami, make sure you get it with Mango Clinic. Our staff of medical professionals will walk you through the procedure, options, and help you understand anything and answer any questions you have. You can set up your appointment by calling us at +1(786) 422-9327 or visiting our appointment page on our website.
Contact Us at Mango Clinic for Botox injection treatment or click the banner below to book your appointment.