Dermal Fillers: Everything You Need To Know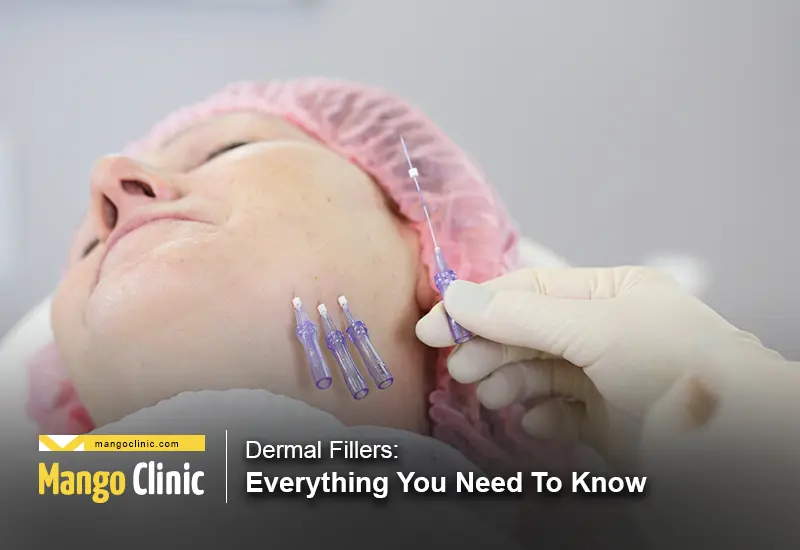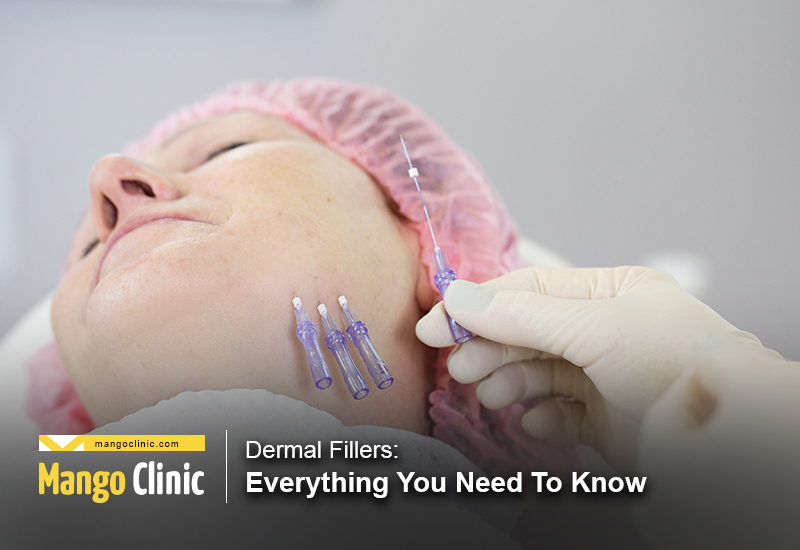 Mango Clinic services people all across the country in a variety of ways related to their health. Whether you need an emotional support animal letter or are looking to lose weight, our clinic and staff of physicians can assist you in making the right choices for you in the best possible way. As we are launching our cosmetic services, we would like to discuss how dermal fillers can benefit you and everything you need to know about the fillers.
For some, the wrinkles around their face are less than attractive; for others, muscle spasms of different types prevent them from living their best life. Both lines and spasms can be taken care of with injectables, such as the world-famous Botox. However, there is one other helpful type of injectable treatment, and that is dermal fillers.
Get injectable treatment from expert physicians. Click the button below to book your appointment.
What Are Dermal Fillers?
Dermal fillers are a type of injectable treatment that literally "fills" up whichever part is receiving the injection. They can be made from different kinds of materials and applied to areas of the face, most notably the lips and cheeks.
For most people, the entire purpose behind being injected with dermal fillers is to make their lips or cheeks appear fuller. The biggest reason for these targeted injections is that the skin in the cheeks or lips is thin or becomes thin over time with age. Volume enhances the skin, wrinkles, lines around the mouth, and between the eyes become smoothed out.
We should make it clear that dermal fillers are not like Botox. Where a product like Botox is designed to freeze cells in the body for a few months, fillers are made of a material that adds more mass underneath the skin. Along with the different materials that can be used, dermal fillers are known to last for anywhere between six months to a whole year.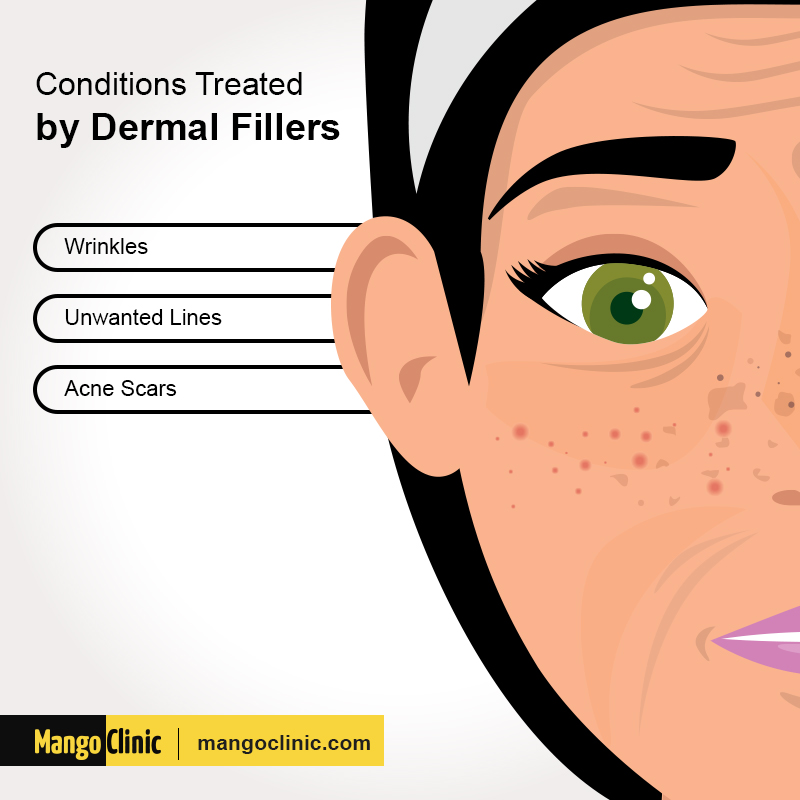 What Are Dermal Fillers Made Of?
Where Botox is made up of a safe-to-use version of the bacterial component botulinum toxin, dermal fillers are made up of many different materials that are used by different brands. These materials should be FDA approved, come from recognized brands, and be handled by licensed physicians.
Hyaluronic acid (HA) is the most popular and well-known material used for dermal fillers. It is a plasma substance, gooey, and gel-like, that is found naturally within the body; it keeps your skin feeling hydrated and full. Two of the biggest brands that use HA are Juvederm and Restylane, each with its own selection of branded products. The effects of HA can last anywhere between six and twelve months.
Get proper treatment for age-related wrinkles. Click the button below to book your appointment.
Calcium hydroxylapatite (CaHA) is similar to hyaluronic acid, in that they are both naturally occurring substances found within the body. CaHA is primarily located within the bones and is thicker than HA, as well as much smaller in its particle makeup. It can also last longer, typically for up to twelve months, and create smoother lines and wrinkles.
Among the stronger types of dermal fillers is Poly-L-lactic acid. This material's primary purpose is to provide the body with collagen and thoroughly smooth out wrinkles. Its increased strength contributes to how long it can last; fillers made of Poly-L-lactic acid deliver results that last for over a year, even two years.
Even longer-lasting are dermal fillers made up of polymethylmethacrylate (PMMA). When used for cosmetics, PMMA is in the form of microscopic balls that are injected and stay underneath the skin. Containing collagen, PMMA provides the skin with volume and support for many years. This is thanks to its ability to remain within the skin and provide a structure that sustains smoothness.
The only dermal filler procedure that also includes surgery is when you use fat from your own body as the material. While results can last much longer than others, the process is different than traditional injections, requiring much more care on the part of both the patient and the doctor performing the operation and injection.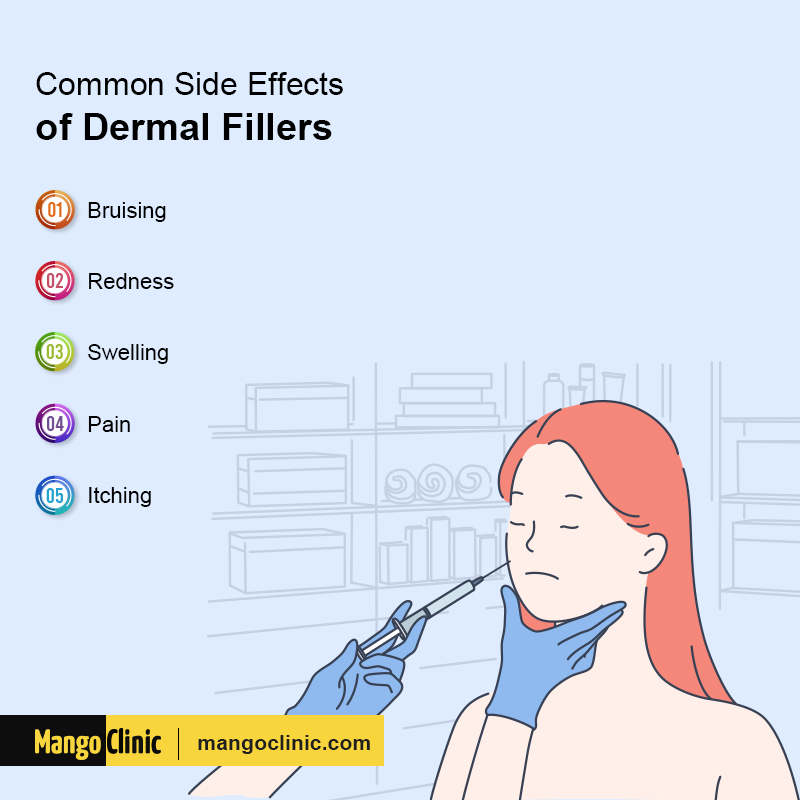 What Can I Use Dermal Fillers For?
For those simply wanting smoother and fuller skin, dermal fillers have proven themselves to be excellent options. You can get a smooth-skinned look without having to put your cells on ice for a short amount of time. Whichever type of filler you choose, it will feature a natural look and feel that is safe for your body.
As the types of fillers you can use vary, so do their uses. Around the lips and directly to the cheeks are among the most popular places. Around the eyes, underneath the chin, and even your hands are also options.
Getting into specifics, there are several things you can do with and around the cheeks. Enhancing the cheeks is likely what you want to do, but you can also fill in the nasolabial folds. This is an area that stretches from the nose to the lips on either side of your face; also known as smile or laugh lines, these areas can stretch and deepen over the years. The longevity of this type of injection can last for under or over a year, depending on the material.
Get fuller skin with dermal filler. Click the button below to book your appointment.
How Do I Get Dermal Fillers?
Mango Clinic has licensed physicians who will be able to assess your individual needs and understand what you are interested in. Through careful evaluation, you will understand what sort of treatment is best for you, including what to expect and how the process will go. Whether you want to improve the volume of your cheeks, want to get rid of unwanted wrinkles near the eyes, or prefer to have fuller lips, Mango Clinic cosmetic services are here for you. Contact us by phone at 786-391-0269 or visit our website today so you can schedule your consultation.
Contact Us at Mango Clinic for Dermal Fillers treatment or click the banner below to book your appointment.