Emotional Support Animal Letter from ESARegistration.org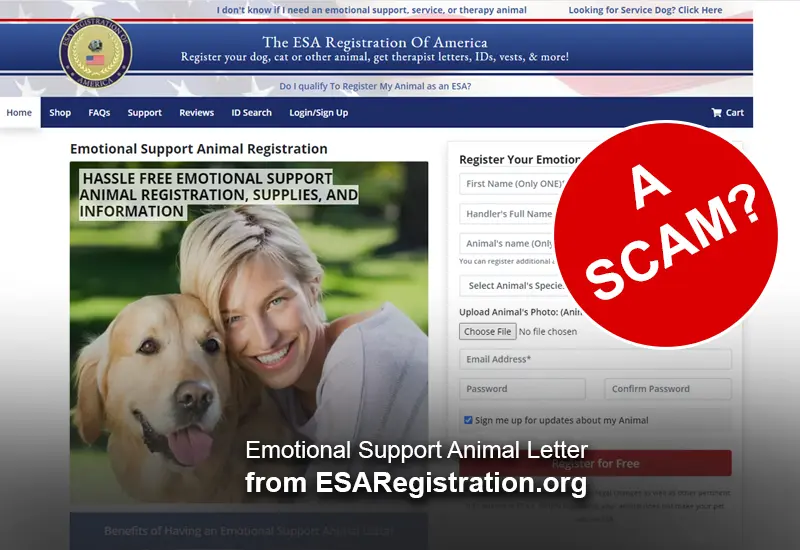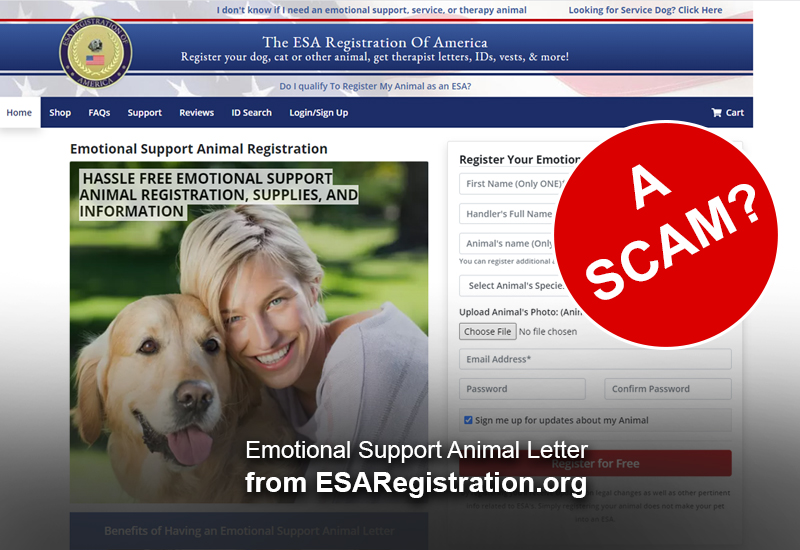 Your pet can be so much for you and the people in your life. Can any pet become an emotional support animal? If you have children, a dog can be a great source of love and enjoyment, as well as comfort and companionship. If you happen to live alone, a cat, or even a snake, can be a loyal and calming pet for you to take care of. These animals won't burden you with anything you can't handle, and they can be a great source of entertainment and company.
Pets can also be wonderful forms of therapy, as many will attest to. No matter what animal you have, your pet can provide you with much comfort and a source of love and affection. On that same spectrum, your pets won't judge you, and they'll be there for you when you need someone to talk to. Not only can they become the best of friends, but they can also become emotional support animals as you'll find yourself unable to part with them, especially when you're somewhere else without them.
Lower your stress level with an emotional support animal. Click the button below to get your ESA letter.
We at Mango Clinic Miami understand how important it is for you to be with your emotional support animal. For those with mental and emotional disorders, an ESA provides the comfort and treatment some people need. Getting an ESA letter allows you to confidently have your pet at your place of residence and with you when you travel. It even lets you bypass any fees you may otherwise have to pay in a residential building for having a pet.
Not having an ESA letter can cause you too many problems if you intend to bring your pet to places they usually aren't allowed. Other than residential complexes being unhappy (and likely throwing fits), airlines can deny you being with your pet in the cabin. If they do let you bring your pet, but you have no letter, they might charge you a fee or put your pet in cargo.
Is ESARegistration.org Legit?
Anyone who knows about ESAs understands their value and why getting an official certificate is vital. This is why we've written a review of ESARegistration.org, a site that anyone can come across online. Unlike Mango Clinic, it is not a legitimate business for getting letters and will scam you of your money.
Their homepage says they are "The Official ESA Registration of America," however, no such registration exists. When getting an ESA letter, you do not have to register your animal, which is something not many people know. This is why many other scam sites use the word "registration" to trick people looking for information. This is also why the very name of the website is a red flag. Remember: When getting an ESA letter, only you the owner need to qualify; there's no registration of any kind.
Additionally, the site mentions working in conjunction with mental health professionals but never once says who they are or whether you will be able to speak with one. What's more, ESARegistration.org does not provide a physical address. Any good business providing ESA letters must have a physical location staffed by physicians and licensed mental health practitioners.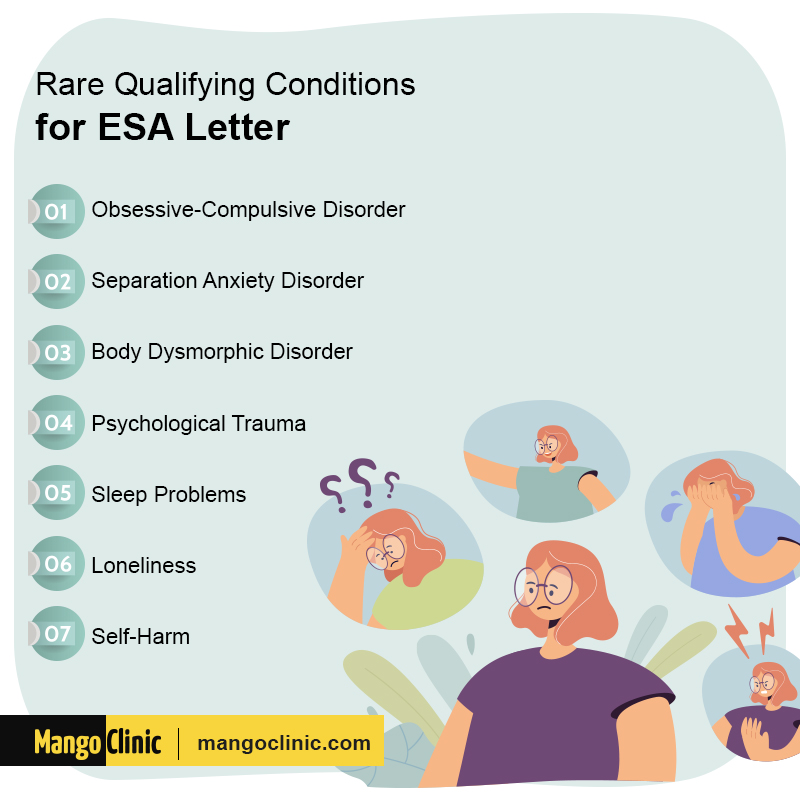 How Does ESARegistration.org Compare to Mango Clinic?
Qualifying Patients
ESARegistration.org first asks you to purchase the ESA letter of your choice (travel, housing, or both), which is very strange considering what comes next. According to their steps, after you purchase the letter, you schedule to talk with a therapist over the phone, so that they may assess you and see if you qualify. So essentially, they very explicitly want you to pay for their "letter," and then talk to a therapist to see if you even qualify for the letter you've already paid for.
Mango Clinic makes sure that each and every person is properly qualified by our certified doctors. In the state of Florida, you are able to consult with a doctor via Telehealth, which means you can speak with them in video chat or over the phone. This makes getting an official ESA letter that much easier.
You can register dog as emotional support animal florida. Just click the button below to get your ESA letter now.
Cost of an ESA Letter
ESARegistration.org is an interesting case because they come off more like a store than a place to get a crucial medical letter. Among the many useless accessories you can get for your dog, the main thing they sell you is a kit that comes with too many things. These kits come at different prices (depending on what's in it), but if you're after just an ESA letter, they have that, too. The letters range from $130 to $150, depending on whether it's for housing, travel, or both.
Mango Clinic provides you with a letter in prices ranging from $129 (housing), $149 (travel), and $189 (both). Some of these prices may seem a bit higher than ESARegistration.org, but that's because we're legitimate. Getting an ESA letter is never cheap, and neither is it so easy to get. These letters are guaranteed and recommended by professional and certified doctors.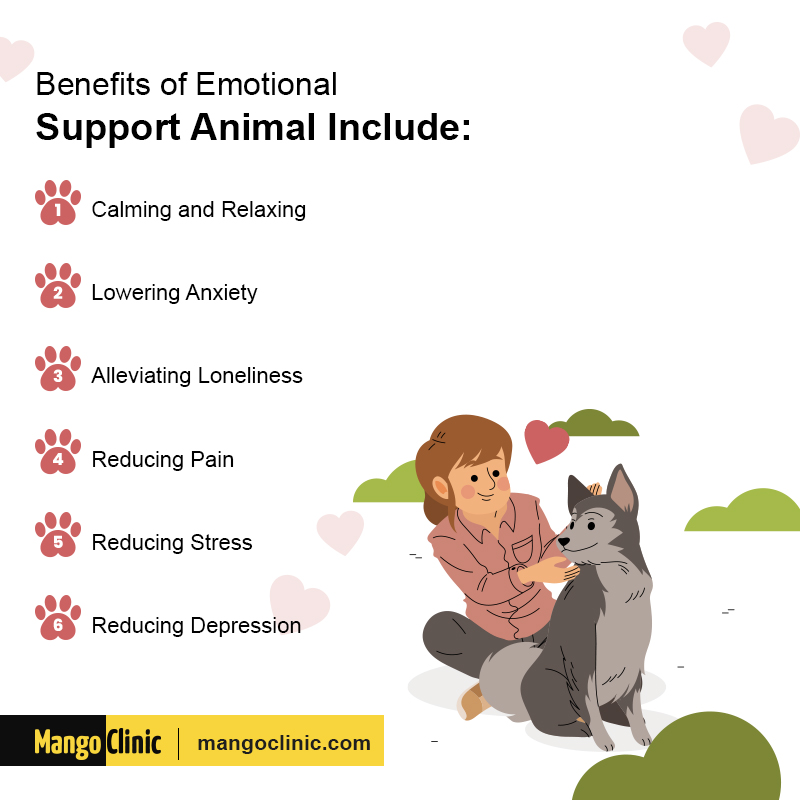 Getting an ESA Letter
Strangely, ESARegistration.org does not have obvious information telling you how you would get a letter. That may be because they don't actually provide a physical certificate; it only exists as an electronic download. According to their ESA letter product page, "If a landlord requires a reasonable accommodation form there is a $75 additional fee."
As you might have guessed, none of this is how it should be done. Mango Clinic will have you speak with one of our doctors, who can approve you for a letter, which you can receive in-person or via email.
An emotional support animal can help you to regain your mental health. Click the button below to get your ESA letter.
What are the Guarantees?
ESARegistration.org does not appear to have a money-back guarantee, but they do have an extended return policy for the variety of different products they sell. They mention not being able to refund certificates, only replace them.
Mango Clinic provides you with a 100% money-back guarantee; if your letter is not accepted for any reason, we will refund you. You can also call our number for any questions you may have.
As you can see, sites like ESARegistration.org are more interested in taking your money than they are in actually providing you with a real ESA letter. From the name alone, you know they aren't genuine, and that any other site like theirs is not to be trusted.
If you're looking to get an ESA letter, come to Mango Clinic, where you will speak with an actual doctor who can recommend you for a valid letter. We know the importance of always being with your animal companion, so call us at 786-391-0269 or visit our webpage to schedule an appointment today. You may also complete our ESA Online Form and speak with a doctor from the comfort of your home via telemedicine.
Contact us at Mango Clinic for an ESA letter or click the banner below to book your appointment.