Emotional Support Animal Letter from RegisterServiceDogs.com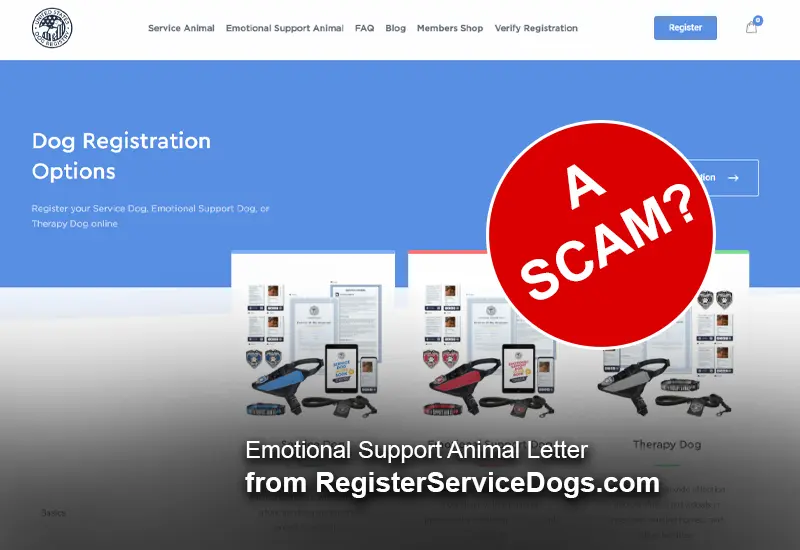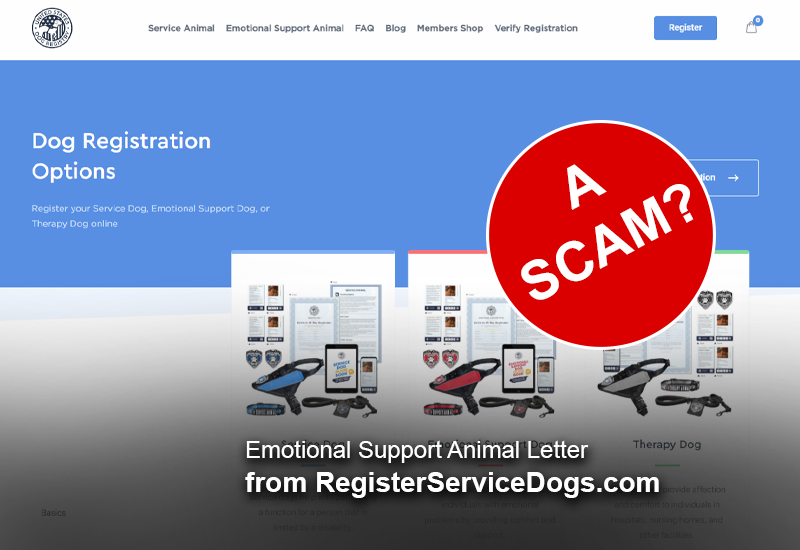 In this installment, we will revisit our series of critical reviews on various online ESA services. This article focuses on why you shouldn't get your Emotional Support Animal Letter from RegisterServiceDogs.com.
What is an Emotional Support Animal?
People who own pets know how valuable they can be to a single person or a whole family. We care for them, spend all our time with them, and eventually, they become much more to us than mere pets. This is also why so many people with close connections with their pets are more likely to see them as family members or best friends. And for some people, their beloved companions become emotional support animals who can help them get through the day in a way other forms of therapy cannot. For these reasons and more are why many consider their pets emotional support animals for mental disorders like anxiety and depression.
An emotional support animal can help you with depression. Click the button below to get your ESA letter.
We at Mango Clinic Miami know that if you have a health or mental disorder, and you think you need another form of therapy, ESAs are an excellent option. Pets have already proven to be a well-loved source of joy for so many people, but some people have also found their companions to be of value to their mental health. Getting an ESA letter allows you to have your pet in residences that may otherwise not allow pets or would charge you an additional price for them. This letter also lets you take your pet with you on an airplane, instead of putting them in cargo or paying an extra fee. Without a legitimate ESA letter, you could get into unfortunate situations that can involve you not being able to take your pet with you on a trip.
Unfortunately, there are too many fraudulent websites out there that take advantage of people and their lack of understanding regarding ESA letters. These sites are designed to scam you out of your money, and we want to make sure you don't fall for them by knowing some tell-tale signs.
Is RegisterServiceDogs.com Legit?
Let's go over the process of getting an Emotional Support Animal Letter from RegisterServiceDogs.com. RegisterServiceDogs.com, also known under the new name USDogRegistry.org, is an example of one of these types of sites. The easiest way to know they're a scam is in the name; the domains use the word "register" and "registry" respectively. You cannot register an emotional support animal, and thus, there exists no registry for them. You the owner are the one who needs to get a letter for yourself and include whichever pets you want to add as ESAs.
While the repeated use of the word "register" (and its variations) already proves its illegitimacy, there are other things on their site that support this. For one, they don't provide ESA letters. What they do seem to provide are "kits" that contain a variety of useless things you don't need, such as a dog tag, an ID card, and a vest. As for what passes for a letter, these kits include "certificates of registration," which are not at all valid and would not help you if you need to provide a letter to an airline or landlord. When you get an ESA letter, all you need is the letter and that's it; anything additional is completely unnecessary. Any business that claims it can give you an ESA letter does not need to be giving you a complete kit featuring too many things, along with a false certificate.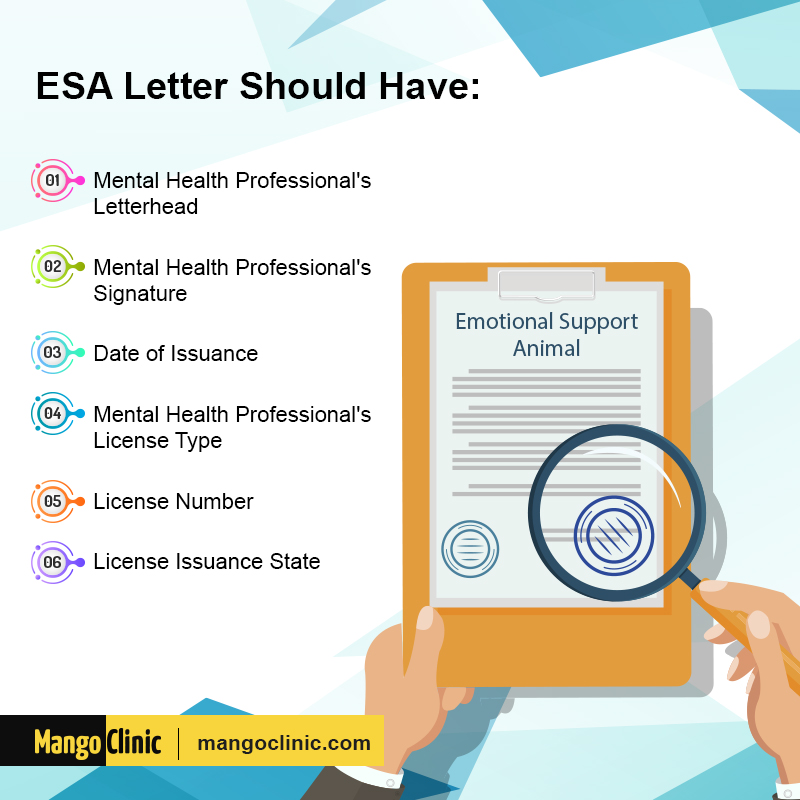 Something else that is problematic is the website's lack of a physical address and phone number. Any legitimate business, regardless of their service, should have a physical address and a good way to contact them. RegisterServiceDogs.com/USDogRegistry.org only features an email and a contact form, and these alone are not enough to make them a genuine service for getting an ESA letter. The lack of a physical location also makes them illegitimate because any place that can provide you with an ESA letter must have a facility where licensed physicians and staff are employed.
One more thing that you may not know about is how long these letters are usually valid. A real ESA letter needs to be renewed yearly, but according to USDogRegistry.org, your ESA "will be registered with the US Animal Registry" for as long as the ESA is alive. Just so you know: the US Animal Registry is not real. 
How Does RegisterServiceDogs.com Compare to Mango Clinic?
Qualifying Patients
As you apply for an ESA Letter from RegisterServiceDogs.com/USDogRegistry.org, they do not require you to fill out any kind of questionnaire for yourself. You have to fill out information pertaining to your pet, as well as anything you may want to add to your kit. This further proves that they don't sell you a letter but a product that happens to contain a "certificate." However, their FAQ does mention that, for ESAs, you need a doctor's note. At the same time, they say you do not have to submit that note to them to get a kit.
At Mango Clinic, we make sure you speak with one of our qualified doctors, as this is the only way to get a real ESA letter. The doctor must evaluate you and determine whether your medical condition can approve you to have an ESA letter. Best of all, the regulations allow you to speak with a doctor via Telehealth communication, which means you can speak with them over the phone to assess your eligibility.
Get an expert doctor letter for emotional support dog. Click the button below to get your ESA letter.
Cost of an Emotional Support Animal Letter from RegisterServiceDogs.com
Once again, if you want to obtain an actual ESA letter from RegisterServiceDogs.com/USDogRegistry.org, remember, it does not offer you one. Their kits start around $79 and can go up to $199; the only thing in the kits that can count as a "letter" is their "certificates."
Mango Clinic has prices that range from $129 (housing), $149 (travel), and $189 (both). It may seem like a lot of money for just a letter (as opposed to a whole kit), but that's because these are the real deal. These letters are legal and approved by certified medical professionals.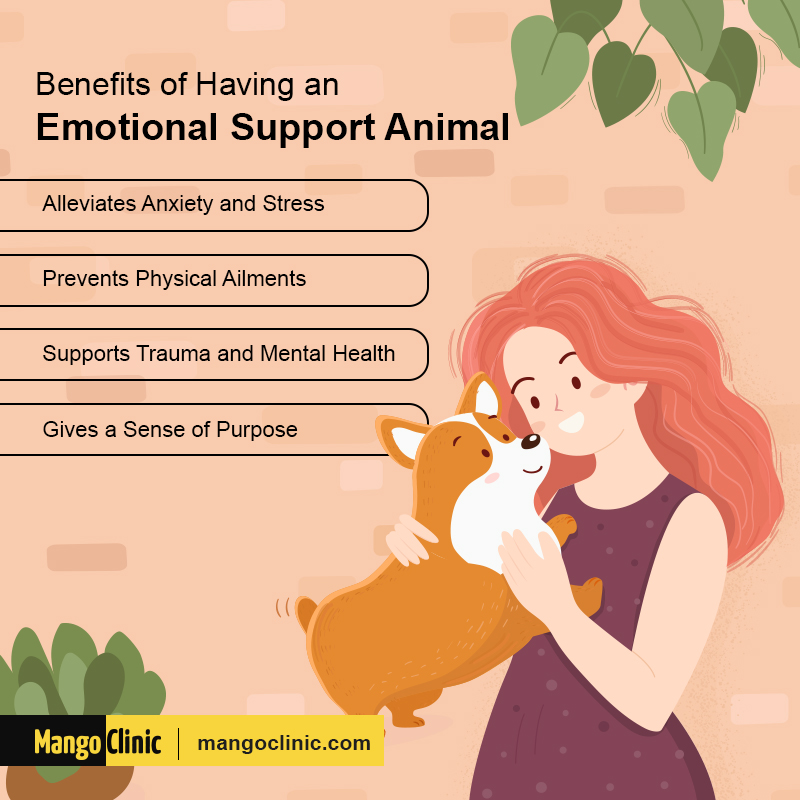 Getting an Emotional Support Animal Letter from RegisterServiceDogs.com
Like many other sites, RegisterServiceDogs.com/USDogRegistry.org asks that you fill out some quick information, pay, and then you'll receive your kit. You don't even have to talk with anyone; it's as easy as adding a product into your shopping cart.
Getting a valid ESA letter is never as easy as getting an ESA letter from RegisterServiceDogs.com; there's a reason for that. Mango Clinic cares that you get the help you need, so we make sure we do everything the right way. You speak with one of our doctors, and after they approve you, you'll be able to receive your official ESA letter, either physically, as a PDF, or both. You can even speak to them via Telehealth since Florida allows you to speak with a doctor through video chat or a phone call.
What are the Guarantees?
As you continue through steps to acquire your Emotional Support Animal Letter from RegisterServiceDogs.com/USDogRegistry.org, you will find on their FAQ that there are "no refunds on the certificate and identification cards," and absolutely no mention of a money-back guarantee. They do, however, have a return policy for its vests, in which they claim they will exchange it once if you contact them within 15 days of when your order was placed.
Lower your stress level with an emotional support animal. Click the button below to get your ESA letter.
Conclusion
At Mango Clinic, we provide you with a 100% money-back guarantee, ensuring that if your letter is not accepted, you will be refunded. You can also always call us if you have any questions. Mango Clinic cares about the valuable relationship that exists between you and your animal, which is why we do things the right way. Visit our appointment page or call us at (786) 391-0269 to schedule an appointment today.
Contact Us at Mango Clinic for an ESA letter or click the banner below to book your appointment.