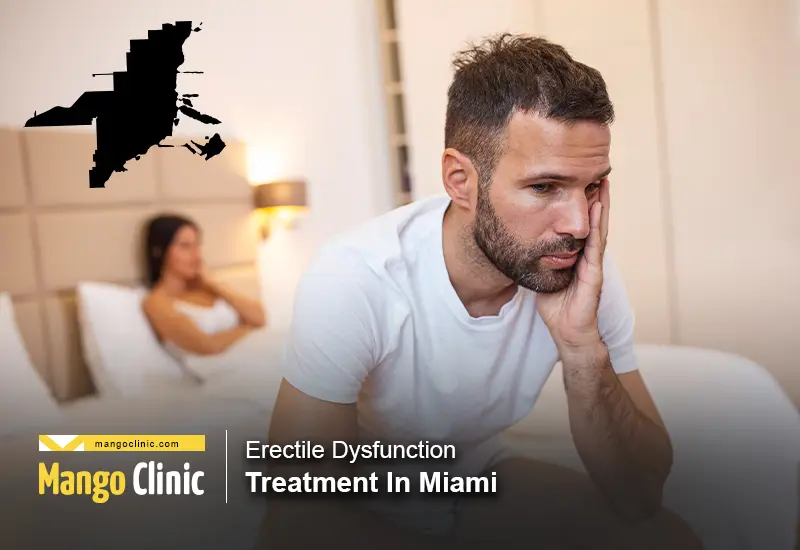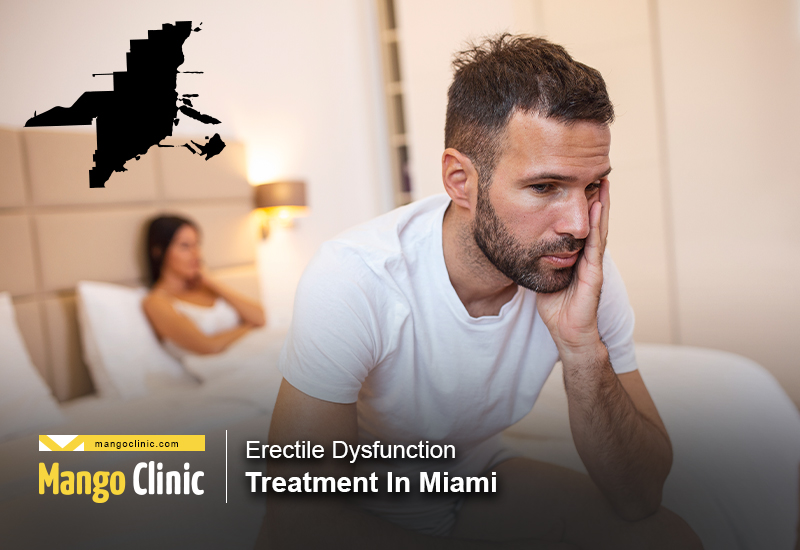 A reality of men and their sex lives is that they cannot always maintain an erection. As embarrassing as it may seem, it's a real thing that some men do not want to admit. Even so, its universal nature makes it nothing to be embarrassed about. What's more, this means that it's not difficult to take care of. Embarrassing as it may be for some, taking care of erectile dysfunction (ED) in Miami has never been easier. Mango Clinic Miami can help you find the treatment that works best for you. Our staff of professional doctors will be able to evaluate you and best determine which types of medication are best for you. With a variety of drugs and techniques for taking care of ED, it is essential to consult with a doctor to know which one works for you. Personalized erectile dysfunction treatment in Miami is available at Mango Clinic.
Get proper treatment for erectile dysfunction. Click the button below to book your appointment.
Reasons For Having Erectile Dysfunction
If you have erectile dysfunction, this means you are, for whatever reason, impotent. This is simple enough to understand and even diagnose (which is what a doctor must do before prescribing medication). While on the surface it comes down to not being able to hold an erection, the reasons behind having ED can be more complicated.
Physical Causes of ED
Physical conditions are often seen as a primary reason for why one might have ED. One of the most natural and common reasons is age. Adult men aged between 40 and 60 are most likely to suffer from ED, due to body aging and the complications that can arise because of it. This then leads to the other physical causes that can contribute to ED.
If you have had heart disease, high cholesterol, high blood pressure, or clogged arteries, these can be contributing factors to having ED. Diabetes and obesity are two health conditions that can also be a factor. If you happen to have one or both of these two conditions, you will need to handle your ED carefully in a way that positively treats both the dysfunction and health condition. Certain other health disorders such as Parkinson's disease and multiple sclerosis can also be a factor.
It makes sense that a physical condition can have something to do with one's impotence. However, it is not always some natural part of aging that causes men to lose their sex drive. Excessive tobacco and alcohol use can cause erectile dysfunction, due to their effects worsening a person's physical condition. This can also contribute to not sleeping well, which can also be a contributor to ED. If you combine these preventable vices with other physical ailments, it can easily result in being unable to keep an erection.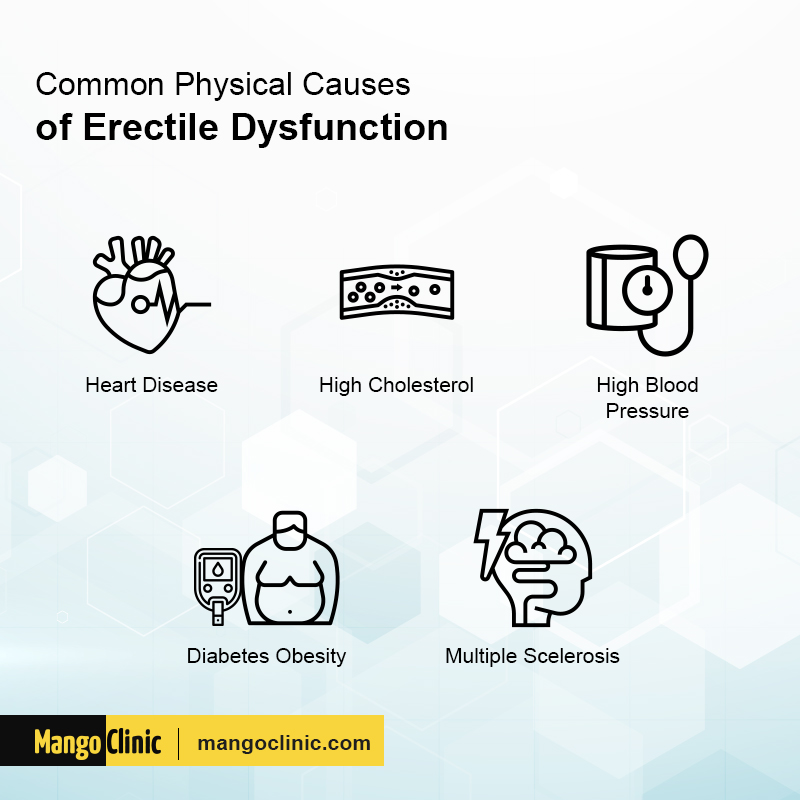 ED Mental Causes
Not every reason for having an ED is a physical one. One could even say that a primary reason for dysfunction comes more from the mind than the body. If you have a mental disability of some kind, it could be a reason. Suffering from anxiety or depression or another type of psychological issue can also lead to problems with one's sex drive.
The disturbances one might be suffering mentally can often translate to issues in the physical world. This is especially true if your problems involve someone else, such as your partner. Very often, problems between sexual partners are a significant reason for having ED. This could include general romantic issues to being unable to perform properly, which then results in ED, or worse dysfunction if ED is already present.
Issues outside of a partner can also come into play. If you feel overly stressed or frustrated, for whatever reason, that can negatively affect sexual performance. Internal doubt can also be a significant reason, as you might be focusing too much on your performance, which can then result in dysfunction.
There is no doubt that one's mental health is just as important as their physical when it comes to ED. If you have a serious physical issue that contributes to ED, you should make sure your mental health is as good as it can be. The road to recovery involves both the body and mind, as each plays a part in your sexual performance.
Improve your sexual performance. Click the button below to book your appointment.
Erectile Dysfunction Treatment
By this point, you are probably curious as to the treatment types that exist for ED. There is a surprising variety in the ways it can be treated, though prescription drugs are the most common.
Drugs for Erectile Dysfunction Treatment
We will start with ED medication, which usually comes in the form of prescribed pills. There are four FDA approved drugs that are known for treating ED. The four types are known as sildenafil, tadalafil, vardenafil, and avanafil; sildenafil and tadalafil are best known under their brand names Viagra and Cialis, respectively. There are no significant differences between these four drugs, other than how long they last and their chemical makeup.
The drugs are PDE5 inhibitors that stimulate nitric oxide within the body (which is what helps erections happen in the first place). If you take these drugs, you will not immediately receive an erection; these drugs only work when sexually aroused.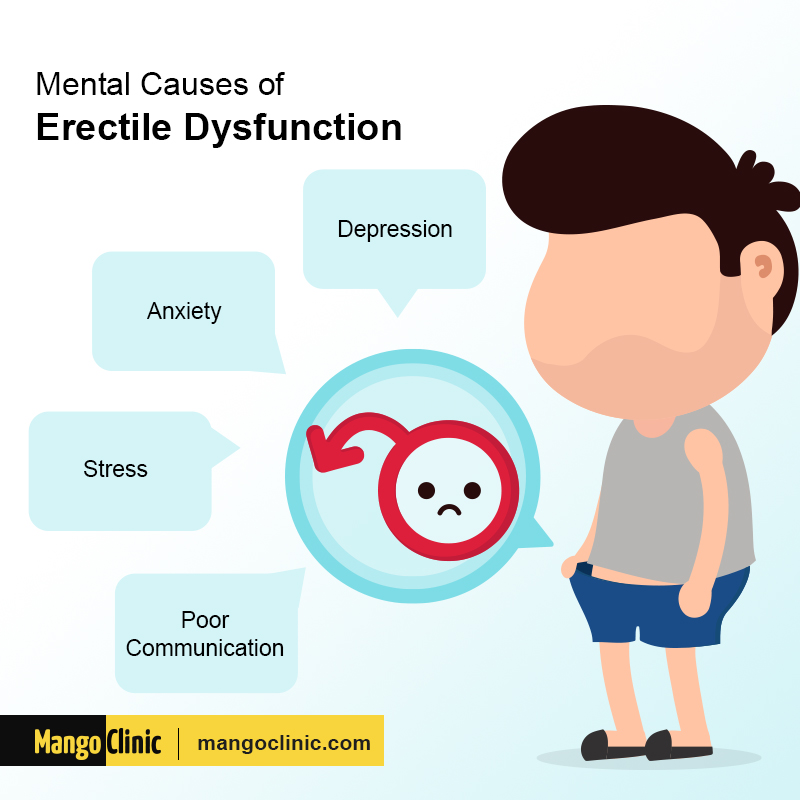 Other ED Treatments
While pills are most likely what you will be using as erectile dysfunction treatment, there are other treatments, as well. There are injections you can use on your penis, though the effects are not intended to last for more than an hour. Suppositories are another option, though they must be inserted through the urethra and also does not last for more than an hour. Enlargement pumps are also an option, as are implants (which are typically only recommended as a last resort).
While any one of these forms of treatment is bound to help, there are other things you can do in conjunction with medication. It helps to be healthy all around when being treated for ED, so if you can, make sure you are getting some regular exercise. Also make sure you are eating well, as this can affect your body as a whole, and thus, your sexual performance. It is also important to get counseling in case your mental health is a major reason for your erectile dysfunction.
Get counseling for mental health issues. Click the button below to book your appointment.
Conclusion
Mango Clinic will be able to help you get the medication best for you. Our medical staff will evaluate your condition and help you understand what you can do about it. No one should have to live with erectile dysfunction, and no man should feel embarrassed about it.
Contact Us at Mango Clinic for erectile dysfunction treatment or click the banner below to book your appointment.