Types of Dermal Fillers: What Is Right for Me?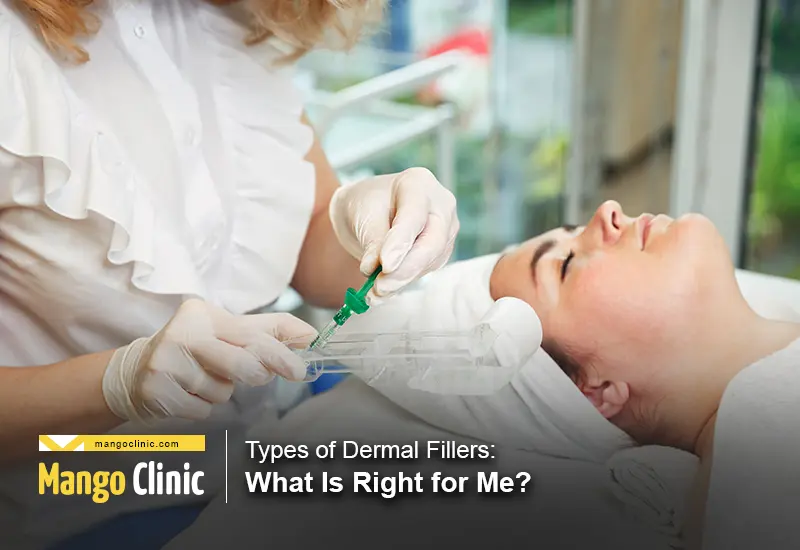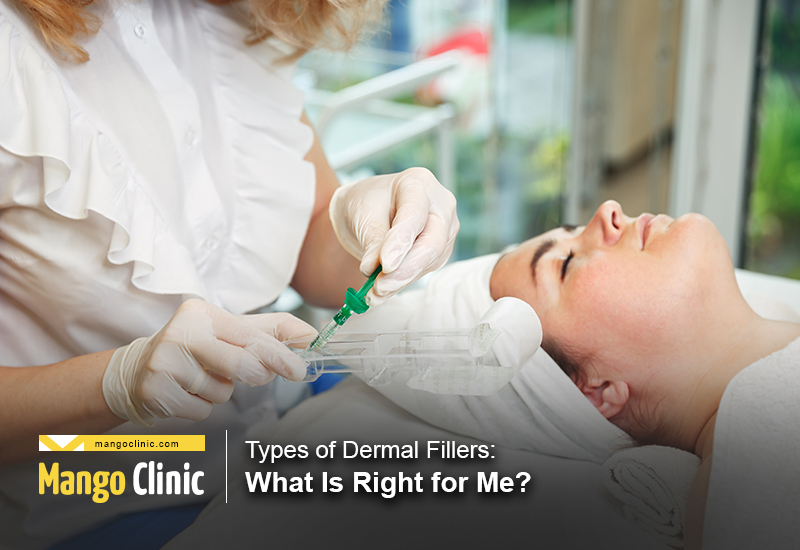 There are many ways to take care of your skin and enhance features, which can be done with the help of dermal fillers. Mango Clinic can provide you with the chance to have your life changed for the better with dermal fillers. Our licensed doctors can help you achieve the look you strive for with a variety of dermal filler styles and options that can work for anyone.
Get injectable treatment from expert physicians. Click the button below to book your appointment.
What Are Dermal Fillers?
For those that want to enhance their features, dermal fillers are often at the forefront of the choices available. While Botox is a popular form of taking care of wrinkles, fillers are different sorts of procedures. Botox injections freeze cells so that reproduction of skin stops for a time, allowing the skin to remain smooth looking.
Dermal fillers are different because they are not freezing skin; rather, fillers add to the skin it is being injected into. This is why they are ideal for those that want to add volume to their cheeks and lips, as the enhancement allows for these parts of the skin to be filled. The result is a look that can be seen as quite natural, and in some cases, can be more permanent than other comparable procedures.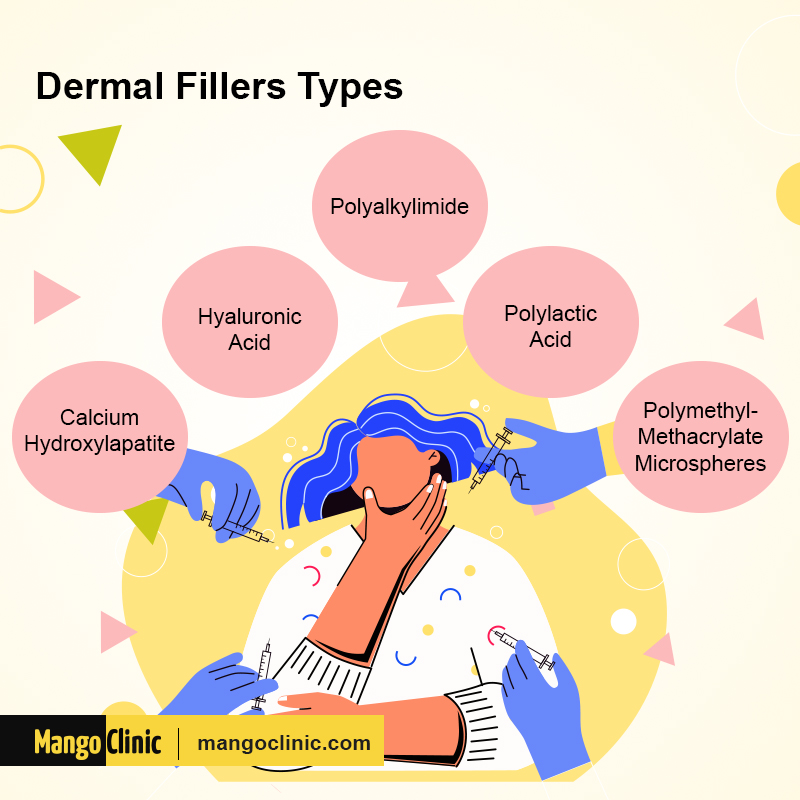 Types of Dermal Fillers
When it comes to getting a procedure for dermal fillers, there are a few options you can choose from. There is no one universal type that is used by all, and because of this, many filler brands and types exist. Each of them has unique advantages that can benefit a patient over another type of filler. Some are best for lips or cheek; others use materials that can be a better fit for you. The type of dermal filler will be entirely up to you, so make sure you and your doctor are on the same page when it comes to which material is being used.
Calcium Hydroxylapatite
The name might give it away, but calcium hydroxylapatite is a type of filler that is found naturally in human bones. It is biosynthetically produced, which means no external components (such as animals) are used in the making of this filler. This also makes it very safe, due to it having less chance of producing an allergic reaction caused by external components.
Calcium hydroxylapatite can work best for marionette and frown lines, as well as enhance face cheek fullness and fill volume in areas of facial wasting. Due to its natural origin, it is one of the most natural filler options you can have. It has also been used in other fields (such as dentistry) for many years, proving its worth as a reliable filler type.
Get proper treatment for age-related wrinkles. Click the button below to book your appointment.
Hyaluronic Acid
Among the most famous dermal fillers is hyaluronic acid, which is extracted from connective tissues in your body, as well as the fluid that can be found around your eyes and in your joints. Since the fluid can be extracted to make suitable filler material, hyaluronic acid has branded itself under many familiar names, such as Juvederm and Restylane.
As one of the most popular types of dermal fillers, hyaluronic acid can be used to treat a variety of lines and facial marks such as skin depressions, crow's feet, nasolabial furrows (lines on the sides of the mouth), forehead frowns, multiple types of facial scars, and lines across the eyebrows.
Polyalkylimide
Known as a semi-permanent filler, polyalkylimide is biocompatible and does not react too harshly with one's skin. This makes it an ideal filler, as you do not have to get tested before being injected with it. It's also a very unique filler, as it develops underneath your skin over time, and you can get a lot of it in just one injection. You can even have it removed, though it is known to be quite effective and reliant.
Polyalkylimide is most used for treating deep wrinkles, such as depressed scars, enhancing cheekbones, and adding more volume to parts of the face affected by aging. Polyalkylimide can also be used for plumping thin lips, providing fuller volume.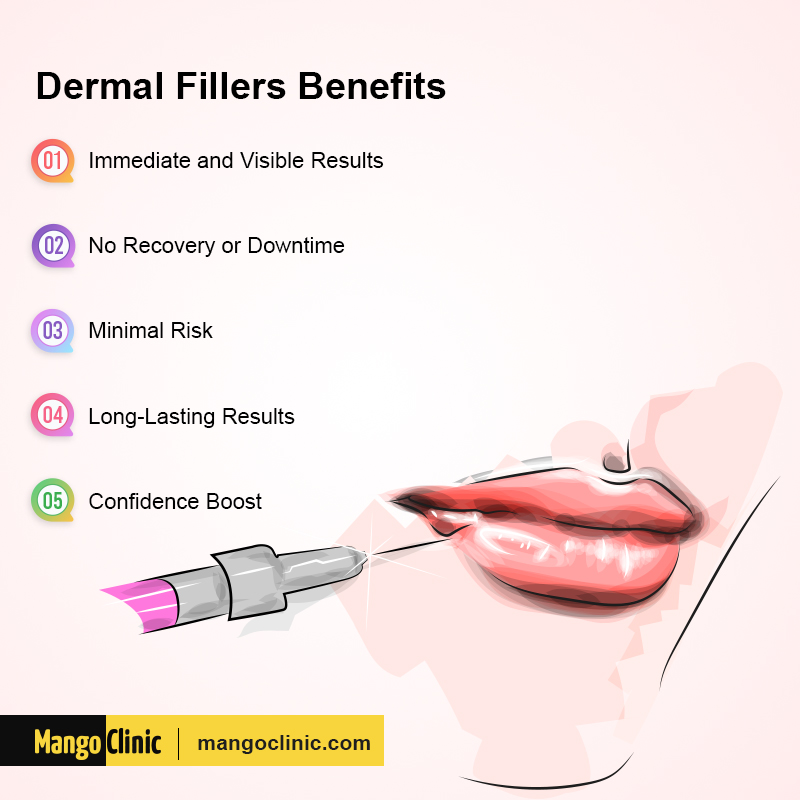 Polylactic Acid
Among the dermal filler types that exist, polylactic acid is unique for not having immediate results. Where most fillers have results that you can see fairly soon after a procedure, polylactic acid takes its time. This is because the filler helps the body create its own collagen, which results in effects that show up over time. Due to this, it can take a few additional sessions for you to achieve the look you want. Polylactic acid is usually used in the lower parts of the face, such as lips, lines, and nasolabial folds. Sculptra is one of the most popular brands here.
Polymethyl-Methacrylate Microspheres (PMMA)
PMMA is one of the more permanent options a person has for fillers; it is used for treating deep wrinkles and folds, as well as enhancing the lips. Due to its more permanent nature, you will get fewer injections per session, only requiring more when and if needed. It can take a few months for you to achieve the full results you want; make sure your doctor is very familiar with the procedure before proceeding.
Get fuller skin with dermal filler. Click the button below to book your appointment.
Fillers for Lips and Cheeks in Miami
If you are interested in getting a dermal filler procedure done, contact us at Mango Clinic. Our licensed physicians will be more than happy to help you get the look you are looking for. Visit our website, or phone us on (786) 391-0269 to schedule your appointment today.