Emotional Support Animal Certification – NSARCO.com Review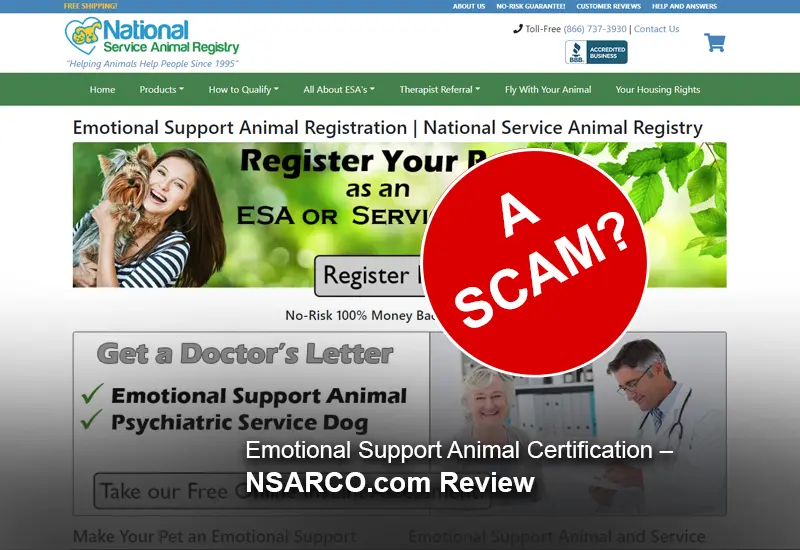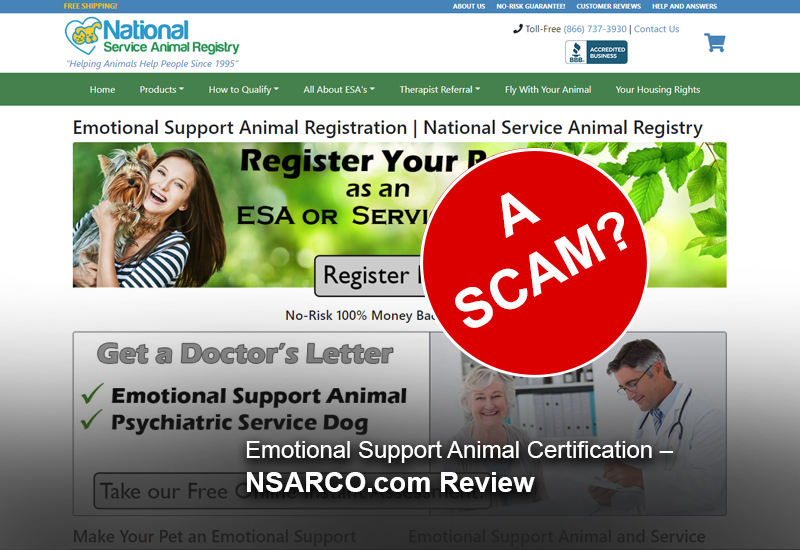 So many of us love owning pets, or we at least know someone who does. For many people, a pet is part of their family. They have them in family photos, take them out all the time, and keep each other entertained. Not just a source of fun, pets can be a loving companion for so many people, to the point where they can't bear to be separated. It can get to a point where some people can't be as calm or as comforted without their pet. This is why people seek out emotional support animals. Whether it's been recommended by their physician, or if they already have the pet of their choice, an emotional support animal can bring comfort and stability to those who may be suffering from mental or emotional disorders. So if you already have a pet for support, what you're probably looking for next is documentation. An ESA letter allows you to house your support pet at places and complexes that may otherwise not allow animals on the property. This way your options for where to live expand since you will not need to pay any extra fees for your ESA, as so long as you have the proper documentation. And let's not forget that an ESA letter can let you fly onboard an airplane cabin with your pet, with no extra charge or hassle.
At Mango Clinic Miami, we will have you speak with a licensed physician who will be able to recommend you for an ESA letter legally. We can provide you with a letter for housing, travel, or both, which will let you and your support animal live better, healthier, more comfortable lives.
An emotional support animal can help you to regain your mental health. Click the button below to get your ESA letter.
Is NSARCO.com Legit?
Unfortunately, there are too many websites that are dedicated to scamming people by offering fake certificates. They can be tempting by displaying low prices or for making the process much quicker than it actually is. Many of these sites are very alike, offering unneeded products, such as vests, tags, and identification.
The National Service Animal Registry (NSAR) is one of these fraud websites that tricks people into paying for fake documentation such as an ESA letter. Of the many scam sites like it, NSARCO.com might be one of the most deceptive.
Their main website has a lot of information you can look at, not just about emotional support animals, but also service dogs and therapy animals. The homepage, featuring a photo of a vest-clad dog Photoshopped onto a stock photo of a woman sitting down at an airport, has a lot of links to different parts of the site. There is plenty to see on this homepage, but for those in the market for an ESA letter, the "How to Qualify" and "Products" pages maybe what they are looking for. The products page easily lists the various things you don't need, such as Service vests, leashes, and collars, as well as patches, tags, and ID cards. Again, if you need an ESA letter, none of these things are needed.
What we would be looking for is the ESA letter, which seems to be included as part of a "Registration Kit," which can vary price. Just so you know, you never have to register your pet for anything, and no such registry exists. These "kits" include a "Lifetime ESA Registration" (ESA letters do not last a lifetime, they have to be renewed yearly) and "Inclusion in National Online Service Dog Database" (not real), among other, smaller things. The higher-priced kits contain more of these unnecessary extras.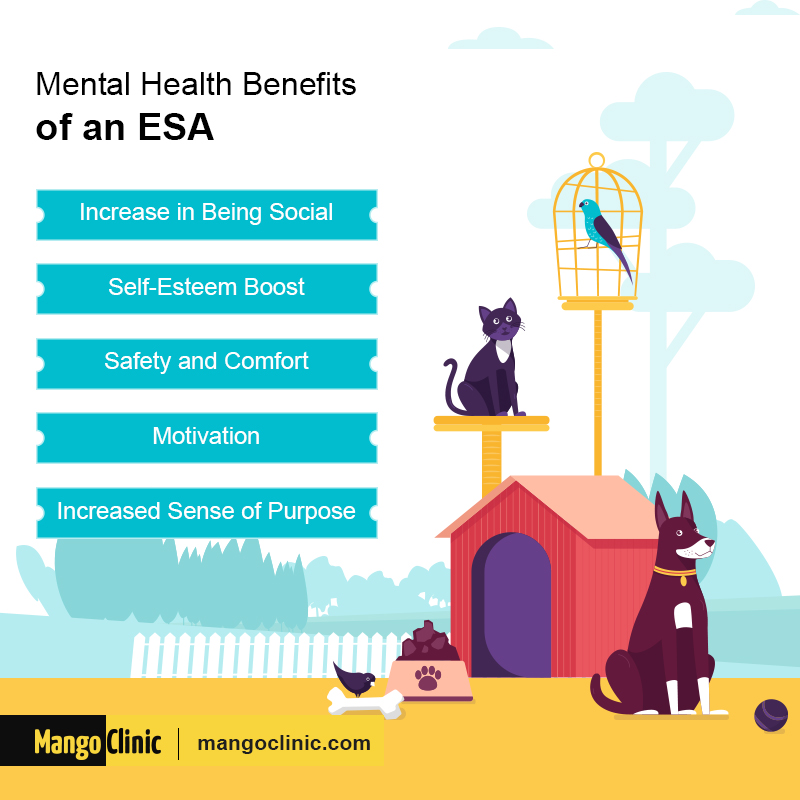 However, before you can get your hands on this kit, you need to qualify. The "How to Qualify" section of the site has a specific section for ESAs; this page looks like a FAQ and has two separate buttons that lead you to the product page. But how do you qualify? Well, if you didn't click on the "Therapist Referral" link at the top of the page, the ESA page has a section that's headlined "How to Qualify for an ESA." This is where things start to get more sketchy, as this section mentions how "registration is voluntary" and that "Registering your pet as an ESA" legitimizes them and makes them "look official." It's a very strange language for what is supposed to be a helpful and sometimes necessary piece of documentation.
But what's really troubling is that NSARCO.com refers you to their "recommended company" for getting qualified by "legitimate and highly accredited licensed mental health professionals." This company is called Chilhowee Psychological Services (CPS), and they have the same mailing address as NSARCO.com. In fact, if you do a bit more digging, you will find that the same people run both companies. On the CPS website (cptas.com), you can visit the "About Us" page, which shows two pictures: one of the CEO, named Timothy Livingood, and one of the "Clinical and Administrative Staff," which looks like a stock photo. If a company that can offer health services were legit, it would not use only one staff photo on its about page. Genuine companies tend to provide individual photos of select employees, and in some cases, these will include bios. The only person with a bio on CPS is Livingood, which mentions his educational and professional background. If the photo featured of him seems suspicious, that's because it is. A quick reverse image search finds another photo that is identical, with the only difference being the head and face of the person in the photo. So in case, you were still on the fence, just know this company used a doctored photo of the CEO for their website. Further digging of the name "Timothy/Tim Livingood" will reveal, if nothing else, that he is indeed the CEO of both NSARCO and CPS.
You can get Mango Clinic emotional support animal letter by click the button below.
News Investigation Against NSARCO.com
If you needed more proof that these companies were a scam, a local news station looked into it four years ago. FOX31 in Denver, CO. (located near the address featured on both NSARCO and CPS) did an investigation into scam sites that provided illegitimate ESA and service documentation. It covered how these sorts of sites harm the people who actually need service or emotional support animals. When so many people have fake letters, they might think they can take their pet anywhere. This affects those who actually need a service animal or have an ESA, as they may be looked at as faking it.
FOX31 decided to try and get a letter from NSARCO. Following the instructions on their sites, they were able to get a letter that certified their cat as an ESA, and that they had a "mental health disability." However, after filling out an online form, only one person ever spoke with them (for less than 15 minutes in total), and it wasn't the doctor who subsequently signed their letter. The news team then decided to visit the address featured on both NSARCO.com and cptas.com. Here they found no doctors or medical staff; they found some people answering phones surrounded by boxes full of vests and patches. Using the picture of the "staff" as featured on cptas.com, they tried to figure out who, if anyone, in that picture worked there. When they asked a supervisor this question, they were asked to leave the premises.
Something else the FOX31 team mentioned that would otherwise go unnoticed is Stanford Sutherland, the man who signed the letter for the ESA cat. The footage for this news team showed the "About Us" page for cptas.com that featured Sutherland (since removed), who even has his own bio still online if you know how to find it. This bio page features a link that lets one "view and verifies Mr. Sutherland's licensing credentials and registration in the state of Colorado." This link leads to a Colorado government site that includes Licensee Information; according to this page, Stanford Scott Sutherland voluntarily surrendered his Professional Counselor license in 2017.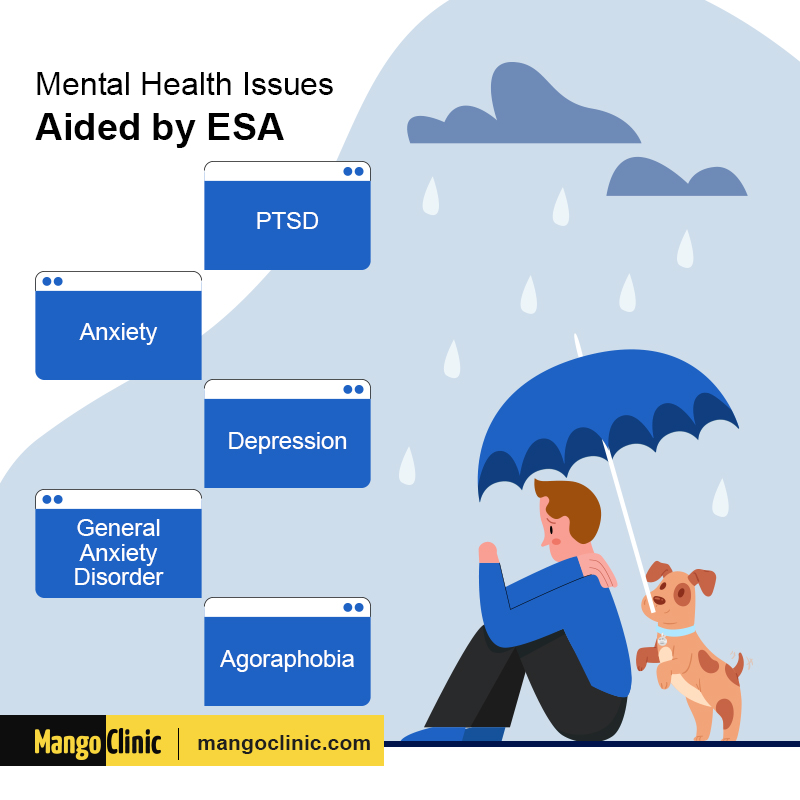 How Does NSARCO.com Compare to Mango Clinic?
Qualifying Patients and Getting an Emotional Support Animal Letter
As we have seen, NSARCO does not qualify people themselves, but they do let you fill out an online test on cptas.com. From here, you should receive a letter from a "qualified professional" who will "certify" you to have an ESA.
Mango Clinic does things the right way, by having you come in and speak with a licensed physician; alternatively, this can be done via telehealth communication. Once you've been approved, you will receive a genuine and stamped ESA letter.
Cost of an Emotional Support Animal Letter
The ESA kits featured on NSARCO.com range from $54 to $154; the more expensive the kit, the more useless stuff comes with it. As for cptas.com, they have one price for a "Disability Assessment and Treatment Recommendation Letter" that goes for $164. Keep in mind, this $164 letter is just a piece of paper that says you can get yourself an ESA letter.
At Mango Clinic, you only need to pay either $129 (housing), $149 (travel), or $189 (housing and travel) for an ESA letter. Speaking with a licensed physician does not cost you extra since this is what you need to do before being approved for a letter.
What are the Guarantees?
Surprisingly, both NSARCO.com and cptas.com claim to offer guarantees. While cptas.com mentions a "100% Money-Back If You Fail to Qualify as Disabled" on their webpages, NSARCO.com has an entire webpage dedicated to it. Calling it a "No-Risk Guarantee," the page says it will absolutely help out customers with any problems they may have with any of NSARCO's products, including a 100% refund within 30 days of purchase. Mango Clinic offers a true money-back guarantee on your ESA letter if it is not accepted for any reason at any time.
Lower your stress level with an emotional support animal. Click the button below to get your ESA letter.
Bottom Line
NSARCO.com and cptas.com may have intricate websites, but they are both scams, plain and simple. They cannot offer you a genuine ESA letter, and if you use their services, you will only be losing your money to products you can't use or don't need. Not only that, it has already been proven that they're illegitimate from both a local news station and even through a mention from NPR.
Mango Clinic will be able to provide you with a legitimate emotional support animal letter by having you speak with a licensed physician who can approve you if you qualify. Contact us by calling or visiting our webpage to schedule an appointment today; you may also complete our ESA Online Form before coming in or calling us.
Contact Us at Mango Clinic for an ESA letter or click the banner below to book your appointment.