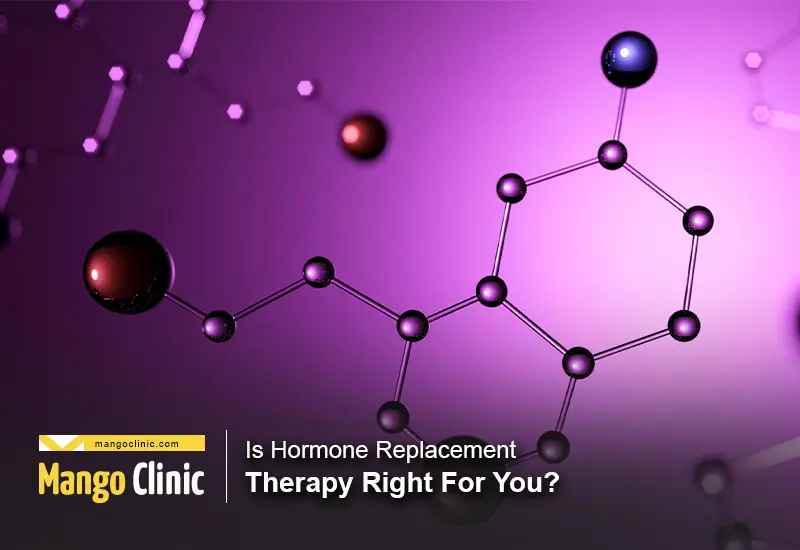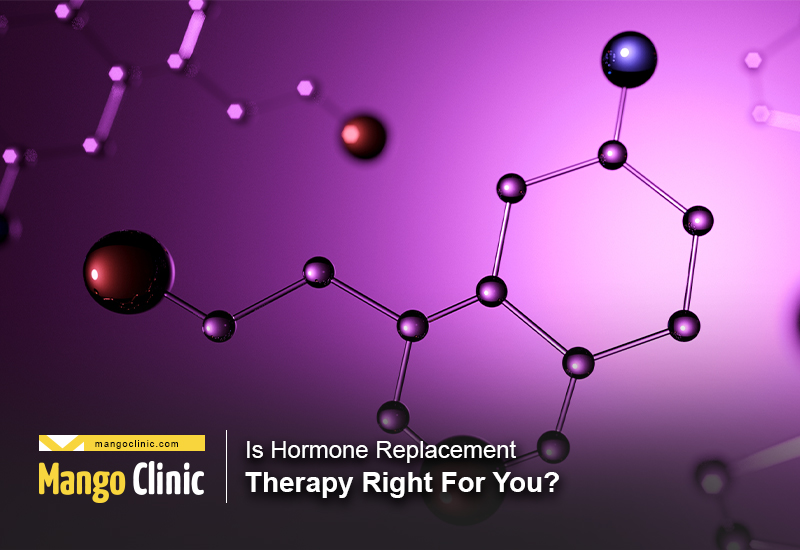 If you have certain disorders or illnesses, you want to make sure you're treated well. You also want to make sure your symptoms are well understood and that the best possible options are always provided to you. Mango Clinic Miami is able to assist you with a wide variety of health services, including weight loss, sexual dysfunction, and anxiety.
Featuring a staff of professional physicians, we are able to help you both in person and at home, thanks to the benefits of telehealth communication. If you happen to have certain women's health issues, our doctors can help you understand your symptoms and treatment options. In this article, we would like to discuss hormone replacement therapy and help you understand whether the therapy is right for you. 
Menopause hits women eventually, and the effects can range in both what they are and their intensity. Hot flashes are among the most common side-effects; these can last for seconds or even minutes and can include redness of skin and sweating. Depending on the age of a woman, the extremity and intensity of the symptoms can vary. Moreover, some of these symptoms can be avoided and combated, depending on age and whether or not you have had your ovaries removed.
Save yourself from symptoms of menopause. Click the button below to book your appointment.
Since these effects can be severely problematic, as well as detrimental to one's normal way of life, there exist ways to take care of the symptoms of menopause. Depending on circumstances, you may not actually have to encounter the common problems associated with menopause. In fact, you have to maintain a healthy lifestyle if you're in your mid-40s and are not bothered by the traditional side-effects so often associated. However, you may want to look into something if you're a bit older and these symptoms are bothering you. Even if you have yet to experience full-blown menopause, taking certain medications can prove to be beneficial.
One of the most well-known and effective forms of treatment for menopause is hormone replacement. At its core, hormone replacement therapy does exactly what it says in its name: it provides synthetic hormone replacements that the body is no longer creating due to menopause. It's a relatively common form of treatment and has been shown to be very helpful for many who suffer from the side-effects of menopause. It can even prevent bone loss in some patients, which is helpful since some patients might have reduced bone mass, which makes menopause that much harder to deal with.
Of course, whether hormone replacement therapy is right for you depends on many factors. Your age and general health are major factors that can determine whether you can take this type of medication. If you have had any risk of heart disease or cancer, it is generally recommended that you do not take any form of hormone replacement therapy. This is because hormone therapy can actually increase the risk of having heart disease and cancer, as well as blood clots and strokes. One's own medical conditions and medical history can contribute towards these risks; dosage size can also increase one's risk.
These risks are a major reason why hormone replacement therapy is often paired with progesterone. Unless you had your uterus removed, taking just estrogen on its own can cause serious health problems that are counterbalanced by progesterone. Those who do not take progesterone may experience a different variety of side effects and a different rate of risks. As always, it is recommended that you speak with your doctor as to whether hormone replacement therapy is the best option for you.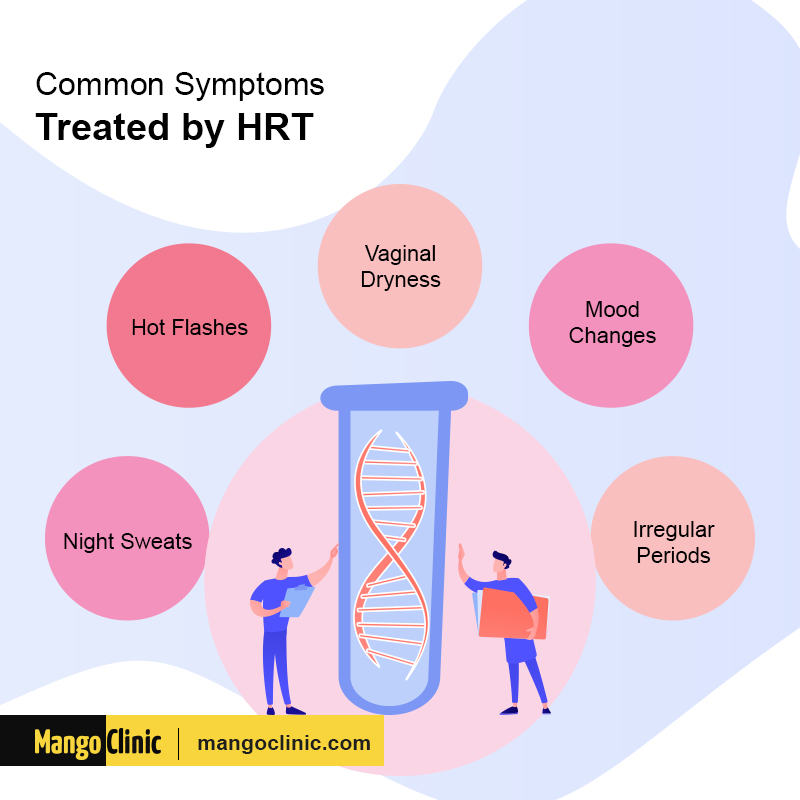 Types Of Hormone Replacement Therapy
There exist two main types of hormone replacement therapy: systemic estrogen and low-dose vaginal products. Systemic estrogen is the most basic and common form of hormone replacement available to women for treating menopause. A versatile drug, it can be taken as a pill, patch, spray, cream, or gel, with each type being recommended depending on each person's individual circumstance.
Of important note, systemic estrogen not only takes care of hot flashes, but also vaginal symptoms, such as dryness, itchiness, and discomfort. Low-dose vaginal products of estrogen are much more specific in their mission. While not being able to help with some of the most common symptoms of menopause (mainly hot flashes and night sweats), these low-dose products target vaginal symptoms while being less absorbent to the body. These products can be used as a cream, tablet, or ring.
Get proper treatment for hot flashes. Click the button below to book your appointment.
Benefits of Hormone Replacement Therapy
Treating and protecting against the most well-known symptoms may be enough, but it turns out hormone therapy can also help you against other ailments. The risk for different types of cancer, such as colon cancer, can be reduced with the help of combined hormone replacement products. Most notably, hormone replacement therapy can help with protecting the body against osteoporosis; this is a disease that weakens the bones by reducing their mass. Additionally, if you have had your uterus removed, you can take hormone replacements without the need for progesterone.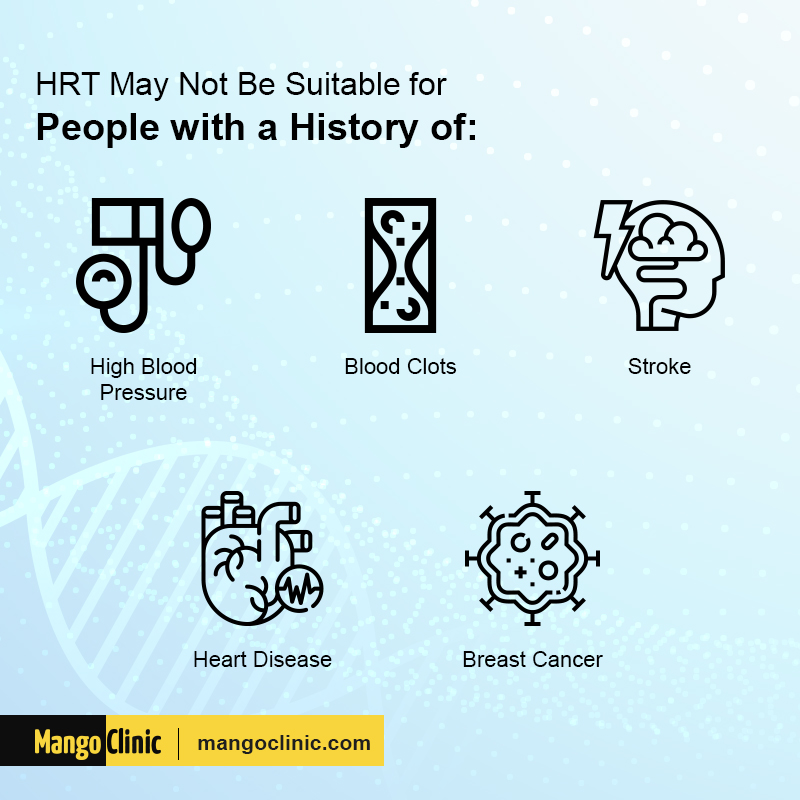 How To Get Hormone Replacement Therapy In Miami?
You can get hormone replacement therapy medication by making an appointment with your local physician. They will be able to best help you understand what it is you have, or how severe your menopausal symptoms are. From here they will tell you the best ways to treat the symptoms, which can include hormone replacement therapy.
If you decide that this is how you would like to treat your symptoms, your doctor will also let you know of the different types that exist, which can range from pills to gels to sprays to rings. You both will be able to determine the best choice for you, as well as understand any possible risks that surround the different types of treatment.
Get hormone replacement therapy for expert physicians. Click the button below to book your appointment.
Conclusion
If you are ready to treat your menopausal symptoms, contact us at Mango Clinic and learn how you can speak with a licensed doctor about getting hormone replacement therapy. You can call us or visit our webpage to set up an appointment. Don't miss your chance to find true relief and benefits courtesy of hormone therapy.