How Long Does Botox Last: Everything You Need to Know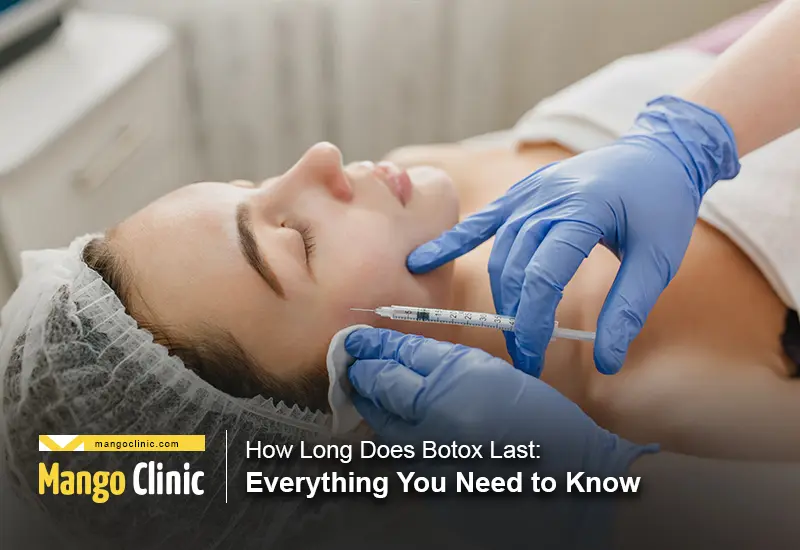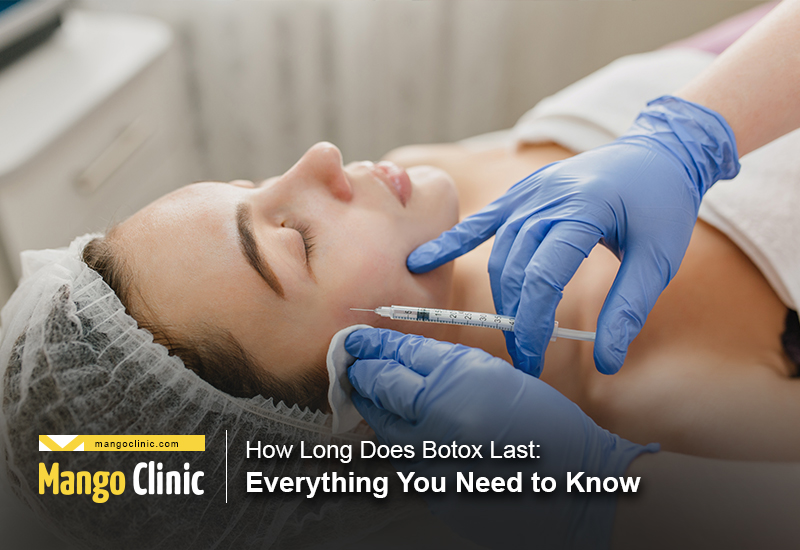 Have you heard of botox yet? Well, if you have been struggling with facial wrinkles, maybe this has popped up as part of the solutions. Typically, botox refers to an injection administered to treat a broad spectrum of bacteria-caused illnesses and conditions. Among these are excessive sweating (hyperhidrosis), cervical dystonia, an overactive bladder, and lazy eye. While the injection effects may remain quite helpful, many users are interested in knowing how its usefulness can last longer. Therefore, we have provided you with quality information on how this may work through our health team at Mango clinic. 
Get botox injection to reduce facial wrinkles. Click the button below to book your appointment.

This page discusses how long botox lasts, given the various conditions that may prevail during its administration. Also, these will come with specific information such as:
How long does botox last

in the forehead?

Botox price

How long does botox last the first time?

Make botox last longer,

How long does botox last

around the eyes?
At Mango Clinic, our mission always stays in the line of good health restoration. One of the services we therefore offer is the treatment of various cosmetic problems such as wrinkles.
How Long Does Botox Last?
While trying to summarize this lengthy discussion, let's look at how long botox lasts. Different studies and medical reports already have confirmed it. Botox injections generally offer lasting effects of up to 4 months. This duration, however, remains subject to whether it is your first dosage ever or the subsequent ones.
For initial treatment, these effects tend to wear off sooner. Therefore, the best advice for these people is always to follow up with their health providers. Many experiments have confirmed that the second treatments often have their effects last longer – your doctor will give you more details according to your body reactions. 
NOTE: The effects of botox injections sometimes and in some patients may not appear immediately. If yours takes longer, our practitioners always advise that you at least wait for 14 days to pass before rescheduling another appointment.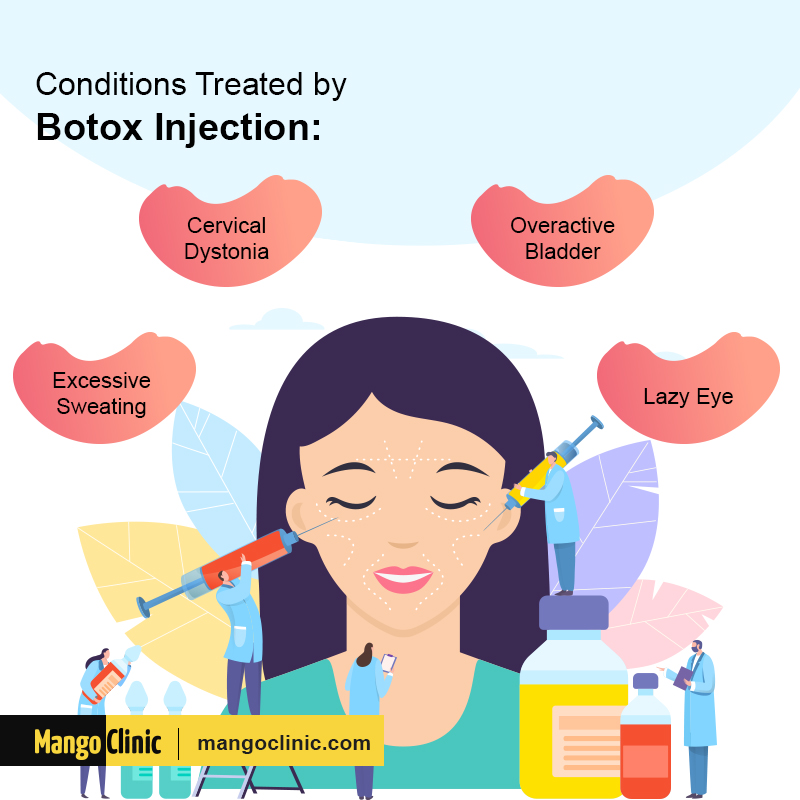 How Long Does Botox Last in the Forehead?
The reason why you get botox injection in your forehead is mainly because of its cosmetic properties. As explained earlier, botox tends to minimize fine lines as well as wrinkles on the face. Its functionality involves an active ingredient, botulinum toxin type A, which temporarily paralyzes the facial muscles, reducing the lines and wrinkles on the forehead. 
According to typical results and observations, most patients experience the effects of botox injection for 3 to 4 months. However, different for the first-timers, this situation takes a shorter time, mostly below two and a half months or thereabout. 
These same timelines apply to how long botox lasts around the eyes and how long does botox last on lips. 
One key aspect of the procedure, however, is the uttermost caution required for the practitioners. When the administration of these toxins is in excess, there will be equally more muscle laxity uncalled for healthwise. 
Proper dosages, therefore, must take center stage in this operation to ensure accordance treatment. So far, this remains an FDA-approved procedure which at Mango clinic, we treat with great expertise. 
Get botox injection for excessive sweating. Click the button below to book your appointment.
Does Botox Last Longer the Second Time?
While most of us ponder heavily upon this question, some of us are asking the real one, why does botox seem to last longer the second time. Well, the answer is obvious, 'No such thing as botox lasts longer or shorter.'
As explained by many health practitioners in this area, botox acts as only a nerve paralyzer. Note that when a nerve seems dysfunctional, often the body does generate new ones. In this case, therefore, what happens is that those nerves that control the facial muscles renew themselves, and therefore, the wrinkles then reoccur. 
The entire scenario here, therefore, indicates that botox never goes away from your system. What people think of as 'lasting longer' is usually because already some nerves have been paralyzed. Therefore, the second administration only adds more toxins to affect the few and new facial nerve endings.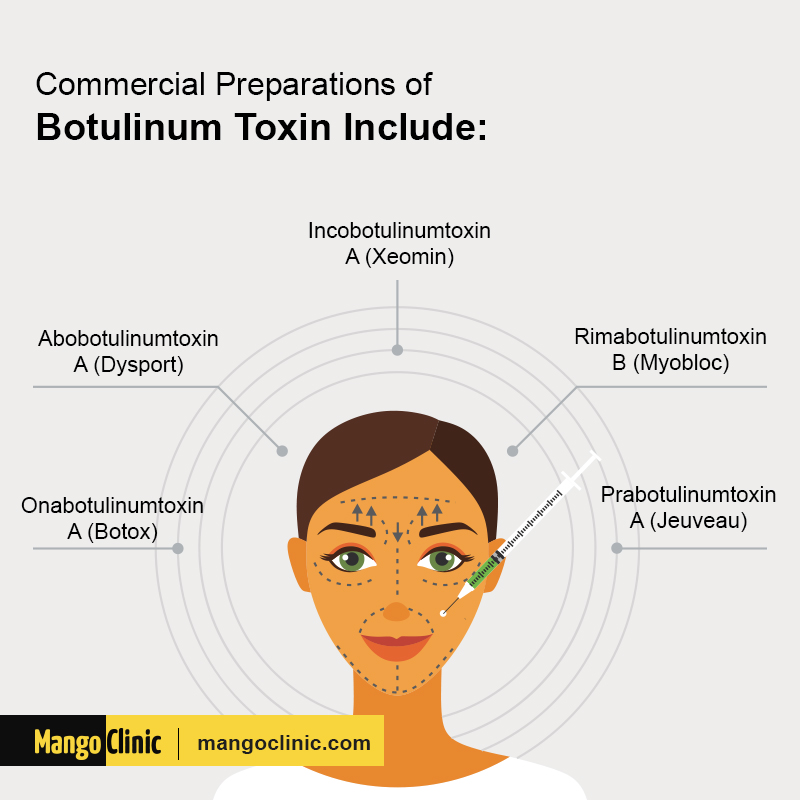 Nevertheless, there are a few tips that can help last long the botox effect.
Tips on how you can make botox last longer:
Follow-up with the maintenance treatments

Exercise frequently

Do not smoke

Take zinc supplements

Eat well

Avoid stress

Take good care of your skin

Avoid the sun and sunbeds

Seek professional consultations on botox

Avoid excess heat and exercise 24 hours after the injection
How Much Does Botox Cost?
Knowing Botox price is critical if you are going to consider the treatment. At Mango Clinic, our rates are quite affordable to our consumers. For a price per unit, our rates go at $12. However, this would even go lower in summer when we only charge $10 for the same unit. 
We allow prior booking both for consultations and botox injection. Our service strategies also include a telehealth program where you can find your answers wherever you are for those who want online attendance. 
Get neck spasms treatment with botox injection. Click the button below to book your appointment.
Conclusion
At Mango Clinic, we are here to restore your good health. Our services are top-notch and patient-centered to ensure ultimate satisfaction and professionalism. Through our services' various channels, we combine not only excellence but affordability and courtesy to all our customers.
Apart from botox administrations, other services we offer include:
ADD/ADHD Treatment

Emotional Support Animal Letter

Anxiety & Depression Treatment
Our schedule runs from Monday to Saturday; for more help with our services, you can call us on (305) 776-2898. Otherwise, you can also visit us near Downtown Miami at 434 SW 12th Ave from 11 am-6 pm.
Contact Us at Mango Clinic for botox treatment or click the banner below to book your appointment.