Jaw-Dropping List of 40 Famous People with ADHD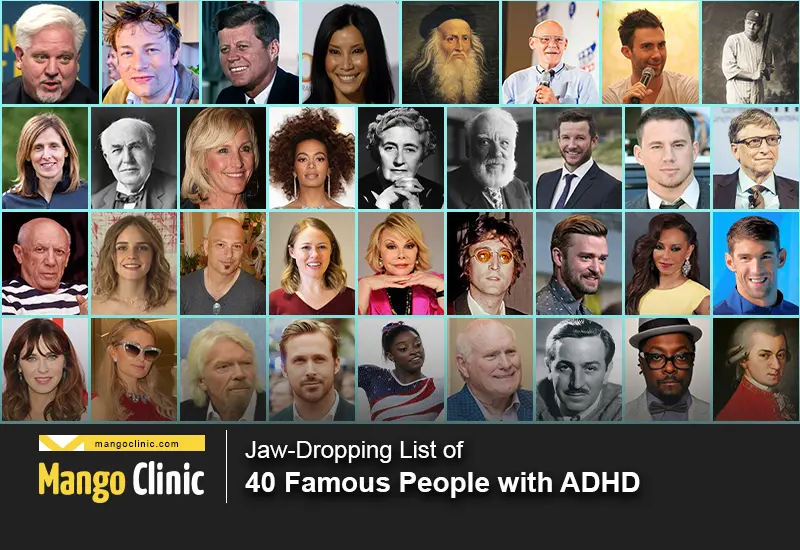 ADHD is a significant problem for scores of people across the globe. This comprehensive post revisits some of the famous personalities of all time who lived with ADHD.  
It is essential to know that the human brain orchestrates every behavior depending on how we behave and everything we do. Do you know that these famous persons have made great careers with established brands despite having ADHD? You will be surprised to learn that some of the most famous people today across the globe have ADHD. 
Get proper treatment for ADHD from expert physicians. Click the button below to book your appointment.
Overview 
The inside world of mental health conditions is replete with several strange things. These mental conditions are diverse in types, nature and symptoms, and signs that make it hard to understand mental health disorders fully. 
Before checking the list of prominent personalities with ADHD, it will be good to have a basic idea of this mental health disorder. 
What Is ADHD? 
It is an abbreviation of a common type of mental disorder standing for attention deficit hyperactivity disorder. There are millions of Americans of various ages and social statuses who are grappling with this mental disorder. 
The problem with ADHD is that it makes it hard for sufferers to concentrate, pay attention, focus or organize. This mental illness complicates these individual's lives. 

What Are the Common Signs and Symptoms of ADHD?
The most noticeable symptoms and signs of ADHD can be classified into several categories, namely: 
Hyperactivity Symptoms: Include the inability to remain or sit in one place for longer durations, excessive fidgeting, and talking most of the time. The other sign that falls in this category includes heightened physical activity than other people.
Impulsivity Symptoms: Include a person's inability to control themselves, interrupting conversations, aggressive behavior, and overreacting to minor situations. 
Attention-Deficit Symptoms: I

nclude chaotic personal and work lives, forgetfulness, and disorganization. 
What Causes ADHD? 
The precise causes of this mental disorder are still unknown to date. Experts are convinced that genetics play a part in developing the mental condition. Besides genetics, some risk factors could also lead to the development of ADHD in a person. The ADHD risk factors include:
Complicated and premature deliveries 

Brain injuries 

Prenatal exposure to drugs, alcohol, and addictive substances 

Exposure to harmful environmental toxins, especially during birth

Does ADHD Make Adults More Intelligent?
The brains of persons with ADHD are different from ordinary persons. There are significant differences in brain chemicals, brain structure, and brain composition in persons living with ADHD compared to their regular counterparts. Some experts believe that the brains of people with ADHD are more potent since they have unique strengths. In such people, their brains are more enthusiastic, creative, imaginative, and spontaneous. 
Famous Personalities with ADHD
Now that we have covered the specifics of ADHD let's delve into the famous individuals with ADHD. 
Simone Biles
Simone Biles is known as America's golden girl, thanks to her incredible gymnastic skills. Besides being famous, this Olympic star has several awards under her belt due to her great gymnastics moves. She lives with ADHD, despite achieving 19 world championships.
Many internet hackers have hacked Simone's medical records to disclose the Olympic star's medical details to the world. Simone takes Ritalin, which is the first option of treating ADHD through medication. 
Nonetheless, she took the hacking episode with a lot of confidence. She dismissed the hackers by tweeting on her Twitter page that having ADHD and taking medication to manage the condition isn't something that anyone needs to be embarrassed about. She further tweeted that she wasn't afraid to let the world know she is living with ADHD. 
Since her revelation, the Olympic star has become an inspiration for ADHD sufferers since she successfully confronted the social stigma that persons with ADHD face in their lives. Further, Simone Biles has made an effort to enlighten persons with ADHD about the many strengths of living with the mental disorder. 
Save yourself from the causes of ADHD. Click the banner below to book your appointment.

Michael Phelps
Michael Phelps is another prominent Olympian featuring on the list of people living with ADHD. The established Olympic swimmer was diagnosed with ADHD in his early childhood. He has explained in numerous exclusive interviews how hard it is for people living with ADHD to live normal lives. 
Michael admitted that he couldn't live his daily life as usual after getting diagnosed with ADHD. According to Michael, living with ADHD was like trying to move a giant rock.
The people in his life defined him as a nil kid who couldn't manage to focus on anything. Later in life, he discovered that swimming would give him a freeway to manage his ADHD complications. He started swimming and that is how he became an excellent swimmer and successfully developed self-discipline and focus. 
He gained enough confidence and courage to talk candidly about his ADHD problems upon winning 28 medals in his swimming career. In his interview with the People Magazine, Michael said his biggest secret to dealing with ADHD is seeking help and talking to people who understood his problem. It changed his life for the better, and now he can live happily. 
Justin Timberlake
Justin Timberlake is a musician, songwriter, and actor. He has rocked the lives and hearts of millions of people in different ways. He, too, has overcome his ADHD problems. 
Justin talked about his ADHD problems with Collider. In his interview, Justin said he suffers from OCD and ADD, which is today known as ADHD. He accepted that not many people can live with these two conditions. The news about his ADHD condition spread like wildfire.  Everyone in Hollywood knows that Justin doesn't only have ADHD but also suffers from the complexities of OCD.
Although the talented singer rarely talks about his challenges and mental health conditions, it is clear that the singer can effectively deal with his ADHD problems. Throughout his career, the singer has never allowed ADHD to take a toll on his career and life. Nonetheless, he hasn't talked about his ADHD problems in any interview apart from his interview with Collider. 
Willi.i.am
Everyone knows "The Blacked Eyed Peas". The American band is probably best known for its lead artist Will.i.am. His name is synonymous with one of America's leading bands. 
Others remember him for his eight Grammy Awards and thrilling stage performances. What we might not know is that the singer has ADHD. He is known for his social work of educating the masses about mental health conditions. Besides, he is a leading advocate for ADHD. Above all, the bandleader is also a prolific inventor! His firm manufactures electronic gadgets and donates part of the revenue to kids from low socioeconomic status. 
He refers to ADHD as the ultimate game-changer in his life. The condition has changed his perspective of life. According to an exclusive interview, Will.i.am said he believed that every obstacle has a solution. Thus everyone with ADHD should strive to find their passion. 
He talks about this mental condition because it made it difficult for him to maintain his attention or sit without moving or overthinking about many things. The artist has established a place for his ADHD problem. When people listen to his songs, they notice that they are centered on ADHD. 
His songs feature five hooks in a single piece, and all the hooks are delivered in three minutes. He has figured out an effective way of leveraging his ADHD. 
Adam Levine
Adam Levine is a celebrity judge on the famous show "The Voice". He is also a prominent personality in Hollywood. However, the journey to his illustrious career has never been straightforward and smooth like most people would think. 
He talked to Additude Magazine about his ADHD challenges, where he spoke openly about his struggle with this mental condition. In his childhood days, Levine admitted to experiencing signs of lack of attention and inability to sit. Furthermore, he showed abnormal behaviors, unlike other kids he grew up with. 
His ADHD problems persisted in his childhood despite his parents taking him for treatment in his childhood years. He explained how he initially had problems recording and writing songs in the studio due to ADHD at the initial stage of his music career. 
He expressed concern that he couldn't focus on anything he started. He could recall being in the studio sometimes and having over 30 ideas in his head. Nonetheless, he was unable to document any of his thoughts. 
He once wrote that ADHD isn't necessarily a bad thing. Persons with this condition shouldn't see themselves any differently from others who live without the disease. He advises people living with ADHD to keep in mind that they aren't alone. There are so many Americans and other people all over the world that are experiencing the same thing.
Looking for medicinal ADHD treatment? Click the button below to book your appointment.
Howie Mandel
Howie Mandel is a leading judge of the popular show "America's Got Talent". People who genuinely follow the prominent actor and comedian know he suffers from mental health disorders. He suffers from both OCD and ADHD. 
Howie has been grappling with OCD since his childhood. Worse still, he developed ADHD later in his youth. He is known to have sought treatment for his ADHD, including psychotherapies, medication, and other treatment options. 
The rib-cracking comedian admitted that ADHD had been especially challenging in his prime since he couldn't even manage to complete his high school degree. Luckily for the comedian, his parents were quite supportive of his mental health problems.
In his interview with Additude Magazine, the actor noted that the most challenging mental aspect of ADHD is a lack of one solution for everyone. Mendal notes everyone has a unique body and brain chemistry, and thus what works for one person might not work for another person. 
However, he believes that there are alternatives and answers to ADHD problems, which is excellent advice from a prominent person living with ADHD.  
Channing Tatum
Everyone gets thrilled by Channing Tatum's killer dance moves. The actor knows just how to melt his audience's hearts. Nonetheless, what most Americans don't know about the actor is that he has grappled with ADHD since his childhood. 
And not just ADHD, but the Magic Mike star has also been grappling with dyslexia. Doctors have tried prescribing some stimulants for him, but these stimulants don't seem to work. 
In his exclusive interview with The New York Times, he admitted that he had never seen himself as a brilliant individual for several reasons. He recalled being in the same class with kids with Down syndrome and autism and wondered whether that was where he was supposed to be. Or, he could join classes with typical kids, and he would soon realize he wasn't like other kids.
Ryan Gosling
This list of high-profile people with ADHD can never be complete without Ryan Gosling featuring in the list. Many people, especially women, know him as one of America's hottest actors. Some of us know him as the web's hottest meme of all times. Sadly though, the actor also has ADHD. He knows the struggle that kids with this condition undergo at school. 
Like other persons and celebrities with ADHD, Ryan too also faced child bullying and social stigma in his school. The Oscar nominee confesses about having the most challenging experience in his childhood, to a point where his mother opted to homeschool him for a year. 
In his interview with Entertainment Weekly, Ryan talked about his experiences as a kid with ADHD. To analyze his childhood experiences, Ryan said that he didn't feel bright as a kid. Other kids kept on mocking him, something that made him embarrassed. The actor amazed everyone when he stated in the interview that he couldn't read. Neither could he retain any information; hence he only caused trouble in the school. 
However, Ryan found ultimate peace in acting. Acting has enabled the actor to withstand the persistent complications of ADHD. 
James Carville
James Carville rose to popularity in 1992, upon becoming the campaign manager of a former American president, Bill Clinton. Today, James is well-known for his illustrious career as a political consultant and commentator. Beyond excelling in his professional life, James also got multiple degrees at both doctorate and bachelor's levels. 
In his late 50s, the political analyst developed ADHD. Ames had constantly been grappling with attention deficit, but he never saw the need for medical examination. But his wife insisted he must go for a mental health checkup.  
With time, he learned how to deal with his ADHD problems. He insisted that he couldn't allow the condition to stand in his way to becoming famous, well-educated, and ultimately successful. While talking in various interviews about his mental health, the distinguished political analyst said that he was fortunate enough since he had a coping structure around himself that enabled him to deal with ADHD. 
Ty Pennington
Many people know Ty Pennington as a TV repair specialist. No one would recall him being an extremely hyper kid who struggled with ADHD for such a prolonged duration in his childhood years. However, Pennington would get a diagnosis in his college years, with the results from the diagnosis indicating that he had ADHD. 
In his childhood years, he would cause disruption at school. No one cared about the possibility of him having ADHD. Hence, even his parents never gave him medical treatment for his ADHD. 
He said even people never knew what to call the mental problem he was suffering from in his childhood, according to his interview with ABC. He went further and explained how doctors placed him on antihistamines to make him get tired. His parents tried everything they could to combat his behavior. All these experiences affected his confidence, and he could hardly believe in himself. 
He started believing in everyone when he saw that others were afraid he could hurt them. However, he discovered he was pretty good at art and that some people were interested in him. 
At that point, Pennington found he had a skill that went beyond hurting himself and others around him. According to him, he ended up handling power tools as a way of providing him with some income to enable him to enroll in an art school. In 2000, he hit the headlines and got national recognition after starting his TV show going by the name "Trading Spaces". 
Contact Us now for ADHD treatment or click the banner below to book your appointment.

Karina Smirnoff
Karina Smirnoff isn't your typical person. But she is a five-time world champion and the US national champion. Karina has successfully danced her way to anxiety to become the distinguished sporting personality she is today.  Luckily for her, she discovered she had ADHD at an early stage and found that she can cope with symptoms of this condition by embracing an active lifestyle. She had been featured on The Saturday Evening Post, whereby she talks openly about ADHD and the activities she indulges in to suppress the condition. 
She noted that she relies on organizational and meditational tools to manage the terrible symptoms of ADHD. She is happy that her doctors prescribed medication to help her combat ADHD. She also takes breaks in her rehearsals whenever she feels that the symptoms of ADHD weigh down on her. 
The professional dancer further discloses to various media sources that ADHD is a common condition in Ukraine, a country where she spent a significant part of her life as a hyper kid. No one discovered that she was struggling with ADHD while she was living in Ukraine. 
Glenn Beck
The political commentator provides ADHD sufferers with a more practical approach towards the mental condition. Glenn sees both the advantages and disadvantages of living with ADHD and other mental health disorders. He believes as a person who has ADHD, he can quickly process over a million things in minutes and then move rapidly. However, his failure at home is ultimate because of ADHD.
Glen first went public about his ADHD problems in 2008, when he featured in an interview held by Ty Pennington. Notwithstanding his mental disorder problems, Glenn has successfully set a flourishing career and also taken part in several ventures, ultimately earning a place in the list of personalities with ADHD. His name is common in TV, film industry, and radio. 
Terry Bradshaw
Terry Bradshaw is a prominent TV sports commentator and a super bowl champ. He explained how ADHD dominated his life in his childhood years. Terry struggled throughout his schooldays and recorded several academic failures. He switched to sports after failing to perform well in school. 
Sports became an invaluable rescue for him. He overcame his ADHD challenges, and he can now talk candidly about them. 
Terry admits that ADHD made his life terrible and challenging in all aspects. He faced social stigma and criticisms due to the mental disorder he developed in his childhood. Most people would bully the TV sports commentator calling him dumb. They were also always joking about his intelligence. 
But today, Terry is an accomplished football commentator. Terry has also successfully become a prolific writer, actor, and singer. He is also among the most proficient motivational speakers on subjects touching on ADHD and other mental conditions. 
Paris Hilton
Paris Hilton earlier said that she is unable to live her life due to ADHD. The socialite DJ confessed she was diagnosed with ADHD at an early age, and she is still grappling with the condition even today. In an interview where she talked one-on-one with Larry King, Paris said she has been on medication for several years. She also admitted to being living with ADHD, and thus she is currently on medication due to the condition. 
Paris said she has been struggling with ADHD since she was twelve years old in the same interview. Nonetheless, The TV personality said she has never allowed the condition to affect her life and career. 
While asked about her experience with ADHD, Paris said it was something she has struggled with within her lifetime. She said her key to dealing with ADHD is by using Ritalin. She also advises people living with this mental condition to seek help from medical professionals. 
Get yourself evaluated for ADHD by expert doctors. Click the button below to book your appointment.
Solange Knowles
Yes, you read it right. The fashion and musical personality is also living with ADHD. Her younger sister even went further and told media sources that her sister was diagnosed with ADHD in her childhood. Her younger sister didn't believe it then that her sister was living with ADHD. She never imagined that her sister could be a victim of such a severe mental issue. 
In her interview with BET, Knowles noted that she was diagnosed with the mental disorder twice. She never believed the first doctor who diagnosed her with mental illness. By that time, the fashion and music personality thought that ADHD was something that doctors invented to make people buy medicine. However, the second doctor told her openly that she had ADHD. 
What became worrisome to her is that the symptoms seemed to show in everyone around her in the industry. It is no doubt that Knowles' charismatic sector has made her the icon of the industry. Not many people can understand how she accomplished her career dreams despite her ADHD problems. 
Emma Watson
Emma Watson played her role as Hermione Granger in the famous movie "Harry Potter." Nonetheless, she is another prominent celebrity that is known to live with ADHD. The actress is a feminist advocate and probably everybody's best childhood character. Emma Watson has also been named as Goodwill's ambassador for the UN. 
Despite her successes, most people don't know that the actress has been living with ADHD since her childhood. She has been taking medications even when playing her role in the movie "Harry Potter." 
Amidst her ADHD problems, Emma is an alumna of Ivy League University.  She also holds a remarkable academic track record. Besides that, her memorable roles in famous Hollywood movies and her social welfare campaign for women have made Emma a globally renowned personality.
Emma believes that ADHD should not limit or hold anyone back from realizing their capabilities. Her observation isn't withstanding the fact that she is living with ADHD. Today, Emma is a reputable personality, especially among girls and women living with ADHD. 
Zooey Deschanel
The singer and actress is another prominent personality trying her level best to cope with ADHD. Zooey used an innovative method to reveal her medical condition, unlike other famous personalities that disclosed their mental conditions during interviews. She admitted she was living with ADHD in a blog post she authored in 2011. The blog post was in the form of a crafting tutorial that she posted on HelloGiggles. 
In her post, the actor asked her readers whether they are untreated adults with ADHD who also enjoy doing crafts. She insisted she is one of the untreated persons living with the mental condition.  
Zooey admitted that she couldn't even write the opening paragraph of her post. Thus the actor insists that she has to focus her mind on tasks she can complete quickly. It is a decision she made after appreciating that she would never achieve anything that demanded any level of attention from her. Hence she decided to direct her blog on crafts she could complete. 
Lisa Ling
The famous journalist first had doubts about whether she had ADHD. It is weird to know that Lisa discovered she was living with a mental disorder while shooting one of her show's episodes, "Our American With Lisa." 
Surprisingly, Lisa reported the rise of ADHD in 2014. Whereby she explained that she was experiencing most of the ADHD symptoms that people were talking about. Lisa first got an ADHD diagnosis in her early 40s. But according to her, she didn't know she had the mental disorder since her childhood days. 
Lisa struggled in her academic life, according to her parents and teachers. According to both her parents and teachers, Lisa had trouble paying attention and focusing on her studies.
She said her head was spinning about her diagnosis. She however noted that she felt a bit relieved and relaxed after fighting the mental disorder for so long. Nonetheless, Lisa noted that her inability to focus and keep attention kept making her frustrated. 
Notwithstanding her mental struggles, Lisa has become a famous award-winning TV JOURNALIST. She has developed an impressive career in news reporting and press release writing. 
Get yourself treated for ADHD from expert physicians. Click the banner below to book your appointment.

Audra McDonald
Before going deeper into her ADHD history, let's appreciate that Audra McDonald has won the most Tony Awards by an actress, thanks to her thrilling performance. Besides her six Tony Awards, Audra gracefully accepts her ADHD diagnosis. 
Contrary to most ADHD patients, she feels grateful that her parents never placed her on any ADHD medication program to treat her mental disorder. During her 2014 Tony acceptance speech, Aura publicly shared her opinion on ADHD medication. In her remarks during the event, she started with thanking her mom and dad in heaven, for not obeying the doctor's advice and not medicating her but instead encouraged her to "find herself."
According to Lisa, she is grateful for her earlier decision to refrain from treating her ADHD problems. She notes that being in the theater is her best treatment strategy for her ADHD problems. She consistently deals with persistent criticism from the worldwide community due to her lack of advocating for medication to cope with ADHD. 
Nonetheless, one important lesson we can learn from Aura is that everyone is different. Hence, not every ADHD treatment plan can be effective for anyone with ADHD. She advises people not to leave their stones unturned while dealing with ADHD. Plus, she inspires people with ADHD to explore their possibilities and strengths.
Jessica McCabe
Mention the word ADHD, and you might have heard of Jessica McCabe. The famous actress and YouTuber gained popularity from her viral YouTube Channel named "How to ADHD." She is a prominent personality with ADHD. However, she has dedicated her career and life to promoting awareness of mental disorders. She also educates both the local and global communities on eliminating stigma against ADHD and other mental health conditions. 
Today, Jessica is a bold and outspoken ADHD advocate, as seen from how she expressed herself in the TED talks. In one of the recent interviews, she explained how it feels like to live with ADHD. 
She has embarked on a campaign to inform people with ADHD that there is nothing weird about them. She has made these people see her reasoning that they aren't stupid either. 
According to Jessica, anyone with ADHD doesn't have to try harder. They just have to accept that they aren't failed versions of themselves. They just need to find someone who understands their mental health disorders problem. This someone can be their employee, their friend, or their boss. She hopes that her views on ADHD could probably help everyone understand each person with ADHD. She welcomes everyone with ADHD  to join the ADHD community. 
Cammi Granato
The prolific Olympic hockey winner has become successful despite battling ADHD throughout his entire life. She has had a difficult time coping with the symptoms of ADHD. She has also struggled to find the most effective mechanisms to deal with the mental disorder. 
Granto said that her efforts in fighting ADHD put his life out of control. She mentioned how her life started getting out of control in a recent interview. Granto said that the number of emails and voice messages she was receiving was overwhelming. She couldn't respond to all these messages. Granto said that she couldn't even afford to pay her bills. Her house was a total mess. She had bought every essential household item, including an anti-clutter book, but she turned all those items to clutter, thanks to ADHD. 
After getting a diagnosis of ADHD, she focused on how she could have her mental condition treated. According to her, life is all about facing challenges. Hence, ADHD is yet another challenge in her life. She inspired people living with ADHD not to see ADHD as a hurdle in their lives. 
Melanie Brown
Popularly known as Mel B, Melanie Brown is known for her role in the Spice Girls. She used to suffer from ADHD alongside other mental disorders, including dyslexia, anxiety, and dyspraxia; while sharing her comments with McKenna on her famous" Positivity Podcast," Mel B admits that working out was a challenge because she has dyslexia and ADHD. She noted that the list of the mental diseases she was suffering from could go on and on. 
She is happy she discovered that working out helps her meditate, which is key to dealing with her ADHD problems. Working out also helps her focus on herself at least for 45 minutes or one hour. The spice girl star recommends exercise as the best way to deal with ADHD and its signs and symptoms. 
Apart from exercise, the celebrity has also encouraged people to explore nature to combat ADHD and its signs and symptoms. Being out in nature can help people living with ADHD cope with the mental condition even if they aren't necessarily relying on medication. 
Erin Brockovich-Elis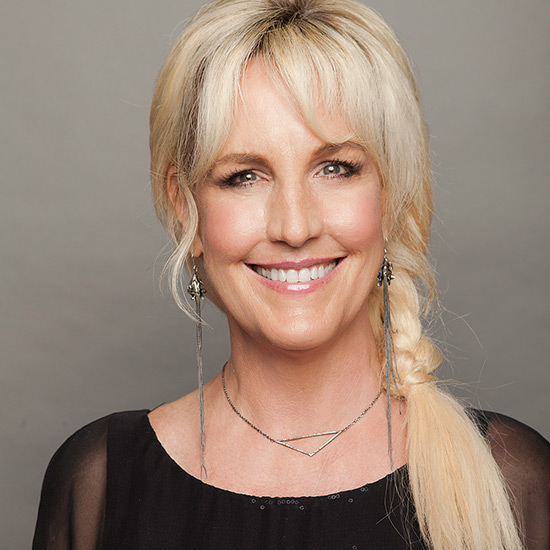 The activist and legal clerk is among the most outstanding personalities struggling with ADHD and other mental conditions such as dyslexia. 
She is also an environmentalist who stated that she was bullied and teased by other students in her school life due to her persisting mental conditions. After gathering up and deciding to change her way of life, she later became a legal clerk. This working position makes Erin a classic example of an ADHD survivor. 
Her work entails reading multiple briefs, all of which require attention and strong organizational skills. Her dedication and hard work have made a prominent mark on the American law-suit settlements procedure. 
Her story of battling ADHD was featured in a movie titled 'Erin Brockovich', with Julia Roberts as the starring lead. The actress also won a prestigious academy award due to her role in the film. 
Want to get FDA-approved ADHD medications. Click the button below to book your appointment.
Luke Jacobz
Luke Jacobz is a trendy Australian actor who is also an ADHD victim. He is also an actor whose candid interview with multiple news sources highlighted the importance of mental health. During these interviews, the actor was opening up about the struggles of persons living with ADHD. 
The actor has talked about the effects of ADHD. He has also told the media sources about the inadequacies that came with the mental condition. He explains why the condition has given him plenty of strength to work for several hours. 
He observes that most people are shy talking about ADHD. You have to admit you have this condition before embarking on how to deal with it. He encourages people living with ADHD to take the condition as fun rather than misery. The actor noted that he had faced many disappointing experiences such as humiliation before he was diagnosed with ADHD. But the mental condition finally became his blessing. He is now the celebrity he is today, thanks to his mental condition. 
Richard Branson
Richard Branson is the founder of the thriving Virgin company of groups comprising a chain of companies that operate in the hotels and aviation industries. The business mogul has been struggling with dyslexia and ADHD since his childhood years. ADHD didn't stop him from becoming one of the top billionaires in the world. From creating an airline that specializes in sending people to space to building an elegant underwater plane, Richard has done it all! 
He was just another weird kid in his childhood years compared to the other kids in the school. The other kids used to refer to him as dumb and dull, not knowing he was a kid with ADHD. He insists that people with ADHD have a very high chance of setting up successful companies. This is the case with Richard, a globally renowned entrepreneur who founded his first firm at sixteen. 
Rory Bremner 
This famous comedian was born in 1955 and has publicly announced that he is living with ADHD. He also acknowledges the struggles that come with this mental condition. The comedian has expressed experiencing symptoms of ADHD, such as disorganization, hyperactivity, and restlessness. According to him, ADHD is his worst enemy yet his best friend.  
At first, he never thought he had ADHD. He closely watched one of his family members who was diagnosed with ADHD before he realized that these signs were similar to those he experienced in his childhood. 
Since his diagnosis, Rory has committed a significant portion of his energy and time to encourage children living with ADHD to live freely and independently. Bremmer also started a campaign to encourage children with ADHD to stop losing self-belief and harming themselves. 
Jamie Oliver
The famous and multi-talented celebrity is a single-person show. Besides being a high-profile personality living with ADHD, Jamie is also an award-winning British entrepreneur, chef, TV personality, and an accomplished author. He is also the Queen's Birthday nominee of the popular Queen's birthday that MBE sponsors.
Jamie never allowed ADHD to dictate his life and career. Thus, he embarked on battling the challenges that come with this mental condition. Therefore, Jamie fought with the challenges of ADHD at every cost. 
Besides his efforts to enhance awareness against the social stigma that comes with ADHD, he has also been instrumental in causes geared towards combating the surging childhood obesity cases in the UK. 
Bill Gates
Bill Gates boasts a notable and tremendous financial success. The wealthy and the rich are synonymous with Bill Gates' name. But who would have ever thought that the owner of Microsoft could be having ADHD? 
Microsoft's owner has openly confessed that he has ADHD. He has admitted that ADHD has affected his ability to learn new things. Harvard university dropped him off, where he gathered and nurtured his efforts to start today's Microsoft company. One of Bill Gates' ADHD coping mechanisms was to create one of the largest foundations, the Bill & Melinda Gates Foundation. 
This is the last section of the famous people living with ADHD. Continue reading for some information on some of the world's most prominent people with ADHD in historical times.
Are you suffering from severe ADHD at work? Click the button below to book your appointment.
Famous Persons of Historic Times Who Had ADHD
ADHD isn't a modern or new thing. The condition has been present since the start of humanity. The following are names of high-profile personalities who lived with ADHD in ancient times.
Leonardo Da Vinci (1452-1519)
He is one of the ancient names of history that is known for his supernatural superpowers. The Italian native had countless skills and abilities, as reported by King's College, which could be due to his ADHD traits instead of natural intellect, as we may assume. 
Alexander Graham Bell (1847-1922)
Alexander Graham made history by being the first man to invent the telephone. However, Alexander managed to make this invention despite his ADHD traits, since most experts attribute his terrible school life and other various aspects of his life to ADHD.
Thomas Edison (1847-1931)
He is the man who invented the light bulb. The famous inventor is believed to show signs of ADHD. He was always a problematic kid in his childhood years. His ADHD traits prompted him never to give up on challenges, and finally, his bright idea lightened up the world!
Get the best treatment options for ADHD from expert physicians. Click the banner below to book your appointment.

Pablo Picasso (1881-1973)
He is the most proficient artist of the 20th century. His influential arts made him dominate his times. It is believed that his ADHD condition inspired his hippy and extraordinary art forms. Besides living with ADHD, he was also living with dyslexia. However, he was instrumental in creating an inspirational world of his own.
Agatha Christie (1890-1979)
Agatha had a learning disability in her childhood. Despite her learning disability, her books have mesmerized readers, partly thanks to her ADHD traits.
Babe Ruth (1895-1948)
The baseball champ and legend Babe Ruth is remembered as a wild child. His overactive behavior has been famous in his life among close people and the public. It is now believed that this might be due to ADHD. 
Muhammad Ali (1942-2016)
This legendary boxer struggled in class, and he had dyslexia in his childhood years, which affected his concentration and learning. He later ventured into boxing and became the most famous heavyweight boxing champion of the world.

Mozart (1756-1791)
He is one of the best Austrian composers of all time. His peculiar and erratic behavior made historians conclude that Mozart had an ADHD problem.
John Lennon (1940-1980)
The famous Beatle is also thought to have ADHD due to his disruptive behavior and an inability to learn during his growing ages. Nobody could have imagined that he could become an icon in the music industry despite his troublesome childhood years.
Joan Rivers (1933-2014)
The prominent TV host is well known for her crude comments and remarks on celebrities. But she also lived with ADHD, which didn't stop her from shining in the entertainment industry. 
Walt Disney (1901-1966)
He was a visionary personality in the entertainment and TV industry. He is the creator of the famous Mickey Mouse. Nonetheless, he also had ADHD in school. 
John F Kennedy
No one thought that the 35th US president could have ADHD. But he was one of the most successful American presidents. He rose to become the president of the world's most powerful nation despite his ADHD problems.
Get evaluated for different types of ADHD. Click the button below to book your appointment.
ADHD Is Just Another Ability!
All of these people have made their names among the most famous, successful, and popular people worldwide due to their abilities and a notable superpower ADHD. 
ADHD is a challenge for daily life, but people who have this mental condition have set great examples and showed an opposite perspective to the social norms. Having ADHD is not a choice or an option, but it depends upon you if you want to suffer or succeed. 
If you want to get over ADHD signs and symptoms, getting professional help is the best available option to overcome this condition and its challenges.
ADHD is just a diagnosis, and it can not control the other thousands of capabilities that are stored within you. Deal with like an extra power and see how ADHD becomes your energy!
Contact us at Mango Clinic for ADHD treatment or click the banner below to book your appointment.