---
Emotional support animals and service animals play a valuable role in their human's lives. Physical, psychiatric, intellectual, sensory, and/or mental disabilities can all be helped by the presence of a support animal.

Emotional support animals and service animals are not the same, and they aren't both covered by the ADA. To better understand your emotional support animal, and its coverage by the ADA, take a look at the following FAQs.
What Is An Emotional Support Animal?

An emotional support animal can be any animal that provides benefit to someone with a disability—as determined by their doctor. For an emotional support animal to be prescribed, the owner must have a verifiable disability. Emotional support animals are usually dogs, but they can be cats or other animals, even pigs. Emotional support animals do not need specific training. They do, however, need a note from a medical professional stating that they benefit their owner.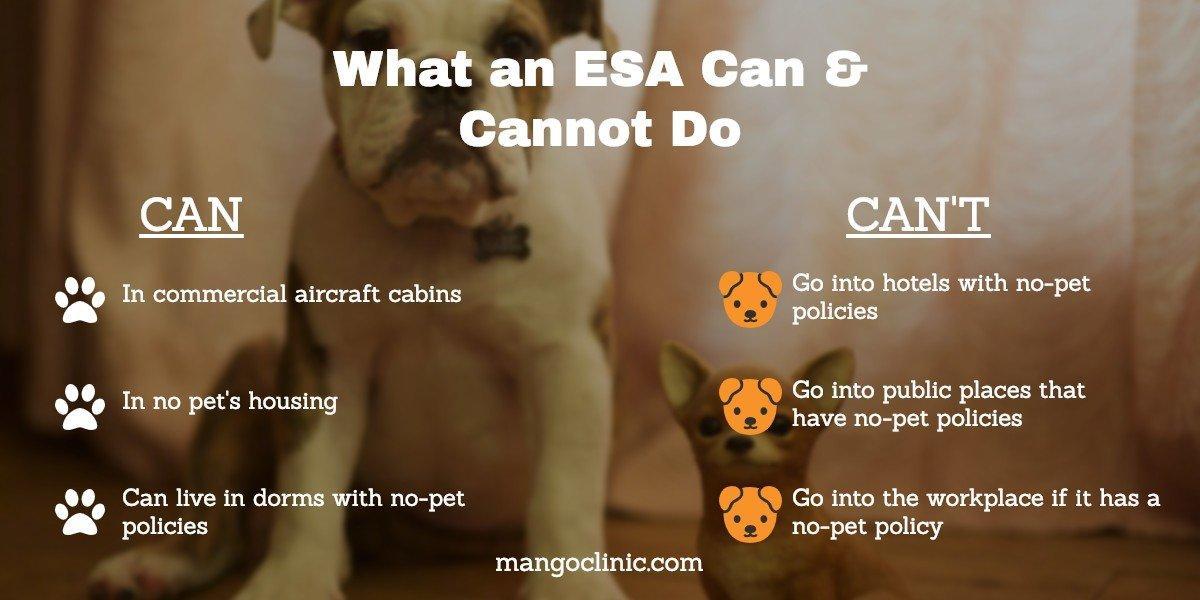 Are Emotional Support Animals Covered by the ADA?
They are not. In order to be covered by the ADA, an animal needs to be considered a service animal. Emotional support animals, because they're not trained, don't qualify as a service animal. Even a note from a doctor stating that the animal provides emotional support doesn't qualify an emotional support animal as a service animal. Some public establishments will allow emotional support animals inside, but not every establishment will. In order to be legally admitted, your animal needs to be a service animal.
What is a Service Animal?
A service animal helps their disabled owner in some specially trained way. This can include fetching dropping items, reminding their owner to take medication, pulling a wheelchair, or pressing an elevator button. These tasks have to be specially taught, and every service animal has to be trained. Some examples of service animals include: hearing or signal dogs, seeing eye dogs, psychiatric service dogs, seizure response dogs, and social signal dogs. Each of these animals are specially trained to perform unique tasks, such as turning on lights or notifying the owner of a knock on the door.
Why Are Emotional Support Animals Not Covered by the ADA?
Emotional Support Animals are a valuable part of a medical treatment plan. They are considered therapy animals, but they are not considered service animals. The main reason the ADA doesn't cover therapy animals is their broad definition. Most service animals must be a dog in order to qualify, and they must be properly trained to handle public environments. Most emotional support animals are not trained to handle public situations and their presence can't be covered by federal laws. Unless the definition and required training, for an emotional support animal become much more rigid, emotional support animals cannot be covered by the ADA.
Where Can I Bring My Emotional Support Animal?
Although not covered by the ADA, your emotional support animal can still accompany you in certain situations. A pet can't ride on an airplane, but your emotional support animal can, as long as they have appropriate documentation and are well-behaved. An airline does have the right to refuse an animal if it's noisy or restless. College residence halls and dormitories are also legally required to admit emotional support animals as of 2013. Since emotional support animals may still bark or smell strangers, they are not permitted in every public building, but they are permitted in college dorms and on flights. Often, a well behaved emotional support animal can be admitted into a public building, as long as you have permission from the owner or person in charge.
If you suffer from a certain medical condition and feel that you may benefit from having an Emotional Support Animal contact Mango Clinic Miami by calling 786-391-0269 or by visiting our website and scheduling an appointment with one of our Board Certified physicians. You can also complete our ESA Online Form to expedite the process.

---