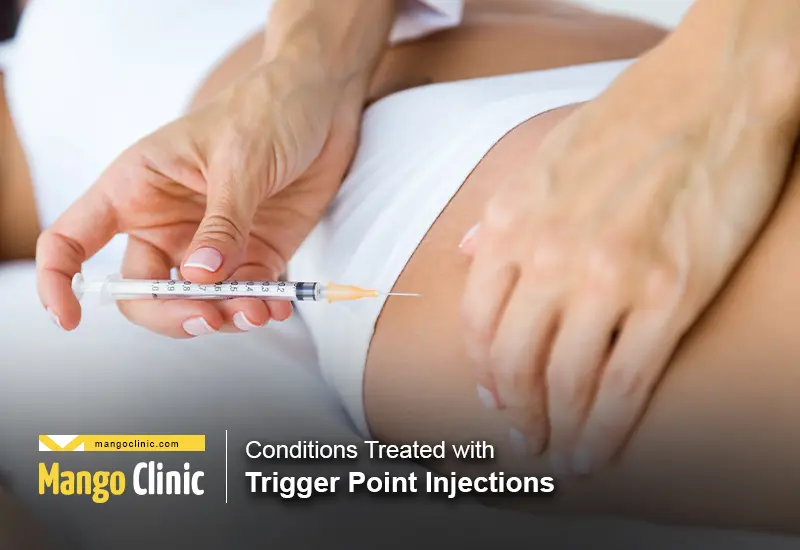 A trigger point defines a sensitive portion comprising of a tight, constricted muscle. It derives its name from being an area on your body tender to the touch, yet having the propensity to induce pain when pressure is exerted. Often, there can be a multitude of such sensitive points in a single muscle. There are a handful of medical treatment options with trigger point injections being amongst the effective ones.
These subtle spots become apparent when a specific muscle is in a continuous state of contraction. Consequently, the region around the muscle may feel tight. Furthermore, you're likely to experience intense pain (burning ache), an outcome of muscular contraction—making it significantly difficult for blood to circulate through the muscle. Fundamentally, this additional tension exerts stress on adjacent joints plus connective tissues.
Over time, trigger point injections have become substantially popular in the management of this sharp and intense pain on a specific muscle at rest or in motion.
Get trigger point injections for intense pain. Click the button below to book your appointment.
So, how can trigger point injections offer you relief from chronic muscle pain? Let's find out.
What Are Trigger Point Injections?
Trigger point injections are a straightforward procedure performed to relieve pain. The treatment involves the injection of medication into the trigger points—depending on the severity and cause of pain. The dosage may include a local anesthetic, a corticosteroid, or a botulinum toxin A (Botox).
While the anesthetic serves to block the pain receptors, corticosteroid reduces muscle and connective tissue inflammation. Moreover, Botulinum toxin A functions to interfere with nerve signaling pathways and prevent muscle contraction. If you have tense muscles, you might feel a crunching sensation after the injection. But the feeling goes away as the muscle relaxes. Sometimes you might also have a needle inserted, with no medication in it—this is known as "dry needling." It helps relieve pain by making the trigger point inactive.
What Do Trigger Point Injections Treat?
These injections help relieve pain that is caused by conditions that affect the musculoskeletal and nervous systems. Such cases include myofascial pain syndrome, fibromyalgia, headaches, and chronic pelvic pain syndrome.
Myofascial Pain Syndrome: This health concern manifests itself as a musculoskeletal pain condition that affects the muscles and their surrounding tissue. In myofascial pain syndrome, trigger points stimulate pain responses in disparate body parts, a phenomenon known as referred pain.
The trigger point injections reduce localized muscle pain by relaxing the affected muscles and interrupting the nerve signaling pathways that cause referred pain.
Causes of myofascial trigger points include repetitive motions, trauma to a muscle, poor posture, and psychological stress. In addition to referred pain, when you have myofascial pain, you may also experience pain that intensifies when you stretch or move the affected muscle, muscle stiffness and weakness, limited motion, and muscle knots that you can feel by touch.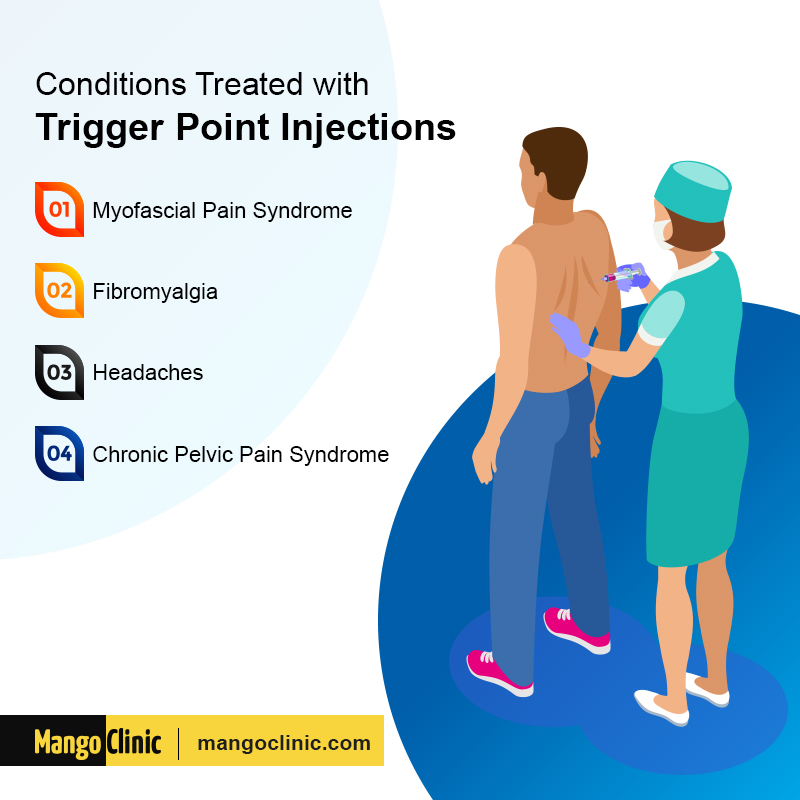 Fibromyalgia: Fibromyalgia is a chronic pain condition that has symptoms similar to those of arthritis but affects the soft tissue instead of the joints. It is associated with widespread pain, sleep abnormalities, fatigue, and often distress.  Although its causes are unknown, some risk factors include infections, a family history of fibromyalgia, gender, and a history of an autoimmune disorder like rheumatoid arthritis or lupus.
With the condition, you might experience symptoms such as headaches, pain, and stiffness in the body, digestive issues, fatigue, difficulty concentrating, and numbness or tingling in the hands and feet. The condition causes widespread or systemic pain, which suggests that the pain comes from neurological problems that impact how the brain processes sensory information.
According to some studies, the medical intervention of trigger points in fibromyalgia patients produces significant relief of the pain and improves range of motion.
Headaches: Trigger points in the neck, shoulders, and head can contribute to a migraine and tension-like headache disorder. According to research, people with episodic migraines feature more trigger points than people without—while individuals with more myofascial trigger points also depicting more sensitivity to pressure pain. These findings suggest that myofascial trigger points influence the intensity of migraines. When treating headaches with trigger point injections, some specialists accompany the injections with peripheral nerve blocks in the same session.
Chronic Pelvic Pain Syndrome: This pain syndrome not only affects the lower urinary tract, but also causes sexual dysfunction concerns, chronic pelvic health issues, besides interstitial cystitis, chronic prostatitis in men, and painful bladder syndrome in women. There may be a relation between reported painful sites in people with this syndrome and myofascial trigger points. Concentrating your therapy regime on trigger points outside and inside the pelvic floor has the potential to relieve symptoms.
Get relief from chronic pain via trigger point injections. Click the button below to book your appointment.
How Are the Injections Done?
During the procedure, your doctor first locates the trigger point by pressing around the painful area, which may cause your muscle to twitch or hurt. The medic then cleans the area and then proceeds to inject medicine into that point in either one direction or more. If you have several trigger points in the muscle, the doctor might repeat the process. Your physician may stretch the area to relax the muscle or instruct you on how to stretch or move the muscle yourself.
This process takes between 10-30 minutes, depending on the number of trigger points present. But the actual injection takes only a few moments. Basically, the procedure does not require sedation. In fact, it's frequently performed in the doctor's office.
Trigger point injections may accompany other forms of treatment in the same session. And primarily, you should be in a position to continue with your daily activities immediately after the injection.
How Frequently Will You Require Trigger Point Injections?
Often a trigger point resolves fast after one injection. More so, if you have one trigger point, and the cause of the trigger point has effectively been removed. If you have trigger points resulting from chronic conditions like myofascial pain syndrome or fibromyalgia, they might, however, recur from the underlying problem.
In these cases, you will need to have the injections administered regularly or on a need basis.  The frequency of the treatment will depend on the medication administered. If you are having steroid medication injections, the sessions will be much less frequent, because steroids can expose tissues to the risk of damage or shrinkage.
What Side Effects Might You Experience from Trigger Point Injections?
Trigger point injections may cause some immediate and long-term side effects. Some people might experience temporary numbness or pain around the injection site, lightheadedness, dimpling or discoloration of the skin around the injection site, or bleeding.
Anesthetic trigger point injections may also cause myonecrosis, a severe form of muscle damage that may take 3-4 weeks to heal. Swelling, pain, and tenderness around the injection site wear off within a few hours. If you experience any side effect that does not go away within a couple of weeks, contact your doctor.
What Are the Risks of Trigger Point Injections?
Trigger point injections rarely bring about any severe complications. However, they can lead to bruising, infection at the injection site, and muscle or nerve damage. Nevertheless, ultrasound imaging can help reduce the risk of developing any serious complications from the injections.
Trigger point injections are considered a safe treatment for chronic pain conditions. They can provide immediate relief for some patients, while for others, it might take a few days or even weeks. If you are experiencing chronic muscle pain, consult a doctor for further assessment and to establish if trigger point injections are a suitable option for you.
Get trigger point injections for chronic muscle pain. Click the button below to book your appointment.
Conclusion
Contact us at Mango Clinic by dialing our toll-free number (+1(786) 422-9327) for all your healthcare needs including common acute pain problems, abdominal pain, back/muscle/joint pain, migraines, and counseling; or click the banner below to schedule your appointment.