Emotional Support Animal Letter from ESADoctors.com Review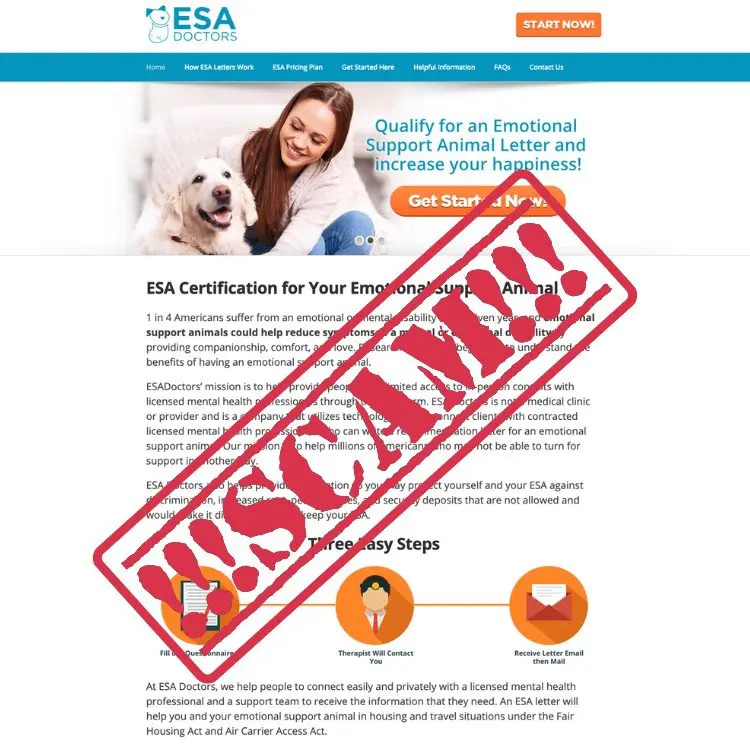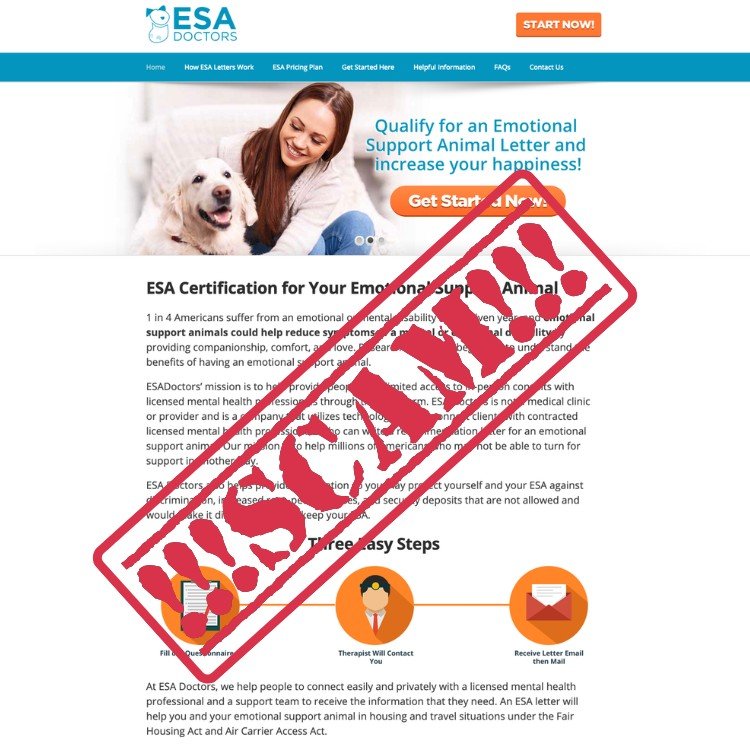 In this article, we continue the series of our reviews on different online ESA services. This post discusses whether getting an Emotional Support Animal Letter from ESADoctors.com is a good idea.
Get your ESA letter to get rid of mental health concerns by clicking the button below!
What is an Emotional Support Animal?
Everyone gets a pet for all kinds of reasons, and there's always a variety of animals people choose to adopt. Whether you enjoy playing fetch with your dog, snuggling up with your cat, letting your rabbit roam your home, or going out with your snake, everyone has a preferred animal they enjoy having as a pet. They become a part of your family, and everyone enjoys the company they provide. In many aspects, these animals provide you with comfort and calmness that can't be matched.
If you deal with an emotional or mental disorder, then you understand how essential your companion is to you. They are so much more than just a pet; they're your best friend, and they provide you with love and affection that nothing else can come close to replicating. In these cases, you might consider them an emotional support animal, someone who you want to accompany you wherever you go. However, it can sometimes be challenging to have your ESA with you, as some establishments don't allow animals. This is why ESA letters exist: they allow you to bring your companion into residential complexes that otherwise don't allow pets, as well as airlines that would make things extra difficult. If you do not have a proper ESA letter, an airline can make you put your animal in cargo, or you may be charged a fee.
Mango Clinic Miami can ensure that you receive a genuine ESA letter that's approved by our certified doctors. We understand how important it is for you to be with your ESA, which is why we're able to help clients that come in needing the proper documentation. You don't want to get into situations where you might be separated from your animal companion. If you're looking for a legitimate place for getting a valid ESA letter, you can come to Mango Clinic.
Is ESADoctors.com Legit?
For these reasons, we like to look at other sites that claim to provide ESA letters and see if they're in any way legit. If you considered getting an Emotional Support Animal Letter from ESADoctors.com, beware, as ESADoctors.com is one of these types, and like many others, their services and what they provide are not genuine.
One of the big red flags that ESADoctors.com is illegitimate is that their information regarding who can "approve" you is not consistent. In one part of the site, they state that you'll be in touch "easily and privately" with a therapist who can approve you for a letter. But elsewhere, it states that their "team of mental health professionals" will see if you qualify by looking over the questionnaire you filled out. What's worse is that these two different pieces of information can be found on the same page!
Your ESA pet is special – Click the button below to get your ESA letter today!
On top of that, you still need to pay after filling out the questionnaire but before having your information looked over by "someone." One other thing of note that may escape notice is their contact information. They don't have an actual address on their site, which is a major red flag for a place that's supposed to staff physicians and provide medical services. Any business that can provide you with a real ESA letter will have a physical location staffed by healthcare professionals. Additionally, there is no actual contact info to be found on their site; only a contact form where you give your name, email, and a message. This same page says that they have "customer support representatives ready to take your questions," which is odd for a site that has no direct email address to contact, phone number, or hours of operation listed.
How Does ESADoctors.org Compare to Mango Clinic?
Qualifying Patients
To qualify on ESADoctors.com, you merely have to fill out a questionnaire, which is then "looked over" by "doctors" who can approve you to have an ESA. It makes no mention of speaking with a doctor in any way to get your letter.
At Mango Clinic, we have you speak with one of our doctors so that they can assess your medical condition and see if you qualify. This is the only legal way you can get a real ESA letter, and it can be done via Telehealth, which, in the state of Florida, allows you to speak with a medical professional via video chat or over the phone.
Cost of an Emotional Support Animal Letter
ESADoctors.com offers three packages that are $149 (travel), $159 (housing), and $189 (combo). However, since their website isn't legitimate, these are just easy ways to scam you of your money. Additionally, the language they use makes it seem as if there exist two separate letters for housing and travel. In reality, if you decide to cover both housing and travel, it will still be just one letter.
Mango Clinic has letters that range from $129 (housing), $149 (travel), and $189 (both). The major difference is that our letters are completely genuine; you must be approved by a qualified medical professional to receive a letter from our clinic. And whether you decide on just housing, travel, or both, you'll receive one letter that you can use in those instances.
Getting an Emotional Support Animal Letter from ESADoctors.com
If you are getting an Emotional Support Animal Letter from ESADoctors.com, their website says that, once you've done the questionnaire, paid, and been approved, your letter will be sent in the mail within a few days. If you're really getting an ESA letter, it's never this easy.
Mango Clinic makes sure things are done the right way. In order to receive a legally legitimate ESA letter, you must speak with one of our qualified doctors to assess you. This assessment can be done in person, but thanks to Florida allowing the use of Telehealth, you can also do a video chat or a phone call to talk with one of our doctors. Once your information and conditions have been discussed, and you've been approved, you can receive your letter either in-office, via email as PDF, or both.
If you are thinking how to get a doctors note for emotional support animal – Just click the button below!
What are the Guarantees?
At Mango Clinic, we have a 100% money-back guarantee. If your letter is not accepted for any reason, we will refund your money. Additionally, we can always be contacted if you have any questions.
So as you might expect, you do not want to get involved with obtaining your Emotional Support Animal Letter from ESADoctors.com. Their process of providing you an "ESA letter" is illegitimate and will result in you ending up with an invalid letter. Their main aim is to scam people unlucky enough to come across their website and think it's the real deal.
Contact Us at Mango Clinic for an ESA letter or click the banner below to book your appointment.