ExpressPetCertify.com Emotional Support Animal Review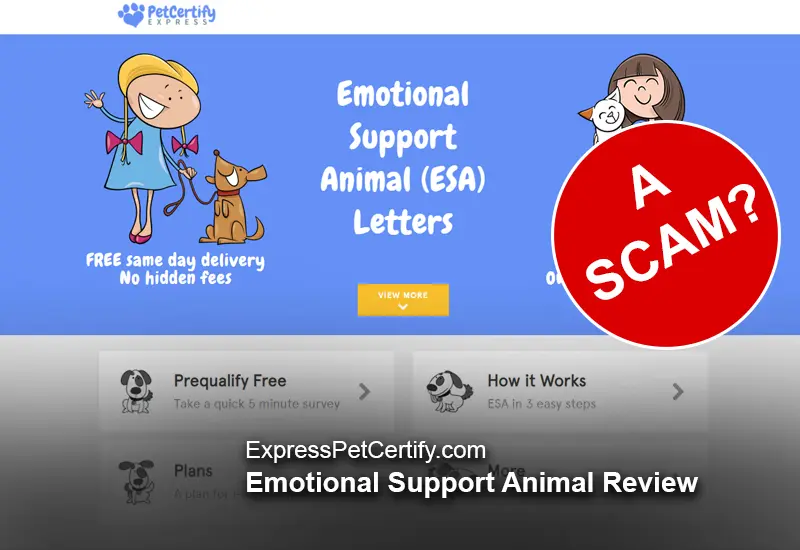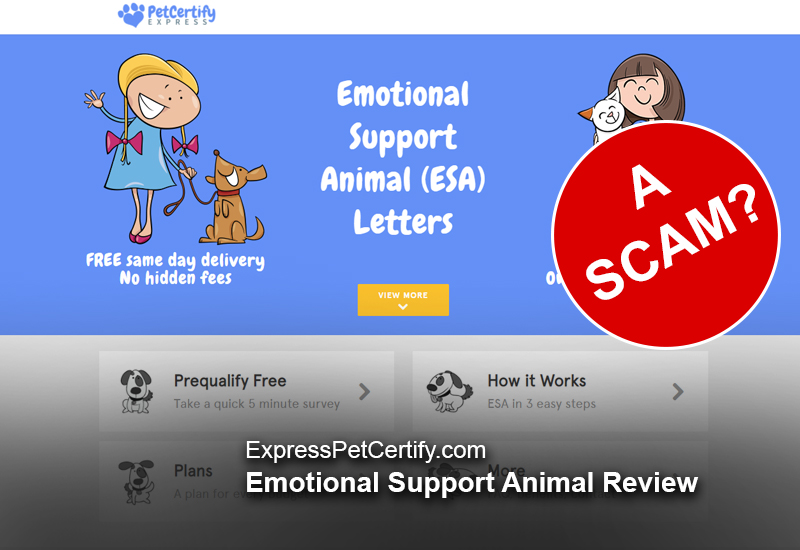 For some people, it can be hard to get through the day without the support of their favorite animal companion. For many, their pet becomes far more than a mere companion; it becomes what's known as an Emotional Support Animal.  Where would we be if we didn't have our cat waiting for us at home? What would we do if we couldn't go to the park and enjoy the outdoors with our dog? How would we spend our time if not by being entertained by our snake? Who would we be able to share our love for if we didn't have an adorable rabbit to have and hold?
An emotional support animal can help you to regain your mental health. Click the button below to get your ESA letter.
So, what is an Emotional Support Animal? Depending on if you have a medical or mental health condition, you might find it almost impossible to be apart from your pet. It may even be the case that your doctor or therapist recommends you get an animal as part of your treatment. It may seem strange at first, but many have proven that having an emotional support animal is substantially beneficial. Also known as therapy pets, an emotional support animal can be just what you need for staying calm and comfortable. Where other forms of therapy have let you down or aren't sufficient on their own, an ESA can improve your mental health and be an absolute life changer.
At Mango Clinic Miami, we understand why having an ESA letter is so important. This documentation will allow you to bring your ESA with you to more places than you would otherwise be allowed. If you're living in an apartment complex that doesn't generally allow pets, this letter would not only let you keep them, but you wouldn't have to pay an extra fee. This letter also works for when you travel, since entities like airlines are known for denying passengers on flights and/or charging extra for pets. An ESA letter would allow you to travel with confidence, knowing that you won't be denied a trip if you have the proper documentation.
Is ExpressPetCertify.com Legit?
When getting an ESA letter, you must always make sure you get it properly through the correct channels, so that it's genuine. Otherwise, you won't be able to fly with your pet or keep them with you at a residential complex.
However, sites like ExpressPetCertify.com attempt to trick people into throwing away their money for a false letter that won't hold up as legit. This is why we have written this review explaining why you should stay away from them and what to look out for.
ExpressPetCertify.com may look nice and cute at first; it even has a cute dog on the links that take you around the site. The use of illustrations – as opposed to stock images – might make you think they're the real deal. They even have an address, phone number, and email listed on their page, things that other scam sites don't always have. However, as it turns out, this address cannot be verified. In addition to that, if you look up the address or phone number, you can find the site's Better Business Bureau page, which has them at an "F" and with six complaints.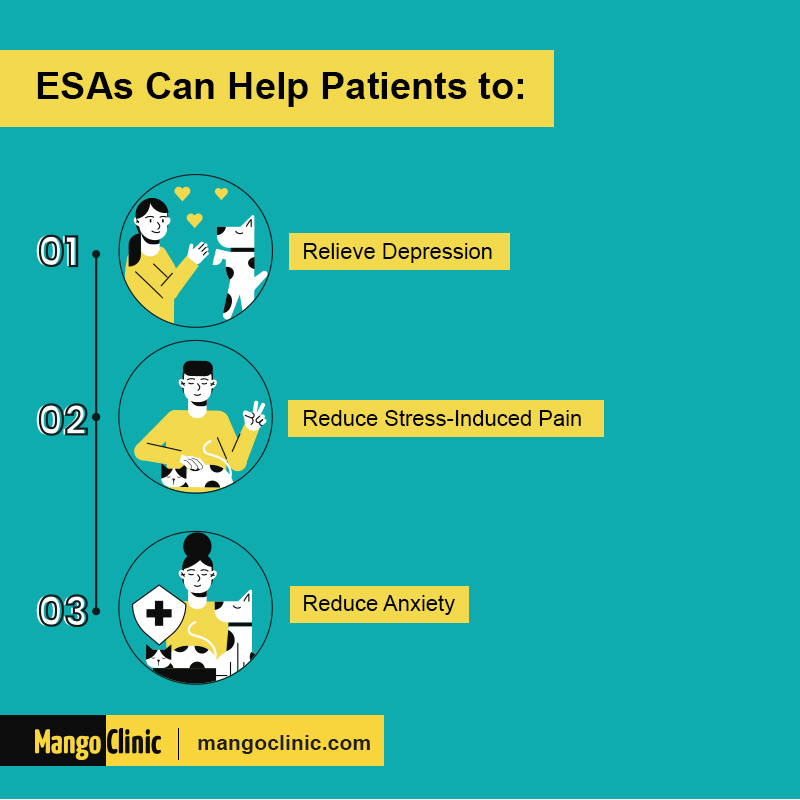 How Does ExpressPetCertify.com Compare to Mango Clinic?
Qualifying Patients
In order to qualify on ExpressPetCertify.com, you only have to fill out a questionnaire, after which you wait to get approved by a "licensed health professional." On the main page outlining the process, there's no mention of speaking with a doctor to properly qualify you, only that they may "follow up." However, the FAQ page does say that you can set up an appointment to speak "with a licensed therapist," which contrasts with the other info provided elsewhere on the site.
Mango Clinic will have you speak with a doctor via telehealth communication, who will assess your situation to see if you can be approved for an emotional support animal letter. Getting official approval from a licensed doctor is the only way to acquire a legal and valid letter.
Worry about how to obtain an ESA letter? Click the button below to get your ESA letter.
Cost of an Emotional Support Animal Letter
ExpressPetCertify.com appears to have three packages for sale, with two of them being actual documentation. One of the packages is just "ESA Gear," and for $79 it includes an "ESA ID card, vest, and collar," none of which you would ever need. This package also comes with a copy of your ESA letter, which would still need to be ordered separately. Then there's the "2 in 1 Housing & Travel Letter" for $99; it says it will be accepted by several named airlines, as well as rental properties. It also says it will be signed by a "doctor, psychologist or therapist," and that you get free same-day delivery. Finally, there are the "3 ESA letters for the price of 1," which doesn't make sense if one letter on this site already costs $99. Other than including some of the same things as just getting one letter, this 3-in-1 is said to cover three pets and three "Family and friends," as well as "Over 300 therapists at your service."
Let's start with the prices. A real ESA letter will never cost you $99; that's too low and proves how little the company actually cares about providing you with valid documentation. Our letters range from $129 for housing, $149 for travel, and $189 for both. The higher price point is because we do everything correctly, the way it's supposed to be done so that your letter is completely genuine. It should also be noted that you don't need multiple letters if you have multiple animals, as one will cover however many you want to claim. They also don't mention anything about renewals, which is essential because ESA letters do expire.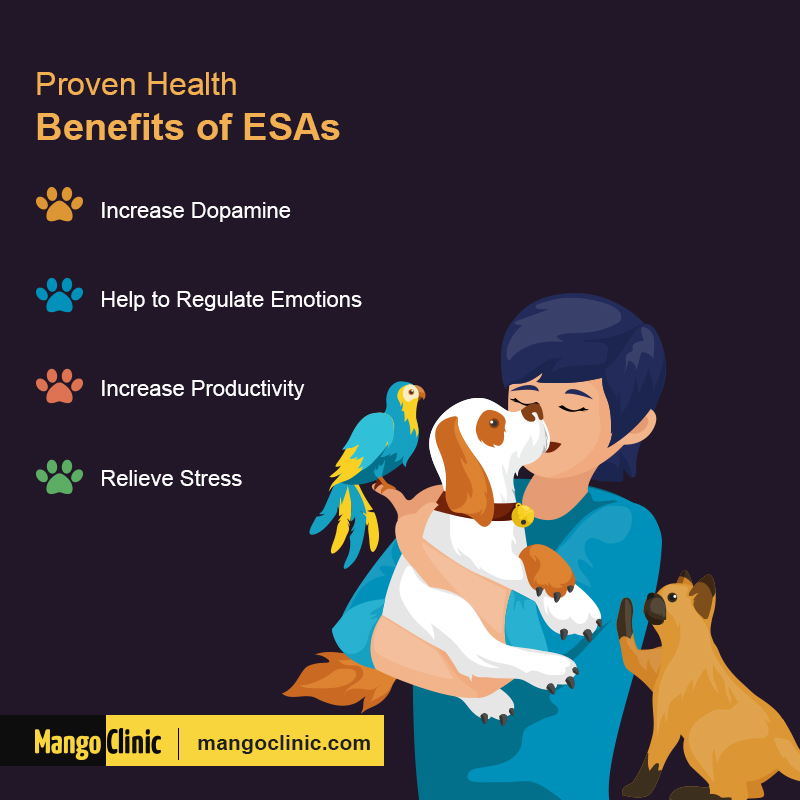 Getting an Emotional Support Animal Letter
Among the links available to view is one detailing how you would go about getting an ESA letter on their site. This might be the most obvious red flag. Many other sites do the same thing: you fill out a questionnaire, choose which plan you want, then wait for a "licensed health professional" to review it so they can approve you. After this, they say you'll receive your ESA letter "TODAY," a strange claim since most of these sites say it would take a few days.
Getting a valid ESA letter is not this easy. Mango Clinic can provide you with a genuine certification, as we go about the process the correct way. You'll speak with an actual certified doctor or therapist, either in-person or via telehealth, and from here you can be approved to get the proper ESA documentation.
What are the Guarantees?
ExpressPetCertify.com does not seem to present any guarantees that would make you feel confident about doing business with them. However, the individual product pages for the "ESA Letter" and the 3-in-1 respectively state "You will not be charged unless approved" and "money-back guarantee." The latter on the 3-in-1 product page is the only time a money-back guarantee is brought up.
Lower your stress level with an emotional support animal. Click the button below to get your ESA letter.
Conclusion
At Mango Clinic, we provide you with a 100% money-back guarantee if you are not completely satisfied and if your letter is not accepted for any reason. We can also be contacted if you have any questions.
While their website might look good on the surface, ExpressPetCertify.com is only interested in scamming you out of both your money and a true ESA letter. Instead, contact Mango Clinic Miami, who can provide you with a real letter that you can use, whether it's for apartments, an upcoming flight, or both. Call us at (786) 391-0269 or visit our webpage to schedule an appointment today.
Contact Us at Mango Clinic for an ESA letter or click the banner below to book your appointment.