ESA Letter from TheDogtor.net Review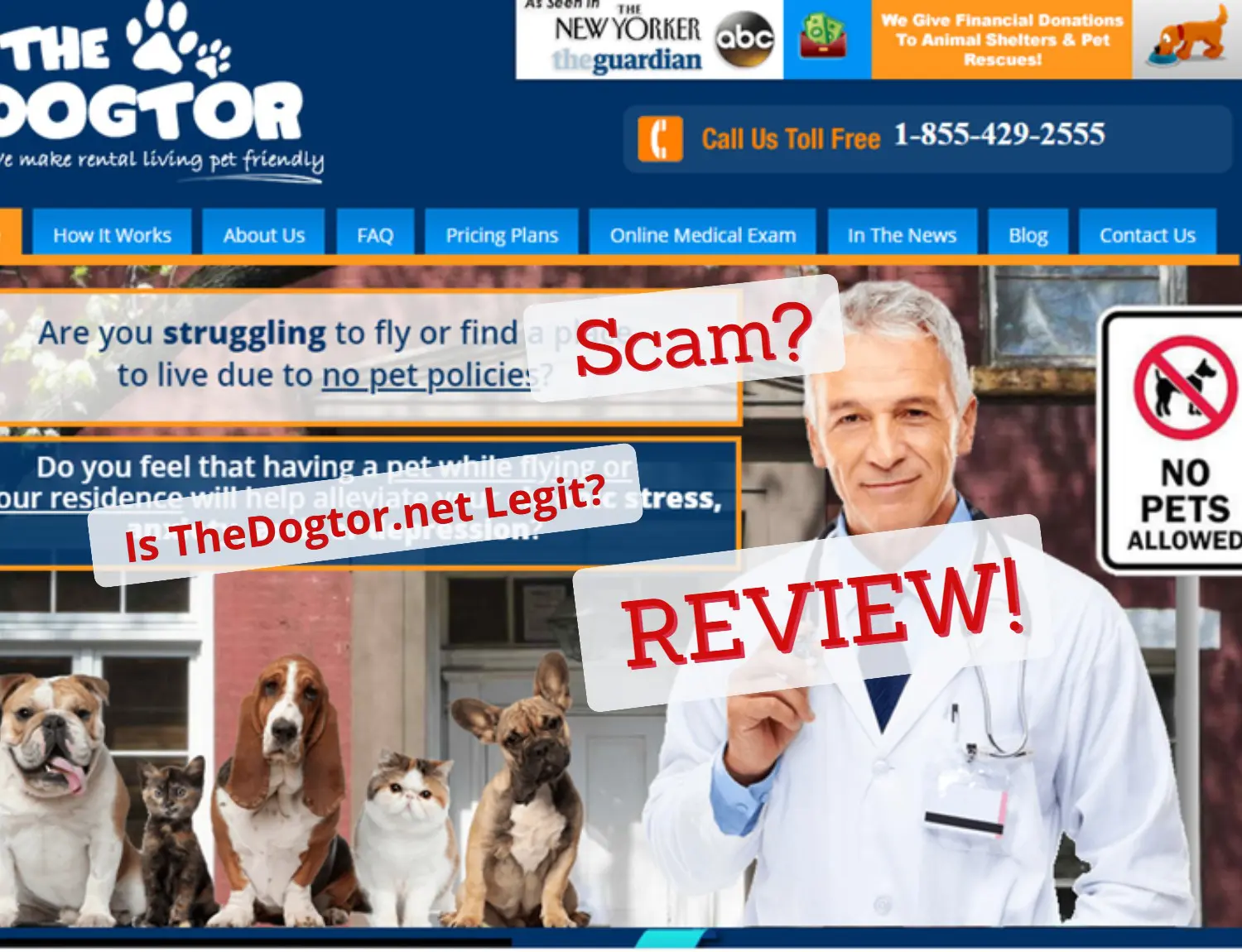 If you have a physical or mental health disorder, you might be wondering what the best forms of treatment are. It all, of course, depends on the severity of your situation since some disorders are easily treatable while others are more complicated. It also comes down to the individual, since while certain types work best for some, other people may react very negatively to a type of medication. There is no one right choice for everyone, which is why so many alternatives exist. Just like how everyone has a different body, the individual minds of all people result in everyone reacting to even the most common of medication differently, be it to no effect or severe side-effects. As such, some patients of disorder might avoid the most traditional forms of medicine entirely for something safer and maybe less conventional.
How to get a note for an emotional support animal? Click the button below to get the letter now!

What Is an Emotional Support Animal?
When it comes to alternative treatments, unique forms of therapy exist for those with mental and physical disorders. While there are traditional forms, such as one-on-one and group sessions, patients are also recommended emotional support animals. It is not the most standard or well-known form of treatment, but it can be highly recommended for some patients. One of the most apparent things about an ESA is that it's not a prescription format, nor does it involve pills.
How ESA differs from a service animal?
ESAs, unlike service animals, are not specially trained for anything in particular. Where a service animal is meant to assist someone with specific living situations, an ESA exists primarily for keeping a person company. The presence of the animal is all that is needed for the patient, and this also makes the recommending of an ESA more accessible. Knowing you do not need a specific type of animal makes getting an ESA easier, as various animals qualify, from cats and dogs to pigs and snakes, each bringing their own unique advantages and benefits. In these different aspects, ESAs end up becoming some of the most versatile options for treating health disorders and can arguably be more helpful for some than more traditional forms of treatment. This is why getting an officially signed emotional support animal letter from Mango Clinic is so vital.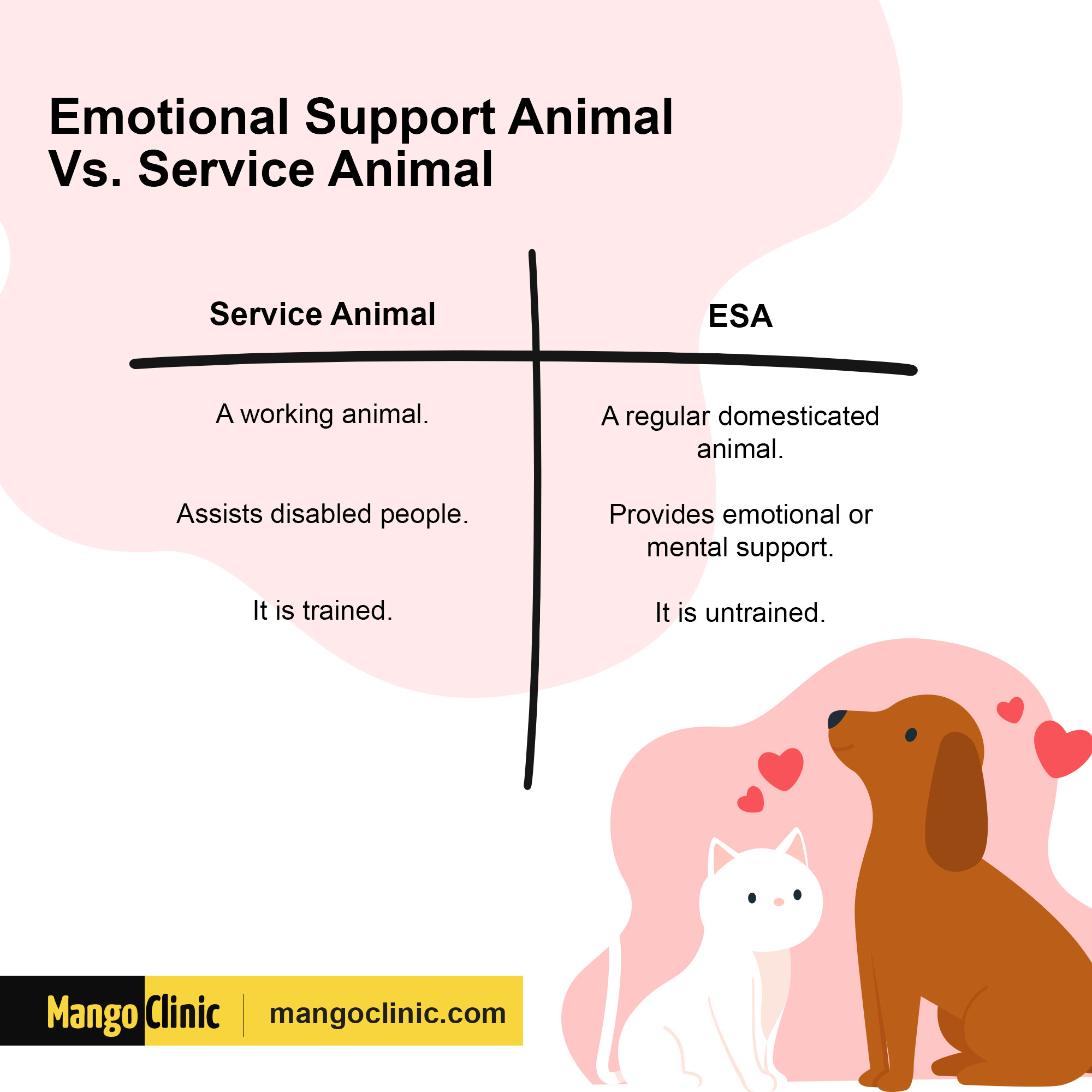 What are the advantages of an ESA letter?
ESA letters allow you to live in residential complexes that might otherwise forbid you from having an animal or may charge you extra for having one. With this letter, signed by a licensed doctor, you would be allowed to keep your ESA without being charged additional fees or being hassled by landlords. This document can also work for when you are traveling on airplanes, trains, or boats; you will not have to put your ESA in cargo, and you will not be forced to pay any extra fees of any kind. Getting one is also simpler than ever; speak directly with one of Mango Clinic's licensed doctors and get approved with an electronic copy of the letter, all in the same day.
Is TheDogtor.net Legit?
There are many websites that you will come across online that claim to offer emotional support animal letters, but many of these are scams and untrustworthy. Even if they seem genuine, it can sometimes be tough to verify information on their site. However, if you visit enough of these sites, you will recognize the patterns that out them as scams. More often than not, no matter how different they may seem on the surface, these websites have strong similarities between them.
TheDogtor.net appears to be reasonably professional on the surface, claiming to be mentioned in certain publications and includes testimonials on the homepage. But if you look into some of the details surrounding the product of ESA letters and how you get one, you start to see why you should be suspicious.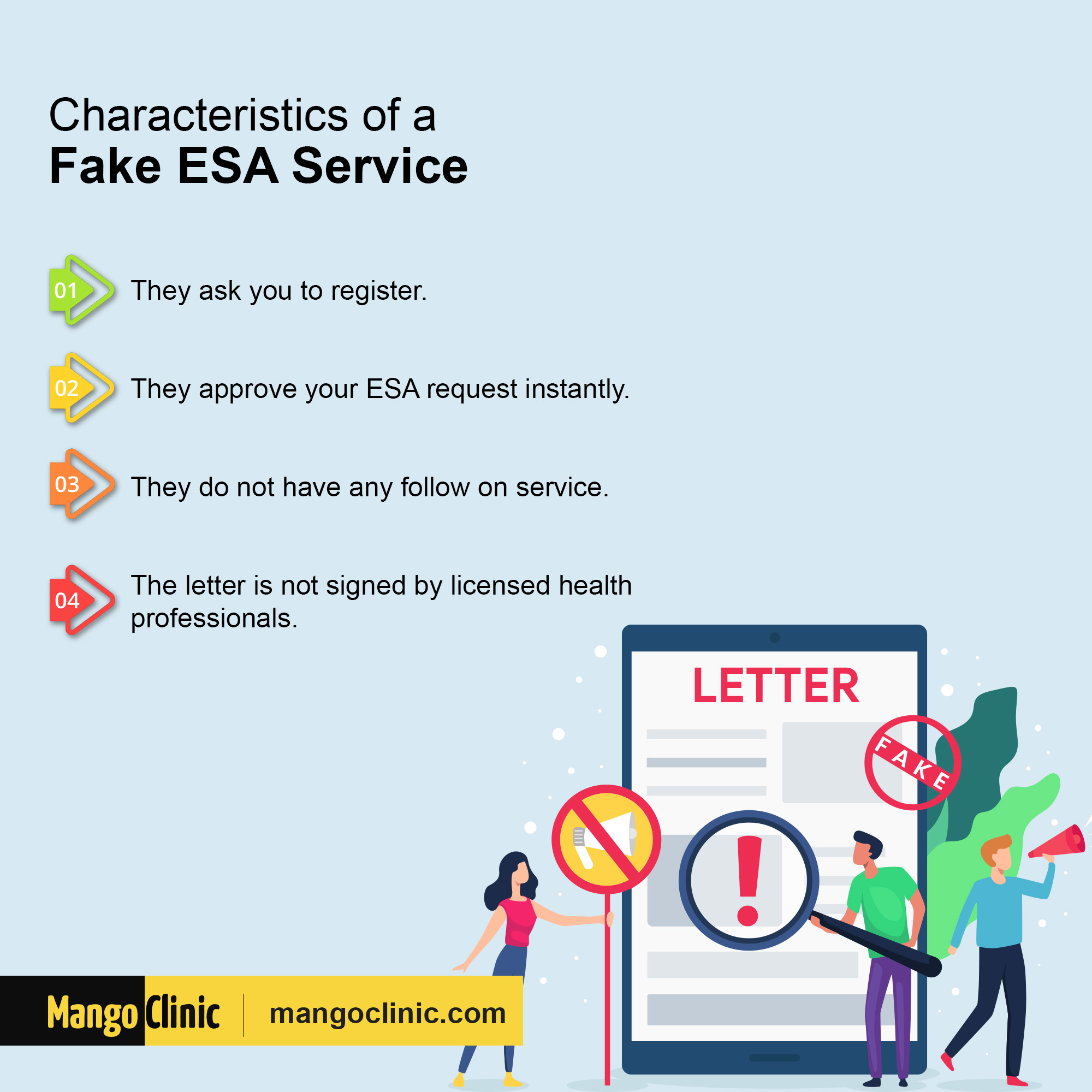 Like many other sites of this type, TheDogtor.net provides its service by asking you to fill out a questionnaire (which they call an exam). This is followed by a payment, which is then followed by awaiting approval by a doctor (or as they call it: The DOGtor). They claim you do not speak with the doctor, and that it's rare for a doctor to request to speak with you directly. From here, if you are approved, you will be sent your electronic ESA letter through email, with a physical hard copy a few days later. The biggest issue with this process is that they do not require you to speak with a doctor. In order to get a legitimate letter, it must be signed by a licensed doctor who has spoken with you directly. If you receive a letter from someone you never had contact with, then that letter is invalid and won't be accepted.
While that alone can be a cause for concern, there is also the issue relating to the pricing plans. They feature a separate housing and travel plan, which is normal, and nothing stated in the plans seems out of the ordinary, other than naming the housing plan the "Care Plan." Then there is the "Compassion Plan," which combines the housing and travel plans; according to TheDogtor.net, this plan has no expiration date. Now, before going into it, it should be said that all real ESA letters have expiration dates; they are valid for up to 12 months and must be renewed annually. For a site to say that one of their plans has no expiration date is an easy way to demonstrate how disingenuous their product is. To make it even stranger, this same plan still separates the housing and travel letters by claiming that the housing letter has no expiration and that the travel letter is included, but does not specify if both have no expiration dates or just the housing letter. The plan even says it comes with a "Discounted Annual Fee to Update Letter," which would not make much sense for something that also claims it has no expiration date.
One other thing you can look for on these sites is the lack of a physical address and questionable contact information. A legitimate business tends to have its physical address stated at the bottom of a webpage, or at least its homepage. TheDogtor.net does not do this, and in fact, shares no physical address whatsoever. While providing a phone number, their contact page also features a fill out form and no email address.
How Does TheDogtor.net Compare to MangoClinic.com?
Due to its sketchy nature, we cannot recommend TheDogtor.net for your ESA letter needs. The way you get an ESA letter is not the best, asking you to fill out a form and then wait for someone to approve you, all without directly speaking to a doctor. While the prices are not too low or too high, the details described in the plans featured is inconsistent at best and flat out wrong at worst. Then there is the matter of not featuring a physical address or even an email that you can reach. But worst of all, and most importantly, they do not require you to speak with a licensed medical professional; at best, speaking with a doctor is "possible" but not required.
With Mango Clinic, we can assure you of full customer service, support, and discounted annual rates. We also have a physical location, phone number, and email address, all of which are accessible and verifiable. Our prices range from $129 for housing, $149 for travel, and $189 for both, each signed by a licensed doctor who will always speak with you first before approval.
Apply for your ESA letter today!

It can be tempting to find a random website and getting an ESA letter from there, but if they don't have you speak with a licensed doctor before approval or claim to have no expiration dates, then they shouldn't be trusted. Visit MangoClinic.com to learn more about ESA letters and to schedule your appointment to speak with one of our licensed doctors, whether that is in-person or via telehealth over the phone or video chat.