What Kind of Animals Can Be Emotional Support Animals?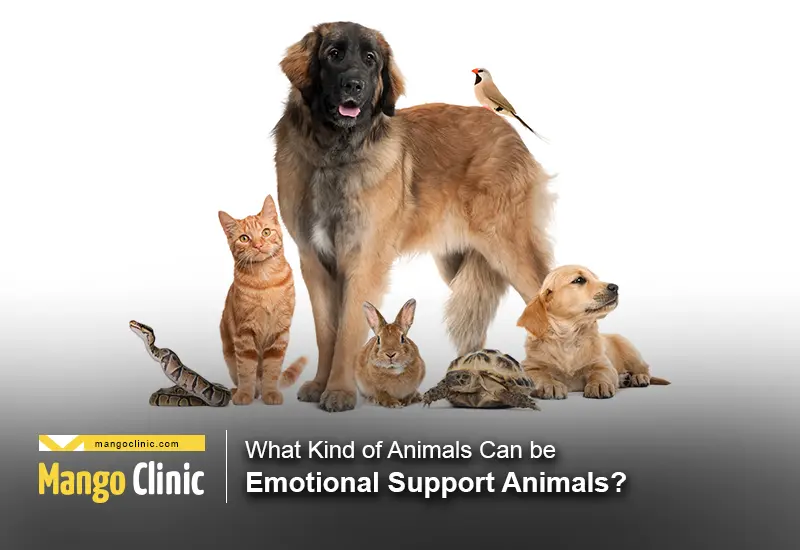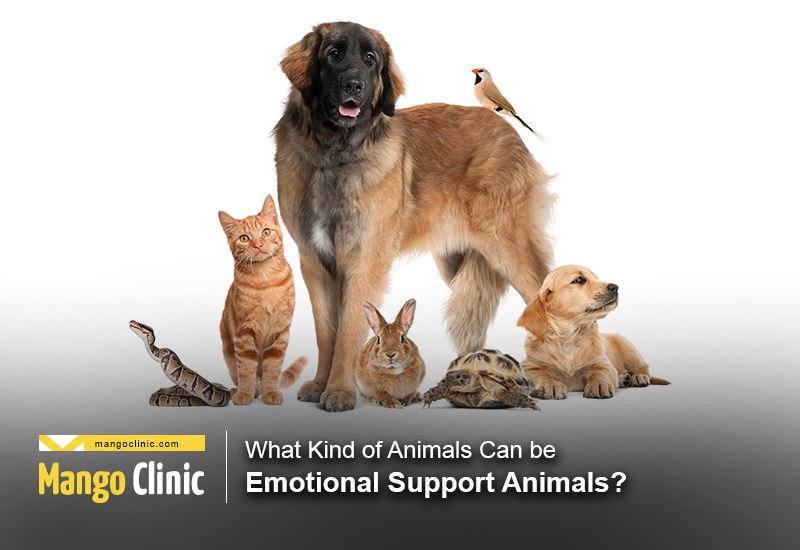 Emotional support animals are typically domestic animals including cats, dogs, rabbits, birds, mice, hedgehogs, rats, ferrets, mini pigs, etc. that can qualify as ESAs. Unlike service dogs, these animals require no special training since their presence alone lessens the symptoms of psychological and emotional disability in a patient.
However, they must not constitute a nuisance in domestic and public settings. If an ESA is noisy, disturbs others, or causes messes, they may not be able to come into many public places and could also cause issues at apartment complexes or retirement communities.
An emotional support animal can help you to regain your mental health. Click the button below to get your ESA letter.
An increasing number of patients diagnosed with mental health problems are beginning to join the ESA revolution by signing their pets up as official emotional support animals or getting new animals.
Acquiring ESA status for your pet is really easy and comes with a lot of advantages including air travel and tenancy rights. However, before a licensed mental health professional can prescribe an emotional support animal, the patient must have a verifiable emotional or psychological disability.
ESA's are usually animals such as dogs and cats that provide therapeutic support to elderly/ disabled persons. Pets provide companionship, affection, and non-judgmental positive regard to their handlers. Professional ESAs play an important role in the lives of their charges. They are a source of companionship, connection, motivation, and comfort to their owners while giving them a point of focus in life.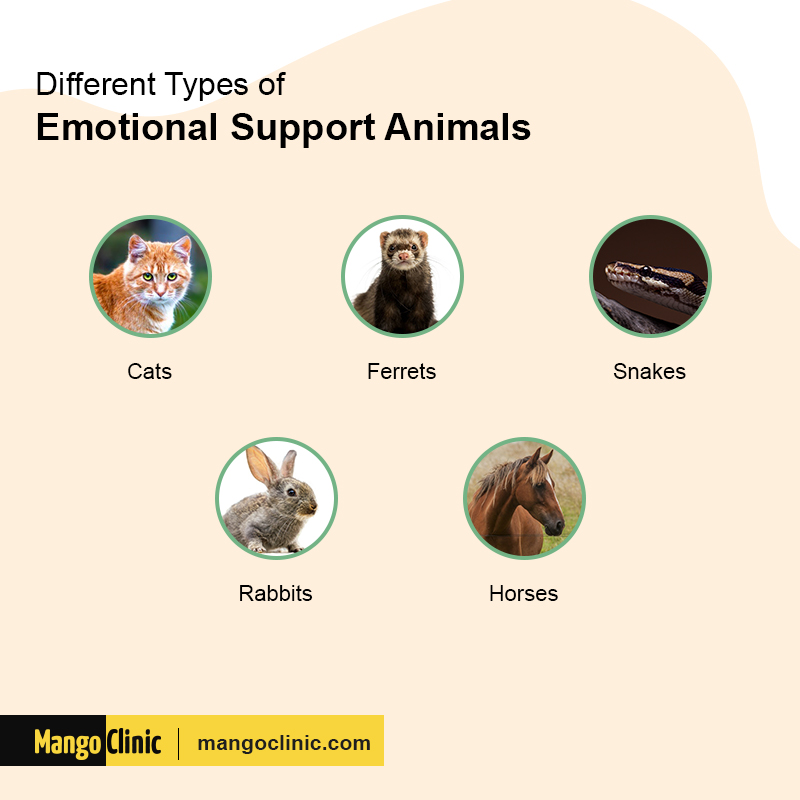 In addition to domestic animals, other pets such as ducks, pigs, rabbits, and even snakes have become licensed ESAs due to the therapeutic effect they have on their handlers'/ owners' disabilities. The licensing of such animals may appear odd, but they provide much-needed companionship to their owners while helping them live fuller, independent, and happier lives.
Many times, the type of ESA that best suits an individual is based on the animals they are most familiar and comfortable with. Before your animal can qualify as an ESA, you must be certified by a psychiatrist, therapist, or psychologist as being emotionally disabled. A diagnosis from a general medical practitioner or family doctor is not valid.
You can get Mango Clinic ESA letter by click the button below.
Animals That Qualify for Emotional Support 
Although it seems as if all kinds of pets can qualify as ESAs, there are restrictions on the kinds of animals that can be granted ESA status. Even though certifiers try as much as possible to accommodate the requests of individuals qualifying for ESA, it is really impossible to grant ESA status to certain animals.
Although ESA specifications do not exclude a particular animal species from qualifying, common sense should be applied. As a general guideline, any animal that is bigger than a large dog is usually not granted ESA status because landlords, restaurants, stores, and airlines cannot be expected to accommodate such animals. This means that cows, horses, and other large pets cannot be ESAs because it is generally unsafe to allow them into spaces sanctioned by an ESA accreditation.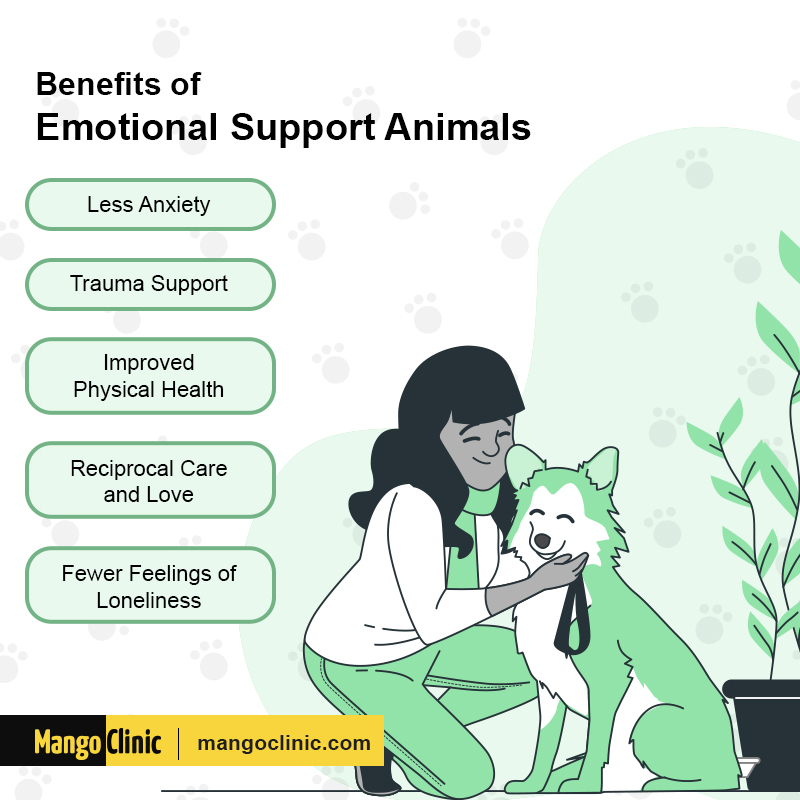 In line with the requirement that an ESA must be manageable in public, an airline, for instance, can reject a full-sized goat or pig from accompanying an emotionally disabled passenger into the cabin. They may require such an animal to travel in the cargo area.
Also, landlords and store owners cannot be expected to accommodate a horse or other large-sized animal due to the high risk of potential damage and disturbance to other tenants/ patrons. However, in rural settings, animals such as pigs, goats, and horses may qualify as ESAs. You should bear in mind that the most important rule when considering a pet or animal as an ESA is practicality.
ESAs can be very valuable in the lives of those experiencing emotional distress. To get a qualification for your animal, meet with a professional who can certify your animal and provide the paperwork you need to enjoy the many benefits of an ESA.
Lower your stress level with an emotional support animal. Click the button below to get your ESA letter.
Emotional Support Cat

Emotional Support Dog

Emotional Support Bird

Emotional Support Snake

Emotional Support Rabbit

Emotional Support Pig

Emotional Support Reptiles

Emotional Support Rodents

Emotional Support Hedgehog

Emotional Support Ferret

Emotional Support Turtle
Conclusion
Whether it's a turtle or a cat, choosing your emotional support animal is purely up to you. In case you are unable to decide, feel free to have both, and enjoy maximum benefits. You can reach out to a licensed professional at Mango Clinic to get an ESA letter for your emotional support animal. You can also contact us by using an online ESA letter application.