Emotional Support Animal: What Do I Need to Qualify?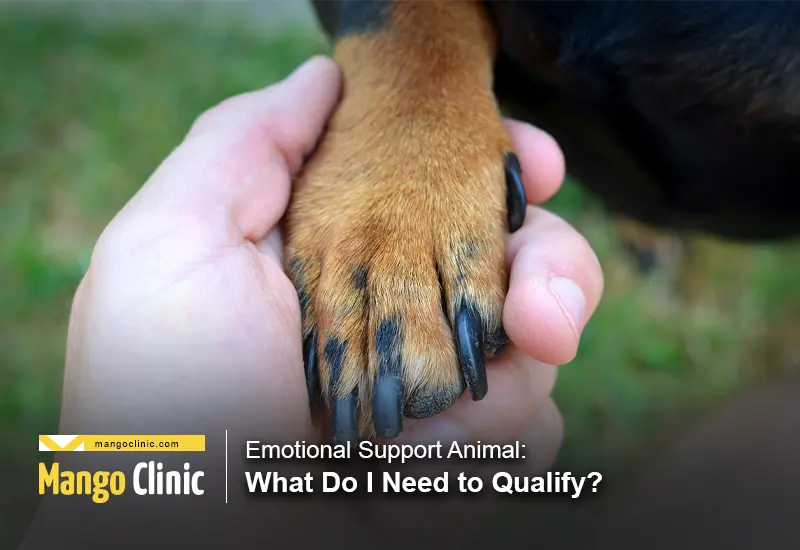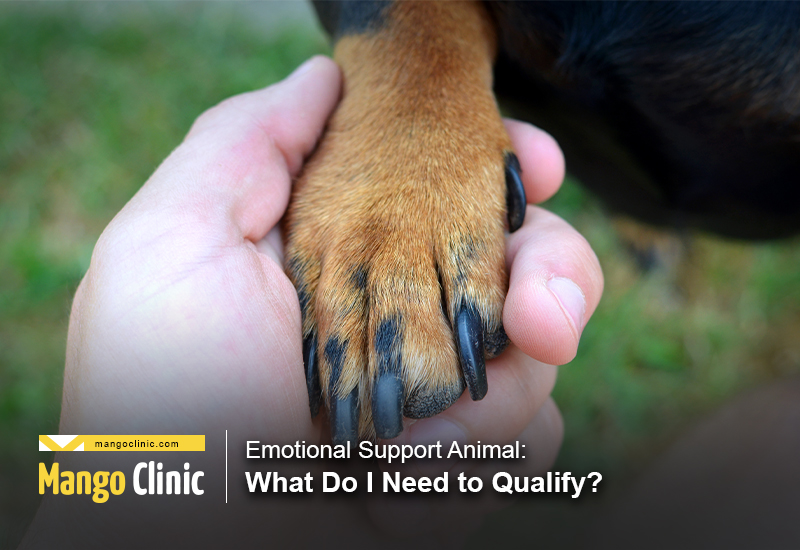 ESA (Emotional Support Animals) are animals that provide love, support, and companionship to mitigate symptoms associated with psychological, behavioral, and emotional disorders. Although pets do provide such companionship to their owners, ESAs are prescribed to only persons who have been diagnosed with a mental disorder. Since they require no special training to provide relief to their charges, ESAs are different from service animals. To know how to qualify for an emotional support animal continue reading.
Lower your stress level with an emotional support animal. Click the button below to get your ESA letter.
Disorders that Qualify for Emotional Support Animal
Individuals who have mental disabilities such as anxiety, post-traumatic stress disorder, anti-social personality disorder, depression, or other related psychological disorders are qualified to receive an ESA letter; however, they must be diagnosed by a certified mental health professional such as a psychiatrist, psychologist, therapist, etc.
Other kinds of doctors such as cardiologists, neurologists, or general health practitioners are unable to give such diagnoses since they are not trained in the field and do not qualify as mental health professionals. However, some airlines and property managers may accept a verification form/ letter that has been filled out and signed by a family doctor.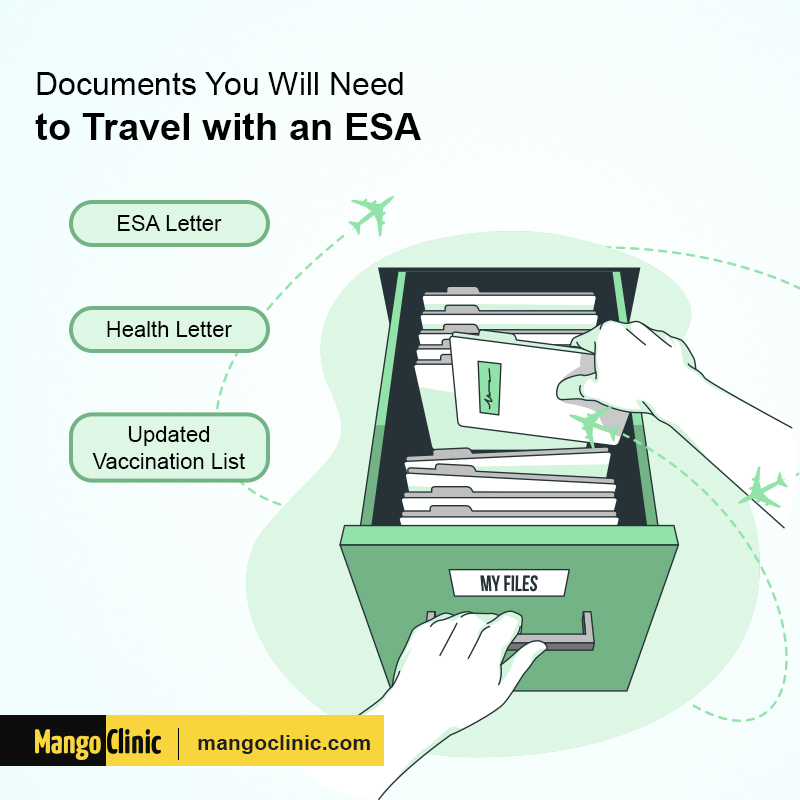 The following are some of the disorders listed in the DSM-IV as grounds for qualifying for ESA certification:
Learning disorders

Sexual dysfunction

Tic disorders

Cognitive disorders

ADD (i.e., Attention Deficit Disorder)

Motor skills disorders

Substance abuse-related disorder (alcohol, drugs, etc.)

Mental retardation

Gender identity

Post-Traumatic Stress Disorder
Looking for ESA registration florida? Click the button below to get your ESA letter.
Qualifying Procedures for ESA
The procedure for getting an emotional support letter is simple, non-invasive, and usually short. In special cases, the consultation can be done from home. This allows patients with depressive and anxiety disorders (who don't feel comfortable with leaving the comfort of their homes) to be qualified for an ESA. The first step in qualifying for an ESA requires you to complete an online questionnaire (online ESA application), which briefly outlines your ailment.
After this, you will undergo a session with a certified mental health professional who assesses your suitability for an emotional support pet. The professional will ask some questions about your emotional and mental state to ascertain the extent of the malaise. If the professional finds you eligible for ESA certification, you will be informed right away and you'll receive the letter within a few days.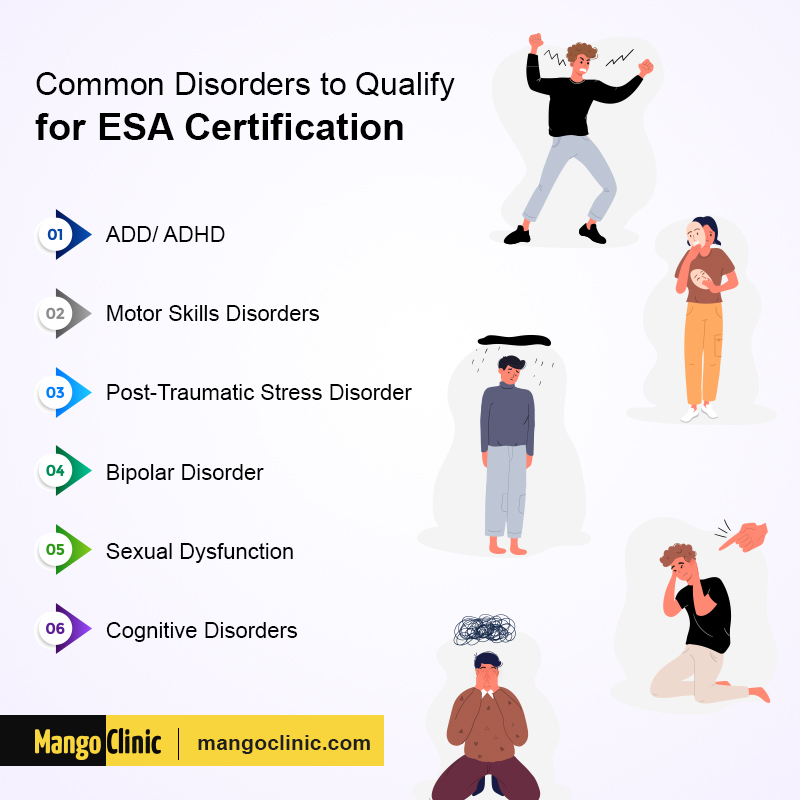 The Format of an ESA Document
An ESA prescription is in the form of a formal and properly formatted letter. The letter must contain the license type of the mental health professional, license number, date of licensing, as well as the date and state of issue, and must be written on the official letterhead of the professional.  
The letter must contain pertinent details that inform recipients that you are:
Currently a patient of the certified doctor.

Receiving treatment and care for an emotional disability, which must be described in the DSM (Diagnostic and Statistical Manual) of Mental Disorders Version IV or V.

Substantively limited in participating in or performing a major life activity due to the disability.

Prescribed an ESA as part of the treatment program for your disability.
Finally, the letter must be dated no later than a year from the date of departure.
An emotional support animal can save you from loneliness. Click the button below to get your ESA letter.
Conclusion
Emotional support animals can be extremely beneficial companions to those who are experiencing mental or emotional distress. They can range from the usual dogs and cats to more exotic pets such as hedgehogs, rabbits, pot-bellied pigs, and even snakes. If you believe you qualify for an emotional support animal and would like to receive a letter so you can enjoy the benefits of living and traveling with your pet, contact a professional today who can perform an evaluation and issue you a certified letter.
Contact us at Mango Clinic for an ESA letter or click the banner below to book your appointment.