Pamelor for Anxiety: How Does It Actually Work?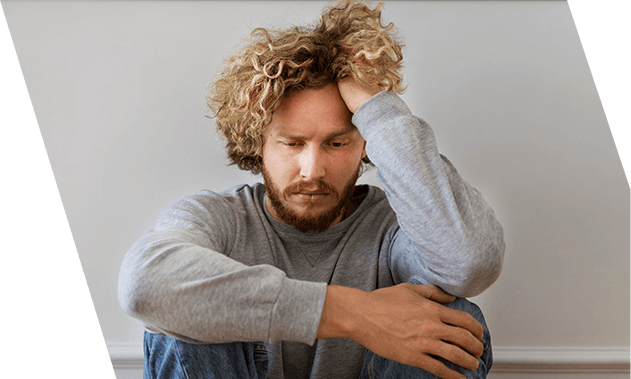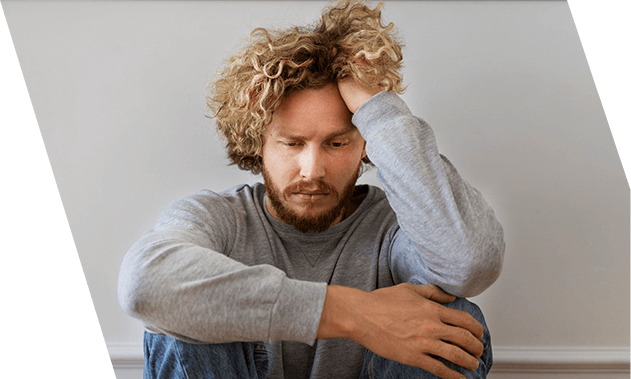 Pamelor or nortriptyline is a tricyclic antidepressant (TCA). Even though the FDA approved Pamelor for depression treatment only, there are also quite a few off-label Nortriptyline uses. This medicine can help manage anxiety symptoms and several physical problems, such as chronic pain, migraines, diabetic neuropathy, trigeminal neuralgia, smoking cessation, and more.
The generic Pamelor name is nortriptyline. Both Pamelor and its generic equivalent are available in many countries, including Canada and the United States.
Pamelor is not the first-choice medication for anxiety, but it proved to help a person achieve their treatment goals. Read on to know how this medication aids in reducing the signs of anxiety disorders.
Doctors at Mango Clinic will choose the most suitable treatment option for you and prescribe medications online.
Pamelor Dosage and Intake Recommendations
Pamelor usually comes in the form of capsules (10, 25, 50, and 75 milligrams) or a liquid solution (in the concentration of 10mg/5ml). Pamelor liquid solution should be measured with a calibrated spoon or other devices for accurate dosing.
Pamelor should be taken by mouth as directed by a health care provider. It is usually prescribed in doses of 25 milligrams, taken three to four times a day, resulting in 75 mg or 100 mg daily. The dosage may also be increased over time as needed, up to 150 milligrams per day. The elderly and adolescents may need to start Pamelor at lower doses, 30 to 50 milligrams per day, in single or divided doses.
The dose and length of treatment will depend on the individual's condition, response to therapy, and other factors.
How Does Pamelor Work for Anxiety
Aside from depression treatment, Pamelor can also be prescribed off-label for generalized anxiety disorder and panic attacks. As a tricyclic antidepressant (TCA), Pamelor works by blocking the reuptake of certain neurotransmitters, specifically norepinephrine and serotonin. Due to that, the levels of those neurotransmitters rise, which helps balance the mood and improve overall mental health. A study found nortriptyline effective in treating anxiety and depression in stroke patients. Generally, the drug helps with the following symptoms:
Anxious mood
Changes in appetite
Fatigue
Difficulty concentrating
Loss of interest in activities
Racing thoughts
Restlessness
Agitation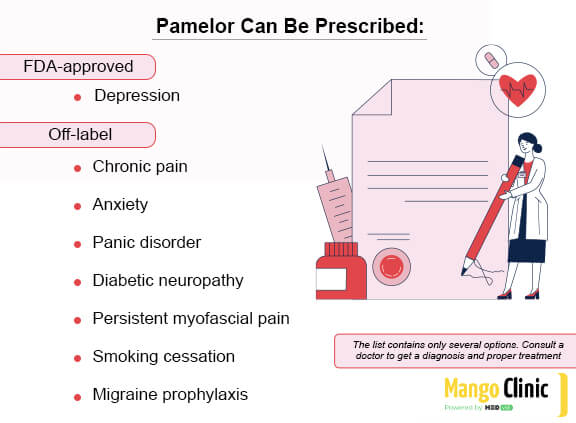 If you take Pamelor for anxiety, the first effects can be noticed during 1-2 weeks, while significant improvement requires 6-8 weeks of treatment.
Other Uses: Pamelor for Migraines
Pamelor (nortriptyline) can also be used for treating nerve pains. Sometimes, it is prescribed for the prevention of migraine headaches. Its ability to affect serotonin aids in pain signals in the brain, which results in reducing migraine frequency and severity.
Our doctors ensure a personalized approach. You will get a diagnosis and a treatment plan that will suit your needs and treatment goals.
Side Effects of Pamelor
Common Pamelor side effects include:
Drowsiness
Lightheadedness
Dry mouth
Blurred vision
Constipation
Dizziness
Increased heart rate
Nausea
Rash
Itching
Loss of appetite
Vomiting
The drug may also cause weight gain and muscle weakness. In rare cases, Pamelor may cause more serious side effects, including an irregular heartbeat, chest pain, difficulty breathing, and serotonin syndrome. If you experience any of these, seek medical help immediately.
Withdrawal Symptoms
If Pamelor is stopped abruptly, it can cause withdrawal symptoms such as dizziness, headaches, and nausea. The withdrawal symptoms are usually mild and will resolve within a few days. Still, the medication should be tapered off gradually, with your doctor's guidance.
Overdose
If you take more Pamelor than prescribed, it can lead to overdose and be fatal. Symptoms of overdose include seizures, confusion, chest pain, and irregular heart rhythm. If you experience any of those, seek medical attention immediately.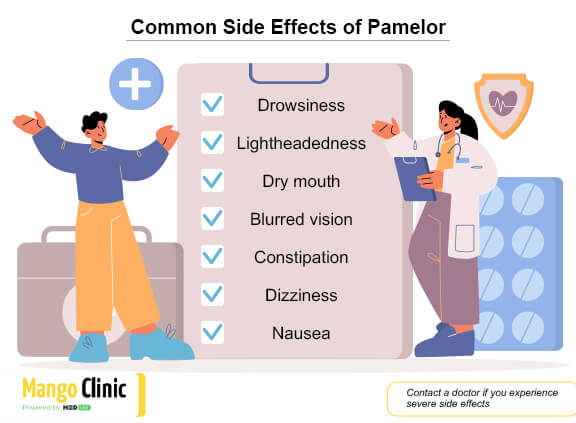 Pamelor Interactions and Warnings
Pamelor may interact with other medications, resulting in serious side effects. You want to talk to your doctor before taking it alongside an opioid, sleeping pill, muscle relaxer, or any other anxiety medicine. Here are some of the drugs Pamelor medication may react with:
Any medicine that treats depression, anxiety, mental illness, or any form of mood disorder
Pimozide, quinidine, or other drugs used to treat arrhythmia
Any medicine that treats overactive bladder
Bronchodilator asthma medication
Medicine to treat motion sickness, stomach problems, or irritable bowel syndrome
Stimulant medicine such as ADHD drugs or diet pills
Any antihistamine such as loratadine, cetirizine, diphenhydramine
Note that this list is not exhaustive. Pamelor medication has also been found to react with over-the-counter medicines, herbal products, and vitamins. If you're under any form of medication, whether herbal or otherwise, you should let your doctor know before they prescribe Pamelor to you.
Also, when using Pamelor, it is not recommended to drink alcohol. The side effects could be life-threatening or fatal. Pamelor may also not be suitable for pregnant or breastfeeding women.
In Conclusion
Because of its mechanism of action that may help reduce anxiety symptoms, Pamelor can be prescribed off-label for anxiety and panic disorder. It comes in different forms and dosages that should be determined individually depending on your diagnosis and other health factors. It is also important to talk to your doctor about the possible side effects of Pamelor and any potential risks before taking this medication. To get a personalized treatment plan for anxiety and know which medication will help you best, contact Mango Clinic today.