Phentermine Vs Adderall: What Are the 5 Major Differences?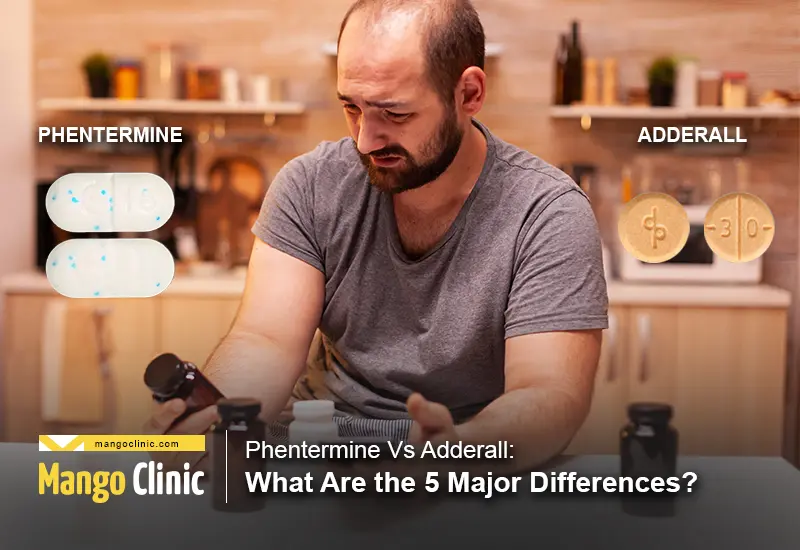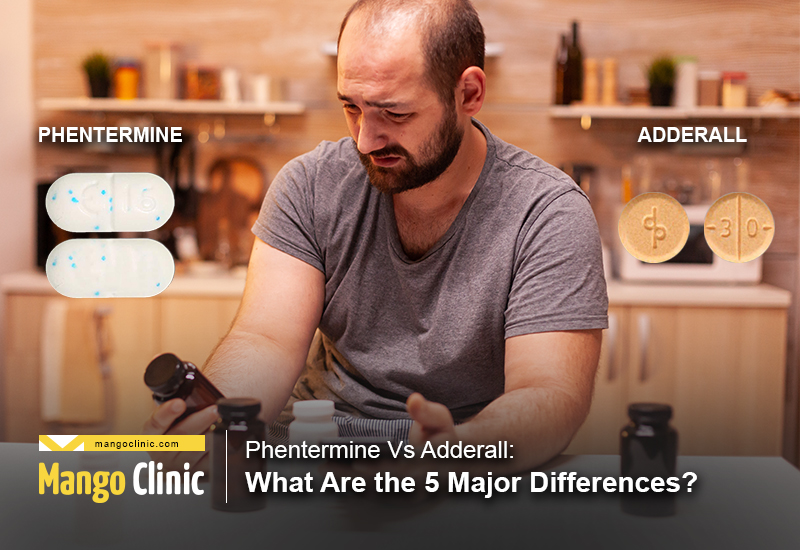 Phentermine and Adderall are both stimulant drugs, classified as sympathomimetics. They have similar effects on the body, but they're used to treat different medical conditions. Taking more than one sympathomimetic medication like Phentermine with Adderall can significantly increase the risk of severe cardiovascular side effects such as irritability.
Get proper treatment for ADHD from mental health experts. Click the button below to book your appointment.
Below, we take an in-depth look at Phentermine vs Adderall, including their uses and side effects.
Phentermine Vs Adderall: Main Differences between Phentermine and Adderall
The main differences between Phentermine and Adderall are in their main ingredients. Phentermine is an active ingredient of Adipex-P (brand name medication) approved for weight loss. It belongs to a drug class known as anorectics.
Adderall, on the other hand, is a combination prescription drug containing a mixture of different kinds of amphetamine and dextroamphetamine (two stimulants that affect your body's hyperactivity and impulse control). These forms include amphetamine sulfate, amphetamine aspartate, dextroamphetamine sulfate, and dextroamphetamine saccharate.
It's an FDA-approved drug that you can use to treat narcolepsy and attention deficit hyperactivity disorder (ADHD). Since most people who use Adderall tend to lose weight, your physician can also prescribe the drug as a weight loss aid.
Phentermine Vs Adderall: Which Is More Effective?
When exploring the difference between Phentermine and Adderall in terms of effectiveness, it's quite challenging to compare them. This is because Phentermine's effectiveness majorly depends on the brand you're using. Plus, both work almost similarly by releasing neurotransmitters such as serotonin and dopamine in your brain.
However, when taken for weight loss, patients who use Phentermine tend to lose more weight than those treated with Adderall. Keep in mind that the effectiveness of each drug generally depends on how your body responds to treatment.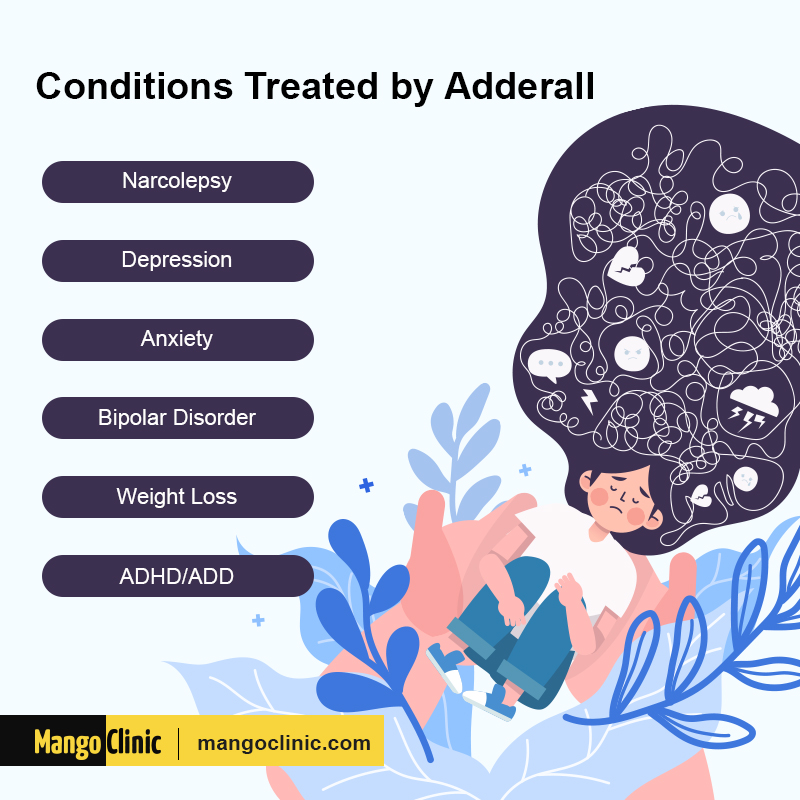 Conditions Treated by Phentermine Vs Adderall
Some of the common conditions treated by Phentermine and Adderall include:
1. Obesity
If you're searching for viable treatment options for obesity, it's time to try Phentermine (Adipex-P). As a well-known generic prescription drug, Phentermine is used to assist with weight loss in adults.
By losing weight, you minimize the many health risks brought about by weight-related medical issues, including diabetes, high blood pressure, and heart disease. Phentermine can assist you to lose weight by:
Increasing the amount of energy your body uses

Decreasing your appetite

Impacting specific parts of your brain
2. ADHD
Adderall is among the most popular drugs for ADHD. It works by changing the level of certain natural substances in your brain. Clinical studies show that Adderall reduces impulsive behaviors and improves attention and focus.
The drug is also effective for improving daytime wakefulness in patients with narcolepsy. Unlike Phentermine, Adderall hasn't been approved for weight loss. So, there might be unknown risks associated with taking it for this purpose. Other Adderall off-label uses include treatment of anxiety, depression, and bipolar depression.
Get yourself evaluated for ADHD by mental health experts. Click the button below to book your appointment.
Coverage and Cost Comparison of Phentermine Vs Adderall
The cost comparison of Phentermine vs Adderall dramatically varies depending on:
Insurance coverage

Treatment plan

Pharmacy you use
The cost may also vary depending on the strength and form of Phentermine you use. It's wise to talk with your insurance provider, pharmacist, or doctor to determine what you'll pay for the medication. The cost of 37.5 mg Phentermine oral tablet is about $13 for seven tablets.
The average retail cost of Adderall is over $150. Luckily, most insurance and medicare plans cover the generic version of Adderall. And, you can save a significant amount of cash by purchasing these drugs using your SingleCare discount card.
Common Side Effects of Phentermine Vs Adderall
The most common side effects of Phentermine are dry mouth, vomiting, difficulty sleeping, nausea, and diarrhea. Phentermine rarely causes fatal health problems. However, the risk can increase with long-term use of this medication or using it along with other appetite-suppressant medicines.
Patients who use Adderall may experience headaches, fever, stomach upset, nervousness, increased heart rate, and weight loss. You can't talk about the side effects of Phentermine vs Adderall without mentioning that they can be habit-forming and eventually lead to physical dependency if you use them for an extended time.
More severe side effects are rare and often occur if you take these drugs in higher doses than recommended. If any of these effects get worse, tell your doctor immediately.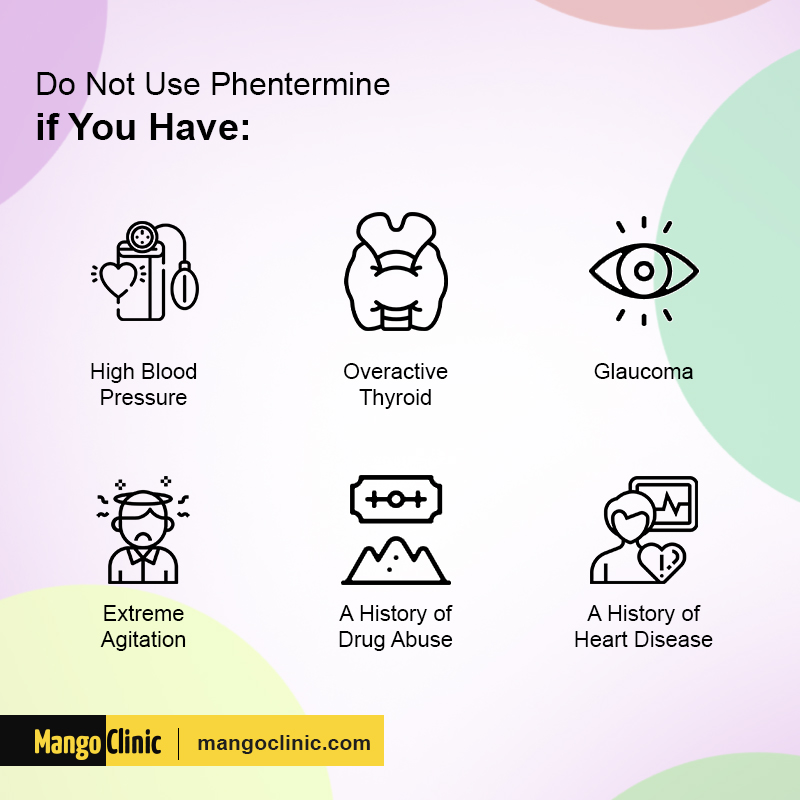 Drug Interactions of Phentermine Vs Adderall
Phentermine and Adderall can cause serious drug interactions when taken with monoamine oxidase (MAO) inhibitors. These inhibitors slow metabolism, thus leading to extremely high blood pressure and other neurological toxic effects. So avoid using MAO inhibitors such as methylene blue and moclobemide during treatment with these medications.
Unlike Phentermine, Adderall can potentially interact with more medications. For instance, it may interact with serotonergic drugs, increasing the risk of serotonin syndrome.
Warning of Phentermine Vs Adderall
CNS stimulants such as Adderall and Phentermine increase the risk of cardiovascular events like stroke and heart attack. If you have a history of heart problems, you should be very cautious when taking these drugs.
According to the DEA, Adderall is a Schedule II controlled substance while Phentermine is a Schedule IV. Therefore, using these stimulants can lead to dependence or substance abuse. Plus, abrupt discontinuation of Phentermine vs Adderall increases the risk of withdrawal symptoms.
Don't use Phentermine or Adderall during pregnancy because the risks involved outweigh the benefits. Fortunately, safer alternatives exist, so you can always find the proper medication for your condition.
Get medicinal ADHD treatment from mental health experts. Click the button below to book your appointment.
Bottom Line
Both Phentermine and Adderall are effective in treating weight-related issues and ADHD, respectively. However, they can both get addictive, not to mention they come with some severe side effects. That's why it's best to seek medical assistance before taking any of them.
Contact us at Mango Clinic for ADHD treatment or click the banner below to book your appointment.