Top 10 Emotional Support Animals: ESA Rabbit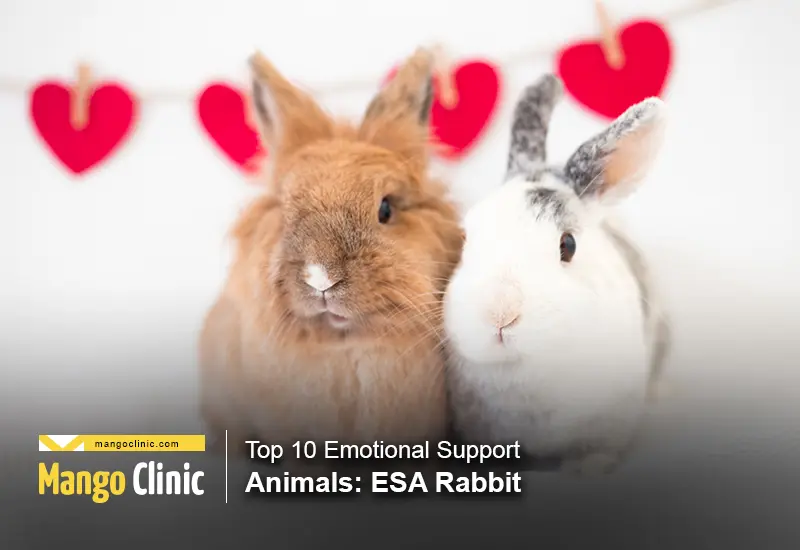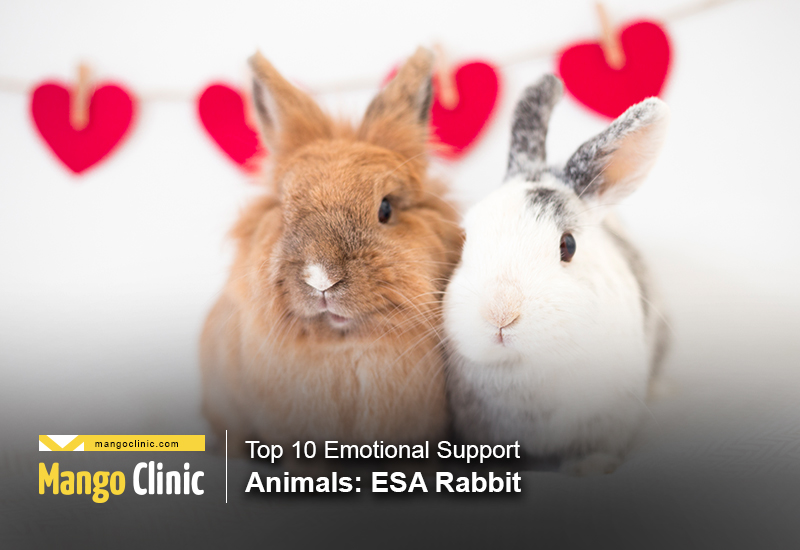 There are plenty of options for you if you want to get an ESA. While cats and dogs are never in short supply, you might be considering something else.
Among other popular choices for an ESA are rabbits, which are already a popular domestic pet. Known for being small and quiet, an ESA rabbit can provide immense comfort and joy for their owners. When keeping in mind that all an ESA has to do is be there for the owner, the benefits behind having a rabbit as your ESA begin to appear.
An emotional support animal can help you to regain your mental health. Click the button below to get your ESA letter.
What Is An Emotional Support Animal?
For some patients, an emotional support animal can provide benefits that other forms of treatment are unable to reach. While traditional medication can be very helpful, it is not always as effective. For these reasons, a person can often be recommended an ESA.
Unlike service animals, which are trained to assist their owners, ESAs do not need any sort of special training. An ESA can be an already owned pet that the patient wants to officially designate as their ESA. So if you have a health disorder or ailment, and you own a pet that makes you feel so much better than you normally would, they could qualify as an ESA.
How your pet makes you feel is what qualifies them. If you love your pet, but do not feel distressed when you're away from them, then they likely do not qualify as an ESA. However, if you feel awful without your pet, and feel immensely better with them, than they can qualify. If need be, a doctor can evaluate your case to determine whether your pet can be a recommended form of treatment.
For many people, an emotional support animal resembles a dog. In some cases, an ESA could be a cat, or many cats, for those that claim more than one animal. However, these are not your only options for an ESA, and Mango Clinic wants to make sure patients know. Can I have an ESA rabbit, some might ask; a miniature horse, a pig? There are a variety of animals that can qualify to be your ESA, and this includes a rabbit, one of the most popular options outside of a cat or dog.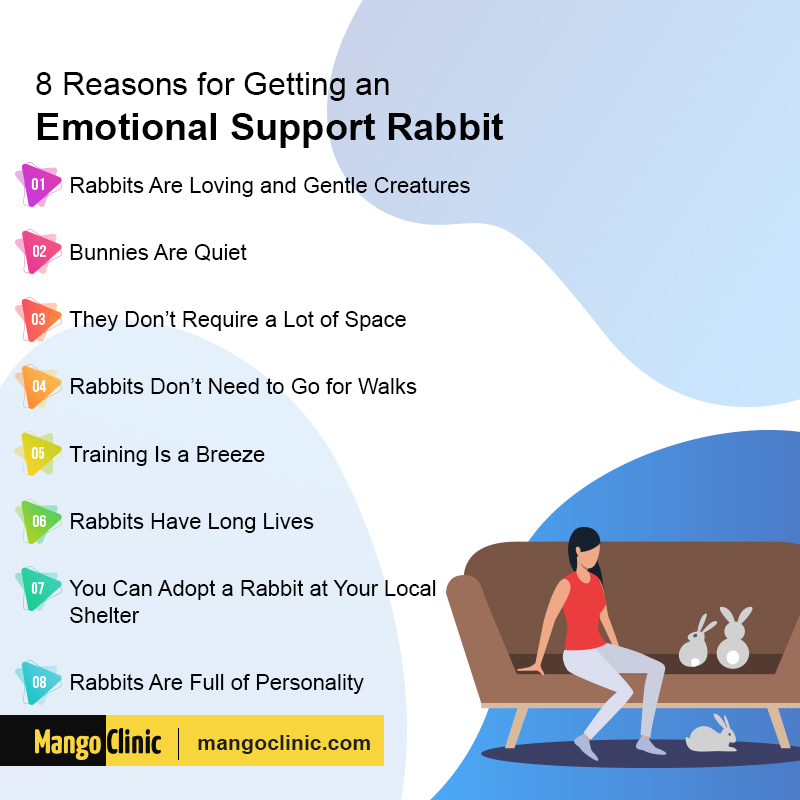 ESA Rabbit Benefits
No doubt one of the biggest advantages of having an ESA rabbit is their size. This makes them easy to carry and bring with you, as well as making them easier to play with. The smaller size also means less food is needed to feed them, at least in relative comparison to larger animals. This is part of what makes rabbits easy to take care of.
Being as small as they are, allows for rabbits to have a smaller living space. This is not a requirement, however; the size of a rabbit's living habitat can vary. If you would like for their living space to be confined to the size of a medium-sized cage, you absolutely can, though you will still give them room to roam. On the other end of this is dedicating a whole room to your rabbit, which is also entirely possible. The amount of living space you want to provide to your ESA rabbit is up to you, as long as it is healthy for them.
Want doctors note for emotional support animal? No problem, click the button below to get your ESA letter.
Some owners allow their rabbits to roam their yard, which gives the rabbit exercise and a natural place to roam. This is important, as the health of your ESA can determine how much they can help you, as well. While an ESA patient is more likely to look after their pet than a regular owner, it is still important to keep in mind how to take care of them. Rabbits are not cats or dogs, so make sure you understand what to do to benefit both you and your new animal companion.
One other benefit of being small is that it makes them easier to take with you. If you live in an apartment, having a small rabbit can save you a lot of space that might otherwise be taken up by an animal. If you're going on a trip, your rabbit will be less of a hassle than some other animals would be. Not only that, but their quiet nature is sure to not bother nearly as many people as if you had a larger animal for an ESA.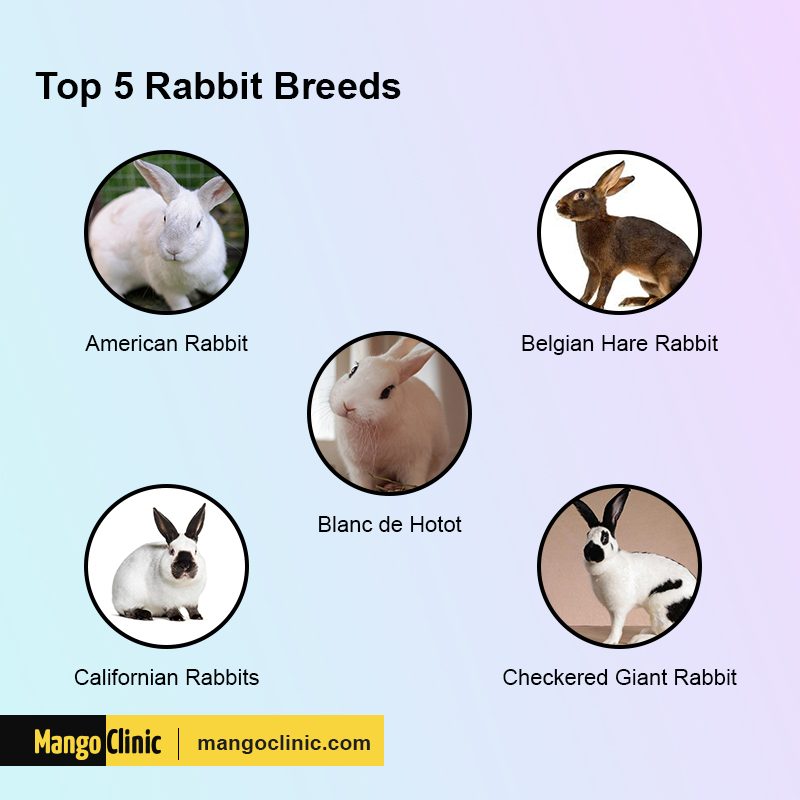 What Is An Emotional Support Animal Letter?
If you live in an apartment with strict animal policies, you will want to consider having an ESA letter. This document will prevent landlords from issuing unfair fees to owners of ESAs. If you do not have documents backing up your ESA, you could easily be charged more per month or be forced to leave your apartment.
Airlines are already notorious for being difficult, so imagine how problematic it would be to bring your ESA onboard an airplane. If you do not have an official written ESA letter, airlines will have no problem putting your ESA in cargo or preventing you from boarding your flight. On the contrary, an ESA letter will let you and your animal companion board without additional complications.
An emotional support animal can save you from loneliness. Click the button below to get your ESA letter.
How To Get An ESA Letter With Mango Clinic
It can be easy to come across illegitimate businesses online, but Mango Clinic is nothing like those. If you want to get an officially written and signed ESA letter, we will be able to provide it for you. Whether in person, over the phone, or via video chat, we will make sure you speak directly with a licensed physician who can recommend your ESA as a legitimate treatment type. Once you have been approved, your letter will be emailed; you will also receive a physical copy. If you want to make an appointment with Mango Clinic, you may apply here, visit our appointment website or contact us by calling us today at (786) 422-9327.