---
Although there is no proven cure for ADHD, you can still treat it to a manageable extent. This is a point where the individual with ADHD will be able to lead a normal life. Like every other disorder, ADHD does not spell doom. With the proper treatment, an individual with ADHD can still fulfill his potentials. The "proper treatment" in this case involves necessary medications, counseling and enforcement of certain behaviors. Like every other debatable case, there are side in this case too. Some people are of the opinion that ADHD medications are more effective while others believe that counseling or other non-drug therapies are more effective. Before we continue, we will look at both cases.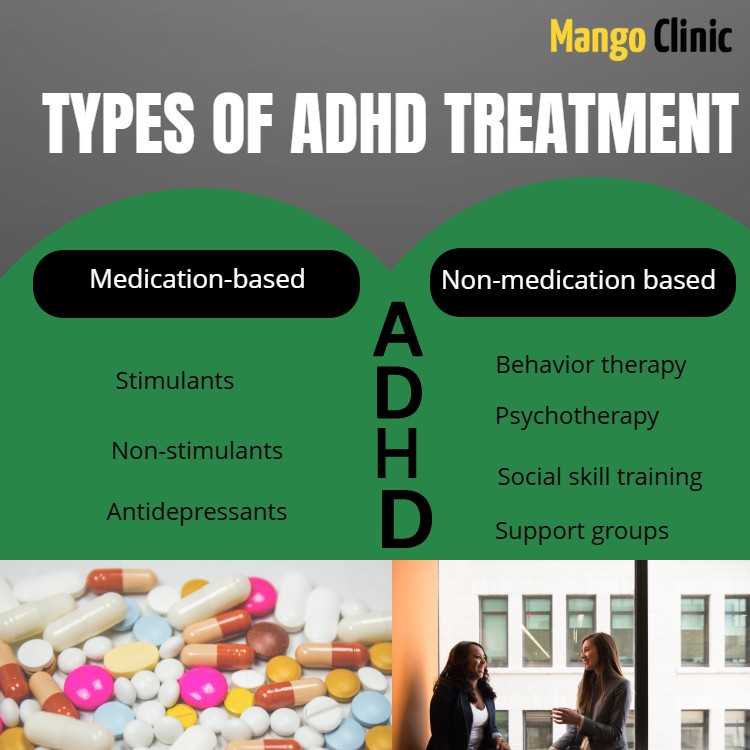 What is medication based ADHD treatment?
This form of treatment involves the use of drugs for the treatment of ADHD. It is important to note that there are two basic types of ADHD drugs. They include stimulants and non-stimulants. There is usually a third type of drug. This drug is not a major drug for the treatment of ADHD but a support drug that can work with either stimulants or non-stimulants. They are similar to taking analgesics alongside malaria drugs.
Types of ADHD medications
Stimulants: The major type of ADD medication most people know about are stimulants. This is the medication most doctors prescribe for 70-80% of children living with ADD. This type of ADD medication increases dopamine and norepinephrine levels between the brain's synapses. They take effect within hours as they work as soon as they cross the blood-brain barrier. This causes hyperactivity and impulsivity to slow down or reduces.
Non-stimulants: If we are to be logical (which we are), this would be the exact opposite of stimulant ADD medications. This type of medication is an alternative remaining 20-30% of individuals that stimulants do not work on. Unlike stimulants, it often takes days for the full benefits of non-stimulants to set in.
Antidepressants: This is not a type of ADD drug. It is usually a "side drug" most doctors recommend for ADD patients. This is because most ADD patients tend to have anxiety, depression, bipolar disorder or other mental health issues. The idea of antidepressants is to help the other drugs work properly. Doctors usually prescribe them with stimulants.
What is counseling based ADHD treatment?
Counseling based treatment involves the use of talking or behavior therapy for the treatment of ADHD. This type of treatment does not involve the use of drugs or any form of medication. Types of counseling based treatments include the ones below.
Psychotherapy: this involves getting a child to open up about their feelings to a therapist. They get to talk about their relationship with their peers, individuals of authorities and other individuals they regularly encounter in their day-to-day lives.
Behavior therapy: this involves the process of teaching the child to monitor their behaviors. It also involves how to make necessary changes to those behaviors. This involves rewarding positive behaviors.
Support groups: your child can also be part of support groups. Children with ADHD get to interact with other individuals who share their condition. There is this relief and motivation that comes with knowing that you are not alone.
Parental and social skills training: parents and other individuals can also teach the child necessary skills like waiting their turn, learning to communicate properly and tolerating others.
The only way you can be certain that your approach is working is when you observe changes in behavior. No particular approach is superior to the other. Research shows that treatment is actually specific to individuals. The only form of treatment that can be more effective is the combination of medication and counseling. It is important to teach your child even while they are on medication. The medicine can make corrections but it cannot teach your child how to behave. This implies that the debate between medication and counseling for treating ADHD will continue.
If you have ADD or ADHD, do not look any further than Mango Clinic for your help. Visit our website and set-up an appointment today.

---