ADHD Medications: Concerta (Methylphenidate)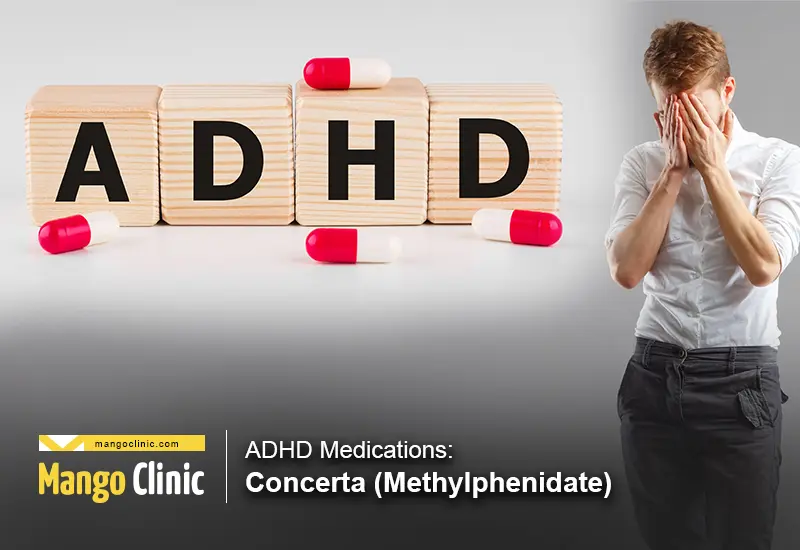 Mango Clinic Miami is here to help patients from all walks of life, whether you're remote or a local South Floridian. If you are suffering from ADHD/ADD, we can help you get properly evaluated and prescribed by one of our licensed physicians. There are many benefits to being prescribed an ADHD medication with Concerta being one of them, as it can treat a range of symptoms and specific disorders. However, it is important that you understand the risks involved, as well as the benefits and ways that make stimulants work as well as they do for patients the world over.
Get yourself evaluated for ADHD by expert doctors. Click the button below to book your appointment.
Life is full of ups and downs, and we do not always have the time to take care of ourselves properly. Even if we make strides in making sure we are healthy, certain things about our health may be hard to notice or take care of. In some cases, it is possible that there is something wrong with us that we have become accustomed to or we do not want to admit to. Sometimes these feelings, whatever they may be, have been with the person for years, and it hasn't been a disruption to their daily life until recently.
What is Concerta?
Some people who have these sorts of issues end up having ADHD, which can be treated with Concerta, which is a brand name for the generic methylphenidate. Those with ADHD are prone to being highly distracted in nearly any environment, which can be a big problem at work and with friends and family. This can also mean they are restless and unable to stay still, which can be highly disruptive for the individual, as well as others, therefore, ADHD treatment is oftentimes not optional. Whether the person has had it since childhood, or if it only recently has come into the person's life, it is wise to get it treated. A lack of concentration and inability to focus is not good for most, but Concerta is able to treat this disorder with great success.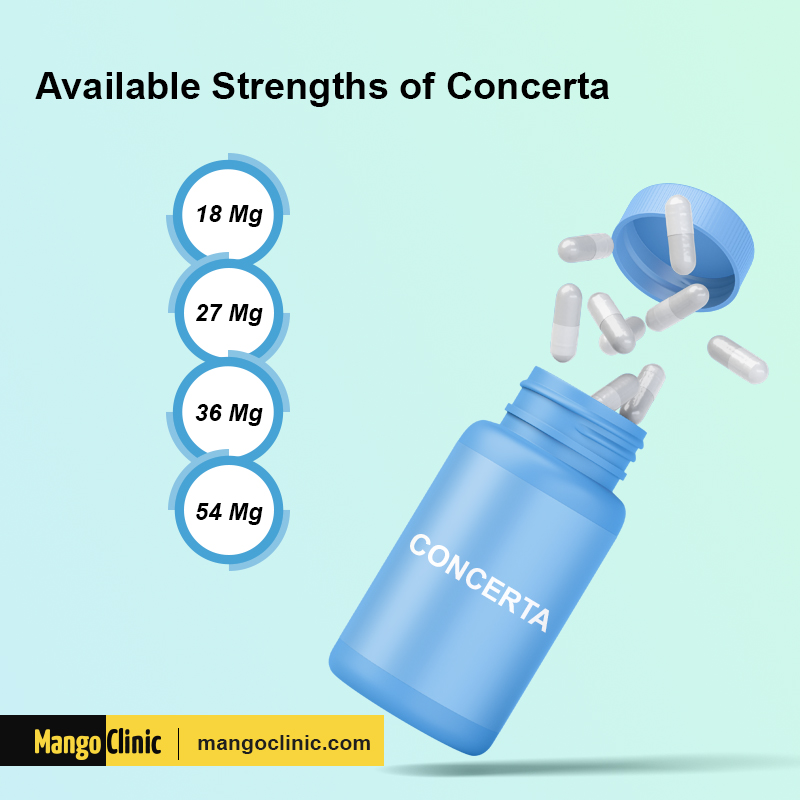 Another disorder that can be treated with Concerta is narcolepsy, which may not be as common as ADHD, but can be just as problematic. A sleeping disorder, individuals with narcolepsy are prone to feeling exhausted throughout the day and in need of sleep on a frequent basis. The most famous symptom of narcolepsy is falling asleep at random, often in places where it is less appropriate, like a board meeting or family gathering. Concerta has proven itself to be an effective treatment option for those with narcolepsy, allowing patients to live better as a result.
Concerta works in much the way similar stimulants do, in that it stimulates the brain and releases dopamine. When the brain is under extreme duress, such as in ADHD cases, it is craving stimulation that it cannot get otherwise, which is further exacerbated by the lack of dopamine flow. Your neurotransmitters are not acting as they should, and this is causing the brain to have a bad time, which results in an individual being restless and lacking focus. By stimulating the brain and releasing dopamine, your brain gets the activity it so desperately wants, allowing you to regain your focus and stay concentrated, along with being more alert.
Looking for medicinal ADHD treatment? Click the button below to book your appointment.
Concerta Types
Concerta specifically is unique among stimulants as it only really comes in one variety, which is extended-release. It can last for up to 12 hours, which usually means taking one dose per day, or a least once every 12 hours (which usually means once a day for most people). Due to its stronger and longer-lasting effects, it can be recommended for patients who want a powerful stimulant. For that reason, it may not be recommended to all; those with severe ADHD and narcolepsy symptoms might prefer Concerta or similar.
You do not need to have ADHD or narcolepsy to be legally prescribed Concerta, as long as you qualify for the stimulant under the conditions required. A variety of symptoms, ranging from anxiety to stress, can qualify a person to be prescribed Concerta, as it will allow the person to regain their calm. This is why stimulants are so popular with college students, as they are able to keep their focus and concentration with drugs like Concerta. While it is easy to assume that many are interested in stimulants for recreational purposes, it has been shown many take the drug for legal and legitimate purposes related to mental enhancement.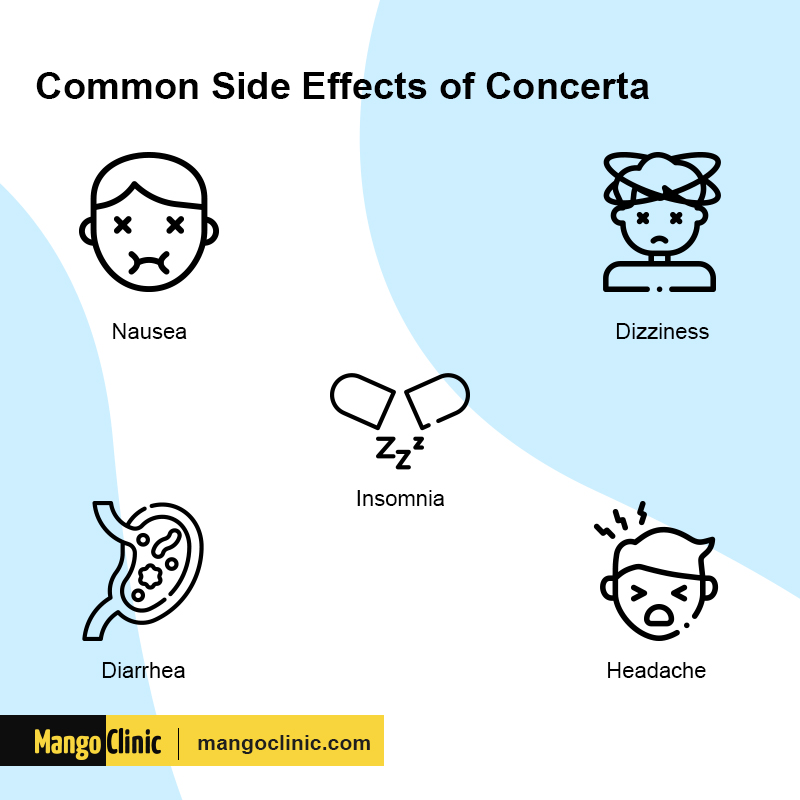 Concerta Side-Effects
For all the benefits that taking Concerta provides, there are also side effects that should be kept in mind. While there are common ones, such as hypertension, nausea, dry mouth, and sexual dysfunction, there are also psychological side-effects that can be just as problematic. Some of these, though not as common, include anxiety and insomnia, as well as a decrease in self-confidence and libido.
Some of the more serious risks involved with Concerta are tolerance and dependence. If you take too much Concerta at a time, your body can become used to the drug, creating a tolerance that decreases the effects of the drug. This can make the user think they need to be taking more of the drug, which can then lead to dependence on the user. This dependence can easily be translated into addiction, which can turn deadly if the user takes too many pills and overdoses. Overdoses of stimulants are not unusual and can be a real risk if you become addicted to Concerta. This is why people with a history of drug abuse and addiction are not recommended to take stimulants, as it can lead to more problems than solutions.
Get proper treatment for ADHD from expert physicians. Click the button below to book your appointment.
Conclusion
Taking Concerta can help many people, and if you think you would benefit from it or any other type of stimulant, get in touch with Mango Clinic. Our staff of medical professionals will evaluate your situation, figure out the best medication and dosage, and provide you with a prescription you can take to your local pharmacy. To make your appointment, call us at (786) 422-9327 or visit our appointment webpage on our website.
Contact us at Mango Clinic for ADHD treatment or click the banner below to book your appointment.