Types of Counseling: the Evidence-based Techniques in 2022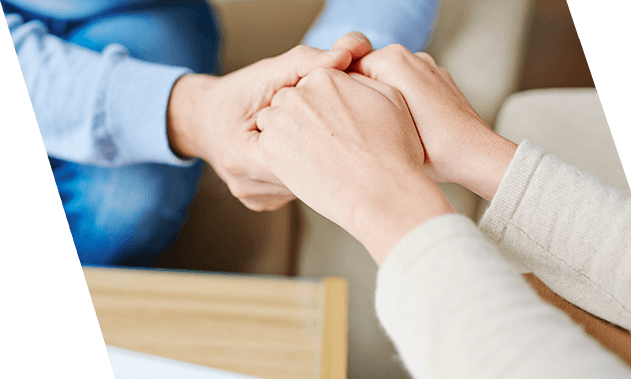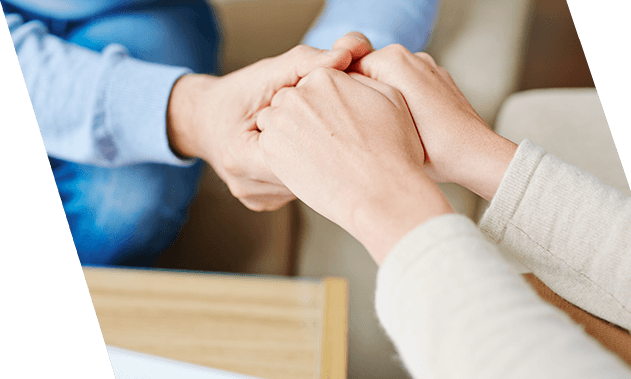 Life may sometimes be complicated, and sometimes to get out of that bad patch, we need help. That's what counseling is for, to help us handle the labyrinth of life more efficiently on our minds, bodies, and souls.
What is Counseling?
There are different types of counseling; however, before exploring the different types, it's good to explore what counseling is. In sum, it is a process that integrates the results of conversations and interactions between the counselor and her clients. Counseling is a treatment for many mental, emotional and physical problems. Sometimes we feel so alone in these problems. The person suffering from the pain feels that no one understands or cares about how they feel. The feeling may cause stress and anxiety in them. Thankfully, with the help of counseling, one could get rid of these feelings. It also helps us deal with other issues like family problems, relationship problems, and self-esteem issues.
In the counseling process, one has to talk about his feelings, issues, or issues with someone else who is not affected by it that much and tell him what is happening in his life. Then, he will help you understand your feelings better.
To get the best online mental health therapy from a professional, click the link below.
What Are the Different Types of Counseling Processes?
As mentioned before, there are a variety of counseling processes available. There is no consensus on the main types of counseling as different authors have got a list of what they feel should be the top counseling method. We will sample four popular types of counseling in order of priority.
What Are the Four Types of Counseling?
The main types of counseling are as follows:
Cognitive Therapy: Focuses on how a person thinks, predominantly negative thoughts.
Behavioral Therapy: Focuses on how a person behaves and the consequences of a behavior.
Cognitive Behavioral Therapy: It amalgamates the two types above and focuses on how a person thinks and behaves.
Psychodynamic Therapy: Focuses on how a person thinks and feels.
What Are the Subtypes of Counseling?
Other subtypes of counseling are as follows;
Interpersonal Counseling: aims to examine emotional, social, or sexual relationships between individuals and see how these relationships can lead to emotional issues in an individual's life or cause problems any further down the line.
Humanistic / Client-Centered Counseling: This style aims to help clients understand and accept themselves while also achieving goals they may have set.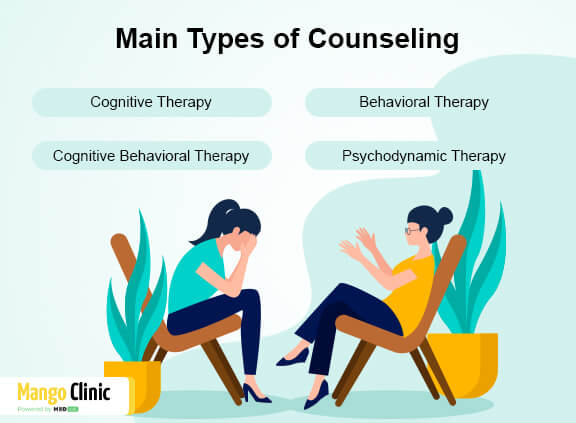 Existential Therapy: tackles the issues that are unique to existentially vulnerable clients.
Dialectical Behavioral Therapy: it is similar to CBT, focusing on behavior. However, DBT is focused on treating erratic behavior. It has successfully treated patients with suicidal tendencies and borderline personality disorders.
Family counseling: is a form of counseling that involves the whole family, the client. This type of counseling looks at the family closely and tries to improve the behaviors and relationships within it, so as a whole, it does well.
Group counseling: focuses more on a group of individuals who all have a similar problem. A counselor will look at the behaviors and issues of these people and try to improve them.
Humanistic Therapy: focuses on people's feelings, especially the unconscious feelings that trigger behavior.
Types of Counseling Degrees:
Each type of counseling has a set of essential skills to succeed. These skill sets are unique to how each type of counselor works and thus may be more effective than other types when working with a given person. According to the theoretical point of view, the prospective counseling field will dictate your undergraduate counseling degree and possibly your graduate degree. However, there are various types of counseling degrees available to choose from.
Each type of counseling works in its way. However, only a mental health expert can determine the most suitable counseling process for you. Click the link below to get professional help right now.
Types of Counseling Degrees Include the Following:
Degree in psychology
Degree in counseling
Degree in family therapy or marriage and family therapy (MFT)
Degree in social work
Degree in pastoral counseling
Degree in school counselor
Degree in addictions counseling
Degree in rehabilitation counseling
Next,
How to Become a Counselor?
It is important to note that counselors often may have multiple degrees. They may fall into more than one category (for example, a counselor with a Ph.D. in addictions who is also a marriage and family therapist).
The following steps outline the basic process of becoming a counselor;
You have to pursue a master's degree in counseling
Complete the internship hours
Get the state's counseling licensure
Set your career in counseling by landing a job
Next, it's best to advance your practice and skills through advanced learning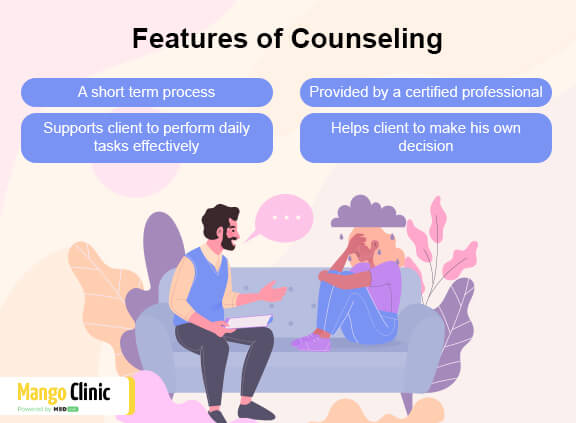 Landing on to the last part,
What Are the Different Types of Counselors?
Seven major types of counselors are summarized in the table below;
Different types of counselors
Major roles
Mental health counselor

Diagnose mental health disorders
Treat mental health disorders
Develop coping skills

Adoption counselor

Interview adoption patients
Facilitate meetings
Keep records and help in managing issues

Speech therapist

Control breathing & vocal cords
Reduce the impact of stutter and language disorders

Trauma counselor

Discuss symptoms
Develop treatment interventions
Desensitization techniques

Marriage counselor

Resolve mental health issues such as relationship anxiety etc.
Work against domestic violence
Counseling related to fertility

Rehabilitation counselor

Finding job
Resolve workplace issues
Develop coping skills

Guidance counselor

Works on deviated, and abnormal behaviors
Takeaway
If you're not sure which type of counseling is right for you and your situation, take a look through the list of different types of counseling above and see what appeals to your condition most. You don't have to limit yourself to one type of counseling.
Therapists can often help by mixing different approaches as they see fit. The key is finding the right counselor who's best suited for your goals and needs, so don't be shy about asking questions. Get in touch with Mangoclinic today for your counseling needs.