What Is Chlordiazepoxide Clidinium? Uses and Dosage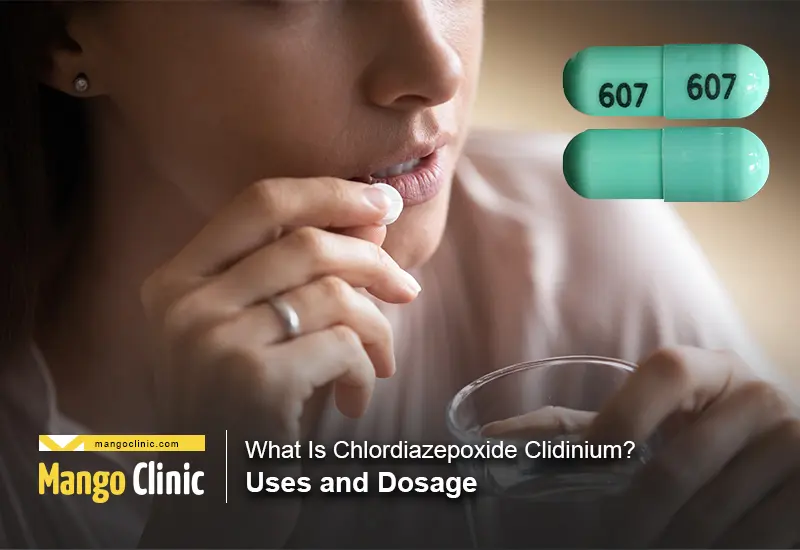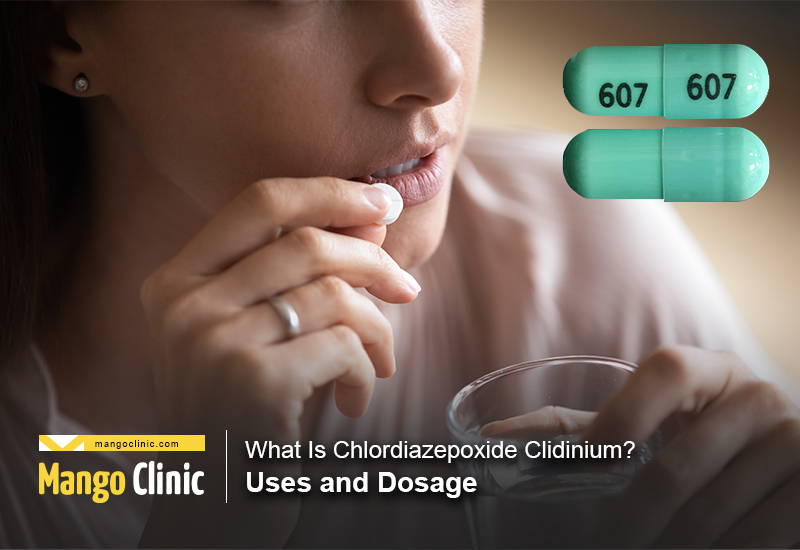 Chlordiazepoxide Clidinium is a combination of two drugs, Chlordiazepoxide and Clidinium. As a benzodiazepine, Chlordiazepoxide acts on the nerves and the brains to produce a calming effect. This helps reduce anxiety. 
Clidinium, on the other hand, is an anticholinergic drug, which minimizes the symptoms of intestinal cramping. It works by slowing your gut's natural movement and relaxing your stomach and other intestinal muscles. When combined, Chlordiazepoxide Clidinium can be used along with other therapies to treat various intestinal disorders such as bowel infections.
Looking for proper anxiety treatment? Click the button below to book your appointment.
Read on to learn more about Chlordiazepoxide Clidinium Bromide tablet uses, dosage, and side effects.
How Should I Take Chlordiazepoxide Clidinium?
Make sure you read all medication guides and follow all instructions on your prescription label. Remember, your physician may occasionally change your dosage, so use Chlordiazepoxide Clidinium precisely as directed.
Also, don't share this drug with anyone, especially if they have a history of addiction or drug abuse. Keep in mind that Chlordiazepoxide Clidinium misuse can cause overdose, addiction and ultimately lead to death.
Take this drug by mouth, three to four times a day. It's recommended to use Chlordiazepoxide Clidinium 30 to 60 minutes before taking meals and at bedtime. Generally, the dosage depends on your medical condition, age, and response to treatment. For instance, the elderly usually start with lower doses to minimize the risk of side effects. 
Unless you have your doctor's approval, refrain from increasing your dose or taking Chlordiazepoxide Clidinium more often. Otherwise, you'll increase the risk of severe side effects, and your condition won't improve any faster.
While taking Chlordiazepoxide Clidinium, don't use other drugs unless you've discussed them with your doctor. This includes vitamin supplements, prescription or over-the-counter medications, and herbal medicines. Keep track of your medications, as this will help you know when someone is misusing them.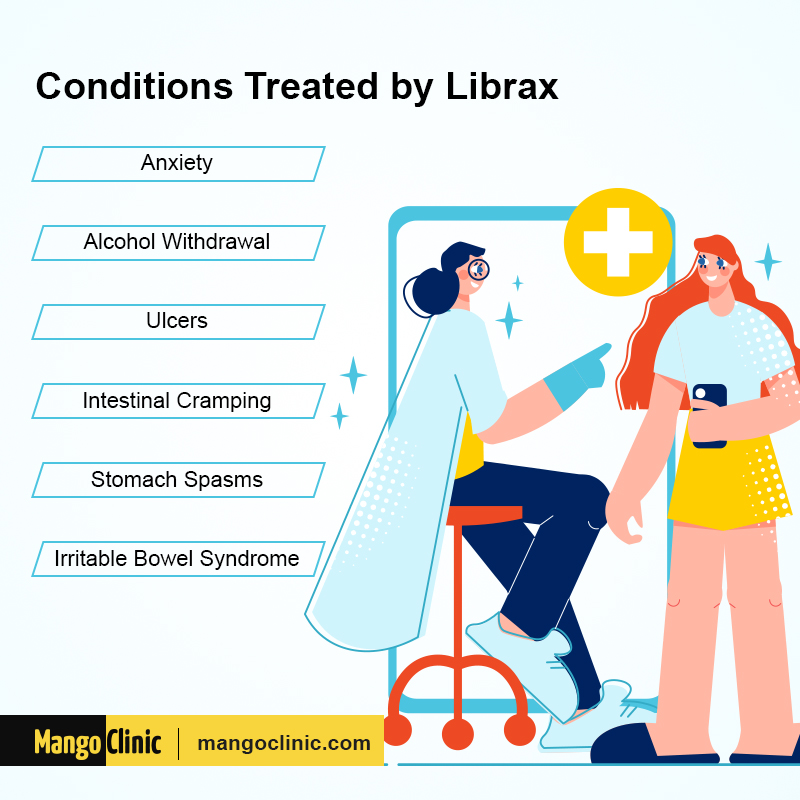 How Many Days Should I Take Librax?
This depends on various factors, including your medical condition and rate of recovery. Chlordiazepoxide Clidinium usually comes with a medication guide. 
Read it, follow the instructions carefully, and take the drugs exactly as directed by your medical practitioner. As long as you don't exceed the recommended dose, you can safely use Chlordiazepoxide Clidinium over the long term under the supervision of your doctor.
What Happens If I Miss a Dose?
If you miss a Chlordiazepoxide Clidinium dose, make sure you take it as soon as you remember. However, if you're only left with two to three hours to your next dose, wait till that time, then take only that dose. Never take double or extra doses.
What if I Overdose?
Call your doctor right away if you've overdosed or when you start experiencing severe symptoms such as trouble breathing or passing out. A poison control center can also help you out. 
Common symptoms of Chlordiazepoxide Clidinium overdose include:
Severe thirst

Severe dizziness

Irregular heartbeat

Muscle weakness

Slowed breathing
Get immediate anxiety treatment and live a normal life. Click the button below to book your appointment.
Where Should I Keep Chlordiazepoxide Clidinium?
Keep your Chlordiazepoxide Clidinium medication tightly closed in its container and out of reach of pets or children. Store it at room temperature, away from light, moisture, and excess heat. 
It'd help if you disposed of unneeded or expired medication in a way that children, pets, and other people can't consume them. But that doesn't mean flushing it down your toilet. Instead, talk to your doctor about medicine take-back programs or contact your local garbage department for safe disposal. 
Does Librax Reduce Stomach Acid?
Yes, it does. Librax is a prescription medicine containing Clidinium, which decreases intestinal spasms and reduces stomach acid. As earlier mentioned, it does this by slowing your gut's natural movement and relaxing your stomach and intestinal muscles. 
Is Librax Good for Gastritis?
Yes, it is. Clidinium, a synthetic anticholinergic agent found in Librax, has an antisecretory effect on your gastrointestinal tract. This helps in the effective treatment of gastritis as well as controlling somatic factors in gastrointestinal disorders. 
What Are the Side Effects of Chlordiazepoxide Clidinium?
Librax, Chlordiazepoxide Clidinium brand name, is a prescription medicine specially made to treat irritable bowel syndrome, peptic ulcers, and other symptoms related to intestinal infections. However, it can also cause considerable side effects that vary from one person to person.
So, how does Librax make you feel?
Chlordiazepoxide Clidinium may come with a sedative effect, meaning it may make you tired or exhausted. That's why it's wise to avoid alcoholic beverages as well as driving when taking them. 
Common Chlordiazepoxide Clidinium side effects include:
Dry mouth

Constipation

Nausea

Weakness or tiredness

Irregular menstrual cycle

Blurred vision
Serious side effects of Chlordiazepoxide Clidinium can occur in some users, including difficulty in urination, confusion and coordination problems, eye swelling, and allergic reaction. Contact your doctor immediately you experience any such severe symptoms.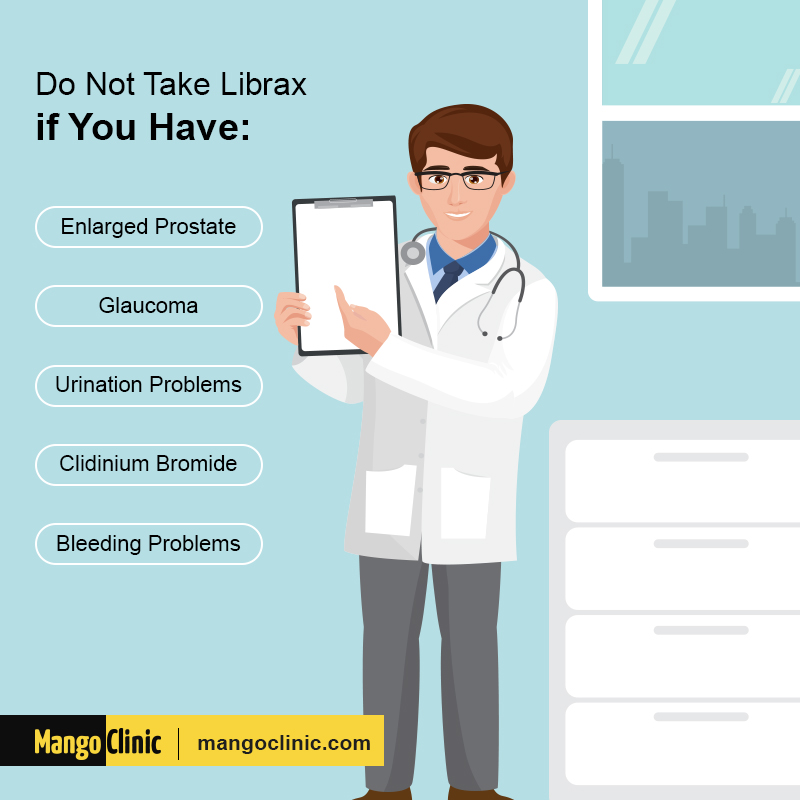 What Precautions Should I Take before and when Using Chlordiazepoxide Clidinium?
Chlordiazepoxide Clidinium contains inactive ingredients, which may trigger allergic reactions or cause other adverse problems. So, before taking it, tell your physician if you're allergic to Chlordiazepoxide Clidinium, or other benzodiazepines like lorazepam. 
Share your medical history with your doctor, especially if you have these issues:
High blood pressure

Heart problems

Breathing problems

Mental conditions

Enlarged prostate

Other stomach problems such as slow gut
Since Chlordiazepoxide Clidinium may make you sweat more, avoid exercising or doing hard work in hot weather. Also, dress lightly and drink a lot of fluids when the weather is hot, and if you overheat, look for a cool place to rest.
Note that you shouldn't use this medication during pregnancy or while breastfeeding. Besides harming your unborn baby, it may have unpleasant effects on your nursing infant. 
Remember, Chlordiazepoxide Clidinium can be physically and psychologically habit-forming. So, let your physician know if you have any history of drug abuse. 
Consult our doctor regarding suitable anxiety medications. Click the button below to book your appointment.
What Happens if You Stop Taking Librax?  
Chlordiazepoxide Clidinium can cause physical dependency, primarily if you use it for several weeks to several months. This is a condition where undesirable physical symptoms occur when you suddenly stop using a specific medicine. 
Aside from worsening your condition, stopping the use of Chlordiazepoxide Clidinium can cause withdrawal symptoms that might last for up to 12 months. That's why you should never stop using this medication suddenly without talking to your physician.
That way, they'll help you reduce the dosage gradually. Reach out for emergency medical treatment immediately you start experiencing the following withdrawal symptoms:
Shaking

Muscle twitching

Ringing in your ears

Thoughts of harming yourself

Burning feeling in your hands, arm, or legs

Hallucinating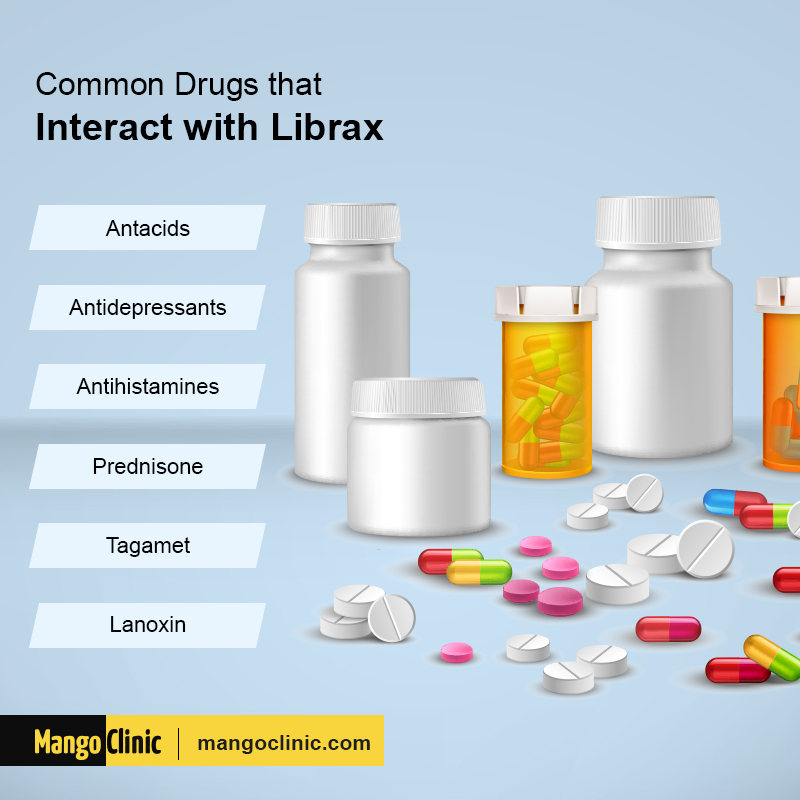 Is Librax Still Available in 2021?
Librax is a brand-name medicine that's no longer available in the U.S. However, you can still find its FDA-approved generic version, Chlordiazepoxide Clidinium capsules. 
Why Was Librax Taken off the Market?
Librax was taken off the market because of stability failure discovered during its annual stability program. Up to three lots tested positive for impurity (lactam), which is Chlordiazepoxide-related compound A.
At Out Of Specification (OOS) levels, lactam can cause various adverse health effects, including excessive drowsiness. It can also lead to the short-term impacts of Chlordiazepoxide. 
Want help with anxiety? Click the button below to book your appointment.
Work with the Professionals
As you can see, Chlordiazepoxide Clidinium plays a pivotal role in the treatment of intestinal problems. Just ensure you keep all appointments with your physician, who'll check your response to medication and help you adjust accordingly.
Contact us at Mango Clinic for anxiety treatment or click the banner below to book your appointment.