How to Get Anxiety Drugs in Miami?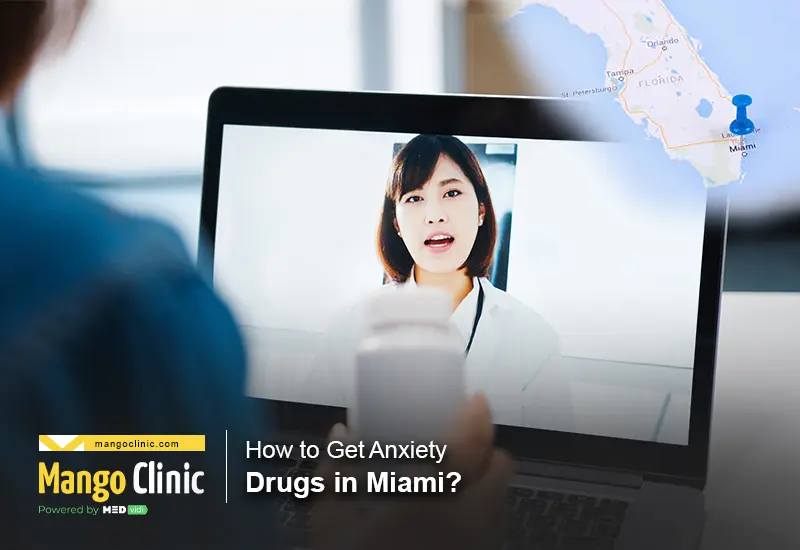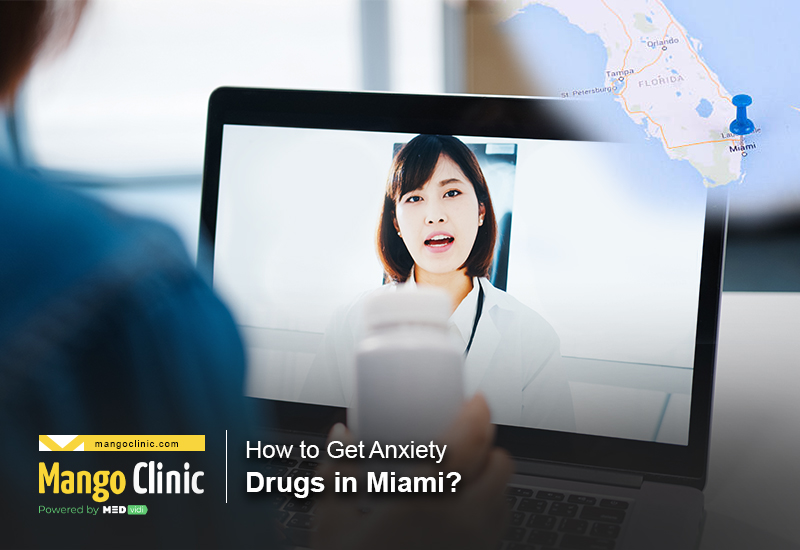 Do you ever get really nervous when having to talk in front of a crowd? Have you ever been in a situation that had you feeling very uncomfortable due to what felt like an irrational fear? Perhaps riding on an airplane makes you sweat, even if you are not exactly sure as to why. Maybe having to decide what to order off a restaurant's menu causes you to get antsy. If you can relate to any of these examples, it is possible you have a generalized anxiety disorder.
Mango Clinic Miami can help you find the right solutions to your disorder by assessing your individual needs and finding what works best for you. We know living with anxiety is not easy, so we always want to make sure that your unique needs are met. It's important for you to understand what anxiety is, its symptoms, and how it can be treated.
Anxiety as a disorder involves having reactionary sensations and emotions as a very regular part of your life. For some people, having high anxiety and maybe even panic attacks is something they have become accustomed to and workaround. Others may limit the things they do in life because of their anxiety, such as social interactions and even seeking help to improve their disorder. While this can be detrimental to a person's well-being, it's important to remember where it might be coming from.
Much of a person's anxiety stems from past trauma, something major that happened, that has since caused him to feel a certain way. These experiences have resulted in their bodies responding to certain situations in a specific way, whether it be panic or fear. Those who seek therapy for their anxiety will likely consult with someone who will help them confront what causes their anxiety. There are some different ways this can be done, but the end goal is always to make sure that the patient will be able to recover from their anxiety in a healthy and beneficial way.
Proper anxiety treatment can help you with anxiety attacks. Click the button below to book your appointment.
Drugs for Anxiety in Miami
A popular and proven supplement for combating anxiety is medication. For those who may have severe symptoms and need an additional treatment option, anti-anxiety drugs are a well-liked choice for helping people find relief. When it comes to the medication itself, there exists a broad spectrum of types and brands, all with their own chemical makeup. Just how everyone's anxiety disorder is different than another's, not every type of anxiety drug will work equally for all. It's always crucial that, if you're interested in medication, that you consult with your physician which one is best for you.
There are two main medication types for anxiety:
Antidepressants
Benzodiazepines
Antidepressants and benzodiazepines are drugs that rework the neurotransmitters in your brain so that you will feel more relaxed. Each one has its own set of drug types, which feature brand names that are easy to seek out. Anxiety drugs that fall under antidepressants include:
Celexa (citalopram)
Lexapro (escitalopram)
Zoloft (sertraline)
Paxil (paroxetine)
Viibryd (vilazodone)
Anafranil (clomipramine)
Tofranil (imipramine)
Marplan (isocarboxazid)
Nardil (phenelzine)
Emsam (selegiline)
Parnate (tranylcypromine)
Some of these antidepressants are known as selective serotonin reuptake inhibitors (SSRIs), which increase the serotonin levels in your body to affect your mind and body. SSRIs and their associated types are among the most popular and well-known examples of antidepressants. Anti-anxiety drugs that fall under benzodiazepines include:
Valium (diazepam)
Tranxene (clorazepate)
Serax (oxazepam)
Ativan (lorazepam)
Klonopin (clonazepam)
Tranxene (clorazepate)
Halcion (triazolam)
Dalmane (flurazepam)
Librium (chlordiazepoxide)
All of these drugs can give off different reactions and vary in their effectiveness. Some of the drugs mentioned can last for a couple of days, whereas others only last for a few hours. It will be up to you and your physician to decide which anxiety drugs will work best for you.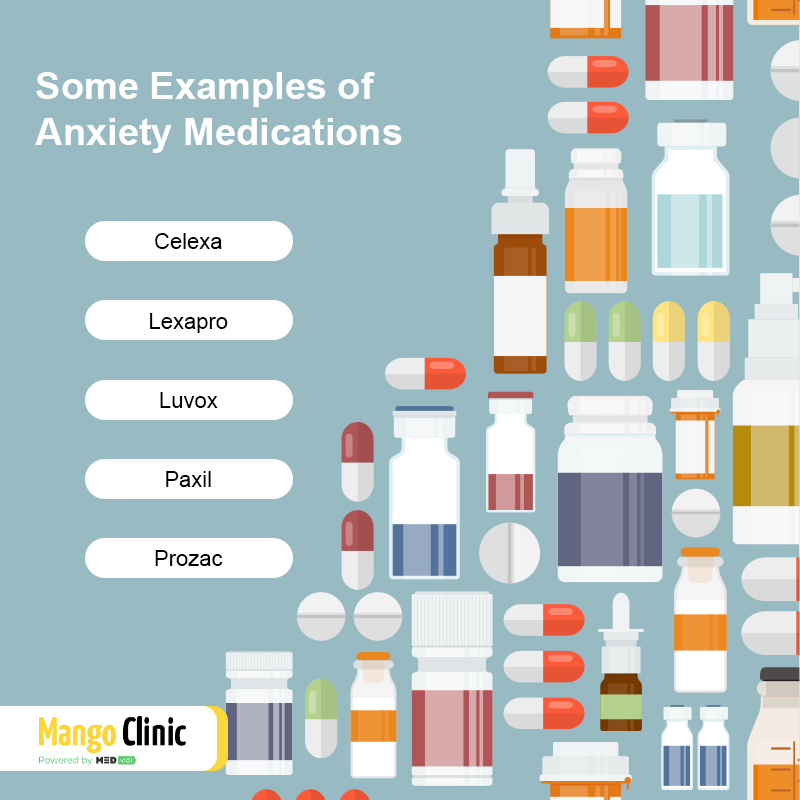 How to Ask Your Doctor for Anxiety Drugs?
Before you can get your hands on any medication, you need to go through your physician first. A DEA-licensed doctor is the only person who can prescribe you to get any kind of medication. If you're going to see someone about getting this kind of medication, make sure they are licensed, otherwise, you will not have the approval to get anxiety drugs.
A licensed doctor will have to evaluate you to make sure you qualify for anxiety medication, which means making sure it will be the best option for you. Once you have been approved, you and your doctor will decide on which specific drug for you to take. You will likely be prescribed a low dosage, but you can always consult with your doctor in case you need an increase.
Want help with anxiety and other mental problems? Click the button below to book your appointment.
Recreational Use and Consequences
Unfortunately, anti-anxiety drugs are ripe for abuse. Since their aim is to make the person feel much better, users can become easily addicted, especially since they are not illegal and not always that hard to get. They may even be seen as relatively okay for overuse since licensed medical doctors prescribe them. However, these drugs can end up doing much more harm than good if they are not used appropriately.
It's been shown that benzodiazepines cause many of the overdose deaths that have occurred in North America. They are also among the most prescribed drugs, which leads to a lot of abuse from patients. In recent years, death by benzodiazepines has surpassed some other drugs, such as cocaine and heroin, in a way that had not been seen before. While just taking the drugs as they are is easily abused, they can also be crushed and inhaled through one's nose. This technique, like injections, allows the person to get a more direct concentration of the drug into their body.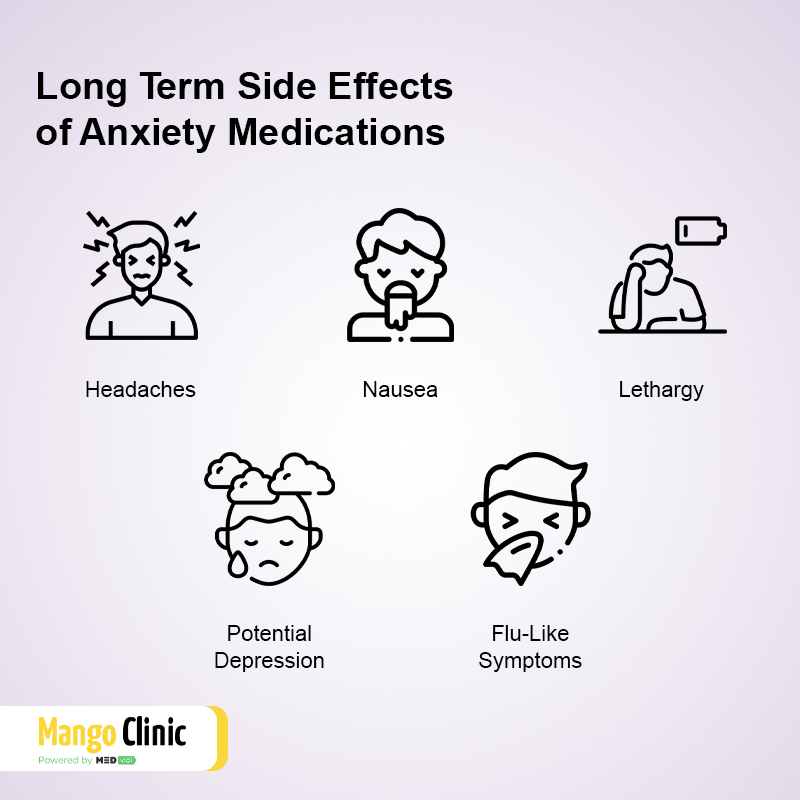 Anxiety Drugs Side-Effects
Anxiety drugs can have a variety of side effects, so it's important to understand the possible risks before being prescribed.
Nausea: This can occur while your body gets used to the drug. It's also important to make sure you don't take these drugs on an empty stomach, as they can cause nausea more easily.
Fatigue: Feeling more tired than usual is something that might happen when you take these drugs, so make sure you're taking it easy most days. At the same time, you can do some minor exercise (like walking) while also taking naps when you get tired.
Insomnia: If you're feeling tired during the day, it may be because you aren't sleeping like you used to. Try and take your medication in the morning if this happens to you; if it persists, you may need something else to combat insomnia.
Weight Gain: You might find your appetite changing, which can lead to you eating more than you have before. It's important to watch what you eat while you're taking these drugs, so talk with a dietitian if you need to.
Sex: It's not unusual for these drugs to affect sexual performance and possibly cause dysfunction. These can include difficulty reaching orgasm, keeping an erection, and a general reduction in your sex drive.
Dry Mouth: This is common, so make sure you keep your mouth moist with water, chewing gum, or sugarless candy. Avoid anything that can keep your mouth dry, such as alcohol, tobacco, and carbonated drinks.
Anxiety disorders can lead your life to depression. Click the button below to book your appointment.
Anxiety Treatment in Miami
If you think you are suffering from a generalized anxiety disorder, and think medication could help you, then come to Mango Clinic. Located near Downtown Miami, we will be able to examine and determine for you the best treatment options to help you recover. Contact us today or click the banner below to book your appointment.