What Is Farmapram Alprazolam, and What Is It Used for?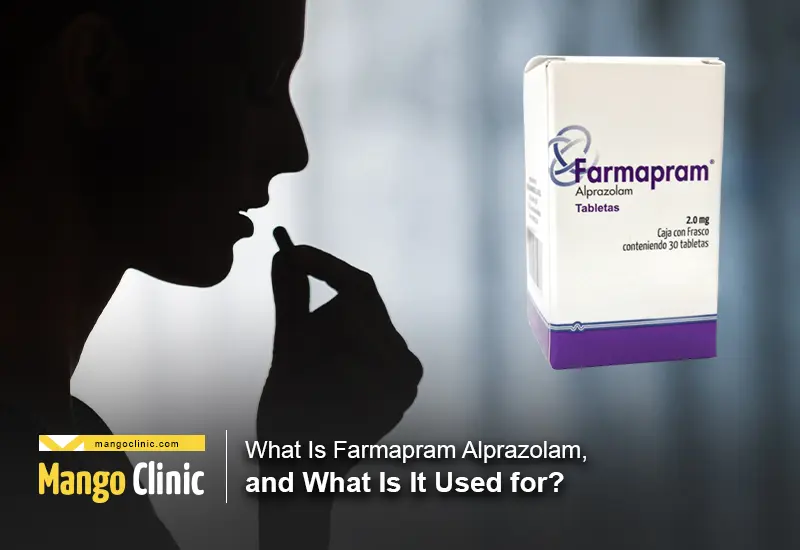 In the U.S, Farmapram is known as Alprazolam, its generic name. The drug is usually sold under the brand name Xanax. Farmapram is the common name for the drug in Mexico. Pfizer, a U.S-based company, supplies the white rectangular pill sold as Xanax. Farmapram contains the same ingredient as Xanax but is produced by IFA Celtics in Mexico.
Farmapram Alprazolam belongs to a class of medicines known as benzodiazepines. Benzodiazepines enhance the effects of GABA (gamma-aminobutyric acid) in the brain. GABA is a neurotransmitter that reduces your brain's nerve activity.
Nerves transmit messages to the brain and other body parts using neurotransmitters. When the amount of GABA is reduced, this means that your nerves send more signals and make you hyperactive. The reverse happens when the amount of GABA is increased.
In the U.S, the DEA considers Farmapram Alprazolam a Schedule IV Controlled Substance. This classification is because of the risk of addiction, diversion, and misuse associated with the drug. Like other benzodiazepines, the drug has a risk of abuse, withdrawal reactions, and physical dependence because of its effect on the brain.
Looking for proper anxiety treatment? Click the button below to book your appointment.
To help you understand what Farmapram Alprazolam is and its use, here are a few guidelines.
Uses of Farmapram Alprazolam
Benzodiazepines like Alprazolam are used to manage issues attributed to excessive activity of your brain's nerves. By enhancing the effects of GABA, the number of neurotransmitters available to your brain decreases. This means fewer nerve signals are sent so that you will calm down.
Farmapram Alprazolam is primarily used and approved by the FDA for the management of two conditions. These include:
When Farmapram Alprazolam is used to manage these conditions, users are calm and free from worry. In these cases, the drug is renowned for its quick onset of action. Its effects are felt within half an hour after taking the medication, and they can last for about six hours.
Farmapram alprazolam is also used as an off-label drug for the management of:
Depression

Premenstrual syndrome

Ringing in the ear

Agoraphobia

Social phobia

Chemotherapy-induced vomiting and nausea
The above off-label uses of Farmapram Alprazolam are those that the FDA has not approved, and they are not on the package label of the drug. Even so, doctors might have reported good effects in their patients when using Alprazolam to manage the conditions.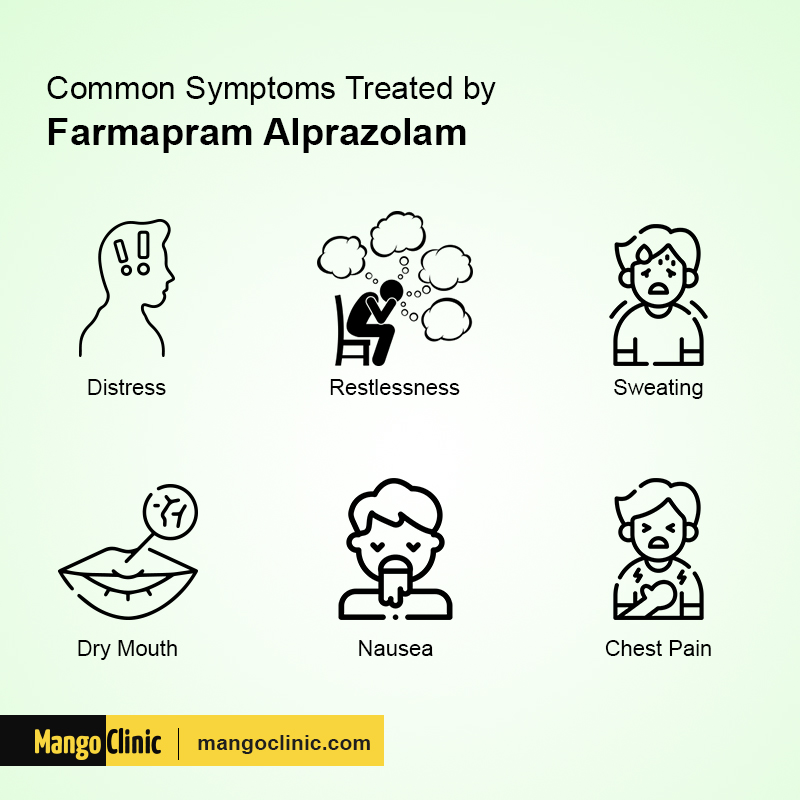 Side Effects of Farmapram Alprazolam
Like most drugs, Farmapram Alprazolam is associated with a few side effects. Thankfully, these are often not life-threatening. However, some might call for medical attention. Here are the typical side effects associated with Alprazolam:
Shortness of breath

Dry mouth

Decreased motivation

Decreased libido

Irritability

Nausea

Excessive talking

Drowsiness
Some serious side effects for which you should see a doctor immediately include:
Memory issues

Difficulty in concentration

Slurred speech

Confusion

Seizures

Hallucinations

Paranoia

Strange dreams

Shallow or weak breathing

Yellowing of the eyes or skin

Lightheadedness

Racing thoughts

Double vision

Allergic reactions
Get immediate anxiety treatment and live a normal life. Click the button below to book your appointment.
Farmapram Alprazolam Dosage
The dosage of Farmapram Alprazolam primarily depends on your age and diagnosis. Here is a guideline for different dosages:
Typical Adult Dose for Anxiety
Orally-disintegrating or immediate-release tablets: 
0.25-0.5mg thrice daily up to a maximum daily dose of 4mg/ day.
Typical Adult Dosage for Panic Disorder
Orally-disintegrating or immediate-release tablets: 
0.5mg thrice daily up to maximum doses of 10mg/ day.
Extended-release tablets:
First dose: 0.5-1mg once daily

Maintenance dose: 3-6mg daily, if possible in the morning, maximum dose 10mg/ day.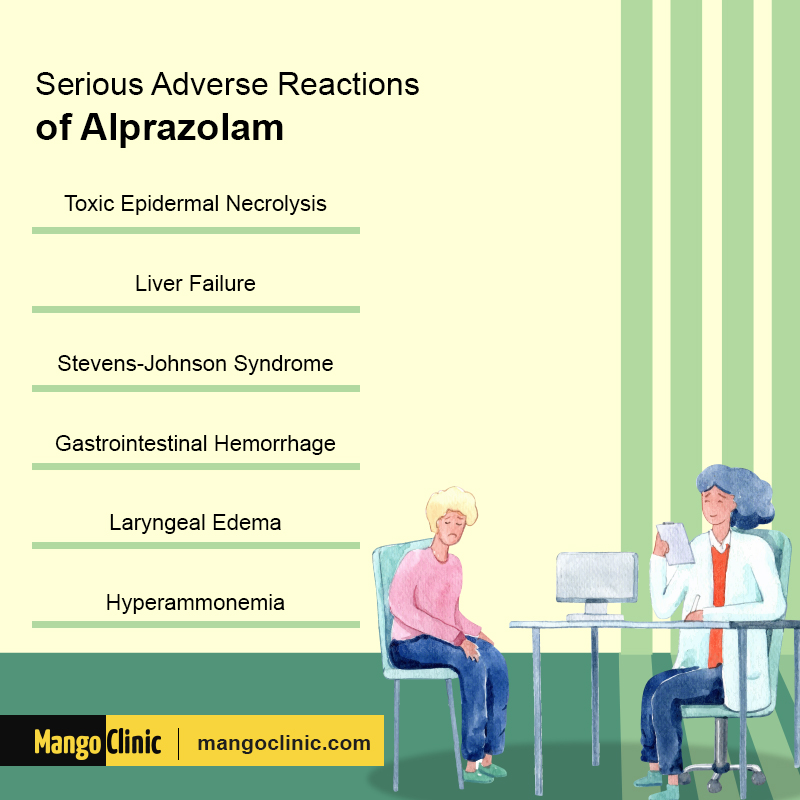 Typical Geriatric Dose for Anxiety
Debilitated or elderly patients: 
Immediate-release or orally-disintegrating tablets: 0.25mg twice or thrice daily
Typical Geriatric Dose for Panic Disorder
Debilitated or elderly patients:
 Immediate-release or orally disintegrating tablets: 0.25mg twice or thrice daily.

Extended-release tablets: 0.5mg once daily.
Here is information to keep in mind about the dosage of Farmapram Alprazolam:
If you miss a dose of the drug, take it as soon as possible when you can or remember.

The dosage of Farmapram Alprazolam is gradually reduced when stopping therapy to prevent withdrawal effects.

The doctor will start you on the lowest possible dose before increasing it according to your response.

The drug's dosage might be lowered in case of severe Farmapram Alprazolam effects.

When taken multiple times daily, Farmapram Alprazolam should preferably be distributed evenly throughout a patient's waking hours.
Want help with anxiety? Click the button below to book your appointment.
Farmapram Alprazolam Precautions
To ensure your safety and the highest benefits from the use of Farmapram Alprazolam, pay attention to the following precautions:
Use the drug as per your doctor's instructions.

Do not sell or transfer the drug to anyone else because this is illegal.

Store your drug at room temperatures away from kids.

Swallow your extended-release tablets whole without breaking or chewing them.

Allow orally disintegrating tablets to dissolve in the mouth without chewing.

Inform your doctor of pregnancy because Farmapram Alprazolam might harm your baby, especially in the first trimester.

Tell a doctor if you have an urge to take a higher Alprazolam dose than prescribed.

Use the dosing spoon in your Farmapram Alprazolam Xanax bottle or a dose-measuring device for your drug.

Farmapram Alprazolam 1mg and other dosages might pass through breast milk, so you might have to stop breastfeeding when on the drug.

Inform your medical care provider if you have any lung, kidney, or liver issues or are battling alcohol or drug addiction.

Discard any liquid Farmapram Alprazolam you have not used within three months.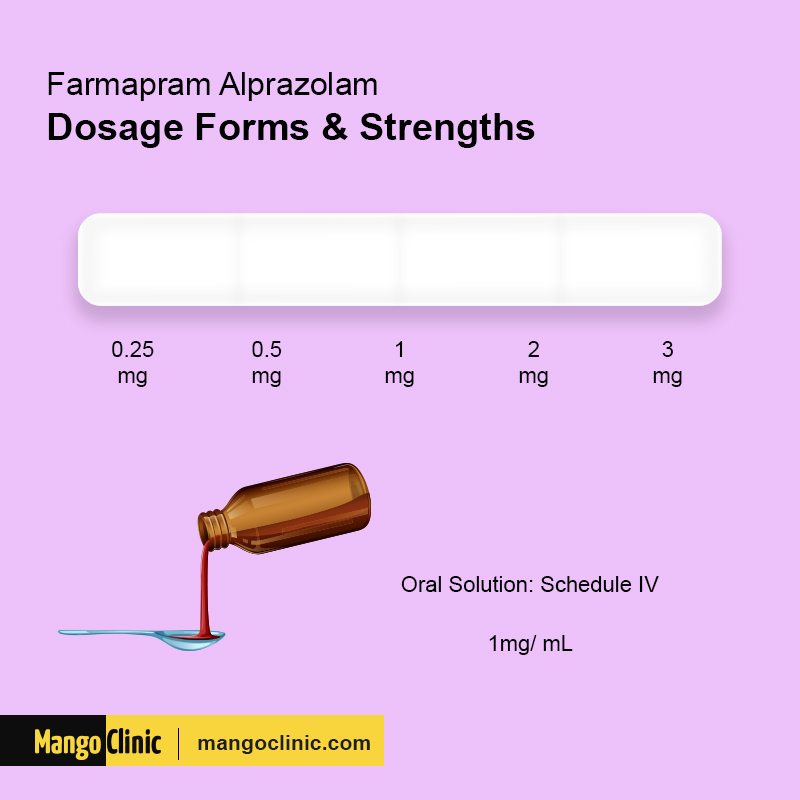 Drug Interactions with Farmapram Alprazolam
At times, it is unsafe to take different drugs simultaneously. Taking Farmapram Alprazolam with other drugs might increase the drug's side effects or make it less effective. Here are a few medications you should inform your doctor when taking because they can interact with Farmapram Alprazolam:
Herbal products

Medicine for seizures and depression

Muscle relaxers

Sleeping pills

Prescription cough medicine

Ketoconazole or itraconazole
Looking for medicinal anxiety treatment? Click the button below to book your appointment.
Conclusion
With most of your questions on Farmapram Alprazolam answered, it is time to get it prescribed if it will help manage your condition. Make an appointment with a licensed doctor who understands anxiety and panic disorders to evaluate your condition. He/she will then prescribe Frampram Alprazolam if it will control your symptoms.
Instead of walking from hospital to hospital, you can get online consultation and diagnosis from Mango Clinic. The clinic offers in-person alongside telemedicine visits for evaluating anxiety and panic disorders. If you need it, a licensed doctor will prescribe Farmapram Alprazolam.
The prescription is sent electronically for telemedicine visits to your pharmacy of choice. Mango Clinic also offers follow-up visits after starting on Farmapram Alprazolam to assess your drug response. Contact us or click the banner below to book your appointment.