Does Body Talk Therapy Work?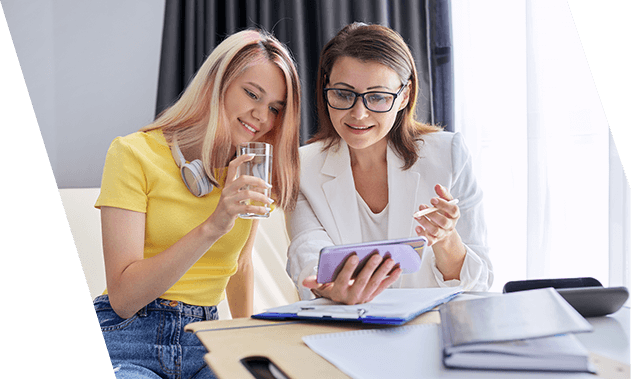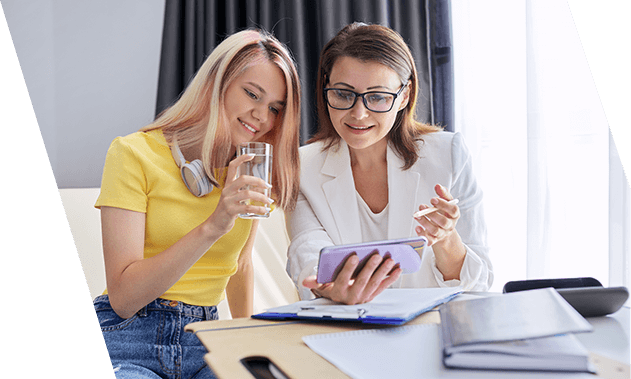 If the human body and brain could communicate harmoniously throughout life, they would never feel pain or get sick. However, this is never the case since nobody lives in a shell where they are isolated from situations, places, and people that inadvertently change our bodies' communication networks or contribute to everyday experiences.
Excessive emotions and negative thoughts stemming from the hoarding of trauma or painful memories affect the communication between your brain and the body, causing poor mental and emotional health. The body talk therapy system helps fix such broken communication lines between the body and brain, and as a result, the individual heals naturally and functions at their optimum.
Thinking of attending therapy for mental health? Mango Clinic is there to help!
What is Body Talk Therapy?
Body talk therapy is a safe, simple, and surprisingly effective approach to integrative health care. It is based upon proven energetic medicine principles and draws upon practices of yoga, psychology, kinesiology, Ayurveda, traditional Chinese medicine, and Western medicine. Bodytalk aims at integrating the natural healing abilities of the body by synchronizing all of its natural functions to reach and maintain growth and healing emotionally, spiritually, and physically.
Body talk practitioners believe a natural communication state exists between the cells, atoms, and all internal systems within the human body. These lines may be compromised or crossed due to everyday stress that lowers the individual's overall well-being. Using different techniques, Body talk therapy for women and men helps to realign these communication areas, which stimulates and reactivates the body's natural healing capabilities.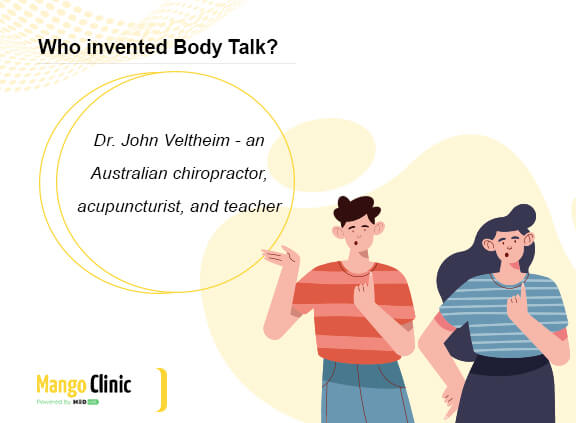 What Happens During a Body Talk Session?
As you relax on the treatment or massage table, a practitioner will start discussing your health status or other personal issues that require care. They will gently touch your arm to establish neuromuscular biofeedback that determines your unique priorities.
The practitioner will quickly determine the compromised communication circuits and the order that these lines of communication should be repaired to guarantee the fastest healing process possible. They will also identify the body systems and parts that require reprogramming.
The Body-Mind Complex healing process is initiated through a three-pronged tapping procedure. The tapping mechanism usually initiates the standing wave that urges the brain to fix any faulty area, the heart to store, and the gut to integrate the corrections. The practitioner will continue talking to the Body-Mind Complex until the innate healing system indicates the end of the session. Your body and mind will remember the Body Talk sessions, and the healing process will continue with every additional visit.
Let the licensed health experts at Mangoclinic take care of your mental health needs. Click the button below.
What Problems Can Be Treated With Body Talk?
Body Talk therapy can treat a variety of mental and physical health issues. However, this treatment module is designed to improve the mind and body as a whole. Body Talk therapy for emotional disorders does not diagnose, but it helps to balance the overall internal systems, and patients exhibit significant improvement after undergoing it. Body Talkers believe that when the 36 surface energy points of the body are balanced, people experience improvement in all areas, including muscle tension, mood, energy level, and overall body function. The innovative healing approach can help to address different issues such as:
Arthritis
Allergies
Phobias
Chronic Pain
Stress
Chronic Illness
Insomnia
Infections
Digestive Disorders
Learning Disorders
Addictions
Sports Performance
Acne and Pimples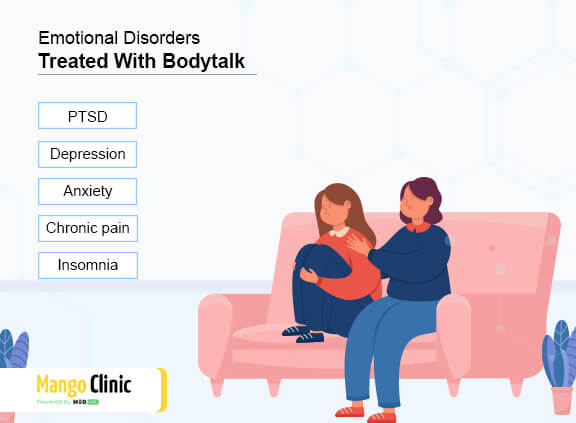 Body Talk therapy for women and men can also help address relationship dynamics. Body Talk has proven effective where there is some tension within the whole family or between select members, discord and tension in romantic relationships, dynamics within the workplace, or a professional sports team. The healing technique can help to reduce tensions and create harmony without the need for talk therapy that is uncomfortable for some people.
What are Some of the Body Talk Side Effects?
With body talk therapy, there are no known side effects. The client's innate wisdom directs every session, and there is no harm. Your innate wisdom will always know what you want, which is to heal. People should take advantage of this extremely safe healing modality. The most common effect that many people experience after Body Talk sessions is a good bowel movement. During the Body Talk session, there is stimulation to release lots of accumulated stress from the body. And most of this stress will be processed through your digestive system at least 24 to 72 hours after treatment.
Is Bodytalk the Same as Reiki?
Bodytalk and Reiki are two different treatment modalities but have similar features. Bodytalk is just like Reiki since both techniques aim at balancing the energies of the body, mind, and spirit. However, the only difference is that Reiki does not utilize a biofeedback system to determine the healing priority. In Reiki, the practitioner utilizes intuitive 'knowing' to direct the energy sessions. Bodytalk and Reiki can help to reduce anxiety, and stress, promote good health, increase strength, and enhance overall wellbeing.
In conclusion, Body Talk does work. Although this treatment modality does not diagnose diseases or conditions, it is observed that patients exhibit noteworthy improvements in their symptoms after the overall internal body systems are balanced using Body Talk. As the emotional and physical elements of the body and natural chemicals are balanced, Body Talk therapy will also shift any unhelpful attitudes and beliefs blocking the body's communication systems. When these blockages are eliminated, the body and mind will work again in unison, and you will live your life with much joy and no pain.
Make a change today, get in touch with our professionals at Mangoclinic to get the best mental health treatment for your health needs. Contact our clinic today to book your appointment.