What are the Individualized Positive Affirmations for Anxiety and Fear?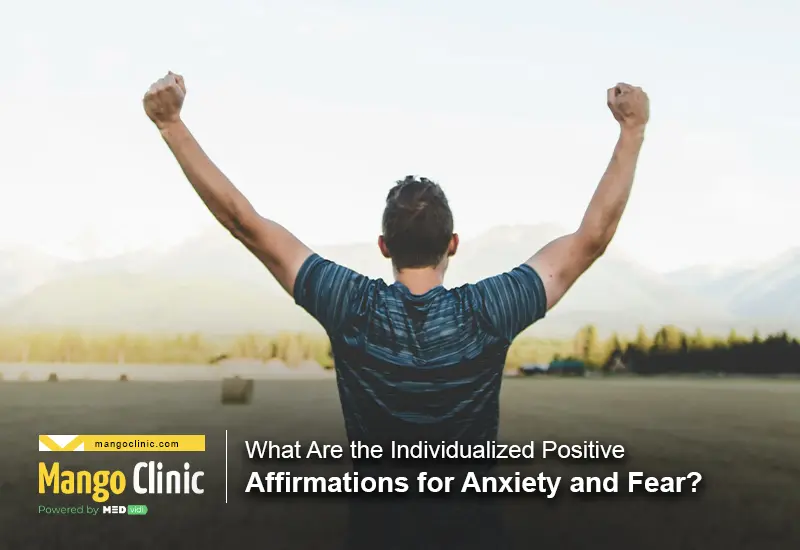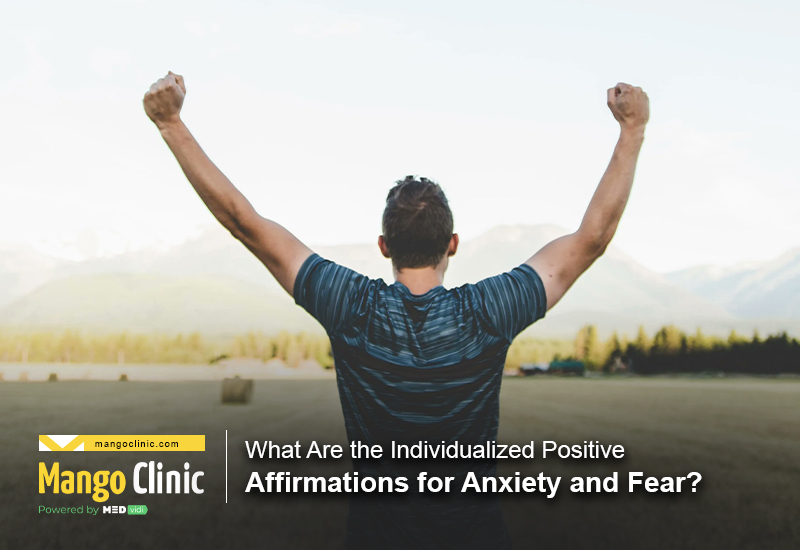 Affirmations signify a kind of joyous proclamation that is directed explicitly to yourself whose intention is to enhance transformation and self-love while suppressing fear and worry. It is positive self-talk that can change subconscious thoughts. Typically, repeating a supportive inspiring phrase gives it the power to become a reality. 
Affirmations play a vital role in helping strengthen your self-worth, which they achieve by boosting self-confidence and propelling you to achieve your objectives. They are also helpful in countering feelings of self-doubt, panic, and stress, which are common when experiencing anxiety. They have also proven vital in helping people to gain control when anxious thoughts overwhelm them.
Proper anxiety treatment can help you with stress and panic attacks. Click the button below to book your appointment.
This article looks at daily affirmations for anxiety and how they can help you bolster your self-worth and achieve your goals. 
Affirmations for Anxiety and Depression
Positive affirmations are crucial in helping someone overcome anxiety and related conditions. They are robust tools, enabling someone to change their central beliefs, vital in handling anxiety and depression. However, positive affirmations may work differently since there is excellent diversification in how everyone is created. 
Positive affirmations for anxiety are doable by everyone, and everyone can set self-affirmations for anxiety. Some of the common anxiety positive affirmations you can use include, but are not limited to the following:
I feel low at the moment, but tomorrow will be a different day

I am worth more than I'm feeling

There is nothing that remains forever

There is nothing that can limit me

I positively envelop the emotions I was created with

Anxiety and depression do not define who I am

This is a normal feeling

My life is full of abundance

I look forward to a better day

I work on myself on a day-to-day basis

This feeling will fade in the same manners that seasons fade away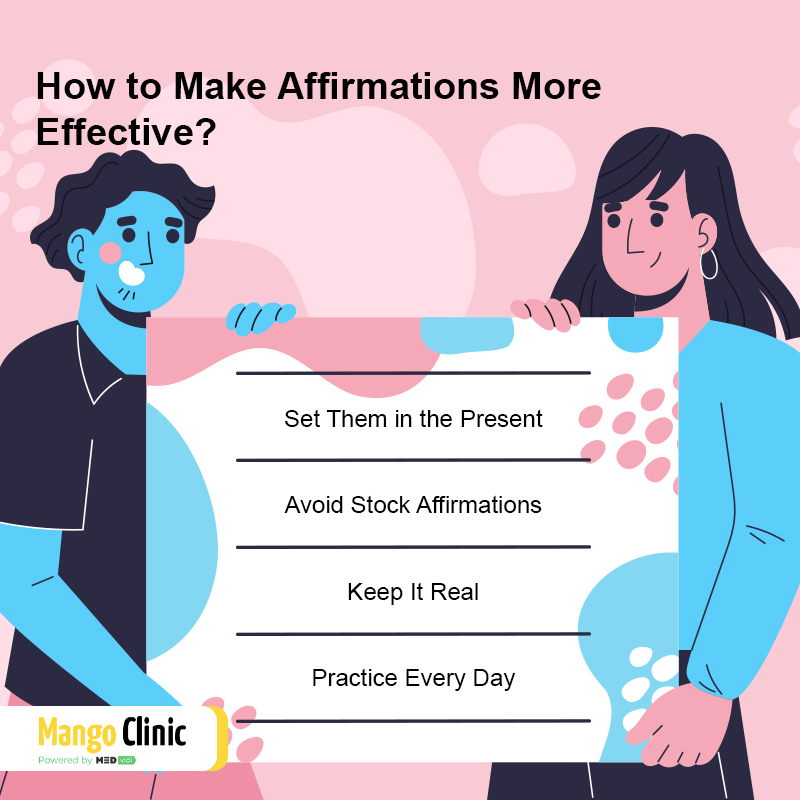 Spiritual Affirmations for Anxiety
Spiritual affirmations for anxiety help someone overcome the overwhelming worry by relating with the inborn power created by the individual. As such, you can overcome the overwhelming anxiety by repeating several positive spiritual affirmations for anxiety that include the following:
I am a spiritual being that is going through a human experience.

God has not given me a spirit of fear and timidity but of power, love, and self-discipline.

I receive God's healing peace.

I trust my feelings and understand that God loves and guides me.

I am thankful for the gift of a new day.

I trust God's purpose and plan for my life.

I choose not to be anxious; I commit all my desires, ambitions, plans, thoughts, and ideas to the Lord, for He establishes my ways.
In addition to spiritual affirmations, the following short positive affirmations for anxiety can help you:
I am strong

I forgive myself

I am safe

I am healthy

I am mentally fit

I am right at the place I need to be

I am beautiful

I am okay

I trust myself

I am loved
Want help with anxiety and other mental problems? Click the button below to book your appointment.
Sleep Affirmations for Anxiety
It is essential to understand the role that prioritizing your life plays in your day-to-day life. There are a couple of sleep affirmations that you can repeat when going to bed that can help you gain your confidence, challenge self-doubt, and makes you calm as you go to sleep. They include:
With every breath I take, calmness washes over me

I deserve to rest at the moment

I have the power to control my dreams

I am allowed to take a break from activities of the day

I am in a relaxed state, both mentally and physically
Affirmations for Anxiety at Work
Working while stressed can be very difficult. However, the following affirmations for anxiety and stress can help you overcome the overwhelming worry and stress during work. Preferably you can begin the day by proclaiming them or mentioning the affirmations for anxiety at work while working. The affirmations for work anxiety include:
Delegation is not a failure; it is a way to show my capabilities

My to-do list does not determine my value

I have the power to do anything, but I may not be able to do everything

This is not the end of the world; tomorrow offers a chance to start again

I work to live but not live to work

Its only work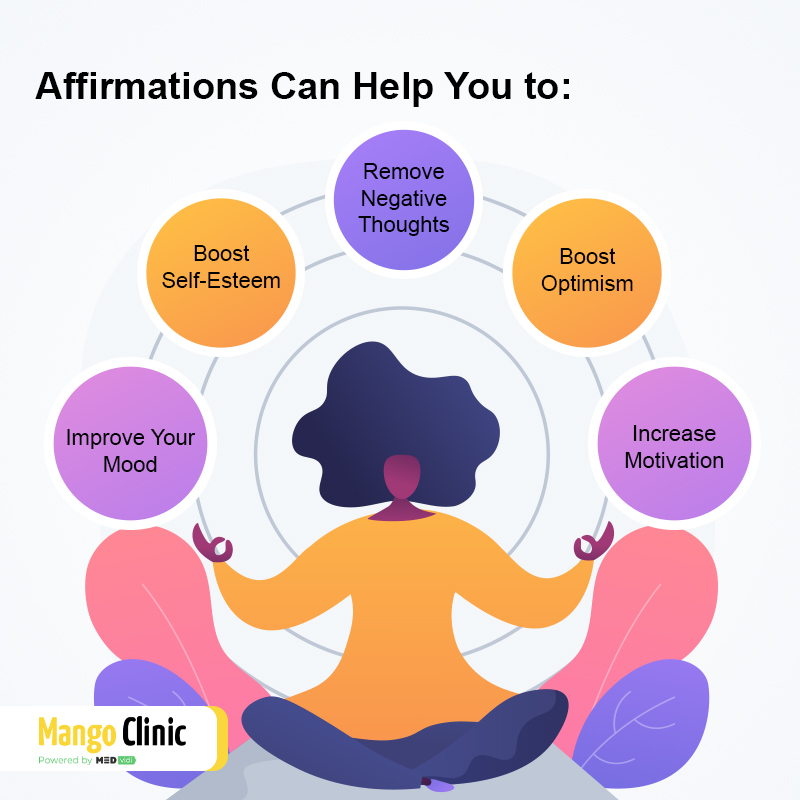 Affirmations for Anxiety and Fear
When you're undergoing fear and anxiety, your body's function gets limited. Positive affirmations for anxiety and worry can help you to overcome this. It is vital to control the negative thoughts associated with fear and anxiety through positive affirmations for anxiety and fear. The affirmations should also be used at the beginning of the day as morning affirmations for anxiety to help start the day positively. They include:
I find joy where I am

I will stop stressing over things that I cannot control

I have the power to overcome fear and anxiety

I have the power to get through the tough time

I am blessed, loved, and supported

I let go myself from this stress
Affirmations for Anxiety Attacks
When struggling with anxiety, your life is generally limited by panic, fear, and worry, which may weigh on you emotionally. You can defeat anxiety attacks through the proclamation of the following anxiety positive affirmations:
This state is quite uncomfortable, but I'm not endangered

I have sufficient peace

I am relaxed, and my mind is calm

I have more strength than these feelings

I have everything essential to remain calm
Positive Mantras for Anxiety
Mantra refers to a kind of meditation involving a word, phrase, or sound. They play a significant role in reducing anxiety, stress, and depression, improving attentiveness, fostering social cohesion, and enhancing positive emotions. Some of the common positive mantras for anxiety include:
It is not about me

I am not my thoughts

I will feel good once more

I listen to my body

I will cross the bridge once I arrive where it is

This, too, will come to pass
A mental health psychiatrist can help you with anxiety attacks. Click the button below to book your appointment.
Medical Guideline
Most of the time, people undergo anxiety and tend to worry over how they can overcome thinking about it. The listed positive affirmations are a great starting point to overcome overwhelming situations, stress, anxiety, and depression. However, it is vital to contact a mental health specialist if the circumstances persist. Health professionals at Mango Clinic have helped a large number of people overcome their anxiety. Contact us now or click the banner below to book your appointment for proper anxiety treatment.