How Long Does It Take for Wellbutrin (Bupropion) to Work?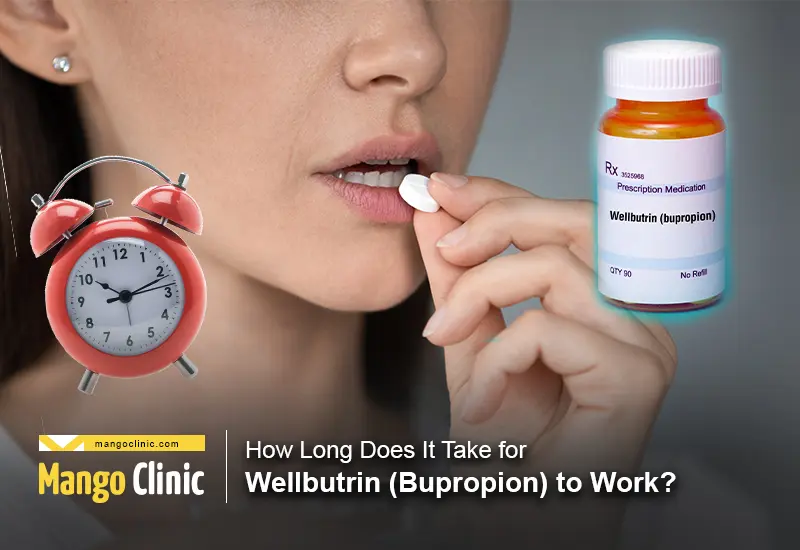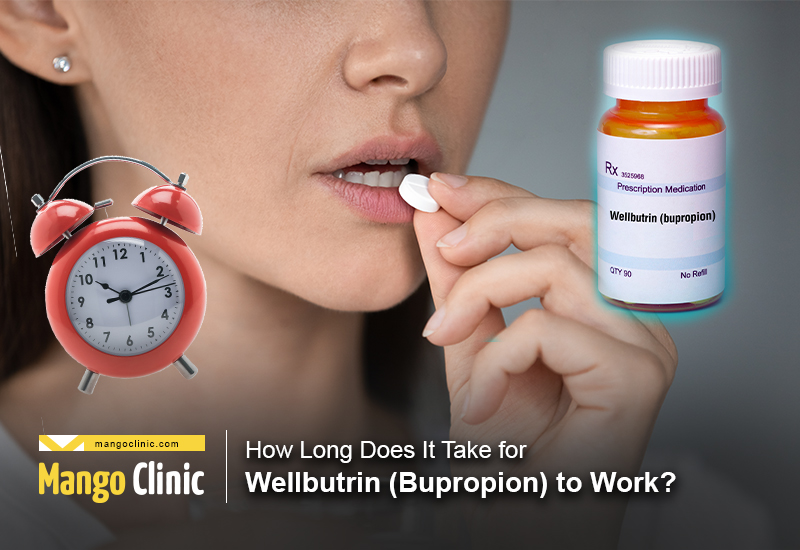 Wellbutrin, a brand name for Bupropion, is a prescription medication for depression treatment. It is also one of the first-line antidepressants prescribed for the seasonal affective disorder (SAD), major depressive disorder (MDD), and attention-deficit/hyperactivity disorder (ADHD). Wellbutrin also has some off-label uses like treating social anxiety disorder, bipolar, nerve pain, and post-traumatic stress disorder.
Are you suffering from depression? Click the button below to book your appointment.
But how long does it take for Wellbutrin to work? Let's discuss how Wellbutrin works, the effects, and how long it takes to kick in.
What Is Bupropion (Wellbutrin)?
As discussed above, Bupropion is an antidepressant medication for treating depression and is sold under the brand name Wellbutrin. The antidepressant has on and off-label uses, including helping patients quit their smoking behaviors.
How Long Does It Take for Wellbutrin to Kick in?
It takes a while for Bupropion to kick in. Generally, it takes about one to two weeks for Wellbutrin to work. However, this may vary depending on age, body mass, sex, food intake, genetics, metabolic rate, hepatic function, among other factors. 
There are some physical signs that will show when the drug is working. This includes improvements in sleep, appetite, and energy within the first two weeks of taking the medication.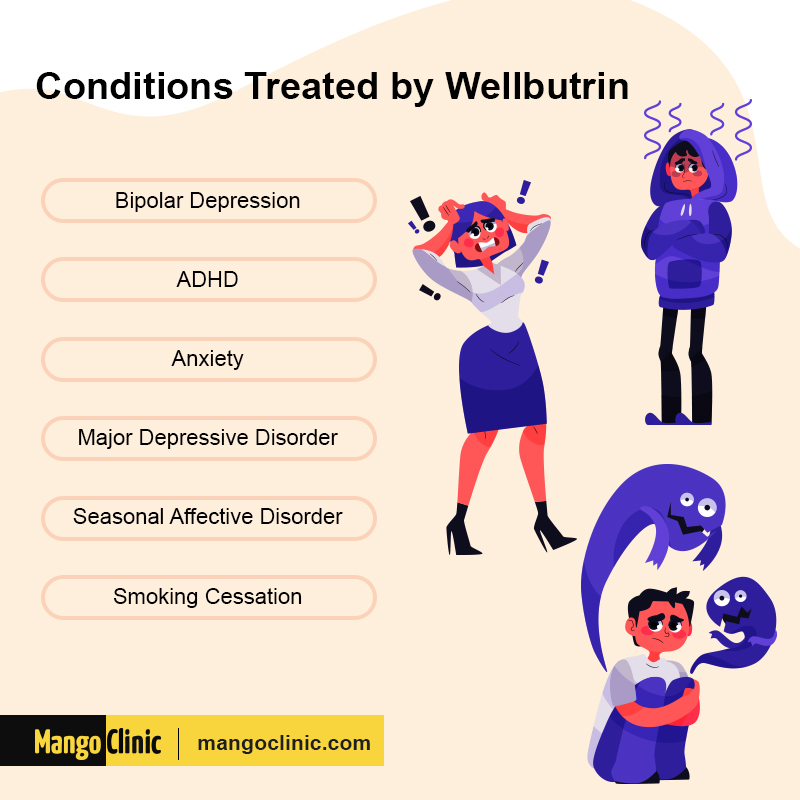 How Long Does It Take for Wellbutrin XL to Work?
Bupropion XL is available in 150mg and 300mg tables and should only be taken once/ day. Again, it takes one to two weeks to feel the effects of Wellbutrin XL. However, this period may vary slightly depending on the strengths of Wellbutrin you take.
How Long Does Wellbutrin XL 300mg Take to Work?
This may take anything from 1-1 ½ weeks.
Wellbutrin Side Effects and Interactions
Bupropion is an effective medication when taken as directed by your doctor. However, one may experience various side effects from taking Wellbutrin. This is common even with other medications. 
Some common side effects of Bupropion include:
Headache

Dry mouth

Weight loss

Constipation

Dizziness

Sore throat

Fast heartbeat
Get proper treatment for depression from expert doctors. Click the button below to book your appointment.
You don't need to do anything to get rid of these side effects as they go away on their own and after some time.  However, there is another category of severe and rare side effects from taking Wellbutrin. This can be serious and require urgent medical attention when they occur. They include:
Skin rash

Ringing in the ears

Mental health issues including mood changes, panic attacks, and worsened anxiety, and depression

Hypertension

Vision issues

Seizure
If you experience serious side effects like the ones above, talk to your healthcare provider right away. These side effects could also help answer the question; how long does it take to feel the effects of Wellbutrin? This is because they only occur when the prescription is working.
In addition to the side effects, Wellbutrin may also interact with other drugs when taken together. It's therefore essential to learn about drug interactions and to avoid certain medications while taking Bupropion.
Some of the medications that Wellbutrin may interact with include herbal products, over-the-counter medications, and health medications. The interactions of Bupropion with other medicines may make it less effective or increase its amount in the body.
For instance, Bupropion and monoamine oxidase inhibitors (MAOIs) – a type of antidepressant medication, could cause dangerous interactions when taken together. The interaction could still happen even if you took MAOI the last 14 days. Therefore inform the doctor of your previous medical history when receiving a prescription for Wellbutrin.
Other medications that could interact with Wellbutrin include beta-blockers, theophylline, dopamine precursors, and blood thinners.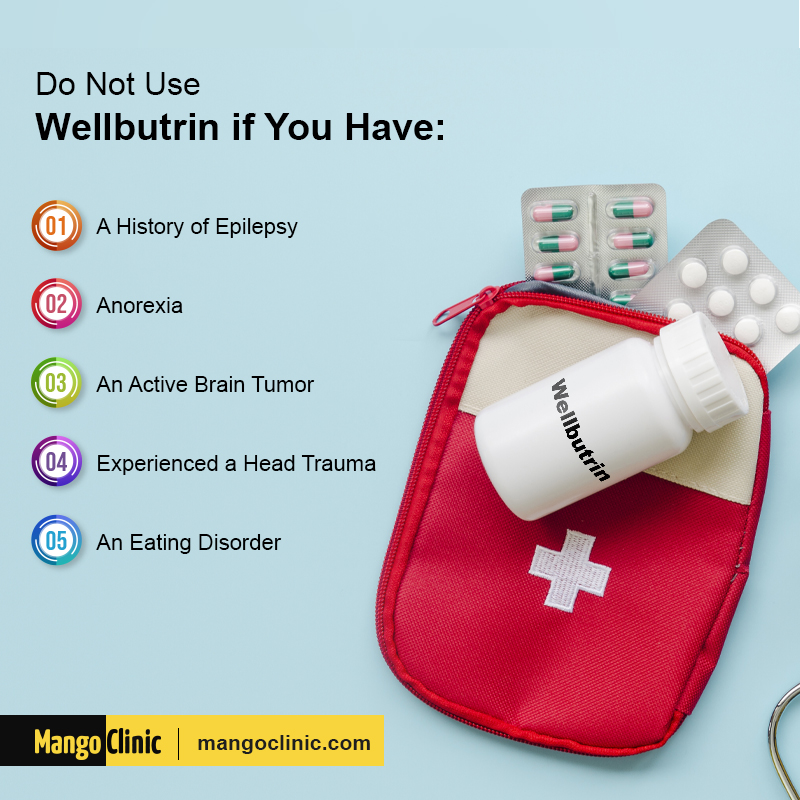 How Long Does It Take Wellbutrin to Work for Depression?
Although you may start experiencing changes and improvements within the first two weeks, it takes about 6 to 8 weeks for Wellbutrin to treat depression fully. However, this period may be more or less depending on how the body reacts to the medication.
It's worth noting that Wellbutrin is regulated just like other antidepressants. It's also vital to get instructions from a healthcare professional before you start taking the medication. 
Bupropion/ Wellbutrin comes in three forms; sustained-release (SR), immediate-release (IR), and extended-release (ER). Find out from your doctor which one is suitable for the treatment of depression. Also, start at a minimum dosage and increase it slowly with time.
Again, do not stop taking Wellbutrin for depression halfway, even if you don't see any improvements. Avoid taking the drug more than the prescribed dosage as this may increase or worsen the side effects.
Looking for medicinal depression treatment? Click the button below to book your appointment.
Conclusion
Wellbutrin causes minimal interactions with other drugs, but it's still important to talk to your doctor about your medical history before using it. Alcohol and drug abuse could increase the severity of Wellbutrin side effects, leading to severe seizures and suicidal thoughts.
If you still have concerns about 'how long does it take for Wellbutrin to kick in?' reach us for further elaboration and guidelines. We offer specialized services, including weight loss treatment, anxiety and depression treatment, ADD/ADHD treatment, and many more.
Contact us at Mango Clinic for depression treatment or click the banner below to book your appointment.