How Do I Get Sertraline (Zoloft) Prescribed for Depression?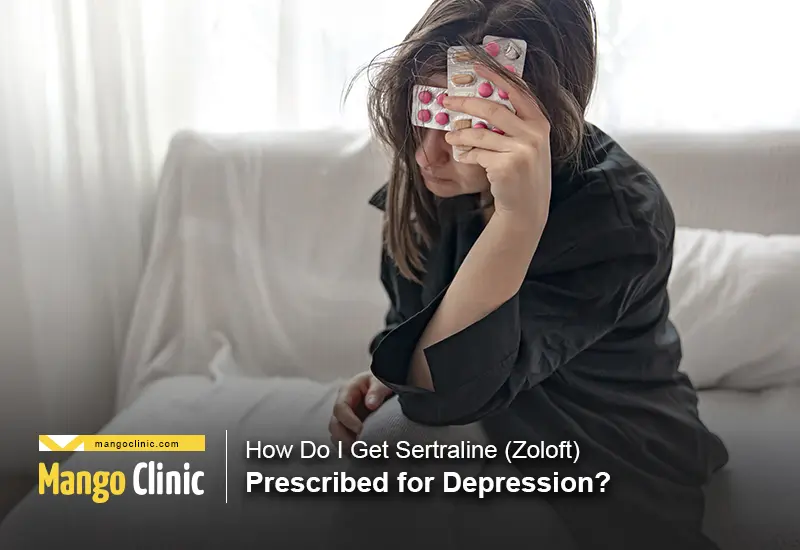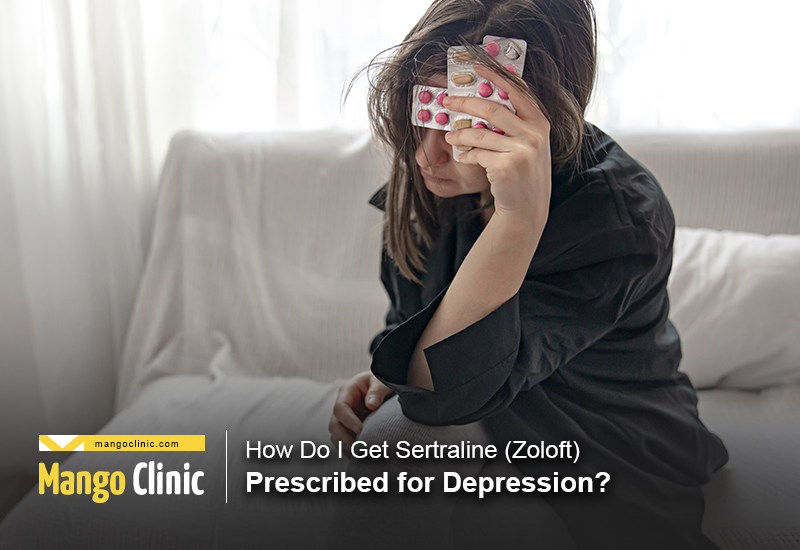 So, you've heard about Sertraline (Zoloft) and wondering if it can help you with depression? Please see a doctor for further evaluation. Licensed medical doctors can prescribe Sertraline after a consultation. And you can legally and safely get the prescription in person or online after the consultation.
At Mango Clinic, we are open for in-person walks, or you can also meet with our online specialists and see if Sertraline (Zoloft) is the proper medication for you. If our doctors think the medication can help, they can write you the Zoloft prescription. 
Want help with depression? Click the button below to book your appointment.
Here, we will talk about what Sertraline is, its uses, interaction, how it makes you feel, and its dosage.
What Is Sertraline (Zoloft)?
Sertraline, known by its brand name Zoloft is a medication, specifically an antidepressant of the class Selective Reuptake Inhibitors.  SSRIs are drugs used to treat extreme anxiety and depressive disorders, among other mental health conditions.
Like other SSRIs, Zoloft combats symptoms of depression by restoring the chemical balance of the brain's molecules. Specifically, SSRIs boost the level of serotonin by limiting its absorption into brain cells. Serotonin plays a vital role in mood regulation, sleep, and appetite. 
Zoloft Uses
Zoloft is commonly used to treat depression, anxiety, and other psychological conditions.
It has been approved for use against Major Depressive Disorder (MDD), Posttraumatic Stress Disorder (PTSD), Obsessive-Compulsive Disorder (OCD), Premenstrual Dysphoric Disorder, Social Anxiety, and Panic Disorder.
Various controlled clinical trials have established the efficacy of Sertraline against depression. It can also be used to complement therapies. Continuous treatment with Zoloft prevents both the relapse and recurrence of depressive episodes.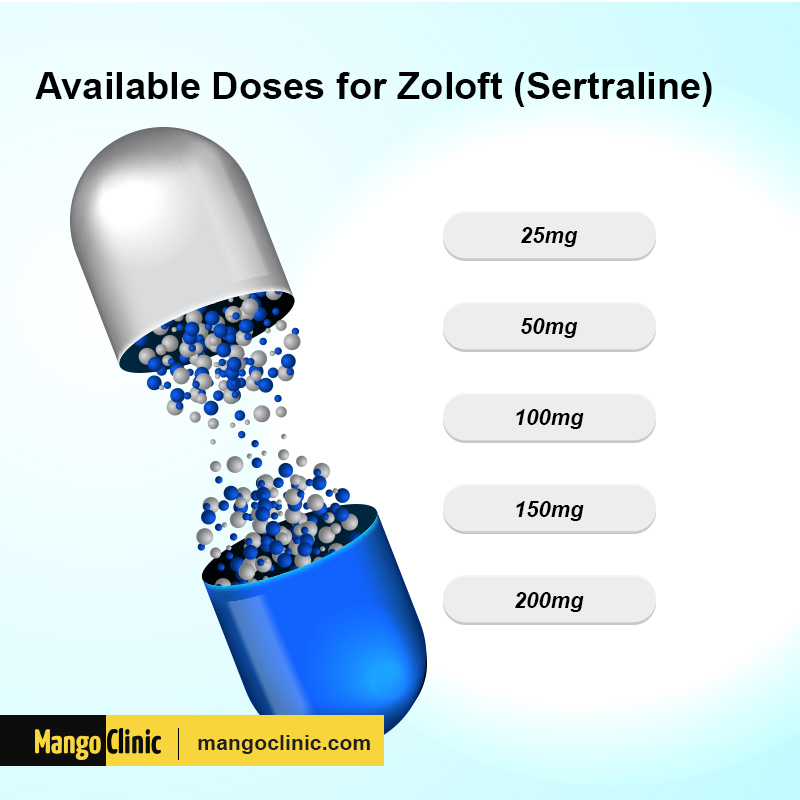 Is Sertraline a Strong Antidepressant?
According to data from the UK's NHS, Sertraline is both, a good and strong antidepressant. It's among the five best effective and well-tolerated antidepressants.
Sertraline Vs. Older Tricyclic Antidepressants
Most people tolerate Sertraline quite well, compared to older tricyclic antidepressants. Compared to Clomipramine for severe depression, Sertraline works as well but with fewer side effects.
Sertraline Vs. Fluoxetine for First Acute Depression
Studies also say Sertraline may treat acute phase depression better than Fluoxetine. It is also effective against Obsessive-Compulsive Disorders (OCD) and panic disorders. Indeed, you are better off combining OCD psychotherapy with Sertraline than getting it alone. 
Sertraline Vs. Imipramine for Co-Morbid Panic Disorder
When it comes to Co-Morbid Panic Disorder, Sertraline performs just as great as Imipramine but is well tolerated compared to the latter.
Sertraline Vs. Amitriptyline
Sertraline has also been compared to Amitriptyline and found to be better. It gives depressed patients a better improvement in their overall quality of life. 
Sertraline for PTSD and Social Anxiety Disorders
Sertraline (Zoloft) is also approved for PTSD and social anxiety disorders. Studies show it can lead to moderate improvements for these mental conditions. 
Get proper treatment for depression from expert doctors. Click the button below to book your appointment.
How Long Does It Take Zoloft To Work for Depression?
Zoloft usually takes 4-6 weeks to work, but you start experiencing improved appetite, energy, and sleep patterns within the first 14 days. 
As per the National Alliance on Mental Illness, this is an indication that the medication is doing its job. 
Zoloft Dosage for Anxiety and Depression
Is 25mg of Zoloft enough for anxiety? The standard Sertraline dosage for anxiety and depression in adults is 50mg. In children aged 6-12 is 25mg, and for those in the 13-17 age bracket, it's 50mg. However, you can start at a lower dose due to tolerance issues, then raised gradually until a 200mg maximum daily amount. 
When to Increase Zoloft Dosage?
For children aged 6-12, the daily dosage can be increased from 25mg to 50mg after seven days. If required, for children aged 6-17, their daily Sertraline amount can be increased to 200mg.
Adults, too, can up their Zoloft dosage to a maximum of 200mg daily amount based on an individual's reaction to the treatment. 
When to Decrease Zoloft Dosage?
If you suffer from liver problems such as Hepatitis, you may have to take a lower Zoloft dose. Speak to your doctor about your liver condition to find out. You may be advised to reduce the standard dose by 50 %.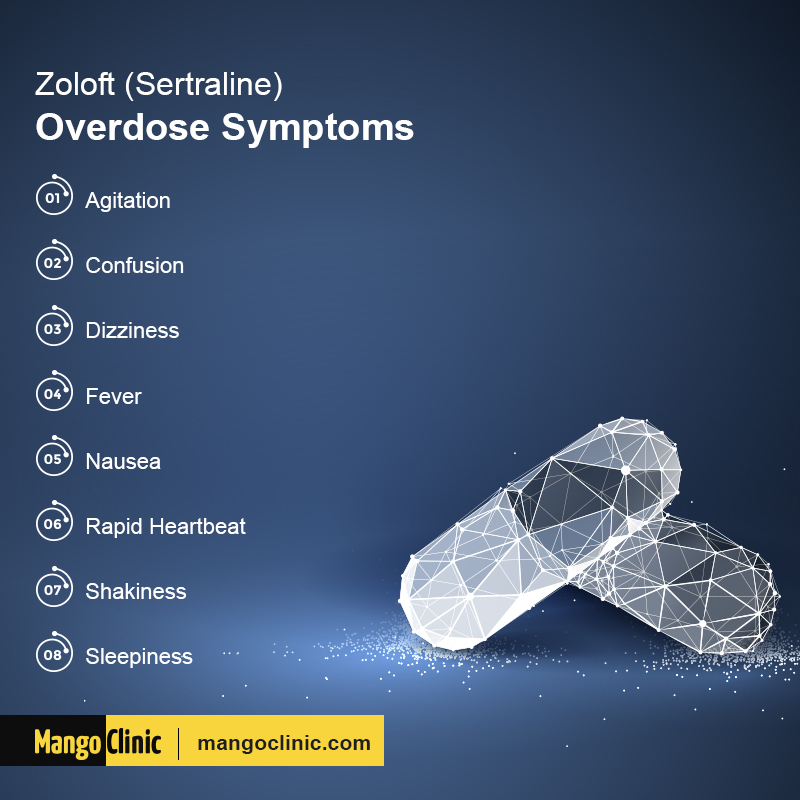 How Does Sertraline Make You Feel?
Sertraline is reviewed positively on Drugs.com; 59 % of reviewers said it led to a positive effect. One reviewer said they hadn't known what normal felt like until taking Sertraline. It made them be the true, happy person they like. It helped save their life, marriage, and memories with family. Other reviewers say Zoloft can do the following for you:
Boost your mood

Reduce anxiety and negative thoughts

Boost your energy level and sleep patterns

Make daily tasks feel pleasurable again
However, you are encouraged to stick with the medication, and do some exercises, too. It seems to work well if you have a healing plan, spend time with friends and family, do some yoga and meditate. 
Save yourself from chronic forms of depression. Click the button below to book your appointment.
What Are the Side Effects of Sertraline?
Many people tolerate Sertraline (Zoloft) quite well. However, like all medicines, some people may experience horrible side effects. 
Zoloft's side effects in the first week include panic attacks, shaking, lack of sleep, and increased anxiety. However, the side effects are minor and have also been reported to alleviate as the body gets used to the medication. But if they bother you, don't be afraid to talk about it with your doctor. 
Other Common Side Effects of Sertraline
Headaches

Feeling Sick

Dizziness

Jittery

Feeling Sleepy

Decreased Libido

Menstrual Changes
Severe Side Effects of Sertraline
There have also been reports of serious side effects after taking Sertraline, but these only happen in less than 1 in a hundred people. They include:
Shortness of breath

Chest pain

Severe dizziness

Seizures

Painful erections, even when not engaging in sex and may last up to 4 hours

Unintended weight loss or weight gain

Suicidal thoughts

Loss of balance

Yellow skin

Vomiting blood

Anaphylaxis to Zoloft
Seek immediate medical help if you experience any of the above and other severe side effects from Zoloft.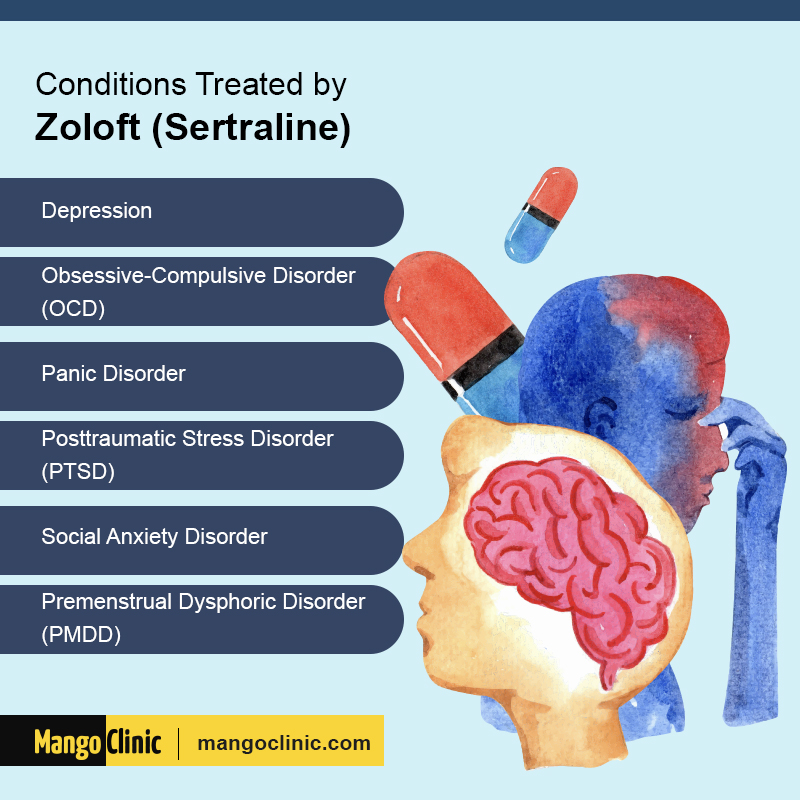 Zoloft Interactions and Precautions
You can only take Sertraline (Zoloft) once a day. And you can take it in your meals or alone. You can also take it any time of the day as long as you maintain that schedule. For those with trouble sleeping, better take the medication in the morning then. And don't stop taking the medication until you speak with your doctor. Stopping the medication suddenly may cause serious problems. 
Taking Double Doses because You Missed One
Now, if you have been prescribed a 25mg Sertraline dose, don't make the mistake of taking 2 doses if you skipped a dose last time. 
Children and Adolescents
Zoloft provides no benefits to adolescents and children with depression. Don't give the medication to children under 6 years old. 
Mixing with Other Medications
Avoid mixing Zoloft with Mao inhibitor. Combining these two medications can cause Serotonin Syndrome characterized by high blood pressure, fever, fast heart rate, and even death.
Be sure to confer with your doctor if you are taking Tramadol, Warfarin, Pimozide, Tryptophan, Meperidine, and St. John's Wort. Zoloft may interact with these medications to horrible effects. 
Sertraline and Pregnancy
Don't use Sertraline when pregnant. It's been shown to increase the risk of congenital heart defects in infants.
Proper treatment can save you from depression-related diseases. Click the button below to book your appointment. 
Get Sertraline (Zoloft) Prescription from Mango Clinic
Aside from a few side effects in some people, Sertraline works well in most cases and is tolerated better than other antidepressants. You can get a Zoloft prescription after a consultation with our doctors in person or online. Take a mental health assessment, meet with our top doctor, get a formal diagnosis and a treatment plan with a prescription, then sit back, and we'll deliver your medication. You are encouraged to keep taking Sertraline even after your conditions have improved.
Contact Us at Mango Clinic for depression treatment or click the banner below to book your appointment.