Top 5 Emotional Support Dog Breeds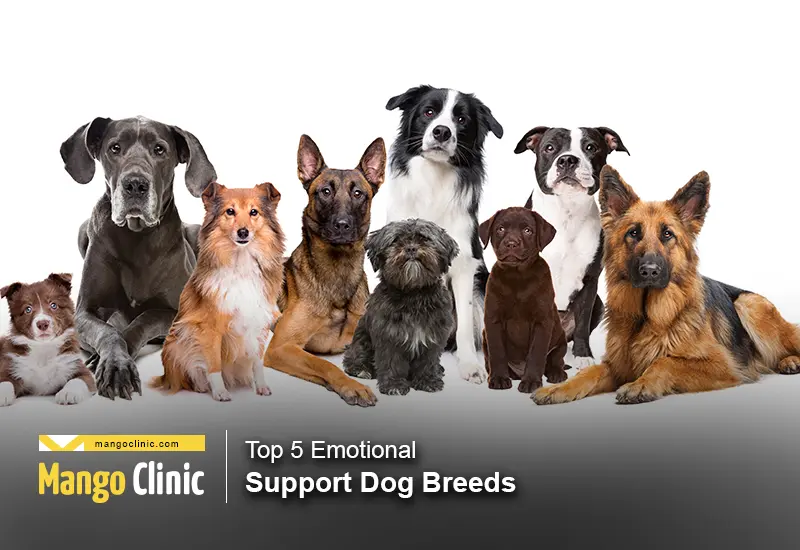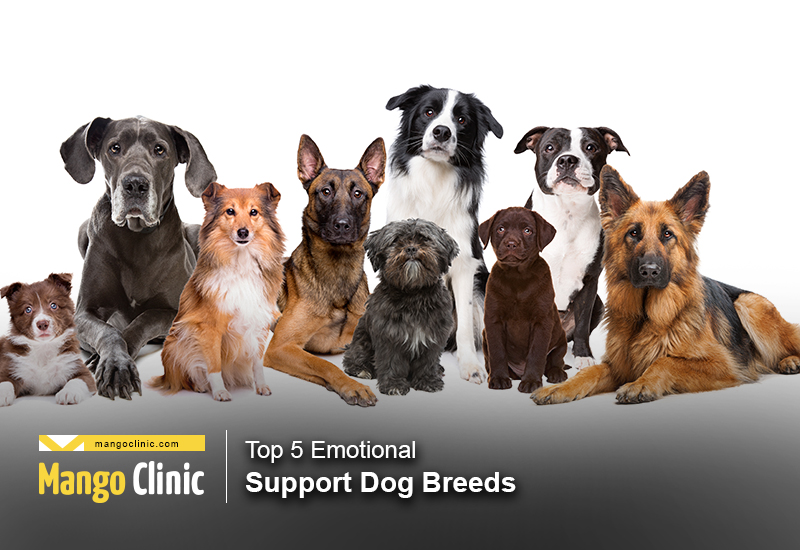 For some people, recovering from a mental or health disorder requires something more than just medication or even therapy sessions. These can all be very helpful, but they can always be supplemented by something more. Something that can make the days feel safe and warm, something that can make a person get up in the morning and ready to take on the day, something like an emotional support animal, or better yet, an emotional support dog.
An emotional support animal is a companion for those who feel increasingly better when they have their favorite animal with them. An ESA does not have to specially train in any way; their presence is all that is needed to be effective for the owner. All you have to do is pick a domesticated pet and consult with a medical professional who can sign you an ESA letter; your regular dog becomes an ESA dog.
An emotional support animal can help you to regain your mental health. Click the button below to get your ESA letter.
Mango Clinic provides ESA letter services for those looking to get a genuine document that can be used for either travel, housing, or both. We make sure each of our ESA patients speaks directly with a doctor before being given a signed document; in this way, it is a completely valid letter. Neither airlines nor landlords will be able to dismiss the letter when it is completely legit, meaning you and your ESA will be able to travel freely and find a new place to live without hassle.
Top 5 Emotional Support Dog Breeds
Among the most popular choices for ESAs is an emotional support dog, which also happens to be a popular pet all over the world. Due to their friendly nature, loyalty, and reliability, dogs find themselves being chosen very often as one's ESA. For these reasons, we have decided to present an unranked list of the top five ESA dog breeds that are most recommended for potential ESA owners. Each dog has its advantages, so don't feel as though one is better than the other, or that you have to pick and choose from just these five.
Golden Retriever
When you think of a big, lovable dog, there is a good chance a Golden Retriever is what you imagine. Well-known among the public, this breed is extremely popular, sometimes overwhelmingly so. Aside from shedding plenty of hair, Golden Retrievers are popular for a reason, providing much love and energy for people of all ages. Their large size can also be exceptionally comforting for some, as is their very fluffy hair.
It's also important to remember how active Golden Retrievers can be. If you intend to get one, along with understanding how big they are, make sure you're okay with a dog who is always up for some fun. This can make them good choices for those that want an ESA that will keep them active.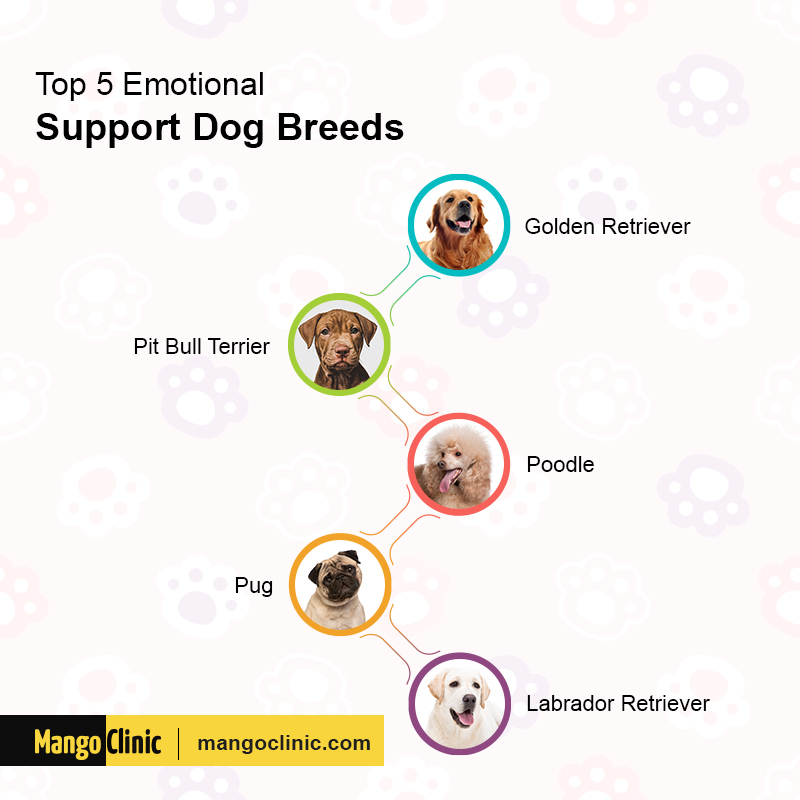 Pit Bull Terrier
There is a belief that pit bulls are inherently dangerous, that they should be avoided, and that they can easily hurt you. However, the reality of it is that a pit bull is not any more dangerous than every other domesticated dog that people own as pets.
The reputation that pit bulls have mainly comes from their history as dogs that were bred to be fighters, an unfortunate but real part of history. Dog fights would have these specially bred pit bulls go against each other in matches, but in the 21st century, dogfighting is illegal in the USA. Along with that storied past, pit bulls can still be used as dangerous animals for protection, hunting, or other related activities.
It can come as no surprise that people are hesitant about pit bulls, but the reality is that they're a terrific choice for an ESA. Loving, caring, and always protective of their owners, a pit bull can be an excellent addition to one's life. However, states have different laws pertaining to pit bulls, so be sure to inquire before deciding to get one.
If you are looking for emotional support dog letter from doctor. Click the button below to get your ESA letter.
Poodle
A smaller breed type, poodles can be an excellent choice for those who want their ESA to be on the smaller side. Poodles can be very fun and loving with both children and adults, further proving them to be apt ESA choices. They are also known as one of the most intelligent breeds, which can come in handy for owners who want their ESA to be a bit more hands-on. This also makes poodles a good choice for those wanting an active ESA that might encourage them to go out and play in the park.
Pug
Pugs are another small breed of dog, which can be exceptionally comforting for many. They are known for being active, happy, and of course, loving towards their owners. While they can be fond of taking it easy, a pug can be a great ESA dog for those who want something small but tenacious.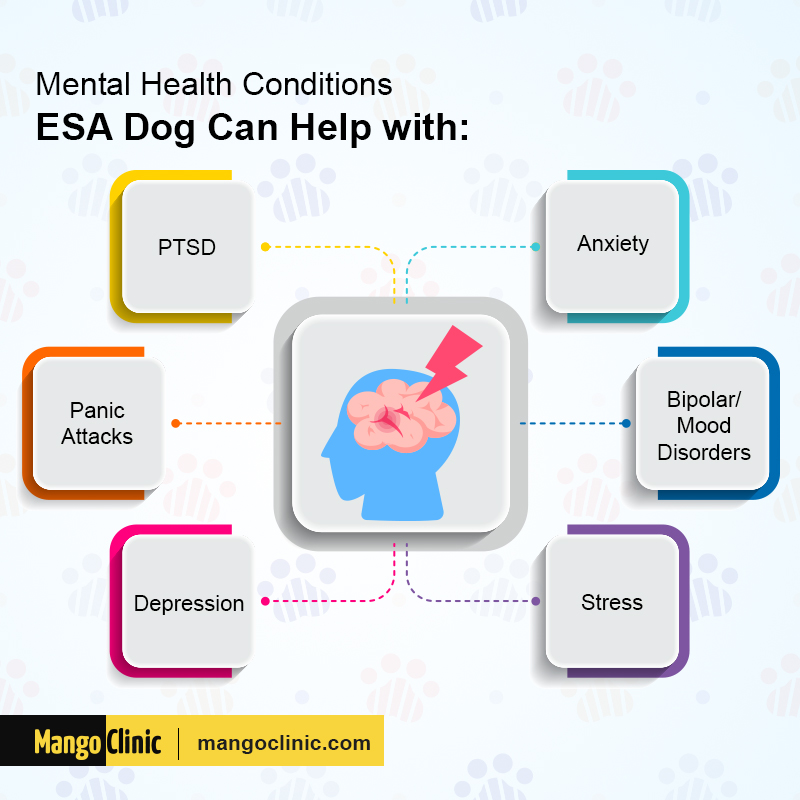 Labrador Retriever
Labrador Retrievers are often mixed up with Golden Retrievers, but their shorter hair is often the main giveaway. Retrievers are a generally popular dog breed in the USA and UK, and the Labrador is no exception. Like Golden, they are a bigger breed, and the two do share a similar size, along with look, without as much shedding.
Labradors come in unique varieties based on their color, such as yellow, black, and chocolate. They are also well adapted to training and performing tasks, in case that is something an owner would like their ESA to do. In any case, Labrador makes for a great emotional support dog due to the character, history, and popularity among many.
Lower your stress level with an emotional support animal. Click the button below to get your ESA letter.
Getting Your Emotional Support Dog Certification at Mango Clinic
If you are interested in having a certification for your emotional support dog, get in touch with Mango Clinic. Before getting an ESA letter, make sure you have picked out an animal to make your ESA. From here, you can call us or visit our website to set up an appointment with one of our licensed doctors.
When getting an ESA letter, you must always speak directly with a licensed doctor; otherwise, the letter is invalid. Mango Clinic will always have you speak directly with a licensed doctor, after which they will sign you the letter which you can use for housing, travel, or both. So don't delay and make sure you get a legitimate ESA letter from Mango Clinic. Contact us by calling (786) 422-9327 or simply go online and complete this ESA Online Form before you schedule an appointment.
Contact Us at Mango Clinic for an ESA letter or click the banner below to book your appointment.