Can a Snake Be an Emotional Support Animal?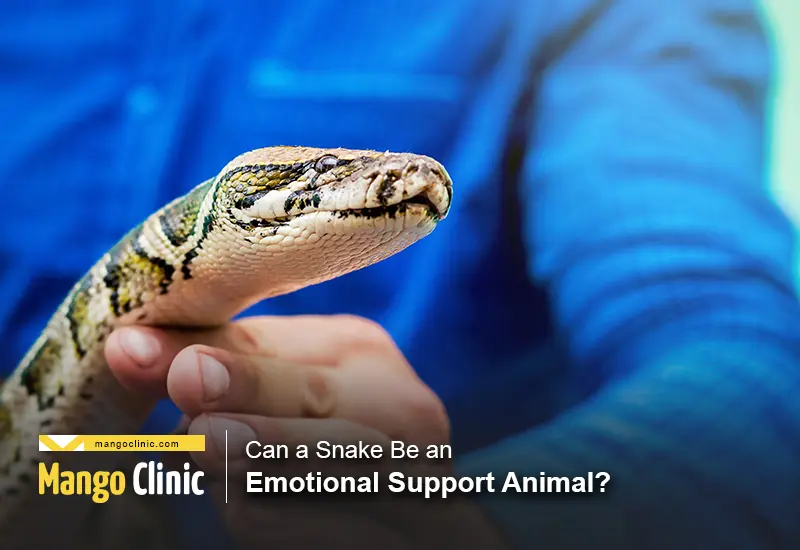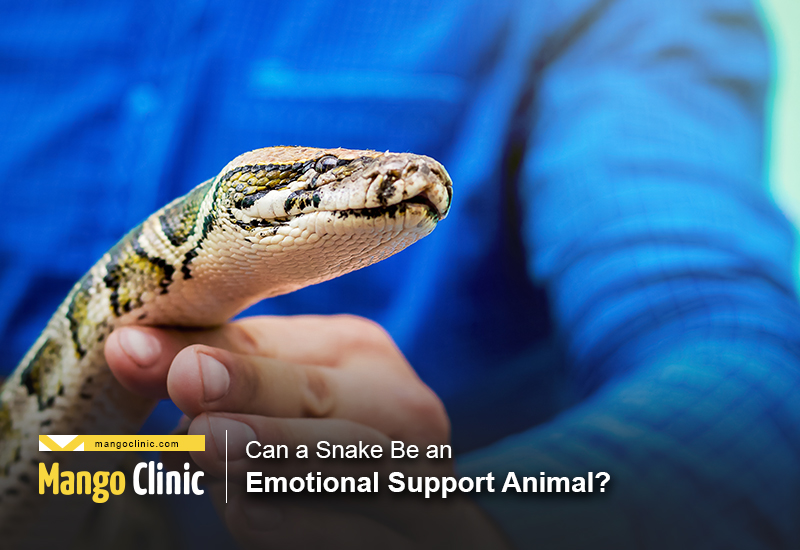 Having an emotional support animal can be the best decision for a person struggling with a mental or health disorder. With the variety of animals at one's disposal, there are many options for owners choosing an ESA. There is also a lot of misinformation about what qualifies as an ESA, how to get an ESA letter, and so on. Mango Clinic wants to keep you informed by providing helpful information that you can use when getting an ESA of your own.
Can a doctor prescribe an emotional support animal? Yes, click the button below to get your ESA letter now.
What Is An Emotional Support Animal?
Some people do not respond positively to medication or therapy sessions that treat their health condition, ailment, or disorder. Some people have better reactions to some alternative forms of therapy or treatment. One of these alternative forms is an emotional support animal or ESA for short.
On the surface, an ESA is no different than a regular domesticated pet. This is because many ESAs are already pets that patients own and want to make a doctor recommended for treatment. Even if you do not already have a pet but want an ESA, you do not have to look for anything too special. ESAs are not required in any way to be trained or registered; you find your ESA the same way you would any regular pet.
As for what counts as an ESA, you will be happy to know that cats and dogs are not your only options. Cats and dogs being the most popular pet options for people are likely what makes them notable ESAs. However, your choice for an ESA can expand to include birds, pigs, rabbits, and even snakes.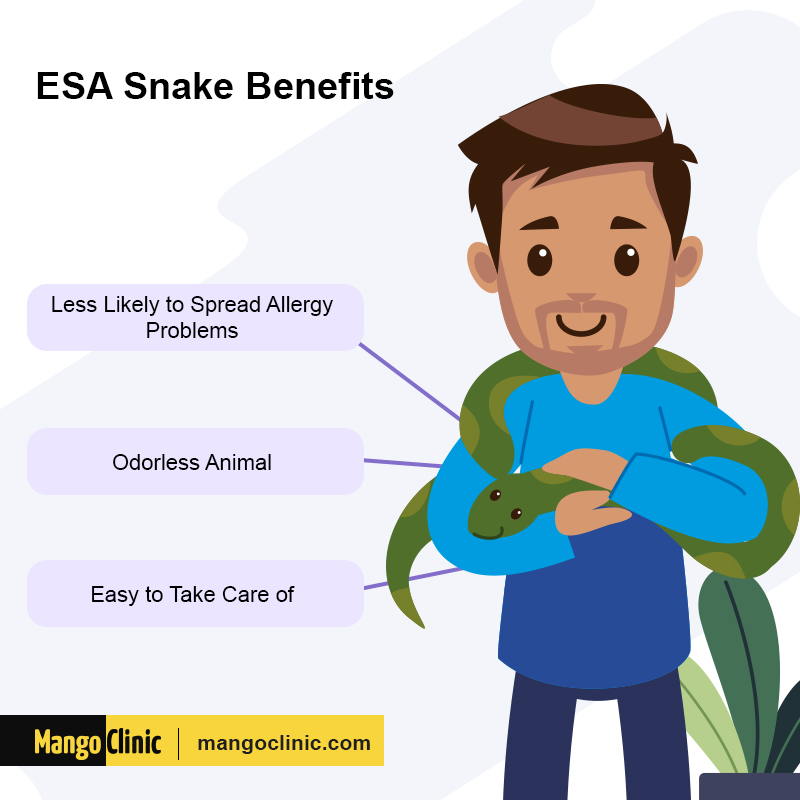 ESA Snake
When you tell someone that an ESA can be a snake, they might be perplexed. In some cases, a person might be outright reviled to think that a snake could possibly be an ESA. After all, are snakes not poisonous? Are they not a dangerous animal that only strange people keep as pets? How would you feel if someone brought their snake with them on an airplane?
Rest assured, if snakes were truly as hazardous as their reputation would imply, then they would not be allowed to be ESAs. On the contrary, if you are up for having snakes as a pet, they can be very rewarding pets and ESAs.
ESA Snake Benefits                                                         
  1. Less Likely to Spread Allergy Problems                                                         
One of the first things we want to mention about snakes is that they are hypoallergenic. This means that they are way less likely to give someone allergy problems, especially in comparison to so many other animals. The reason why this is so notable is that some people cannot be within any distance of a dog or cat due to allergies. Additionally, some people have allergic reactions to types of fur or some other element that prevents them from owning most types of animals. Thus, a snake can make for a perfect alternative.
An emotional support animal can save you from loneliness. Click the button below to get your ESA letter.
  2. Odorless Animal
This benefit can be connected to a snake's scales. Animals can be known to give off odors or scents that can be highly intolerable for some. Snakes, due to having scales, are odorless, and thus give off no smell. This can be another advantage if someone is particular about scents and how their ESA might smell.
  3. Easy to Take Care Of
Something else you may not know about snakes is how easy it is to take care of one. Due to it already being rare to know someone who owns one, it can be easy to think that snakes are high-maintenance. However, once you have gone through what a snake needs to survive, you will learn just how independent they can be. While some animals require much of your attention, snakes are more than okay with you checking in every few hours while they enjoy their alone time. This can be optimal for patients looking to get an ESA that can stay independent but keep them company when needed.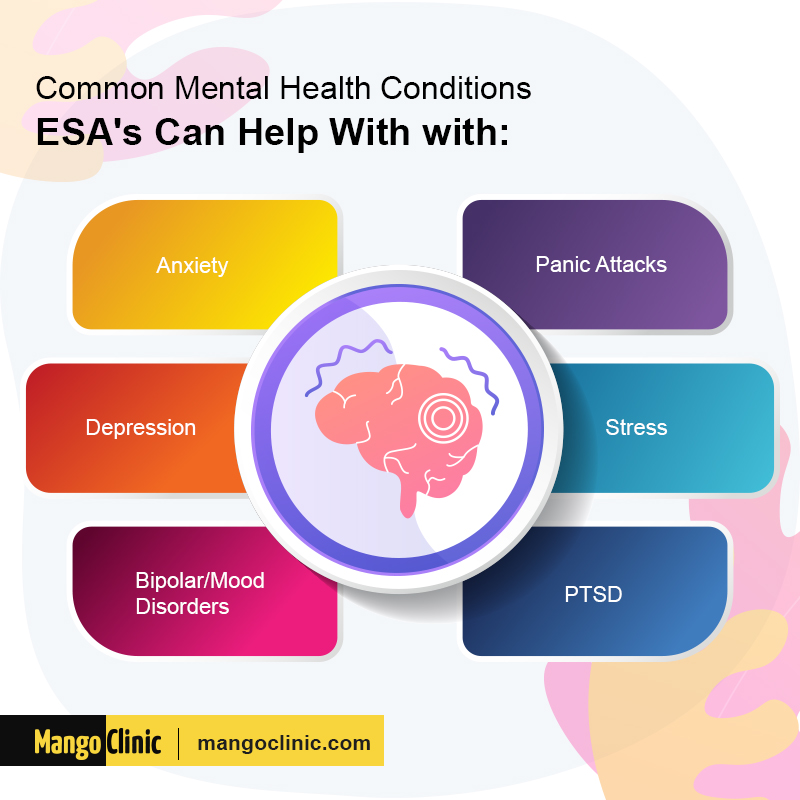 4. Limited Living Space Needed
Unlike some animals,  ESA snakes do not need a lot of living space. Cats and dogs can roam around a house and usually need to go outside at some point. But some animals, like a rabbit, can have variable living space that does not need to be too large or too small. Snakes are the same way, as they spend most of their time in their custom tanks. These tanks do not need to be that large and can usually take up the same amount of space as a personal aquarium. The size of the snake will determine whether you need a smaller or larger tank.
What Is An Emotional Support Animal Letter?  
Emotional support animal letters are already recommended for most owners, but those with snakes should especially get one.
With an ESA housing letter, you and your animal companion will be able to live comfortably in an apartment complex that may otherwise object to you having a pet. The letter will not allow a landlord to charge you more per month or kick you out because of your ESA.
If you intend to travel with your ESA, then you might also want an ESA travel letter. With this letter, you and your animal companion will be able to board airplanes without being forced to pay an extra fee. This letter will also protect your ESA from being thrown in cargo.
Lower your stress level with an emotional support animal. Click the button below to get your ESA letter.
How To Get An ESA Letter With Mango Clinic
There are plenty of scam sites online that do not offer legitimate ESA letters. If you use Mango Clinic, you and your animal companion will reap the benefits of having an officially signed ESA letter.
To get an ESA letter, you just have to make an appointment with one of our licensed physicians. Whether in person, over the phone, or via video chat, you will be able to speak directly with a licensed physician. You tell them why you want an ESA or why your pet in question is your ESA, and if you're approved, you will get a signed document. We will provide a PDF and physical copy of your letter to you.
If you would like to make your appointment with Mango Clinic, you can easily give us a call. Or, if you would rather do it online, you can visit our appointment webpage today.
Contact Us at Mango Clinic for an ESA letter or click the banner below to book your appointment.