Can Weight Loss Trigger Hair Loss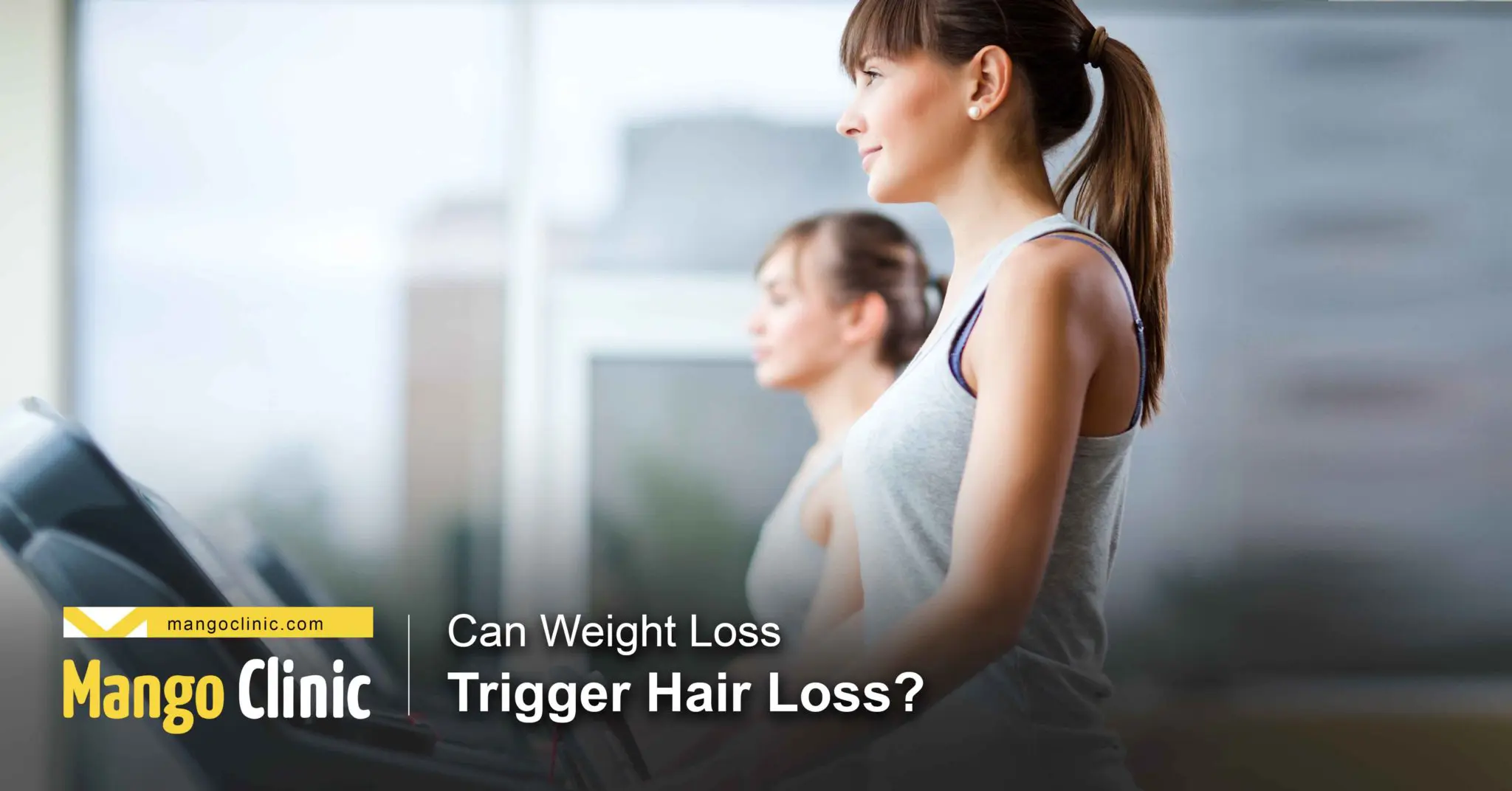 Are you on the journey of losing weight and you have unanswered questions on possible hair loss? Or perhaps you have observed your hair thinning previously as you try to shed off pounds of flesh. Well, look no further. There's a definite relationship between hair loss and weight loss. For weight loss programs and treatment, you need to have a reliable and worthy medical team, dedicated to your convenience. At Mango Clinic, we specialize in catering for such, and we have got you covered.
Get effective weight loss treatment. Click the button below to book your appointment.
Most remarkably, weight loss indeed triggers hair loss. There are various ways weight loss affects your hair. The following are some of the ways in which you may lose your hair in the process of losing weight.
Dietary Reasons
The hair follicles largely depend on body nutrients. The survey indicates that the growth of hair is largely dependent on the intake of calories and proteins. Losing weight entails cutting down on the consumption of calories which then affects the hair follicles. This leads to a deficiency in hair nutrients resulting in hair loss. Diet is so paramount in the growth of hair. As much as hair loss may be caused by other factors, cutting down on calories and or proteins may impact negatively on your hair health.
After Weight Loss
Some analysts have argued that the more you lose weight, the more your hair may get lost as well. Hair growth largely depends on body metabolism. Weight loss destabilizes the body's metabolism which in turn affects hair growth. It has been argued that a number of individuals lose hair around 6 months after beginning to lose weight. Most importantly, you should have a balanced diet that will restore your hair in the event of loss of hair. During weight loss; you are bound to develop a side effect called telogen effluvium which is responsible for hair loss.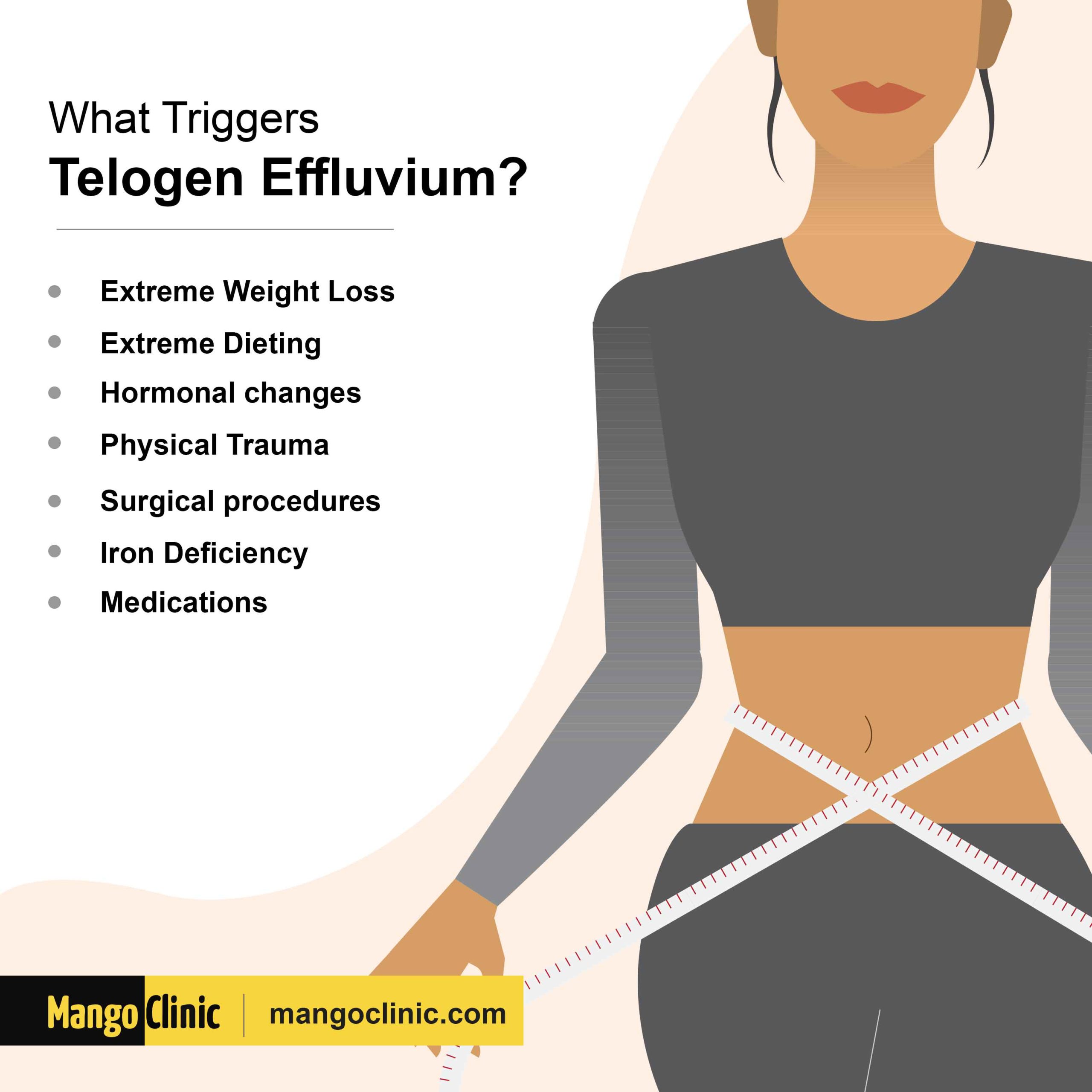 Protein Deficiency
To a great extent, protein deficiency affects hair growth and hair health in general. Hair is made up of proteins, failure to which will result in hair falling off.
Shedding off some pounds is also associated with both physical and emotional stress. This does not work well with hair growth. Physical stress causes hair to thin out resulting in hair loss.
Get a weight loss program from expert physicians. Click the button below to book your appointment.
Heredity
Occasionally, hair loss might be caused by hereditary factors. Hair loss from heredity can affect both men and women. In women, this condition normally affects the scalp, on top of the head.
The good news is that hair loss can be prevented through proper dietary measures. These are some of the ways you can prevent loss of hair during weight loss.
Lose weight gradually. Do not rush into losing weight overnight. Let it be a process that can be managed. You are advised to lose 2lbs every week.
Eat enough proteins to avoid your hair follicles falling off. You can do this by having a dietary app that will help you to consume the right quantities of proteins.
Eat plenty of grains and veggies. Such foods contain the right nutrients that will prevent hair loss.  Vitamins and zinc are important components of hair growth. Zinc and vitamins are found in veggies and fruits and their consumption will keep your hair in great shape.
Use of recommended hair supplements that will provide the body with the necessary nutrients. For such meticulous services visit us at Mango Clinic in Miami.
Having plenty of sleep will definitely work in your favor. Seven hours of sleep every night is highly advisable.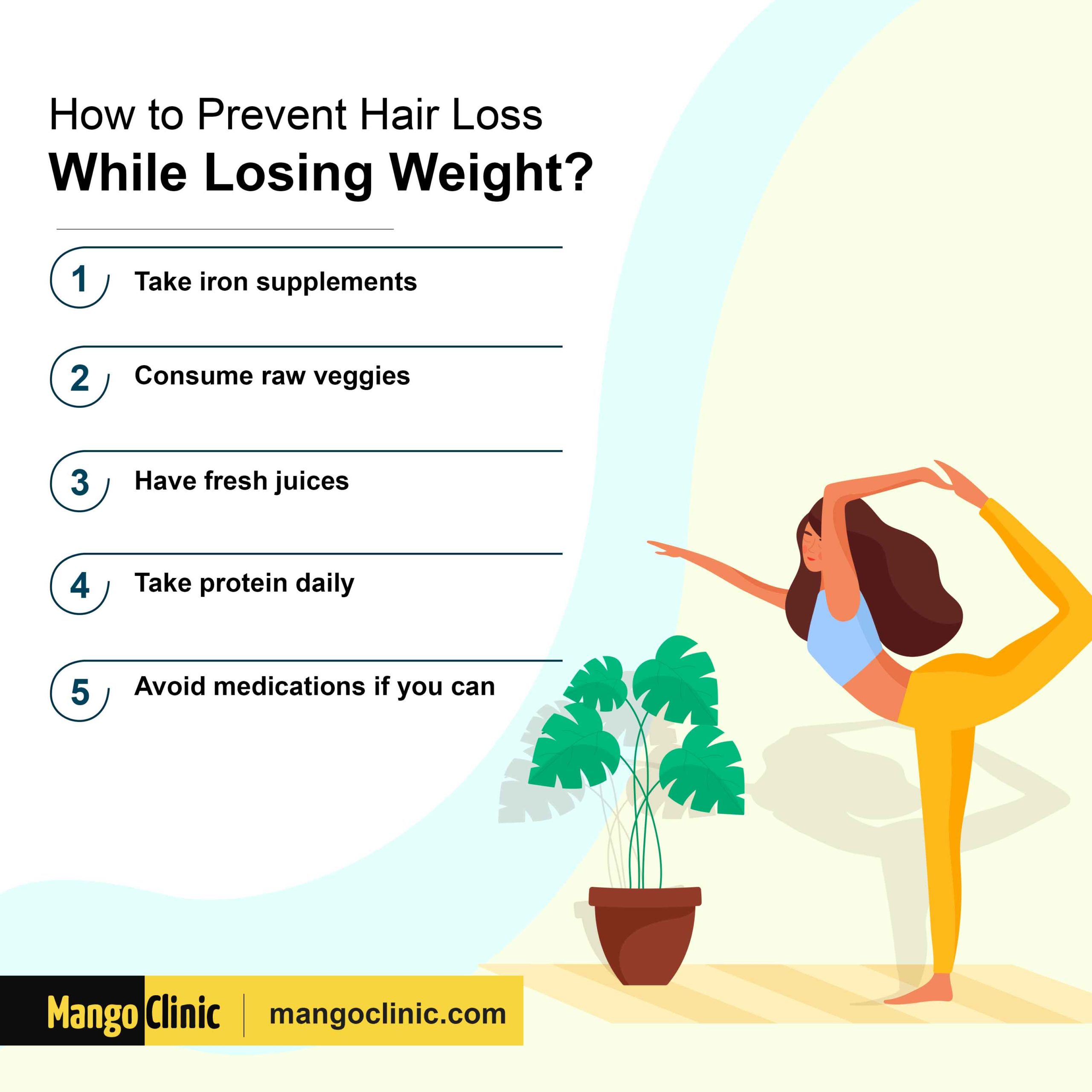 Medical Remedies for Hair Loss
Gratefully, there are mediations that can help to improve your hair against thinning. The most common remedies include:
Minoxidil which is in clinical trials has been used widely for treating hair loss and thinning. At Mango Clinic, we pride on providing solutions and proper hair maintenance tips. This medication has been proved to be effective in all clinical tests.
Spironolactone is a prescription drug that helps in the treatment of hair loss. It has also been proven to be effective despite the fact that it has not been approved by the FDA. At Mango Clinic, our dermatologists will help you to handle hair loss with the assurance of proper medication. Our healthcare providers will help you to make the right decisions if you experience hair loss.
Get FDA-approved weight-loss drugs. Click the button below to book your appointment.
Conclusion
As much as hair loss is not a permanent solution, it is imperative to have proper medical advice on hair and weight loss. Normally, hair begins to grow between 3-6 months of thinning. If this does not happen then you need sound professional assistance. For hair growth and dietary assistance, feel free to visit us at Mango Clinic for more information. Our medical staff prides itself in serving patients diligently.
Contact Us at Mango Clinic for effective treatment or click the banner below to book your appointment.