Growth of Online Weight Loss Programs over the Years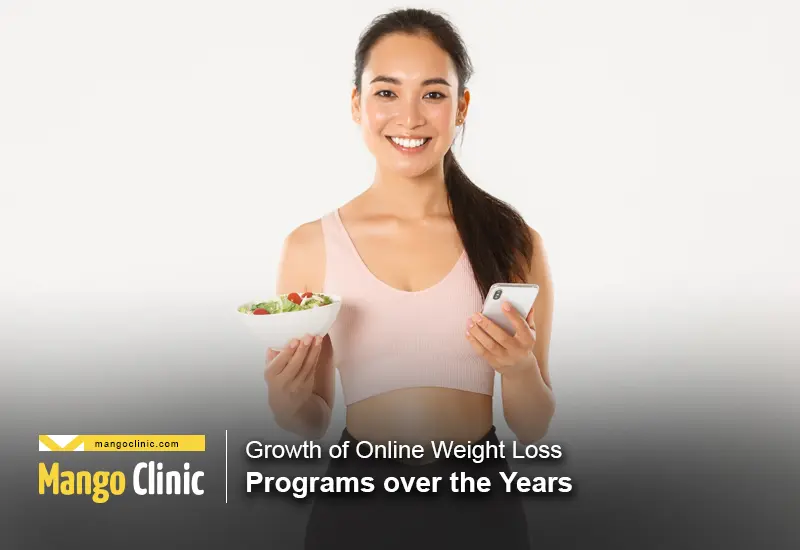 Obesity has become an epidemic in the US and around the world, with 40 % of adults and 20 % of children in the US having weight challenges, which has been the highest rate recorded in US history.
The steady growth of online weight loss programs has not just come out of the blue. It is a cause-and-effect response to the steadily increasing number of people with weight challenges in the US.
Reduce weight and get rid of the obese body. Click the button below to book your appointment.
Advancements in technology have changed the way people lose weight and how they gain access to services offered by experts in weight loss companies. There are plenty of online resources for weight loss from Apk platforms, video coaching, social media platforms, text messages, blogger sites, online courses, etc.
The online weight loss business community is a vast oasis filled with diet and weight loss specialists.
What's the Market Value?
There has been a significant market value growth rate witnessed way back from 2006 to the present and is at the moment (2020) valued at more than US$189.8 billion globally and US$72 billion in the US and rising at an annual rate of 3.9% to every 1.6 billion. These increasing profits only go to show the number of people struggling with weight loss in this country.
However, consumer focus has shifted from counting calories and weight loss to living a healthy lifestyle, prompting weight loss businesses to develop a more holistic approach by promoting healthy lifestyle practices.
Franchises have evolved by incorporating technology and medical practice to carve out a portion of the profits.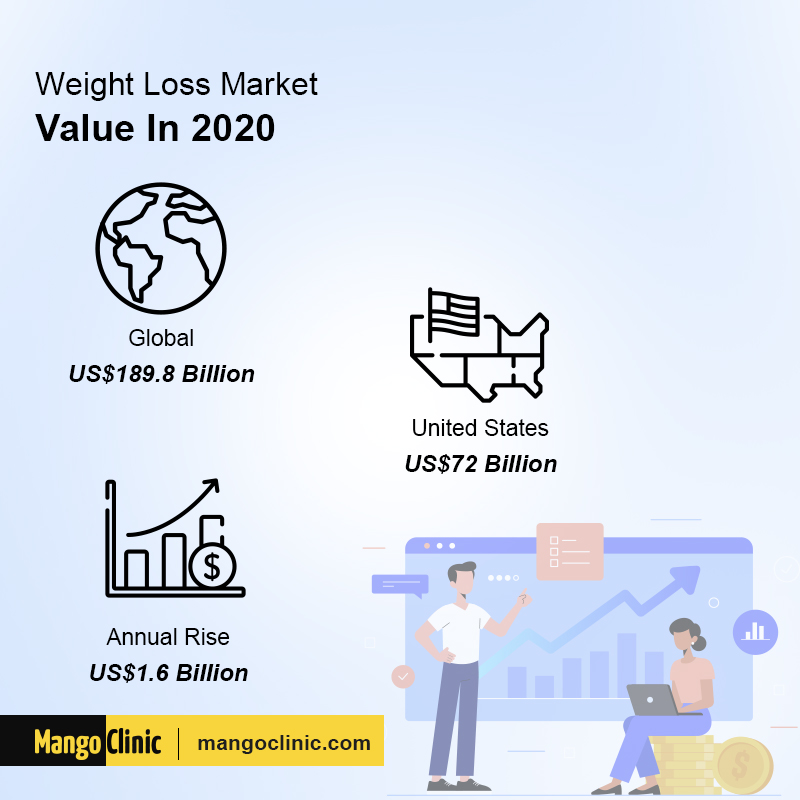 Why Has There Been Such Tremendous Growth in This Niche?
Forty-five million people go on a diet every day in the US alone. Of these, around 70% of them will quit within the first 90 days. Eighty percent of the 30 percent who stick to their diet and successfully lose weight will probably still gain it back within five years, with many of them gaining more than they lost. These have driven more and more people to enroll and re-enroll in weight loss programs.
However, the market is changing, and new players are getting in. They come with different sets of weight loss programs that are meant to offer variety and accommodate different groups.
There are many companies in the dietary and weight loss business and even more startups; however, some have been in the game for quite some time. Some of these are weightwatchers.com who raked in $567 million in 2018 alone, fibit.com with $155 million, and MyFitnessPal for $120 million.
Other leading online weight loss and diet companies specialize in selling non-prescription diet pills and online pill replacements. Most companies these days, however, come with tailor-made diet plans for specific niches hence the huge variety offered in the marketplace today.
Get help from weight loss doctors for excessive weight gain. Click the button below to book your appointment.
Due to the massive number of companies available on the market today, most companies have to develop competitive strategies to sell their products. Most companies have come up with ultra-modern apps that offer many different functionalities to benefit their users.
Meal replacement techniques and non-prescription dietary pills are trendy do-it-yourself weight loss alternatives, and they represent around 80 percent of all dieters. The increased growth of online connectivity through the internet and ease of delivery of ordered items from retail stores is likely to lead to even more growth in these online weight loss programs.
Telemedicine is the new outreach technique mainly used by healthcare providers, but weight loss providers are not too far behind. It allows you the opportunity to work on losing weight virtually anywhere. A dietary specialist, weight loss coach, nutritionist, or medical doctor is always a phone call or video call away to help you whenever you need them.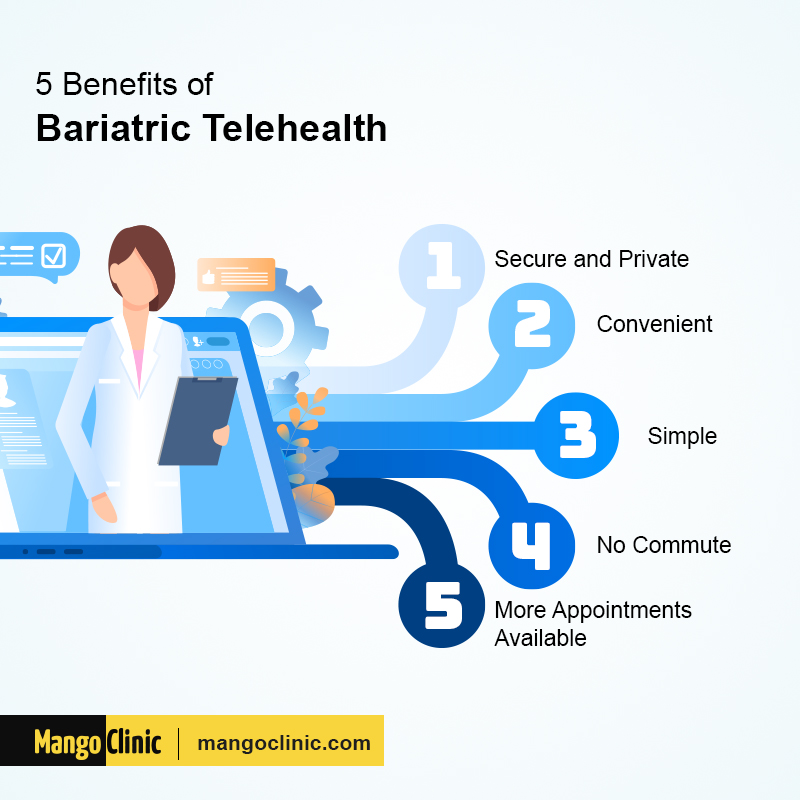 So, What You Should Look Out when Choosing Weight Loss Programs
Weight loss programs have become fraught with misinformation meant to convert sales without actually offering any help. You should, therefore, be careful and only buy dietary supplements from licensed medical institutions.
Competition has become more vicious. Companies may advertise dieting regimens that may not work to get more profits. Therefore, you should take more precautions when choosing a weight loss program and ask for advice from professional medical practitioners and nutritionists on what dietary regimen may be right for you.
The sale of do-it-yourself diets has stormed the market, and diet information is now easier to find than ever. Do some research before embarking on any of these weight loss programs.
Get to know weight loss programs miami. Click the button below to book your appointment.
The Takeaway
With the hundreds of weight loss programs available out there, it would only be best for you to do some careful research and determine which regimen best suits your needs. Look for services from an accredited institution you can trust: licensed MDs, nutritionists, and weight loss coaches who can help you lose weight.
Contact us at Mango Clinic to achieve your weight loss goals or click the banner below to book your appointment.