Valium (Diazepam) Overview, Uses, and Side-Effects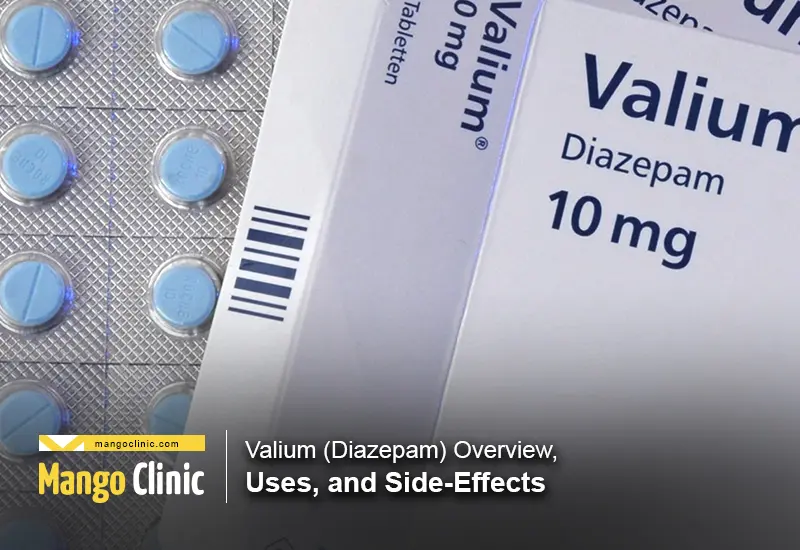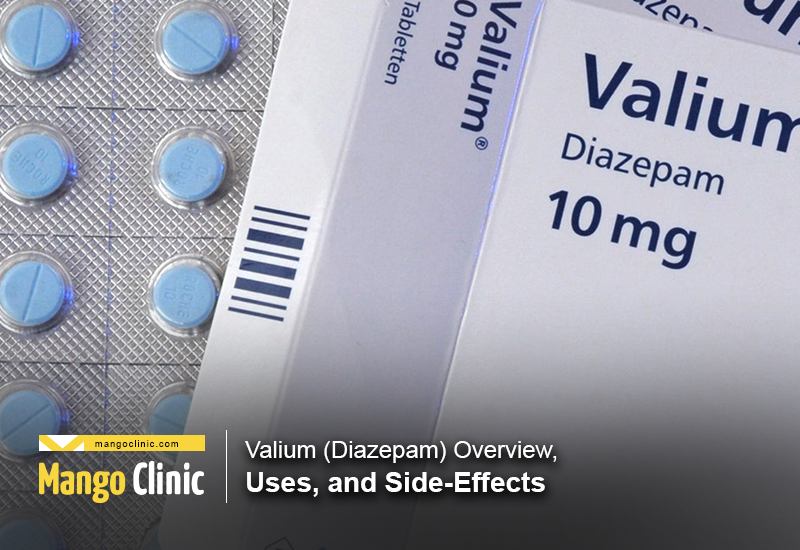 Benzodiazepines are prescription drugs that help people who may be suffering from disorders or ailments, such as anxiety disorder. Diazepam is one such type of "benzo" that many across the country and world take for treatment. Drugs such as diazepam, widely known by its brand name Valium, can be very helpful for so many, but only under the supervision of a licensed doctor.
Get immediate anxiety treatment and live a normal life. Click the button below to book your appointment.

Mango Clinic Miami is dedicated to helping patients who are both local and from all over the country. We want to make sure everyone has access to life-changing medicine that can improve the well being of everyone who takes them. Our professional staff of licensed physicians can help you with a wide variety of health services, including prescription medication.
There are strong similarities between the various benzodiazepines that exist. Benzos are usually taken by those who suffer from severe anxiety, which allows them to stay more relaxed. While not a permanent solution, benzos are still recommended by many for taking care of one's ailment or disorder, which can affect anyone of any age.
What Is Valium (Diazepam)?
Diazepam is a popular type of benzo that is more famously known under the brand name Valium. This specific brand was created in the late 1950s; it was among the top-selling prescription drugs in the latter half of the 20th century. While still popular, it has long since been available in generic form, allowing for more companies to produce the drug and more patients to be prescribed.
Drugs like diazepam work much in the same way as other benzodiazepines. There is a neurotransmitter in the body known as GABA, along with the A receptors, which form the GABA ionotropic receptor. The benzo attaches to one side of where GABA is, which allows for the neurotransmitter to take on a different effect by way of affected receptors. This results in patients feeling the effects that reduce anxiety and produce calm.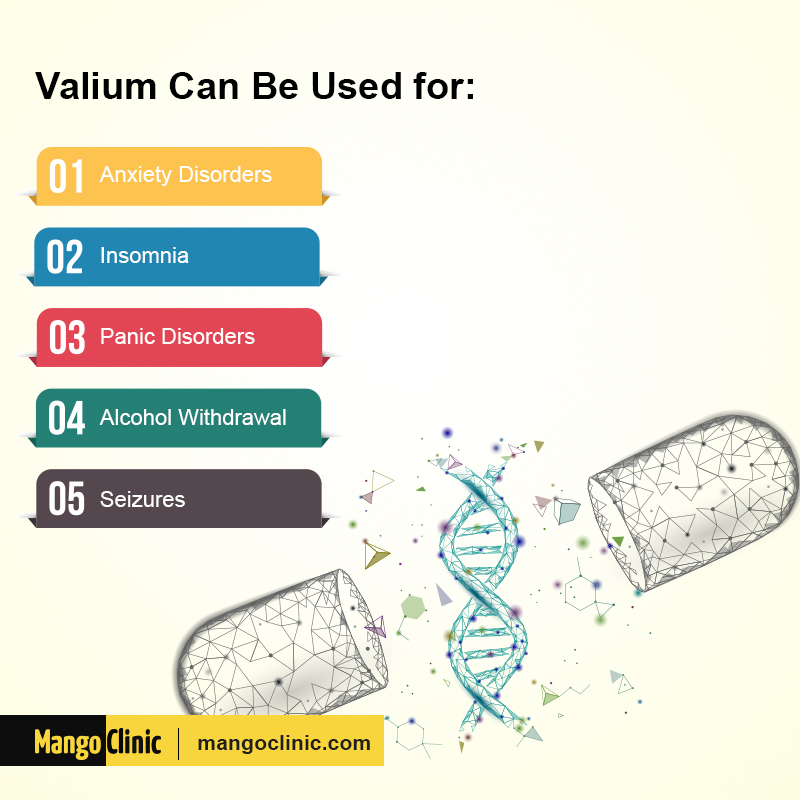 Who Is Valium for?
On the surface, diazepam is for people who suffer from anxiety disorders, but it is also used for people who have insomnia, panic disorders, and alcohol withdrawal. In truth, there are a variety of reasons one might want to take diazepam, as a variety of symptoms can be treated with it. Some of these other symptoms that can be treated with diazepam include muscle spasms, restless leg syndrome, treatment from hallucinogens, and even withdrawal from other benzos.
Seizures and related conditions, in particular, can be treated by diazepam in different forms. While the drug is not intended for long time use, it has still been found to be useful for those who have epilepsy. Long term use can result in the body becoming immune to the drug, and this can be highly problematic with regards to patients suffering from seizures.
Get proper treatment for anxiety disorders. Click the button below to book your appointment.

As for how intense or severe your symptoms should be, this is not something you should worry too much about. You do not have to be in an extreme situation to be prescribed any type of benzodiazepine. Meet with your local physician and explain to them why you are interested in diazepam, and they will perform an evaluation. If your doctor believes that your symptoms can be treated with Valium, then you will be given a prescription.
This also expands who is allowed to take diazepam, as some may think you have to have some type of disorder. The ease at which benzos can be acquired makes it easy for many who need the medicine to have it. People with severe conditions, as well as others with less severe ailments, are able to easily get a prescription that can change their lives for the better. The drug's existence in generic form also allows for more people to get their hands on it without restricting it to those who can afford the higher costs of brand names.
It should also be known what sort of person should not be taking diazepam. Certain conditions prevent potential patients from being able to take the drug, and they can vary in severity. People who suffer from glaucoma, hepatitis, sleep apnea, drug or alcohol dependence, or depression are advised from taking diazepam. Women who are pregnant or may become pregnant should also not begin taking benzodiazepines, due to the way the medicine can transfer into the womb.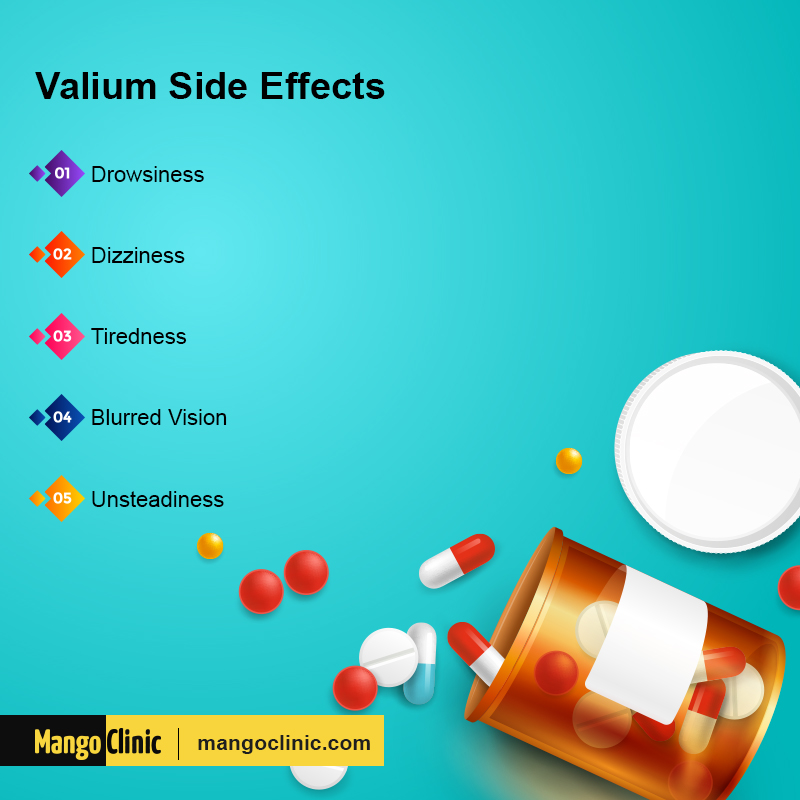 Diazepam Side-Effects
Like with many other types of benzodiazepines, diazepam is a drug that comes with severe risks and side effects. While feeling sluggish and exhausted are among the most common of these effects, there are others that can be more problematic. An increase in depression is one, as is amnesia, which can cause patients to forget things while they're taking diazepam. This means things that happen during treatment can be forgotten, though things learned before are retained.
One of the biggest dangers involved with benzos is dependence and tolerance, two things that are often intertwined with one another. If you take diazepam for too long, your body can become tolerant; this can lead to a patient wanting a higher dose or not realizing how much they're taking.
The issue of dependence causes patients to continue wanting more of the drug, which can then lead to overdosing. Getting an overdose from a benzodiazepine is among the most severe and acknowledged risks associated with the drug. A shockingly high number of users of these drugs end up becoming dependent and having an overdose; as many as one-third of all users are at risk.
Since diazepam is not to be taken for an extended period, it is recommended, when it's time to get off the drug, to start slow. It can be easy for some to become dependent, and a slow start is what helps patients get off the medication safely and securely. You lower the prescription after a few weeks and keep going lower until the patient can safely stop taking the drug.
Get prescribed medications for depression. Click the button below to book your appointment.
Conclusion
If you feel Valium or any other type of benzodiazepine may be right for you, get in touch with Mango Clinic. Our staff of medical professionals is here to help you understand how these drugs work, the risks involved, and which one can work best for you. You can make your appointment by calling 786-391-0269 or visiting our website's appointment page.
Contact us at Mango Clinic for immediate anxiety treatment or click the banner below to book your appointment.