Weight Loss Drugs Overview by Mango Clinic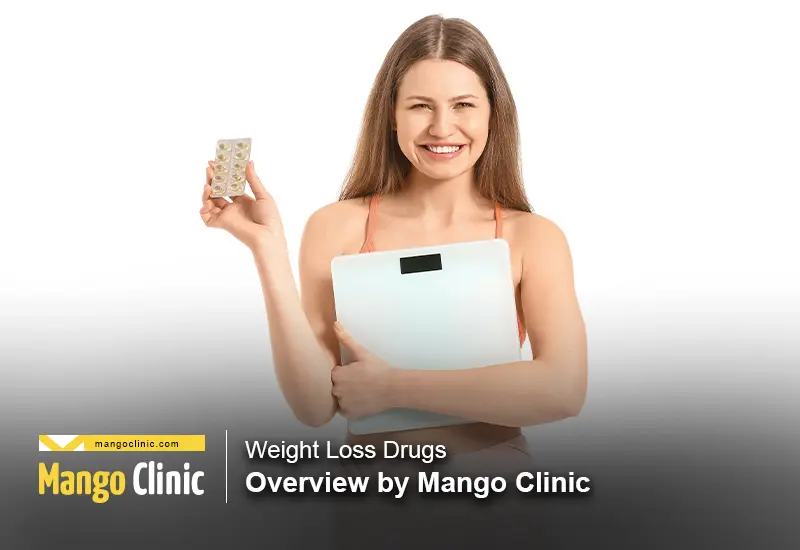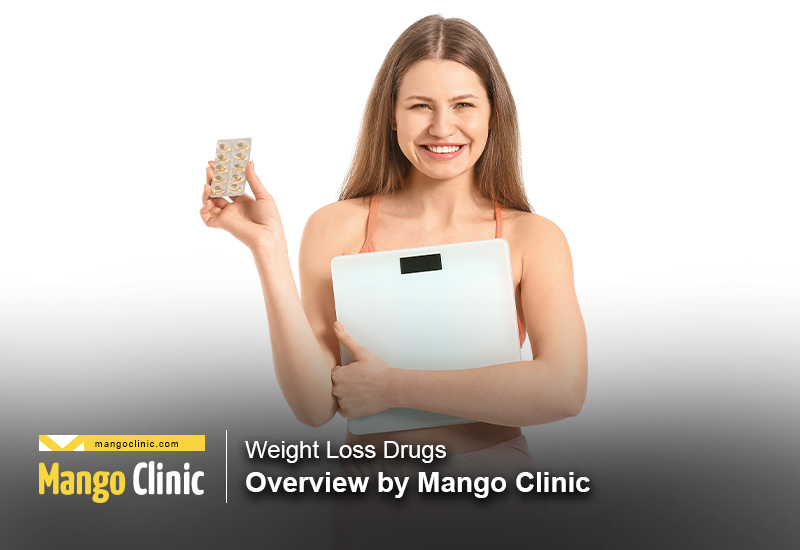 Trying to lose weight is not the easiest task for many people. The reasons why losing weight is complicated varies from person to person, as well as culture and heritage. Some people can shed weight more quickly while others find themselves struggling. There are different ways to lose weight, which means there is no one way that is better. In fact, a combination of treatments is often the best way for your body to become healthier. Here we'd like to review the medical aspect of weight loss treatments and, namely, go over some FDA-approved weight-loss drugs.
Get FDA-approved weight-loss drugs. Click the button below to book your appointment.
When it comes to losing weight, many would agree that it starts with overhauling your lifestyle. A lot of this also comes down to your circumstances for wanting to lose weight. Some people simply want to be thinner or maybe exercise more to gain muscle. Others have to lose weight due to the risk it is having on their overall health.
Everyone has different reasons for why they want or need to lose weight; understanding why is essential to figuring out the best ways to do so. Mango Clinic knows everyone is different, which means individual care and evaluations for all patients. We have professional physicians who can assess you and help you understand the best treatment for losing weight. No matter what is your situation or goals, you will be able to find reliable help from our staff.
Many lose weight by exercising, and that can include doing a sport or going to the gym. For those same people, exercising regularly is all they need to stay in shape and be healthy. However, this is not the case for everyone, and exercise can only do so much for some. Eating better is an integral part of losing weight, and is often the critical component for many. That said, some people do need more help if they want to lose weight and live healthier lives effectively.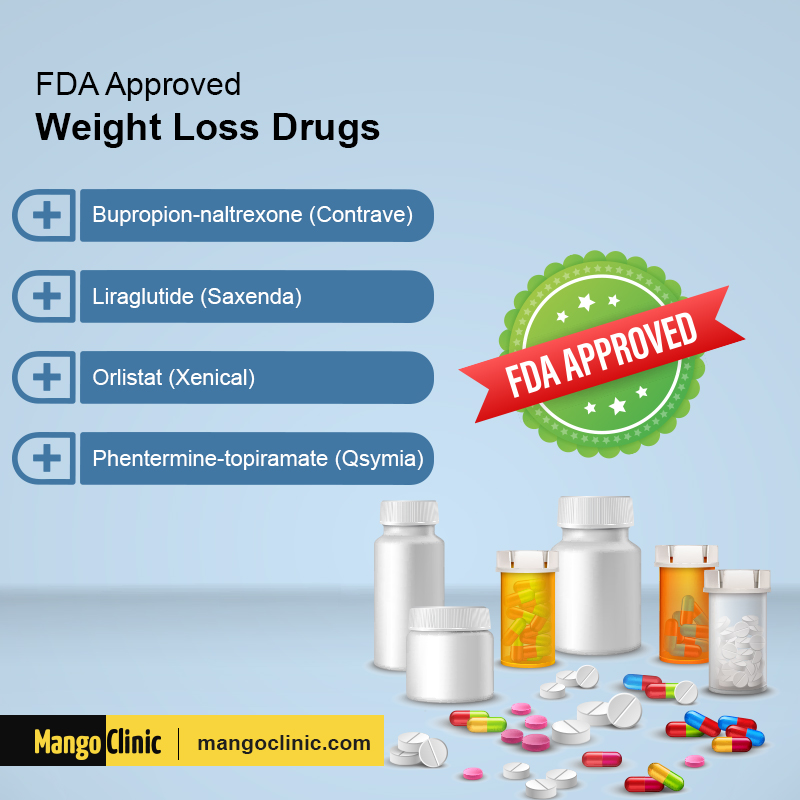 Weight Loss Drugs
For those that need something more to lose weight, there are weight loss drugs, also known as diet pills. Drugs to help with weight loss are for those who need prescription medication to help them lose weight. These drugs do not magically take the weight off, but they have been proven to be effective forms of treatment. When combined with other activities, such as exercise, weight loss drugs become a welcome help for some patients. As an additional supplement to other forms of treatment, weight loss drugs can help you have a healthier life.
It is essential to understand that not every person who wants to lose weight should be using weight loss drugs. These drug types are for those who need additional help when losing weight, as traditional forms are not enough. This includes people who have type 2 diabetes and those who would be considered obese. People with these medical conditions are not always able to lose weight without the aid of additional treatments.
Speaking with your medical doctor, you will be able to determine your body mass index (BMI), which can help determine which sort of diet is best for you. Figuring out your BMI will also help you figure out whether or not you need weight loss pills. More importantly, knowing your BMI helps you know just how healthy or unhealthy your body is and what you can do about it.
Get rid of obesity with effective treatment. Click the button below to book your appointment.
Types of Weight Loss Drugs
Once you have decided you want to take weight loss pills, you will be presented with the five FDA-approved drugs available.
Orlistat
Orlistat is unique among weight-loss drugs because of the way it helps its users. Instead of merely curbing the appetite, orlistat absorbs the fat that enters your body. This minimizes the amount of excess fat that may stay within your body that contributes to weight gain. While a generally good choice for weight loss, it has resulted in rare, but severe, side-effects regarding liver injuries. Also, keep in mind that you may need to take a supplemental vitamin to cover the possible loss in nutrition that comes with taking this drug.
Lorcaserin
Lorcaserin stimulates the serotonin in your brain that makes your mind and body think you are full. You will be less inclined to eat more than you maybe do, as the drug effectively curbs appetite. Many weight loss drugs do this, and it has proven to help users. Side-effects associated with this drug mainly include headaches; combined with medication for migraines can also be an issue.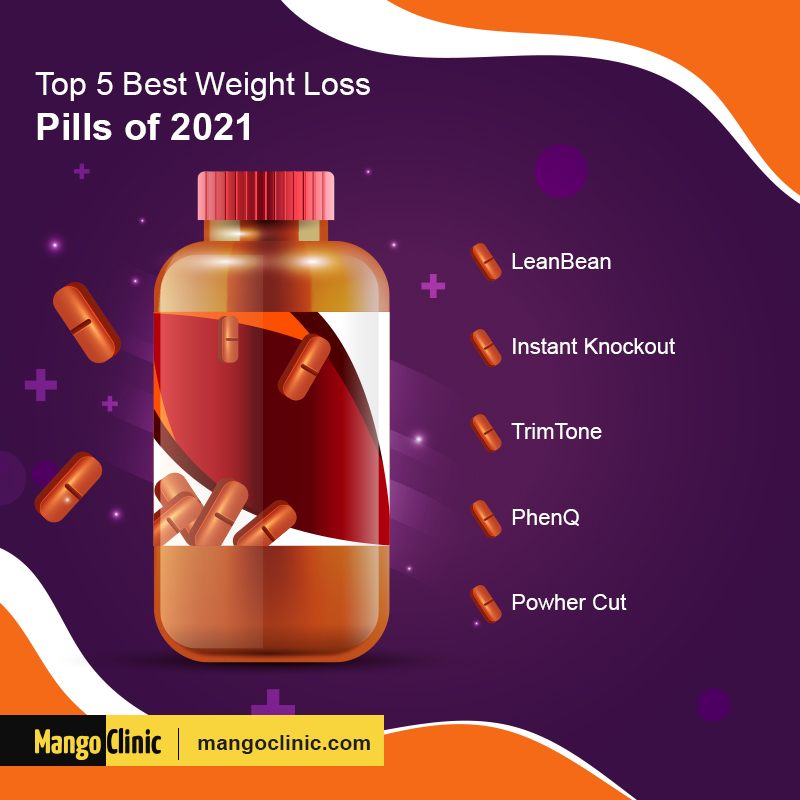 Phentermine-Topiramate
Phentermine-topiramate is a combination of the two-named drugs. Phentermine can curb appetite, while topiramate convinces the brain that you're full. Topiramate is usually used for treating migraines and seizures, but the combined extended-release with phentermine makes it useful for weight loss. Weight loss drugs can also increase your heart rate, so those with heart problems may want to avoid it. Those with glaucoma and hypothyroidism should also not take phentermine-topiramate.
Naltrexone-Bupropion
Naltrexone-bupropion is another combination of drugs with different individual goals. Naltrexone is used to treat addiction to opioids and alcohol; bupropion is an antidepressant and anti-smoking aid. It acts to curb your hunger by increasing dopamine in the body. Those with high blood pressure or who are withdrawing from drugs and alcohol should not take naltrexone-bupropion.
Liraglutide
Liraglutide is a receptor that is related to drugs that also treat diabetes. It helps you lose weight by convincing the mind you are either hungry less or full sooner. Nausea, diarrhea, and constipation are common side-effects. Liraglutide should not be taken with any other form of medication.
Get an effective weight loss plan from expert physicians. Click the button below to book your appointment.
Conclusion
With the different weight loss drugs available, there is something for everyone. Once you have spoken with your physician, you will have an idea of how to proceed with medication. Let Mango Clinic help you on your weight loss journey. Our medical professionals help patients understand their situation and how best to tackle it. With our caring staff, you can get the help and treatment you deserve.
You can call Mango Clinic by phone on (786) 391-0269 or visit our website to set-up your appointment. Don't let another day go by without receiving genuinely effective weight loss treatment. Get in touch with Mango Clinic and speak with one of our doctors today.