29 Best Fidget Toys for Adults: Lower Your Stress & Anxiety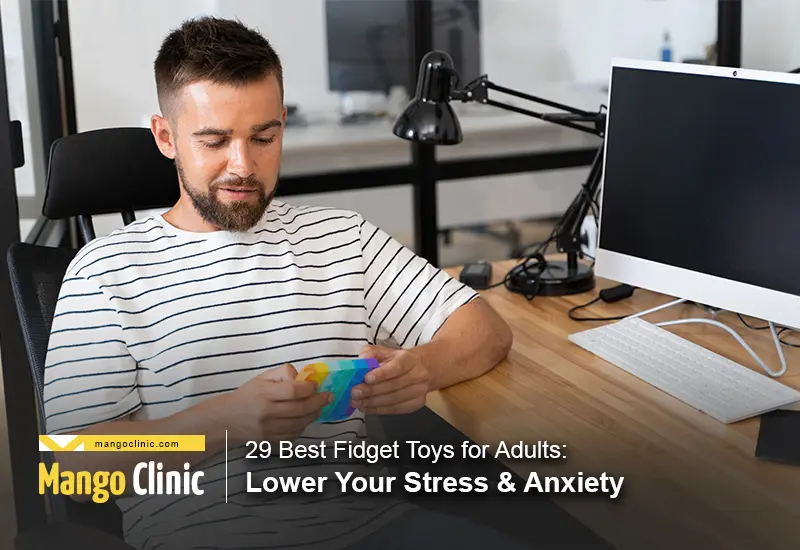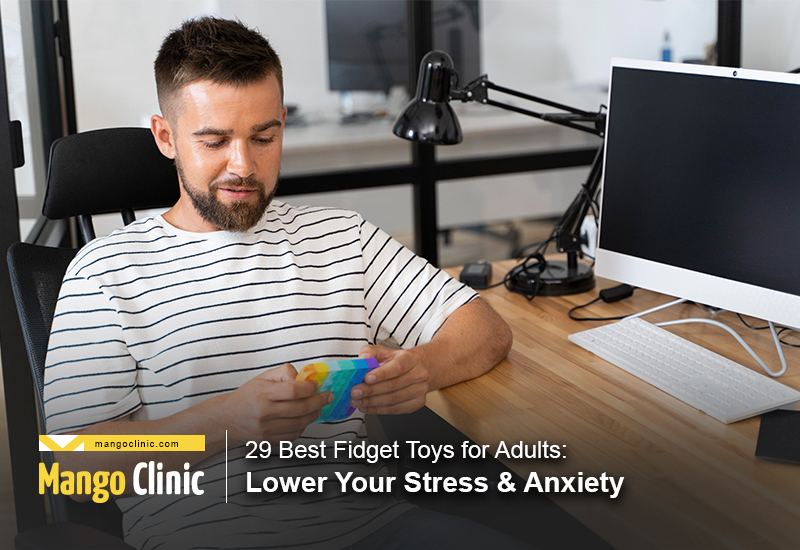 Every day of the current era comes with new stressors, worries, and more anxiety. Being an adult, the situation gets even more complex. You are stressed about too many things; work relationships, family, bills, and even other people's opinions.
A certain amount of stress is normal and necessary, but excess stress can take a toll on an adult's life. In a situation like this, you may not believe it, but the fact is fidgeting toys for adults can help to get rid of stress in no time at all!
Are you suffering from stress? Click the button below to book your appointment.
Dive in to learn about the best fidget toys for adults that will make your worries go away faster!
What Is a Fidget Toy?
A fidget toy is a small object usually of a size that fits in your hand. A fidget toy is a stress-releasing gadget made of various materials such as plastics, metals, rubbers, and other materials suitable to squeeze, pull, move around and perform various hand movements with them. Before, these were considered just for fun, but later, many other benefits of fidget toys have been recognized.
Fidget toys are now available for both adults and kids to address mental health issues such as ADHD, anxiety, stress, worries, lack of concentration, etc.
Types of Fidget Toys
Fidget toys come in various shapes, sizes, and types. The general categories are as follows:
Sensory fidget toys

Playing dough 

Fidget spinners 

Squeezable 

Stretchable 

Multiple sided fidget toys
Can Adults Use Fidget Toys?
Fidget toys are trendy these days for their ability to relieve stress, manage restlessness and pressure and deal with anxiety in the fastest possible way. Although experts have a mixed opinion about the benefits of fidget toys for adults, many of them swear by their advantages.

But, how are fidget toys helpful to treat mental issues?
The Benefits of Fidget Toys
Fidgeting is how people express their nervousness and stress, especially when going through hard times or just dealing with mental health issues. Mental health issues like ADHD, anxiety and autism worsen over time without proper treatment, especially in adulthood, along with greater responsibilities and stress. That is when fidget toys come into play.                    
Fidget toys have become the current antidote for adults with stress, anxiety, worries, and attention disorders. Studies have also shown that using various types of fidget toys for adults can help with smoking problems, withdrawal effects, and other behavioral issues.
Overall Best Fidget Toys for Adults
Anxiety, nervousness, worries, or boredom, there is a suitable fidget toy for every problem. Below listed are some of the most helpful fidget toys for adults to calm stress and worries faster.   
Let us get down to them. 
1. The Infinity Cube Fidget Toy
The infinity cube fidget toy is a single handheld fidget cube that is highly playable and helps relieve stress quickly. It comes in pocket size and is easy to carry all day long anywhere. The fidget toy suits both males and females even at workplaces due to its classy and professional build. The toy flips and folds around to give continuous hand movements similar to a spinner, but the movements are much more discrete.
Pros and Cons of the Infinity Cube
The advantages of getting a fidget cube are that this fidget toy has many holes secured with a wire for movements that work as a continuous puzzle and helps to exercise memory and skills.    
However, the disadvantage of the infinity cube fidget toy is that it can break if it is dropped.
Which Is the Best Infinity Cube?
Here is the list of best infinity cubes available for you to choose from:
Lifidea aluminum fidget cube

CuberSpeed fidget ball

PILPOC fidget cube

Fab quality fidget cube

Small fish Infinity cube fidget cube

VCOSTORE 12-sided fidget cube
Save yourself from the risks of anxiety. Click the banner below to book your appointment.

2. Big Mos Finger Fidget Toys
Finger fidgets toys are pretty compatible and occupational fidget toys for adults. Big Mos finger fidget toys come in a pack of four toys, all differently colored; this enables a person to keep these in multiple places such as home, car, workplace, etc. The design of this fidget toy is based on a snap-and-click mechanism that helps to ease out anxiety and restlessness.
Pros and Cons
This fidget toy comes in various colors and makes an excellent choice for adults fond of bright colors. The flexible texture of these fidget toys works as a therapy to attain satisfaction with discrete movement and relieve build-up pressure on the brain. In addition, it comes in a compact pocket size which makes it easy to carry anywhere around.   
The only problem with this toy is that inadequate stretch from the end limit can break it.
3. S&S Worldwide Therapy Tangle Fidget Toy
Want a fidget toy to lighten up your mood! 
A therapy tangle fidget toy is your perfect choice. It also works as a sensory fidget toy for relaxation. The size and weight of the therapy fidget toy make it very useful in developing attention and concentration. Apart from its benefits in getting rid of stress, this fidget toy is trendy among adults trying to quit smoking and those experiencing withdrawal effects related to alcohol and substance abuse.
Pros of S&S Worldwide Therapy Tangle Fidget Toy
The soft composition of this fidget toy makes it worthwhile as a therapeutic option for easing out tired fingers. People who work as typists or use their fingers excessively can benefit from this fidget toy. 
Apart from the flexible soft texture, the plastic material is easy to clean and makes it an excellent choice for people with OCD and cleanliness issues.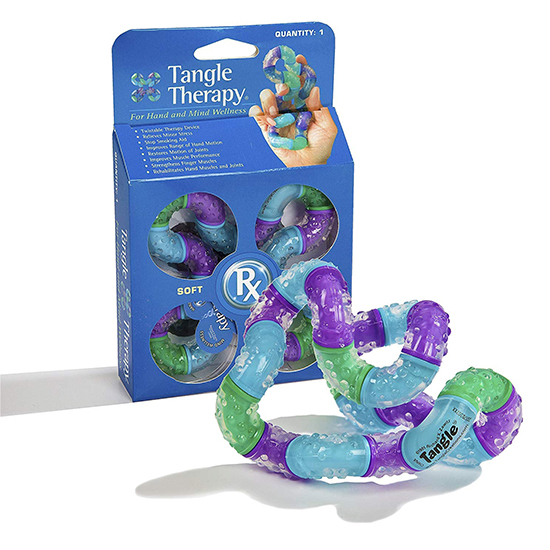 4. Magnetic Metal Fidget Pen
You might have guessed it right from the name. The magnetic metal fidget pen works both ways as a fidget toy as well as a pen. The multi-purpose pen is designed with endless possibilities to relieve stress. People who are stressed out at work and get bored easily will enjoy keeping it up at workplaces, conferences, presentations, examinations, and meetings.  
The single gadget can perform multiple functions such as spinning, building, and especially doodling. 
Do you know? 
According to studies, doodling is an excellent way of relieving stress. It is also believed that people who doodle alongside conversations, presentations, and work tend to retain more data and can focus more than people who do not.
5. The Fidget Spinners 
Fidget spinners are no more for kids only!
Fidget spinners have become the coolest fidget toys for adults to flaunt around. Almost all fidget spinners have durable stainless steel or rigid plastic bodies that revolve around a ball bearing, giving ultimate satisfaction and peace of mind. 
Fidget spinners are best known for their anti-anxiety effects along with soothing stress and worries of daily life. Long spins are best to keep anxiety, ADHD, and ADD at bay for the day ahead.
6. The Silver Mezmoglobe
Workaholics and adults with tantalizing jobs know how hard it gets to give your hundred percent at a job resisting countless tasks, workload, and your boss!
Your job plays a major role in developing adulthood anxiety and stress. The silver Mezmoglobe is designed just for your desk to rescue you from the troubles at work. This sleek and sophisticated-looking fidget toy is your best companion at work. Mezmoglobe is designed with great accuracy and delicacy by using aerospace aluminum. The helix design produces mesmerizing effects offering long spins to cater to stress and anxiety related to workload. 
This fidget toy is an excellent pick to develop focus and relieve stress on the mind. The effortless spinning of the Mezmoglobe fidget toy creates an optical illusion that provides the following benefits: 
Relaxation

Stress relief

Increase in creativity

Enhanced focus and concentration
Looking for proper anxiety treatment? Click the button below to book your appointment.
7. Fidgetland Noah Chain Fidget Toy
This sleek, round-shaped fidget toy has won many hearts. The fidget toy is widely popular among adults. Its unique design with discrete movements makes it worthwhile. It also has a multi-surface texture that produces various sensations. 
The fidget toy rolls back and forth, making it an excellent way of exercising fingers and relaxing hand muscles. The discrete fidget toy is specially designed to perform in work environments, especially for individuals who have autism, ADHD, and anxiety. 
8. Crazy Aaron's Crystal Clear Thinking Putty O Stress
If you are annoyed by stress and want to let everything out, this toy will be your best buddy. Pull it, stretch it, tear it; this putty is one of the best ways to clear your mind from anger, rage, and emotional issues. 
Experts believe that squishing things is a helpful way to relieve stress. Putty is the best way to stay occupied and keep your mind free from negative thoughts and anger. One great thing about this product is that it is not greasy or sticky and is super malleable for free finger movements. 
People with sensory difficulties also found it very soothing. 
9. Satisoul Astronomical Sphere Ring 
The sphere ring is not just a great fidget toy for yourself but also a perfect gift to give someone who needs to get rid of anxiety and worries as much as you do!
The astronomical ring is made of fine alloy and designed with the finest materials to avoid skin irritations. The sphere does not rotate but opens up into its multiple layers and represents the heavens' movements. Its delicate and intricate design keeps your focus on positive things and washes negative thoughts away. 
Its extraordinary design makes it wearable as a pendant or a bracelet charm. Many individuals also use it for meditation. In addition, the fidget toy is quite popular as a symbol of love and peace and is believed to change your chaotic mind state to a peaceful one.

Moving on,
Fidget Toys for ADHD
ADHD (Attention Deficit Hyperactivity Disorder) is a mental health condition marked by hyperactivity and the inability to concentrate on fixing attention. The way signs and symptoms of ADHD present in adults greatly vary from person to person, but what is most commonly seen in every adult is 'fidgeting.' 
So,
Do Fidget Toys Help with ADHD?
It is believed that people with ADHD tend to concentrate more while they are fidgeting. That is why fidget spinners are cherished as they enhance concentration among these individuals. When a person uses a fidget toy, their mind remains focused and aligned more than when being idle and ruminating.
What Is the Best Fidget Toy for ADHD?
While looking for the best fidget toy for yourself, there are a few qualities to consider in a fidget toy. The best fidget toy has to be attractive and allow smooth movement but shouldn't distract too much. Since every individual is different, and so are the factors causing mental health issues, you will have to figure out the best fidget spinner out of the most suitable ones for ADHD. 
Here are some options to choose from:
10. Dodecagon 12-Side Fidget Cube
The 12 sided fidget toy is no ordinary fidget toy for adults. Instead, it is specially designed for people who have ADHD. This is the best fidget toy to keep your mind and fingers super busy, allowing you to stay focused on productive tasks and avoid stress and anxiety. It comes with various features such as a joystick, rollers, buttons, disks, silicon balls, and much more. 
Flickering, spinning, pressing, rolling, no matter whatever type of fidgeting helps you, this fight toy has it all. This is a special fidget toy designed for ADD and ADHD patients to keep them awake, focused, and overcome counterproductive habits.
Contact Us now for ADHD treatment or click the banner below to book your appointment.

11. Getjoy Infinity Cube Fidget Toy
Getjoy infinity cube comes in pairs. So you get two infinity cubes for the price.
Fidgeting with this infinity cube will relieve stress and anxiety. However, its unique design will aid you to get rid of ADHD symptoms and help you develop more focus, concentration and clearing up your mind to thoroughly work on the task/ project which requires immediate attention. 
The size of this fidget cube is ideal for carrying in one hand and moving smoothly and is classy to keep on your working desk or study table.
12. Ycvsad Mini Pop Bubble Fidget Toy
This is an ergonomically designed fidget toy, especially for people who suffer from poor focus and concentration due to ADHD. The mechanism is simple yet satisfying; the bubbles pop on pressing. Pressing and popping of the bubbles are known to be stress relieving and highly calming.
13. DUDDY-PRO Fidget Pad
This is an all-in-one fidget toy for adults with ADHD. If you are an adult with ADHD and get bored over anything after a short period and cannot focus on the task for longer, this fidget toy is made for you. 
You can make various moves on this fidget toy, such as twisting, rubbing, clicking, shifting, etc. Adults with ADHD cannot just get enough of fidgeting; they keep moving their body, keep walking in a place or keep moving their legs while sitting. These habits can cause disturbance for people around. The duddy pro fidget toy is made to control your common fidgeting impulses so that you can work together with your colleagues and family without creating any discomfort.
Get yourself evaluated for ADHD by expert doctors. Click the button below to book your appointment.
Next,
Are Fidget Toys Only for ADHD?
Although fidgeting is a hallmark sign of ADHD, it is not limited to the disorder only. Many other mental health disorders are marked by increased fidgeting, such as; anxiety and autism. Then there are also some health conditions in which people suffer from sensory loss.
Fidget spinners are pretty famous for conditions involving anxiety, stress, and autism. However, many of the sensory fidget toys for adults have shown positive results for ADHD as well.
Fidget Toys for Adults with Anxiety
Individuals with anxiety suffer from immense stress and mental chaos. If you are one of those dealing with anxiety issues and fidgeting, the good thing is there are unique fidget toys for adults with anxiety. 
Do give them a try!
Here is the list of best fidget toys for adults with anxiety.
14. Coogam Mini Rubik's Cube
This fidget toy is perfect for your hand during your exam anxiety or waiting for your interview. This toy is perfect for grabbing your attention more than the other fidget toys and keeping your focus aligned. The puzzle-solving mechanic is specially designed to keep your mind engaged with the fidget toy. Apart from the cool puzzle-solving factor, the fidget toy also comes in various sizes to fit in your hands.
15. Tom's Fidgets Flippy Chain
This is not an ordinary chain fidget toy for adults; it has helped many quit smoking and lower their stress and anxiety levels. This fidget toy is a great way to escape social anxiety and anxiety experienced by individuals with PTSD. 
This even suits silence lovers; you can keep fidgeting with this toy for hours and hours without distractions. People using this product never complain of dissatisfaction as the design contains silicon bands for extra texture. 
You can keep it in your pocket and attach it to your keychain as well so that you never lose your anxiety companion.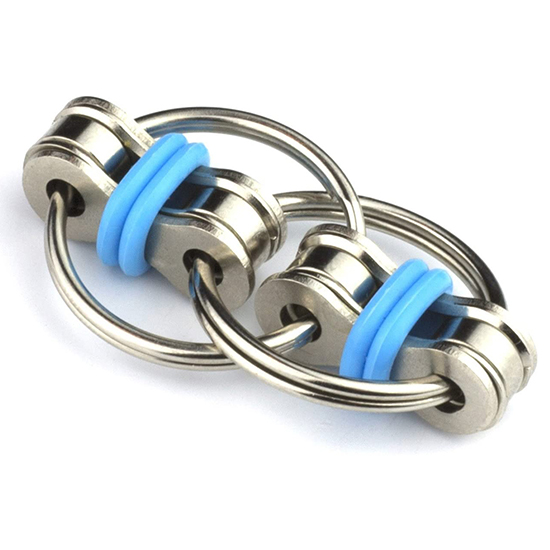 16. Mobii Fidget Ball
Have you seen a cluster or magical rings looped together just made to save you from the hassle of anxiety?
Mobi fidget ball has a unique structure and discrete build for infinity play to eliminate anxiety. In addition, the Mobii fidget ball has multiple smooth, interlocking rings, which enables you to enjoy its satisfying texture and striking effects. 
The compact size makes you easily hold it in one hand and keep fidgeting quietly for as many hours as you want. Moreover, the toy moves in many directions. You can stroke it, spin it or revolve around the fingers. Apart from its excellent build material, it is also easy to wash if it gets dirty, and you can keep it sanitized for safety. 
17. SPOLEY Desk Sculpture 
As the name suggests, the Spoley desk sculpture is more than a presentable desk decor at the office. The sculpture is made up of many small pieces, and so your office is the best place to keep it out of reach of children. 
This consists of small balls that can convert into a structure. The fidget toy requires a lot of intelligence, focus, and creativity to engage your brain into play. The great thing about this fidget toy is that it shifts your concentration from anxiety to productivity. 
This toy is fantastic to lift your mood whenever you are tired of the boring presentations and same assignments over and over. 
18. Toysmith Deluxe Sand Garden
The deluxe sand garden is a perfect miniature of the traditional Japanese meditation garden. This toy is suitable both for your home and your office. The deluxe garden comprises a rosewood frame containing sand. It comes along with long-handled bamboo rakes, ceramic cranes, and assorted polished stones to grab attention and focus. 
What else?
You get a mediation booklet for guidance which comes in a package. The basic idea of the Zen garden is to promote the meditative state to battle anxiety and recover internal peace of mind. Keeping a sand garden on your study desk or office table will soothe your anxiety and instill positivity in you.

19. Toysmith Euler's Disk
This fidget toy is a masterpiece of turning spin science into art. To get the effect of the fidget toy, you are supposed to spin the disk on a mirror, and it starts creating patterns and color as the spinning speed increases. The holographic foil covering the disc makes hypnotic patterns that alleviate all the stress and anxiety. 
This fidget toy has real effects on your ears and eyes. As the disc moves faster, the patterns and sound grow bigger. For those who like a slight humming sound in your environment, this is your go-to fidget toy. On the other hand, people who like a relatively peaceful environment might not get along with this fidget toy. However, there is one for everybody down the list!
20. COFFLED Newton's Cradle 
Not just a cool decor but also a fun gadget for your working hours and desk display, Newton's cradle comes as suspended spheres and a metallic frame. The mechanics of this gadget apply to human psychology to relax anxious minds. 
You only have to pull a ball backward and release it to initiate a pendular movement and then watch the balls move in a specific pattern for a soothing effect. The balls also make a clicking sound when they touch each other, so ensure your preferences before buying this fidget toy. 
21. Mobii Fidget Necklace
As you have previously read the Mobii fidget ball's specifications, the fidget necklace is also made up of a pendant with unlocked colorful rings. The smooth texture of interwoven rings provides satisfaction and discrete finger movements, which are also beneficial for people who have sensory issues. 
Do you know Mobi pendants come in a wide variety of colors, and you can also customize one of your own. Here is the list of colors available:
SilverStar (Bright Silver)

Mercury Silver (Darker Silver)

Gold

Onyx

Lavender (Silvery Blue Purple)

Turquoise

Cobalt

Orange

Ruby Red

Sable Rose (Rich Pink)

Ultra Violet (Rich Blue Purple)

Amethyst (Deep Warm Purple)

Forest (Dark Green)

Emerald (Gem Green)

Lime (Light Green)

Random 
Adults using this pendant gave positive reviews when it comes to relieving stress, anxiety, and panic.
Looking for proper stress treatment? Click the button below to book your appointment.
22. Goda Acupressure Rings
Goda acupressure rings toy is a one size fits all fidget toy for adults. It is strategically designed to stimulate all the pressure points on your hands and fingers to relieve stress and give a massage effect. 
This fidget toy is also acclaimed to enhance concentration and improve your mental energy to carry out daily living tasks without anxiety interrupting in between.
23. Silver Spinner Ring – BOHO-MAGIC  
If you are one of those fighting anxiety and still want to keep it stylish, get a silver spinner ring fidget right now!
There is a wide variety of spinner rings, but this fidget toy comes with a bonus quality; it has a funky BOHO style look which is super chic to carry out with any dressing and spin around your finger whenever you are anxious. This fidget toy has proven to be a lifesaver for natural fighters who have been suffering long-standing anxiety issues. The qualities of this fidget toy include stress relief, anti-anxiety effects, mediative effects, and mind-calming effects. 
People who are image-conscious and do not want to expose their anxiety can wear this chunky fidget toy as a statement ring without distracting their surroundings.
Sensory Fidget Toys For Adults 
Sensory fidget toys are a complete form of fidget toys for adults with anxiety, ADHD, autism, etc. 
What Is a Sensory Fidget?            
Sensory fidget toys are designed to enhance your self-regulation. These toys help adults with focus, attention, building concentration, and calming the anxious mind. The sensory fidget toys are also known to increase muscle tone and enhance sensory impulses towards the brain. Not only people with mental health issues but also with disabilities can benefit from these sensory toys. 
Let us get down to the list of the best sensory fidget toys for adults:
24. Spiky Sensory Finger Rings
This sensory fidget toy is an excellent option for adults who have a habit of picking their skin as a fidgeting response. The spiky design is excellent for sensory tactile stimulation as the fidget ring is moved up or down on the finger. In addition, the spines on the spiky fidget ring keep adding pressure on the finger, giving it a unique sensation due to the acupressure mechanism. This fidget toy is great for adults with ADHD, anxiety, and those troubling with focus and concentration.
Get yourself treated for ADHD from expert physicians. Click the banner below to book your appointment.

25. Stretchy String Sensory Toys
If you want to experience perfect sensory tactile stimulation, stretchy string fidget toys are perfect for you.
You can twist it, twirl it, wrap and watch it come back after a stretch. It is made from high-quality, durable material and comes in many colors to choose from. You can carry this fidget toy anywhere; to your college, office, home, or even your therapist. It fits anywhere around your hand. The stretchy string sensory toy is made to promote peace of mind, a sense of calm, lower anxiety, and symptoms of ADHD and autism. The stretchy string is going to be a great addition to your collection of fidget toys!  
26. KELZ KIDZ -Textured Pull and Stretch Sensory Bin Stress Ball
This is no ordinary ball. Instead, this stress ball is exclusively designed with four different extremely satisfying sensory textures. Its famous squeezability is known for stress relief like no other fidget toy in the market.  
The ball has a stretchy and sticky property to ensure you get the best satisfactory feel out of it. Another plus point of the stress balls is that they are easy to wash and sterilize whenever you want. The size and properties of these stress balls suit anybody with anxiety, ADHD, or any mental health issues related to panic, worrying, and depression. Various lab tests are done to ensure the stress ball comes in high quality, the stress ball comes in high quality. In addition, the company offers the best filling material for more extended and durable uses. 
27. JB London Pop up Bubble Sensory Fidget Toy
For particular purposes comes a special fidget toy for adults!
The fidget toy is sized perfectly to fit in your hand and pocket so that you can take it anywhere you want with you. Pressing the mouse bubbles down makes a unique bubble popping sound. Suppose you are one of those who loves to pop bubbles out of the bubble wrap to release your stress and experience satisfaction. In that case, this fidget toy is going to be your best buddy for life.

28. The Secret Marble Fidget 
With so many secrets, this secret fidget toy comes up with guaranteed satisfaction. 
The secret marble fidget toy is a fabric pouch made of waterproof material with an enclosed marble that moves inside the fabric pouch. You push the marble inside the pouch, which also has stitches in between to provide a slight challenge to move the marble through smoothly to keep your mind focused and grasp concentration.
29. Tangle Hairy
You will drown in satisfaction with the vivid colors and ease of use this fidget toy has for you. People who need a distraction from their anxiety, worries, and mental issues find it a great way by keeping their hands engaged. This fidgety is highly popular among individuals with autism. 
This was all about the best fidget toys categorically.
Next, 
What Is the Most Popular Fidget Toy 2021?
The alternative solution of anxiety and stress conservative management is simply giving your hands something to do. There are various types of fidget toys for adults, and every fidget toy has its properties to help with mental challenges. 
The top five fidget toys for adults are as following:
The infinity cube 

The fidget spinner ring 

Popping bubble fidget toy 

Multi-sided fidget cube for sensory stimulation 

Spinning disc fidget spinner
Where to Buy Fidget Toys?
Knowing the best sellers of fidget toys is as important as knowing the best fidget toys for adults. 
However, Amazon and Walmart are currently the easiest and fastest platforms to buy fidget toys. You can get the desired company's fidget toy as well as alternatives of all sorts.

Let us head on to something cool about fidget toys for adults.
Some Lesser-Known Facts about Fidget Toys
Fidget spinners did not just appear out of a sudden and grasped everybody's attention. Below are some lesser-known facts about fidget spinners that are sure to wow you.
Let us start.
Fact 1
Fidget toys have gained popularity since 2017 and are at their peak right now, but fidget toys were actually introduced back in 1997, created by a chemical engineer. 
Fact 2 
Fidget toys are quite popular, especially fidget spinners, the reason behind creating fidget toys wasn't their ability to manage mental health complications such as stress, anxiety, etc. The actual reason for their creation was to stop young boys from hitting the police with stones back then. Weird!
Fact 3
The creator of the fidget spinner toys' Hettinger' herself used the fidget spinners to manage her meeting anxiety and believes that it can lower modern-day stress.
Fact 4 
Some schools in the UK and Europe have banned fidget toys for children as they believe these fidget toys cause too much distraction.
Protect yourself from the distraction and click the banner below to book your appointment.

Fact 5 
Fidget toys can be as cost-friendly as you want, but this does not mean the other way round! Fidget toys can cost as little as $1.99 to as much as $1300.
Fact 6
Fidget spinners have taken to the celebrities. The famous Kim Kardashian once sold her customized dollar-shaped fight toy. 
Fact 7 
Not just limited to Kim Kardashian, fidget spinners gained popularity due to the Canadian band 'Arcade Fire', which announced that they would release an album based on a limited-edition fidget spinner. 
These were all facts.
Now, 
You do not necessarily have to buy a fidget toy when you can also make one of your own, and that is super easy!

Landing on to the last part.
How Do You Make Easy Fidget Toys?
This part is all about how you can enjoy the wonders of fidget toys by creating them yourself. 
Here is how to make fidget toys at home easily!
DIY Fidget Toys with Beads
Make your fidget toy by simply placing beads into a string and pull them all through. Secure the ends and enjoy the floating illusion as they move. You can use various colors and patterns. 
Click on this tutorial for directions. 
DIY Fidget Cube
The DIY version of the fidget cube is totally customizable. You can create a cube of any size and color. Wooden blocks are best to be used and easily attached through pins. A bigger-sized cube could be kept for home, and a smaller one would be your companion anywhere. 
Click on this tutorial for directions.
DIY Fidget Toy Squishy 
You can easily make your squishy fidget putty at home. The putty made at home usually works on a slime recipe, but keeping in mind, you would not like a mess, the recipe excludes water. 
Click on this link for the complete recipe.
Looking for medicinal ADHD treatment? Click the button below to book your appointment.
The Takeaway
Fidget toys for adults are a popular alternative method to battle ADHD, autism, anxiety, and ADD symptoms and get over stress and worry. These toys are readily available in various shapes and types with a wide range of pricing. 
Many speak for the benefits of fidget toys, and much research is being done to determine their effectiveness in managing anxiety and related issues. However, there is still a limitation of evidence and research gap to declare fidget toys as handy tools for adults for managing their stress, anxiety, and symptoms of ADHD.
Contact us at Mango Clinic for anxiety treatment or click the banner below to book your appointment.