Prescription Drugs: Amphetamines, Uses, Types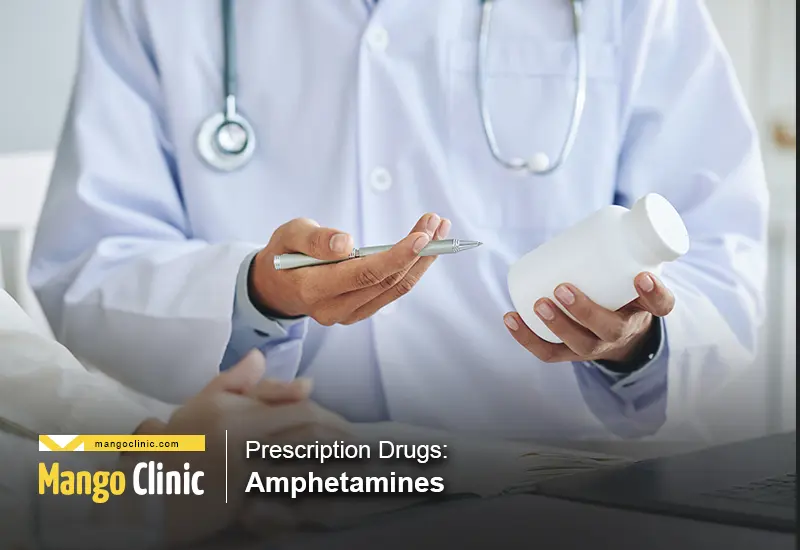 When it comes to getting treatment for your health condition or ailment, there are many prescription drugs to choose from. It can be tricky navigating the pharmaceutical world and knowing which drug is best for you. Mango Clinic wants to help patients better traverse this world by providing helpful information that can benefit you when choosing a medication for recovery, whether it's a relief from stress or anxiety, or ADHD treatment. In this article, we will discuss how certain amphetamines are used to treat ADD/ADHD.
Get relief from anxiety and stress. Click the button below to book your appointment.
What Are Amphetamines?
Known for being fairly versatile, amphetamines can be used to treat ailments that usually involve high anxiety and stress. For the most part, you will see amphetamines being used to treat ADHD, whose symptoms can include anxiety and stress. However, you may just have independent stress or anxiety; amphetamines and other related prescription drugs can be used to treat these conditions.
Amphetamines can be a popular prescription drug among people for various reasons. For those who do suffer from ADHD, it can be a very helpful drug for combating the symptoms associated, such as restlessness and inability to focus. Some people have intense stress or anxiety, which can also be taken care of with the help of amphetamines.
Anyone who wants to get amphetamines legally must be first evaluated by a licensed physician; the doctor will decide whether or not to prescribe you based on different variables. In most cases, as long as your reasons are genuine, you should be able to get a prescription.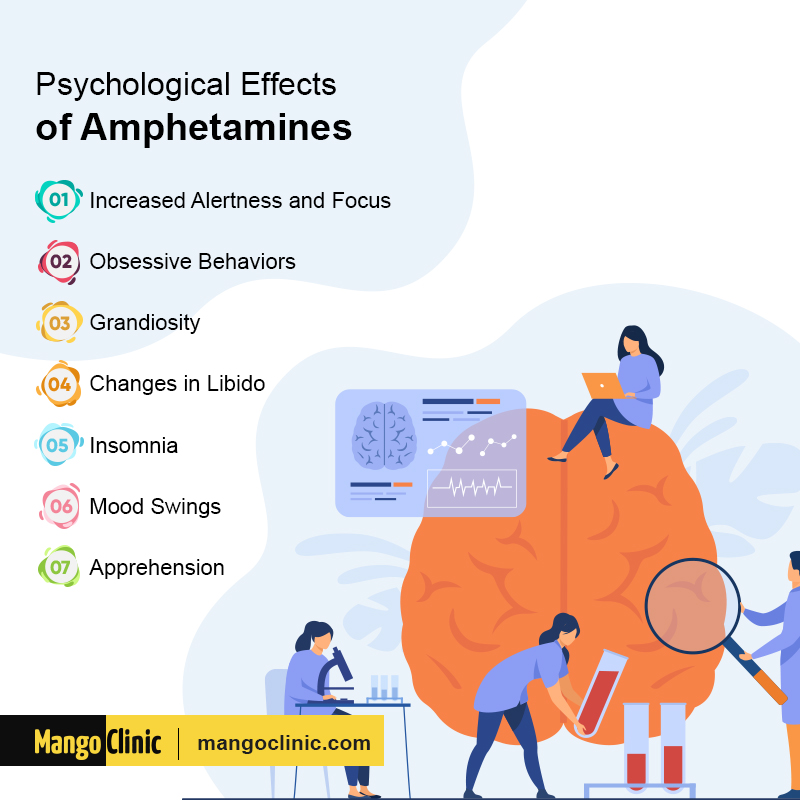 How Do Amphetamines Work?
Amphetamines are stimulants, which means their intended purpose is to stimulate the brain. In the cases of those with ADHD, their brain is craving attention that it is not able to satisfy. This results in frustration and restlessness, as the brain cannot focus. A person with these symptoms will have a harder time being able to do complete tasks and things they normally could if they did not have ADHD.
The stimulant in question functions by going to the brain and helping it release dopamine. If dopamine is being suppressed, you will have a brain that is in a perpetual fret, wanting to distract itself in any way it can. Releasing dopamine provides the brain with the much-wanted activity it was looking for, and in turn, allows for a person to get their concentration back.
Get proper treatment for ADHD from expert physicians. Click the button below to book your appointment.
Amphetamine Side-Effects and Risks
As helpful as amphetamines can be, there are also hazards involved that some people may not consider. The most understood and broadcasted danger are side-effects, which can happen to a certain amount of people who take prescription drugs.
Some of these can be physical, such as hypertension, nausea, blurred vision, dry mouth, and sexual dysfunction, along with more severe effects like a stroke or heart attack. There are also psychological side-effects such as depression and loss of libido, among others. You can even become more restless and frustrated due to amphetamines, though this is very rare.
One major hazard associated with amphetamines is abuse, which can lead to overdosing. If you become too dependent on amphetamines, it can be very easy to take more than you should or ask your doctor for a higher dosage. A decent percentage of amphetamine users are susceptible to abuse, which has led to overdoses and emergency room visits. If you feel you might become addicted to your prescription meds, it is not recommended that you start taking amphetamines.
Types of Amphetamines
People can think that stimulants are either too dangerous or outright illegal. However, this is obviously not true, as many popular prescription drugs are actually amphetamines. All the same, if you are interested in amphetamines, it can be tricky knowing what counts and what does not. We decided to run down a few of the most well-known amphetamines on the market, all of which can be prescribed to you by a licensed doctor.
Adderall
When people come up with a name for a popular amphetamine, Adderall is one of the first that comes to mind. It is primarily aimed towards treating ADHD and narcolepsy but can also be used for those with high stress and anxiety. Adderall is a unique combination of amphetamine and dextroamphetamine that goes to work on the brain by altering the chemicals and neurons responsible for keeping and releasing dopamine.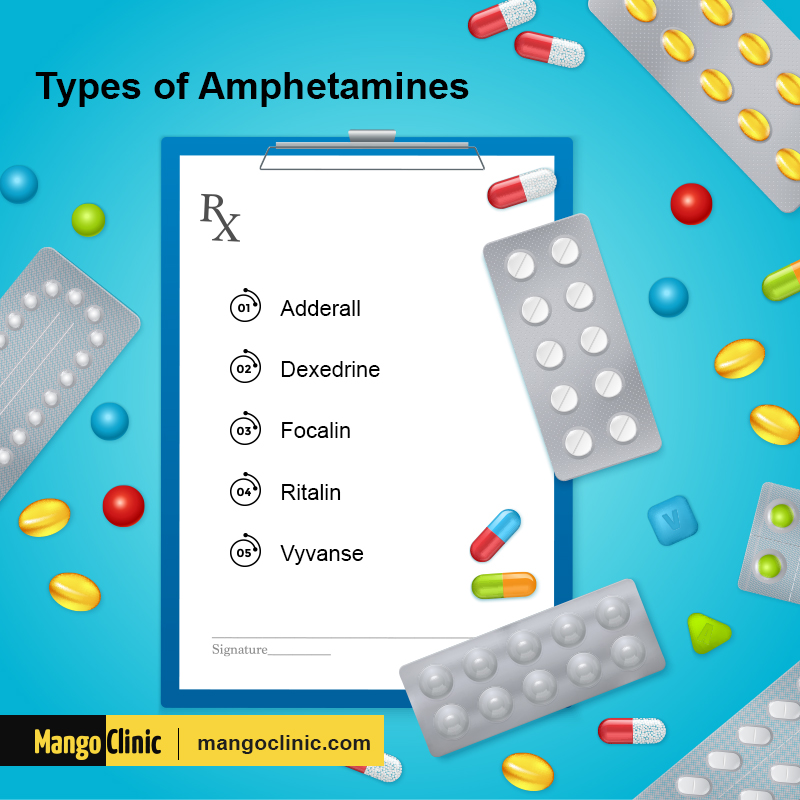 Dexedrine
Dexedrine is mostly used for treating ADHD in children, along with narcolepsy. It helps with attention spans by altering the chemicals and neurotransmitters in your brain.
Focalin
Focalin is available in both a regular release and extended-release format, which allows for a user to either take the drug every few hours or roughly once per day. It helps with a person's ADHD symptoms such as restlessness, overactivity, and inability to control impulses.
Ritalin
Known under many other brand names and variations, Ritalin can also be found as Aptensio, Concerta, Metadate, Methylin, and Quillivant. 
Vyvanse
Vyvanse is targeted towards patients who have ADHD and similar ailments, but it is also recommended to patients with eating disorders. The chemical changes the drug makes to the brain allows for ADHD patients to regain their focus and for eating disorder patients to not give in to their habitual impulses.
Looking for medicinal ADHD treatment? Click the button below to book your appointment.
Why Choose Mango Clinic?
If you believe you are suffering from ADD or ADHD, get in touch with Mango Clinic. Our licensed doctors can help you determine which brand or type is best for you. Whether you have ADHD, narcolepsy, or are just stressed, Mango Clinic can help you find the right type of medication. Give us a call on (786) 422-9327 or visit our webpage to make an appointment today.
Contact us at Mango Clinic to get proper treatment for ADHD or click the banner below to book your appointment.